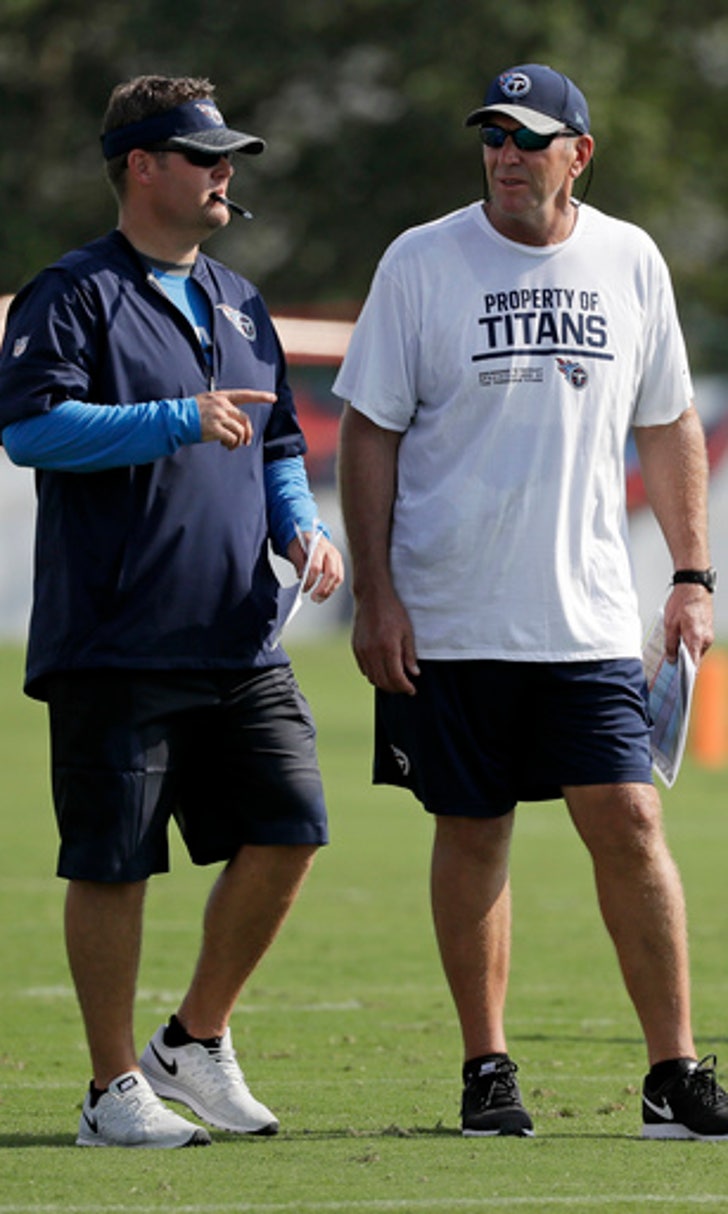 Mularkey getting behavior he wants on sideline
BY foxsports • September 2, 2016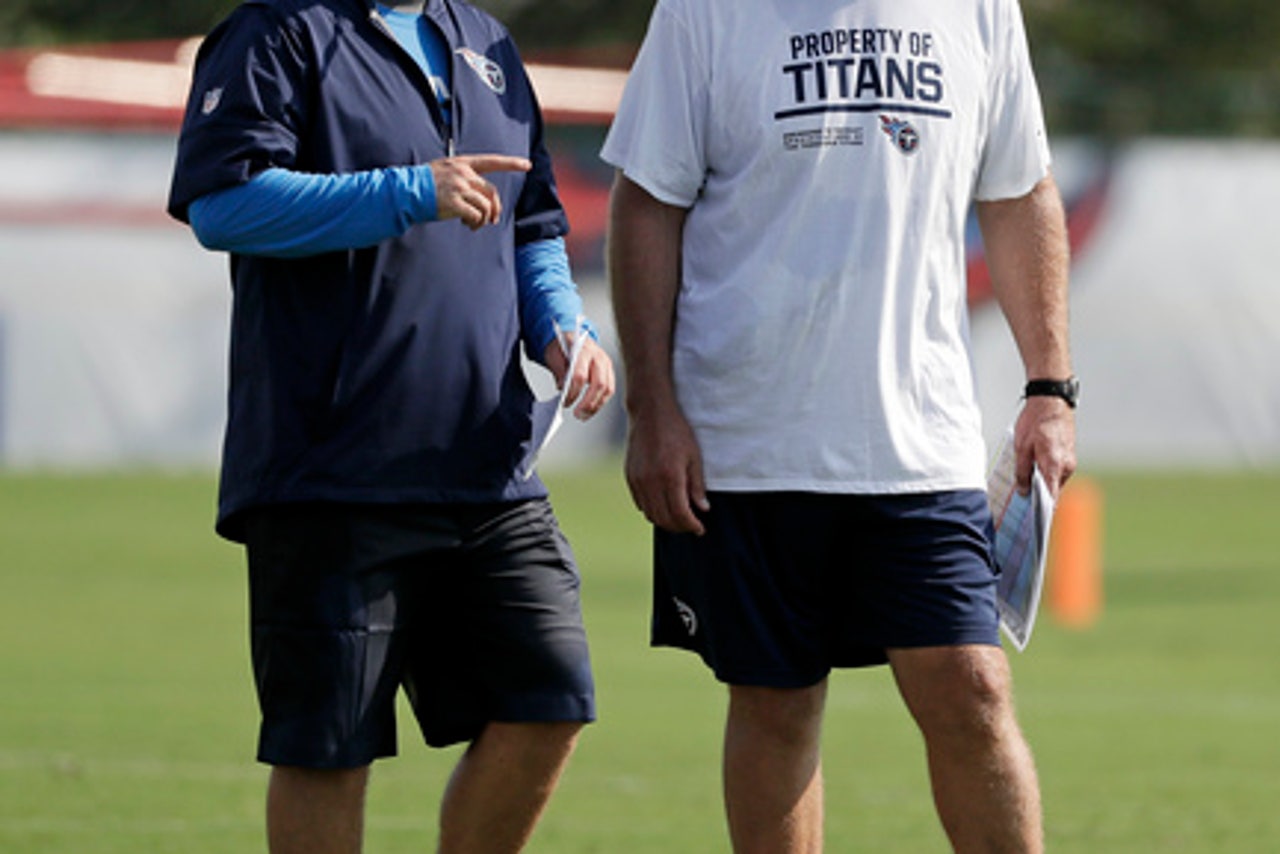 Mike Mularkey has made eliminating penalties a focus for the Tennessee Titans since the offseason program started. The coach already is seeing an early payoff.
Against the Oakland Raiders, Titans linebacker David Bass picked up a fumble and ran 47 yards for a touchdown in a 27-14 win. Best of all for Mularkey? Not a single player or coach crossed the sideline while celebrating the big play.
For Mularkey, it's all part of building confidence and an identity for a franchise that has won just five games over the past two seasons.
''It's such a simple thing as even the sideline, where since the very first day of OTAs, we painted a line and we asked the players to stay behind the line and the coaches to stay behind the line because it's an emphasis this year,'' Mularkey said. ''It's how well disciplined they've been on the sideline.''
The NFL has made keeping coaches off the field a point of emphasis; any assistant coach or player coming onto the field will be penalized. Cam Newton was flagged for illegal substitution when he came on the field during a 95-yard return of an interception Aug. 11, wiping out a Carolina TD.
Oakland was penalized 15 yards for unsportsmanlike conduct at the start of the fourth quarter when coaches came onto the field.
The Titans' discipline definitely was tested when linebacker Sean Spence hit Raiders running back DeAndre Washington, popping the ball out.
''That one was a little bit of a challenge. I mean they were excited, and I was too,'' Mularkey said. ''But if you go back to the first preseason game when ... Cam was on the field and it got nullified because of that penalty. We could easily have been penalized for that, as well, for all the players on the field.''
DROP THE FOURTH PRESEASON GAME: Former NFL executive Pat Kirwan believes the fourth preseason game is a waste.
On his SiriusXM Radio program, Kirwan recently outlined a better way to use the final weeks of the preseason than to play a game in which few, if any, starters see the field.
''Just eliminate that game,'' Kirwan said. ''That meant last week when that (third game) ended, you would now be in a two-week cycle - more than two weeks for some teams - to get ready for your opener, which I think would open up the door for more trades.
''This whole nonsense of this Thursday game, remember, (Wednesday) they will be traveling, so there is a day you are not bringing anybody in. Then you are wasting your time with a game, you come back Friday and you're trying to make your final cuts. If you had made your final cuts last week and could really have spent the two weeks negotiating a trade with a guy or two, I think you could have helped your roster a lot more.''
Kirwan also believes teams would be better served that way as they prepare for the regular season.
''If I was running a team, I would love a two-week window to my opener right now,'' he said, ''and be able to put myself in a really good position to start prepping the game plan for the opener; start making sure I had my roster right; and giving myself the time to make a trade or two. And work out some of the guys who were cut last week.
''I think a lot of guys would feel they could settle their club a little quicker.''
ONE-TIME PERK? Minnesota's brand-new $1.1 billion stadium has plenty of fancy features, with one of the most unique (and pricey) being a bar and lounge area coaches and players walk through to reach the field from the locker room. With purple-clad ticket-holders stretching their hands out for high-fives. The Delta Sky360 Club also has windows into the interview room, where coach Mike Zimmer will hold post-game press conferences.
Following a smooth preseason opener, a 23-10 victory over San Diego that officially inaugurated U.S. Bank Stadium, Zimmer uncharacteristically hammed it up for the fans who celebrated his arrival at the podium. He waved with a big smile and jokingly asked for a drink while pantomiming the lifting of a bottle to his lips.
After a few more rounds of cheers and claps, though, a still-grinning Zimmer became distracted from the question-and-answer duties.
''This is going to be rough. We're not going to be able to do this all year,'' Zimmer said.
The interview room has a convenient switch that can tilt the window glass to a frosted look that prevents the crowd from watching.
---
FINE HIM 50 CENTS: In the draft room, Green Bay Packers general manager Ted Thompson is a stickler about cellphones. He doesn't want to hear them.
So when his phone went off during the middle of a news conference this week, Thompson was a little embarrassed.
''That's my phone,'' Thompson said. ''If we were in the draft room that would cost me 50 cents. Uh, the question. Can you repeat that?''
Thompson handed the phone to a team official. It went off again a minute later as he was answering a question.
''That's not me,'' Thompson deadpanned. ''I guess it is me.''
It's understandable the phone would go off now because of roster cuts.
''There's a lot of fishing that goes on at this time of the year,'' Thompson said. ''So yeah, there's people touching base and everybody does it. They talk and talk and sometimes something happens; most of the time probably not.''
---
AP Pro Football Writers Barry Wilner, Teresa M. Walker and Dave Campbell, and Sports Writer Genaro C. Armas contributed to this notebook.
---
AP NFL website: www.pro32.ap.org and www.twitter.com/AP-NFL
---
---