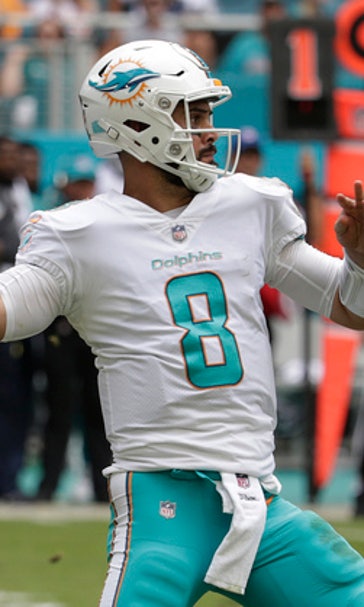 Moore comes off bench to lead Miami past Jets 31-28
October 22, 2017

MIAMI GARDENS, Fla. (AP) With two Miami Dolphins quarterbacks now hurt, Matt Moore may finally get the nod to start.
He earned it Sunday, coming off the bench to help Miami erase a 14-point deficit in the final 12 minutes and beat the New York Jets 31-28.
The performance could intensify a quarterback controversy, but Moore will likely get a promotion by default for Thursday's game at Baltimore. A hit by Jets linebacker Jordan Jenkins sidelined Jay Cutler with a chest injury in the third quarter.
Cutler is believed to have suffered a cracked rib that will force him to miss at least one start, a person familiar with the situation said.
''You never want to see your quarterback go down, but Matt did a great job,'' tight end Anthony Fasano said. ''He brought a lot of energy and let the playmakers make plays.''
Miami (4-2) earned a split of its season series with the Jets (3-4). Here are things to know about the Dolphins' latest comeback win:
WHO'S THE QB?
Playing for the first time this year, Moore threw an interception, but then hit Kenny Stills for a pair of scores as Miami rallied.
When Miami's Ryan Tannehill suffered a season-ending injury early in training camp, Gase coaxed Cutler out of retirement and quickly gave him the starting job. Moore has been with the Dolphins since 2011 and has never complained about being the backup.
Against the Jets, he went 13 for 21 for 188 yards.
''The great thing about Matt is that he's a veteran,'' Gase said. ''He has a knack for going out there and playing the game without fear.''
NOT NORMAL
A week ago, the Dolphins began wearing shirts that read: ''We r not normal'' - and more than ever, they appear to fit.
Miami is in the thick of the AFC East race despite being outscored by 20 points this season. The Dolphins have overcome 17- and 14-point second-half deficits the past two weeks, and in games decided by seven points or less, they've won 12 in a row - two shy of the NFL record.
''Once we get in the fourth quarter, we know we've got to own the fourth quarter,'' safety Reshad Jones said.
PIVOTAL PICK
After Moore's two touchdown throws tied the game, Bobby McCain made his second career interception to set up Miami's winning field goal.
''It's like you're in a movie,'' Dolphins linebacker Rey Maualuga said. ''When Bobby had that interception, it shifted from `We're coming back' to `Holy cow, we're going to win this game.'''
BOUNCING BACK
The Jets return home to face Atlanta next Sunday, and they'll need to rebound from consecutive tough losses to AFC East rivals.
A late disputed call was the difference in a defeat against New England a week ago. Blowing a big lead at Miami might be even tougher to shake.
''It's going to hurt,'' linebacker Jordan Jenkins said. ''You're going to feel it on this plane ride back. You'll feel it on the way to the facility. But you have to have a short-term memory if you want to be successful.''
INJURIES
Jets: T Brandon Shell suffered a neck injury in the first quarter. LB Darron Lee went to the sideline with cramps in the second quarter. Reserve CB Xavier Coleman suffered a shoulder injury in the third period.
Dolphins: LT Laremy Tunsil suffered a knee injury and DE Andrew Branch hurt his groin. Both departed in the third quarter.
---
Follow Steven Wine on Twitter: http://twitter.com/Steve-Wine
---
More AP NFL: http://pro32.ap.org and https://twitter.com/AP-NFL
---
---