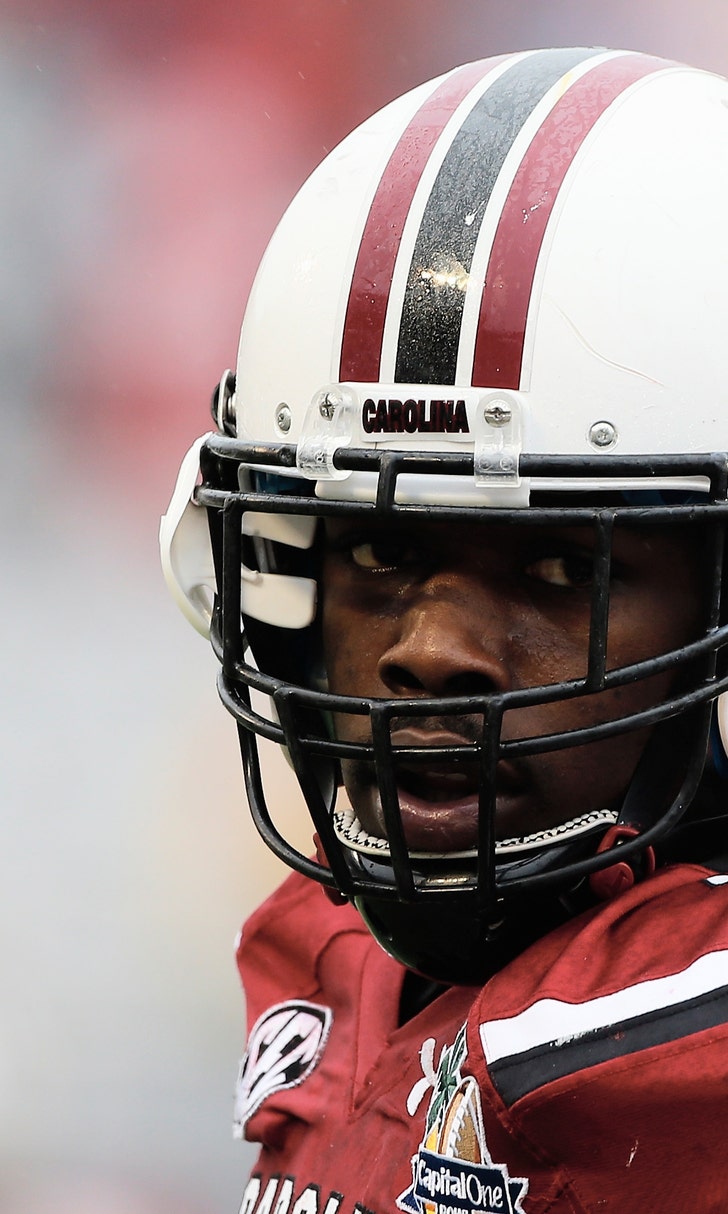 Mock draft: Will Texans opt for Clowney over QB?
BY foxsports • March 8, 2014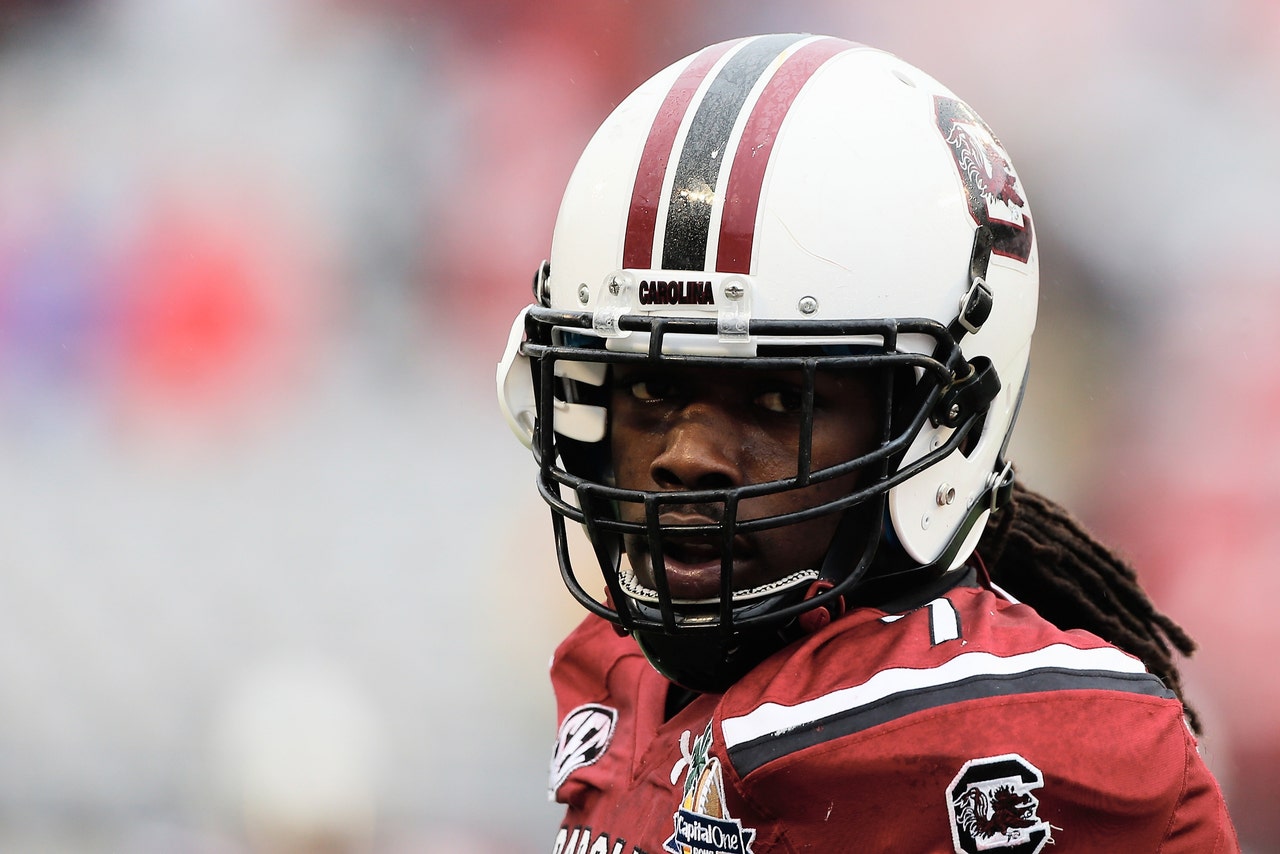 Charlie Campbell writes for WalterFootball.com. Disagree with a pick in his mock draft? Let him hear it on Twitter @draftcampbell or send an email to draftcampbell@gmail.com. 
1. Houston Texans: Jadeveon Clowney, DE, South Carolina
Walt has the Texans going with a quarterback, but I think they will channel their 2006 approach when they took Mario Williams instead of Reggie Bush, Vince Young or Matt Leinart. In speaking with sources, none of the quarterbacks are grading out as a true No. 1 overall pick.
It definitely is possible that Houston will gradually fall in love with a quarterback prospect, but right now, I think Bill O'Brien will look to work with a veteran and target a Russell Wilson-like or Colin Kaepernick-like quarterback on the second day of the 2014 NFL Draft. If that plan doesn't work next season, the 2015 NFL Draft is loaded at the quarterback position, so the Texans can aim to get their franchise signal-caller in Year 2 of O'Brien's regime.
Even though Houston had a rough 2013, general manager Rick Smith has built a talented roster. The Texans could use an edge-rusher to come from the other side of J.J. Watt. With Clowney's blinding speed and rare athleticism, he'll fit just fine in a 3-4.
It was evident during the 2013 season opener against North Carolina that Clowney's conditioning was subpar. His snap count didn't warrant him being as tired as he was, and he clearly took some plays off. Sources told WalterFootball.com Clowney lacked a good work ethic in his conditioning and took a significant amount of plays off in 2012. Clowney's effort and conditioning was a lot better over the rest of 2013 season; it seems all the criticism woke him up. At the Combine, sources said that Clowney interviewed well and they didn't have any concerns about his work ethic going forward.
Clowney played well against Georgia and had his best game of the season against Vanderbilt. He decided to sit out versus Kentucky, but flashed against Tennessee and Florida. In 2013, Clowney totaled 50 tackles, three sacks, 11.5 tackles for a loss, four passes defended and a forced fumble.
The 6-foot-5, 266-pounder has the athletic talent to be a special player. The scary part is how good he could be if he develops an inner drive and a work ethic. There were times when Clowney was impossible to single-block with his elite repertoire of pass-rushing moves.
Clowney has shown off elite speed, strength and athleticism as a pass-rusher since Day 1. He was a dominant force in 2012 as one of the best players in college football. The sophomore amassed 54 tackles, 23.5 tackles for a loss and 13 sacks. Steve Spurrier has said Clowney was NFL-ready coming out of high school.
A prep superstar, Clowney was the top recruit in the nation for 2011 and didn't disappoint as a freshman. He was the 2011 SEC Freshman of the Year and a Second-Team All-SEC selection. He totaled 36 tackles, eight sacks, 12 tackles for a loss and five forced fumbles. Clowney did well against top competition including a good game versus Georgia's Cordy Glenn.
2. St. Louis Rams: Greg Robinson, OT, Auburn
I'm sure Les Snead is going to auction off this pick and move down. A quarterback-needy team would have to move in front of Jacksonville to be sure to land the top choice if Houston takes Clowney.
If the Rams are stuck here, they could go with some offensive line help. Rodger Saffold is entering free agency, while Jake Long will be coming off a serious knee injury. He has suffered repeated injuries in recent years, and his body could be breaking down. Robinson could play guard or right tackle before eventually taking over at left tackle. I'm still torn on projecting Robinson over Jake Matthews given Jeff Fisher's ties to the Matthews family. However, Les Snead's first-round picks have all been players with rare a combination of size, speed or athleticism (Michael Brockers, Tavon Austin, Alec Ogletree). Thus, Robinson fits the profile.
The Tigers' formidable offensive line was led in 2013 by left tackle Greg Robinson, who had a great redshirt sophomore season. Against Missouri and Alabama, he put on clinics. Robinson had power blocks to spring long runs and dominated in the ground game. He did a superb job of sustaining his blocks to keep his defenders from making tackles.
Robinson has an impressive skill set. The 6-foot-5, 320-pounder is very strong to push defensive linemen at the point of attack. He also has quickness and good feet to be a pass-blocker in the NFL. Robinson could use some development in his pass-protection skills, but he has the physical talent to be a special player.
---
---