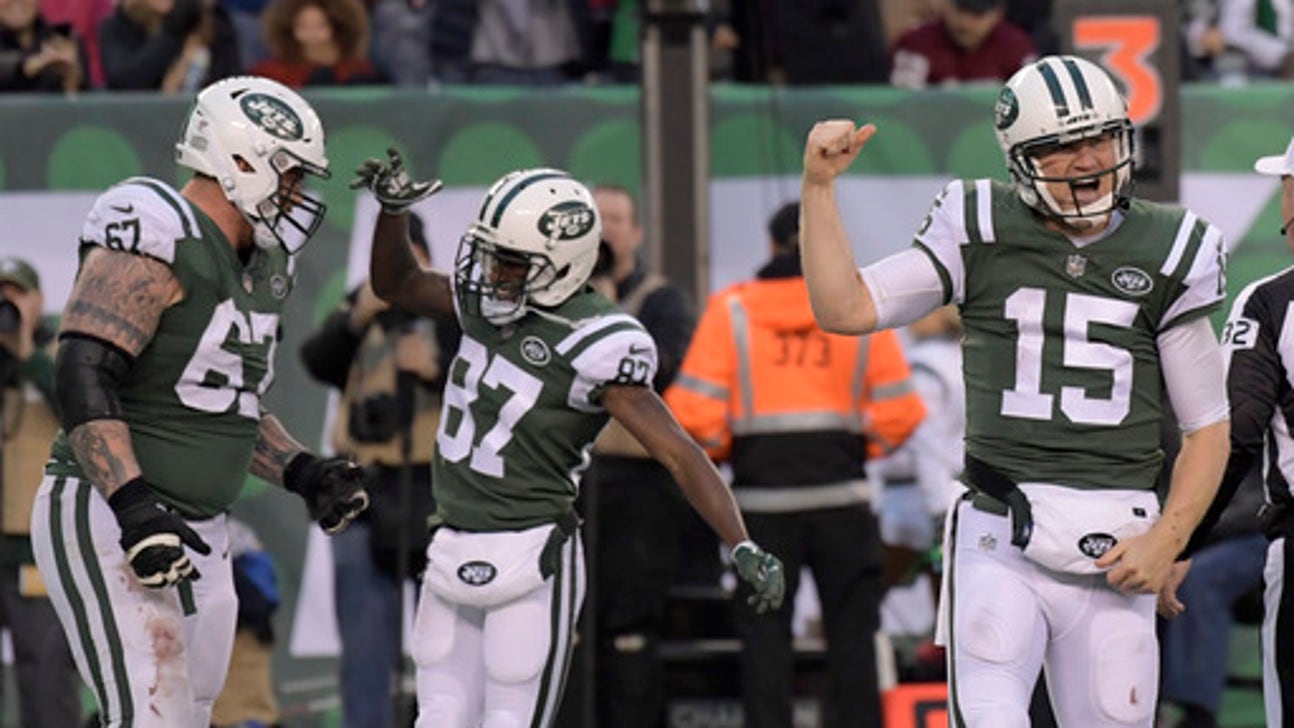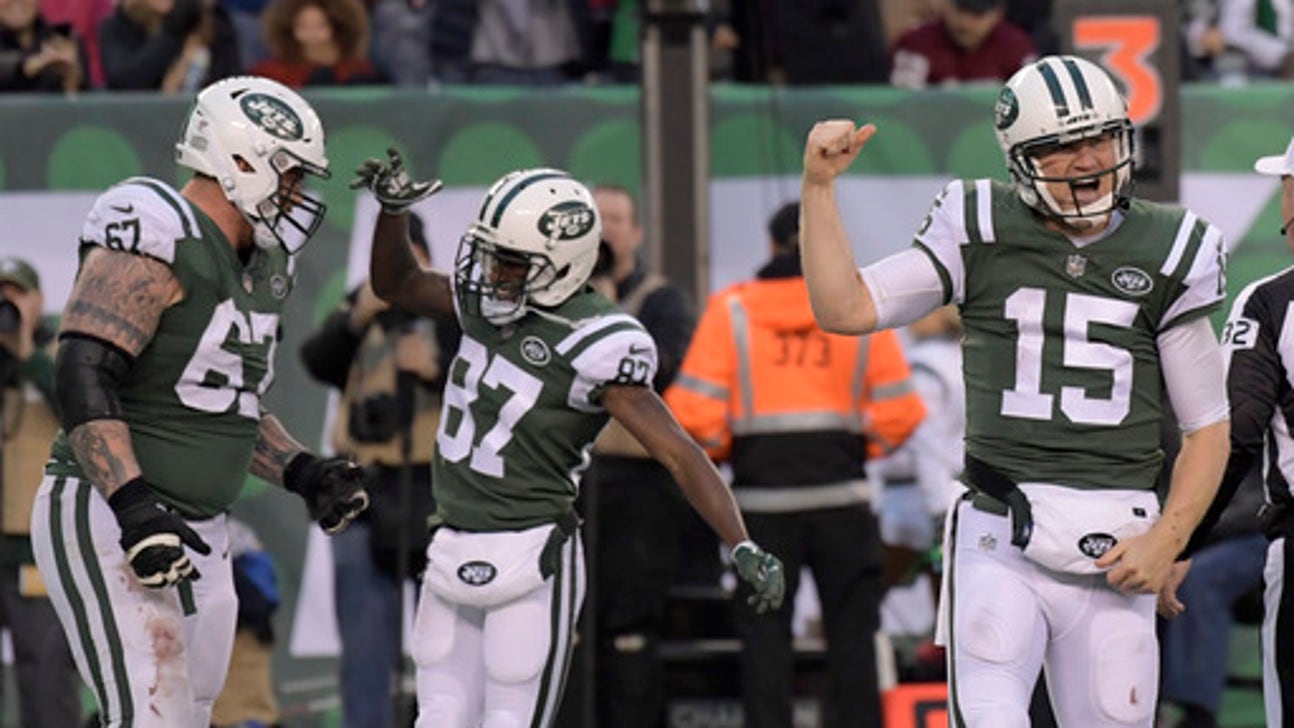 McCown, Chiefs' poor discipline lead Jets to wild 38-31 win (Dec 03, 2017)
Updated
Mar. 4, 2020 2:16 p.m. ET

EAST RUTHERFORD, N.J. (AP) Brutal start, wild finish and quite an impressive victory for the New York Jets. As for Andy Reid and the Kansas City Chiefs, this one surely stings.
Josh McCown scored on a 1-yard quarterback sneak with 2:15 left , and the Jets bounced back from an early deficit Sunday and held on for a wacky 38-31 win that was filled with big plays, bad penalties and lots of lead changes.
''When you see it go back and forth, it's hard, because eventually one team gives in,'' McCown said. ''We just stayed together.''
Chandler Catanzaro kicked a 21-yard field goal to put the Jets (5-7) ahead with 3:55 left. But Kansas City's Bennie Logan was called for a personal foul for hitting long snapper Thomas Hennessy in the head on the play. That gave the Jets the ball at the 1 with a new set of downs.
After two running plays, McCown threw incomplete - but Steven Nelson was penalized for defensive holding, making it first-and-goal from the 2. Three plays later, McCown kept the ball and shoved his way into the end zone.
McCown's pass on the 2-point conversion was incomplete, but Nelson was called for holding. An enraged Marcus Peters picked up the penalty flag and tossed it into the stands , drawing an unsportsmanlike conduct penalty. Peters was not ejected, but thought he was and headed straight to the locker room - before returning later without his socks. Elijah McGuire ran it in moments later to convert the 2-point play and make it 38-31.
''Probably a little frustration there,'' Reid said. ''I'm not saying that they shouldn't have been called. I've got to look at the tape on that. You're down there and competing and we've had a few of those games where we've had that. It's a bit frustrating.''
McCown finished with 331 yards passing and a touchdown to Matt Forte, and ran for two scores - including the winner. Jermaine Kearse had nine catches for 157 yards and Robby Anderson caught eight passes for 107 yards as the Jets dominated in time of possession, but still had to hold their breath in the end.
After Tyreek Hill's 40-yard catch put the ball at the Jets 23, Smith completed a 4-yard pass to Travis Kelce, who had two early touchdowns. But Smith was then incomplete on three straight passes.
''It's big, good to win one,'' Jets coach Todd Bowles said. ''You can breathe a sigh of relief before you move on to next week.''
The loss by the Chiefs (6-6) ruined the return of cornerback Darrelle Revis, who made his debut with Kansas City after signing a two-year deal last week. Revis, who played eight years over two stints with the Jets, started for the Chiefs, but spent the second half on the sideline.
''It was great to be back out there,'' said Revis, who had five tackles. ''I haven't played a football game in 12 months, so I think that's why coach made that call in the second half.''
Kansas City has dropped six of its last seven after opening the season 5-0, but remains in the mix in the AFC West playoff hunt.
''I go on to the next game,'' Reid said. ''I go on to what I can help to control. You look back, correct the mistakes, and pick the urgency level up and get ourselves better.''
Meanwhile, New York kept its faint playoff hopes alive by snapping a two-game skid and holding on to a fourth-quarter lead. The Jets had blown leads in the fourth quarter of three of their last four losses.
''To come out and win one of these finally,'' Bowles said, ''it's refreshing.''
Hill had put the Chiefs ahead 31-30 on a 40-yard touchdown catch . The drive was helped by a personal foul penalty on the Jets' ArDarius Stewart on the kickoff.
Smith finished with 366 yards passing, with four TD tosses, two to Hill, who had six receptions for 185 yards.
STARTING FAST
Smith and the Chiefs got things going early against the Jets, marching down the field 75 yards on five plays - capping the drive with a 22-yard touchdown catch by a wide-open Kelce just 2:38 in.
Reid confirmed an earlier ESPN report that he handed the offensive play-calling duties to coordinator Matt Nagy, and it appeared to work well early.
After the Jets went three-and-out on their opening possession, Smith found Kelce - wide open, again - for a 36-yard score to make it 14-0 less than five minutes in.
The Jets showed some signs of life, though, with Bilal Powell scoring on a 1-yard run. New York tied it at 14 late in the opening quarter on McCown's quarterback sneak from 1 yard.
RUNNING MAN
Smith helped set up a field goal for the Chiefs when he scrambled out of trouble on second-and-10 from the 14 and took off for a career-best 70 yards late in the second quarter.
It was the Chiefs' longest run of the season, but not the best ever by a Kansas City quarterback. That was Steve Bono's 76-yarder against Arizona in 1995.
GROUNDED JETS
New York linebacker Darron Lee was a surprise inactive, which Bowles said was a coach's decision. Also, defensive end Muhammad Wilkerson was benched for most of the first quarter - also a coach's decision - before entering with 39 seconds before the second quarter.
STREAK STOPPED
Kansas City's Harrison Butker was wide right on a 38-yard attempt in the second quarter. It ended his franchise record of 23 straight field goals made. Butker's only previous miss was a 46-yarder against Washington on the first attempt of his NFL career.
INJURIES
Chiefs: Center Mitch Morse was carted to the locker room with a foot injury. Zach Fulton replaced him and Bryan Witzmann took over Fulton's spot at left guard.
UP NEXT
Chiefs: home vs. Oakland next Sunday.
Jets: at Denver next Sunday.
---
For more NFL coverage: http://www.pro32.ap.org and http://www.twitter.com/AP-NFL
---
---