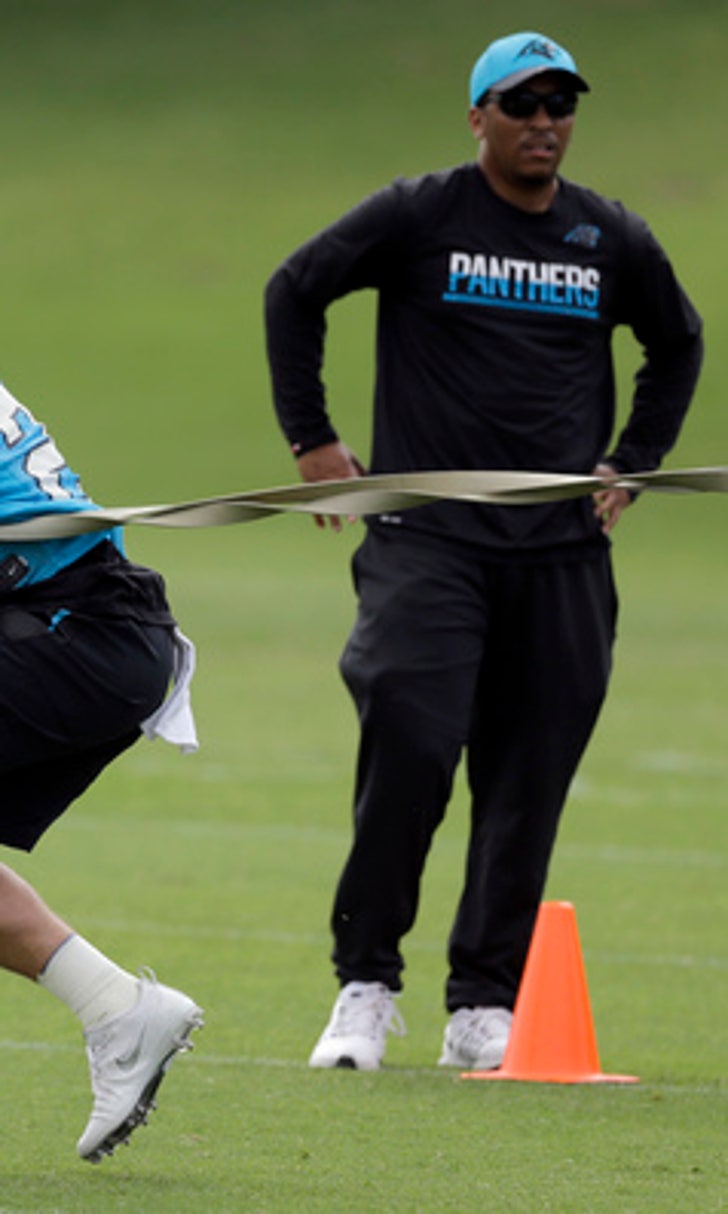 McCaffrey hits ground running in 1st day back with Panthers
BY AP • June 15, 2017
CHARLOTTE, N.C. (AP) The Panthers wasted no time throwing rookie running back Christian McCaffrey into the mix on his first day back at minicamp.
The team's versatile first-round draft pick lined up at multiple positions on offense as the Panthers worked feverishly to get him up to speed. McCaffrey missed all of OTAs and the first two days of minicamp because of a rule that prevents incoming rookies from joining an NFL team until their college's semester is complete.
So even though McCaffrey was no longer enrolled as a student at Stanford, he had to wait until the school's final exams were completed on Wednesday before participating in minicamp.
''We are real excited about his abilities and what he can do and the things that he can help open up for his teammates,'' Panthers coach Ron Rivera said. '' ... He's going to take a lot of pressure off people and probably the biggest thing is we've given our quarterback (Cam Newton) another weapon, another tool.''
Media aren't allowed to discuss where McCaffrey lined up on offense or what specific plays are run during ''closed'' minicamp practices, but suffice to say he'll be a big part of the team's offense.
''As brief as it was, his teammates got a feel for the flare that he can help bring to our offense,'' Rivera said.
Rivera said the Panthers put in a number of plays Thursday that will feature McCaffrey's abilities.
''It's great because I feel like the more ways you can be dynamic the better,'' McCaffrey said. ''Whatever they ask me to do I will.''
Under NFL rules, McCaffrey wasn't allowed to be around the Panthers facility or attend team meetings while Stanford was still in session. But McCaffrey, who stayed busy working out in Denver, remained in regular contact with Panthers running backs coach Jim Skipper to discuss plays, formations and protections.
Apparently McCaffrey was taking excellent notes.
During a red zone drill in practice Wednesday, McCaffrey's assignment was to read the protection and pick up a blitzing defender as needed. He successfully did so.
''He did it well and I knew it was something that he would have studied because otherwise he would not have known who to pick up or who to read,'' Rivera said.
McCaffrey, the AP College Player of the Year in 2015, said he'd like to see the rule changed so that other incoming rookies don't have to go through what he had to and wind up playing catch up.
''It wasn't ideal for me but I'm back here ready to play ball,'' McCaffrey said.
The Panthers won't practice again until July 26 when they open training camp at Wofford College in Spartanburg, South Carolina.
The Panthers believe that ultimately McCaffrey will catch up on lost time and still be effective when the regular season begins.
In 2011, Newton faced a similar issue as a rookie while dealing with the NFL lockout. Newton and other players weren't allowed to practice at team facilities and ultimately missed all of OTAs and minicamp. He still went on to have a record-setting rookie season.
McCaffrey said he's spoken to Newton about lost time.
''They all say the same thing - get in your playbooks but once you get out here, you come out here have fun. You miss some time, but that part is over now. I'm just focused on what I can do now. He just told me to show up and ball out.''
NOTES: Panthers offensive tackle Michael Oher remains a no-show at practice and Rivera said there is no update on his future with the Panthers. ... Rivera said Newton will begin throwing ''soon,'' but wouldn't give a set date.
---
For more NFL coverage: www.pro32.ap.org and www.twitter.com/AP-NFL
---
---