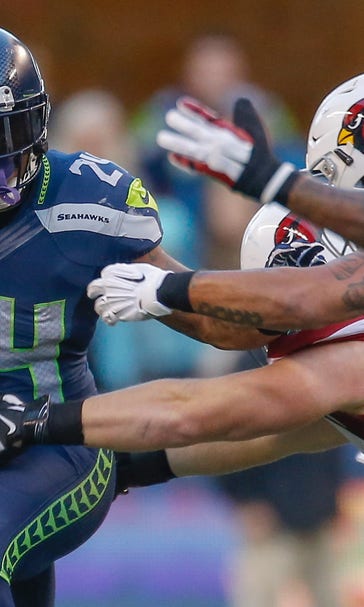 Marshawn Lynch is not a Hall of Famer
May 6, 2016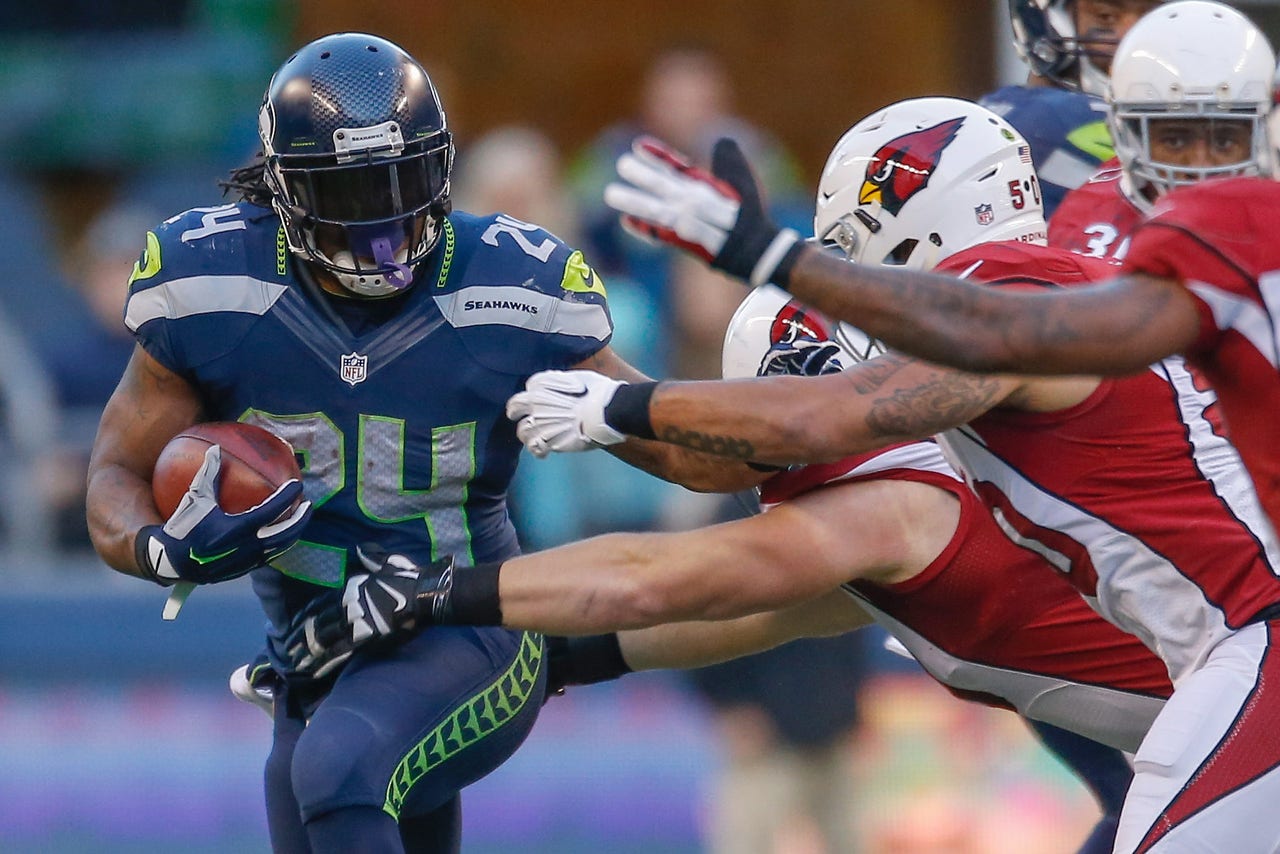 The Seattle Seahawks made Marshawn Lynch's retirement official on Thursday, or as official as any retirement can ever be in the NFL. Almost instantly, the question was posed in various places: "Is Marshawn Lynch a Hall of Famer?" And though I'm only here so I don't get fined, it seems to me that the answer is pretty obvious. 
Look, I like Marshawn Lynch. I was all-in on Beast Mode. That video-game run against the Saints in the playoffs is one of the greatest NFL highlights of this generation. Lynch was a vital cog in Seattle's Super Bowl team and his absence in the biggest moment of the next Super Bowl will ensure his name is forever tied to the game (a lot like how Marshall Faulk is well remembered for Mike Martz failing to use him in St. Louis's Super Bowl loss).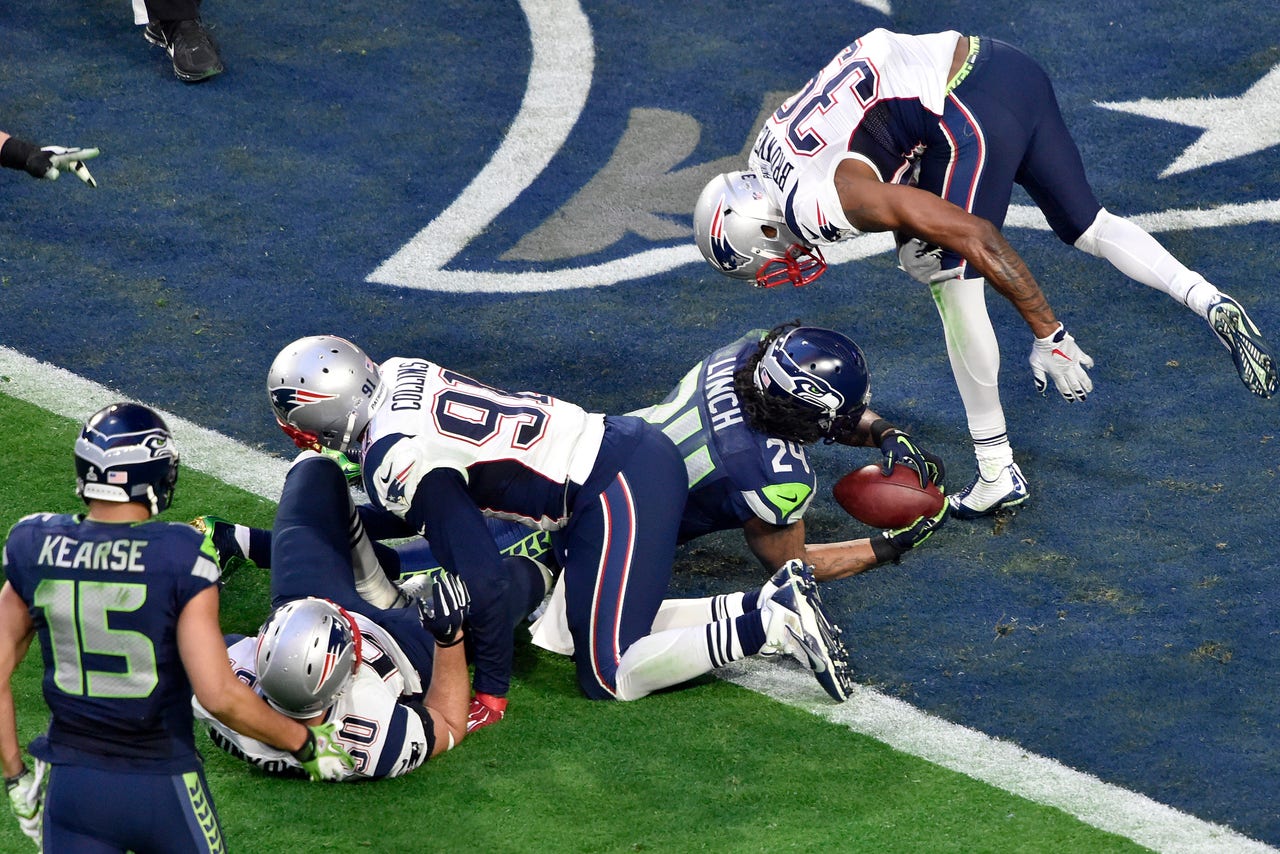 (Focus on Sport/Getty Images)
But the Hall of Fame? Come on. The only reason this dude should ever be in Canton is to attend Richard Sherman's induction ceremony. Plain and simple, Marshawn Lynch isn't a Hall of Famer and it's ridiculous that it's up for debate.
That's not an insult. Saying someone is not a Hall of Famer isn't the same as saying someone wasn't a great football player. Marshawn Lynch was. For a handful of years, he was one of the best running backs in football. But, honestly, I think the words "Hall of Fame" and "Marshawn Lynch" have only been included in the same sentence twice:
1. When people would watch one of Lynch's pressers and go, "that's gold - he's definitely in the Interview Hall of Fame."
2. Yesterday.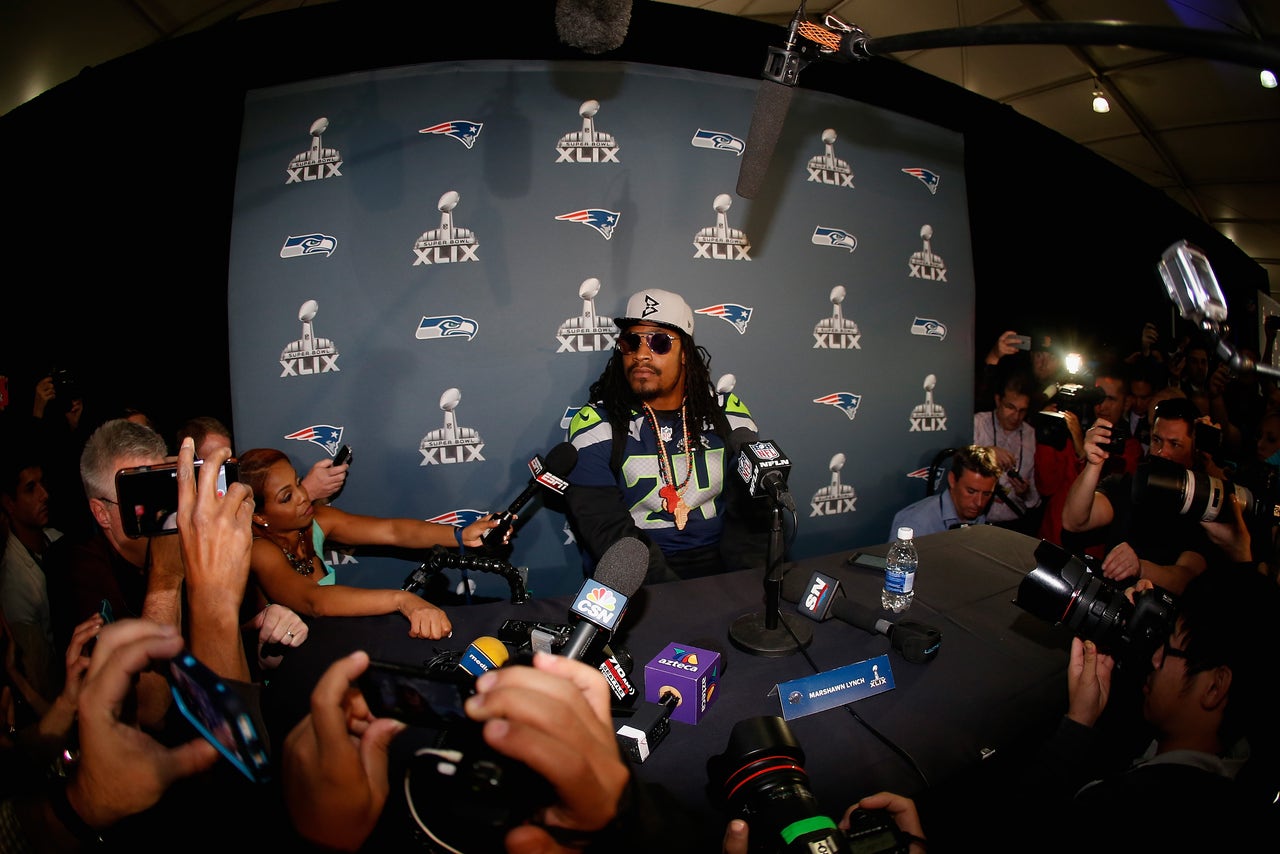 (Christian Petersen/Getty Images)
The first one might be problematic because media members never, ever hold grudges. Ever. Sure, it might benefit Lynch that the Pro Football Hall of Fame is voted on by members of the media in a sort of caucus-like environment. Instead of salty sportswriters casting a secret ballot against a guy who made their jobs more difficult, someone will presumably talk on Lynch's behalf if he makes it through the rounds of voting. But what this post presupposes is, why would Lynch even make it through rounds of voting?
Right now, among active backs, he has fewer rushing yards than Adrian Peterson (Hall of Famer), Frank Gore (not a Hall of Famer), Steve Jackson (no) and Chris Johnson (no). When all the dust is settled, he's almost certain to be behind Matt Forte (no), LeSean McCoy (no) and Jamaal Charles (nope) too. He'll have a better case with his rushing touchdowns, retiring with 74, second among current players with a few other ones nipping at his heels. But that total is fewer than Clinton Portis, Ricky Watters, Edgerrin James (who I think is a Hall of Famer, FWIW), Corey Dillon, Shaun Alexander and Priest Holmes. That's not exactly keeping bust-worthy company.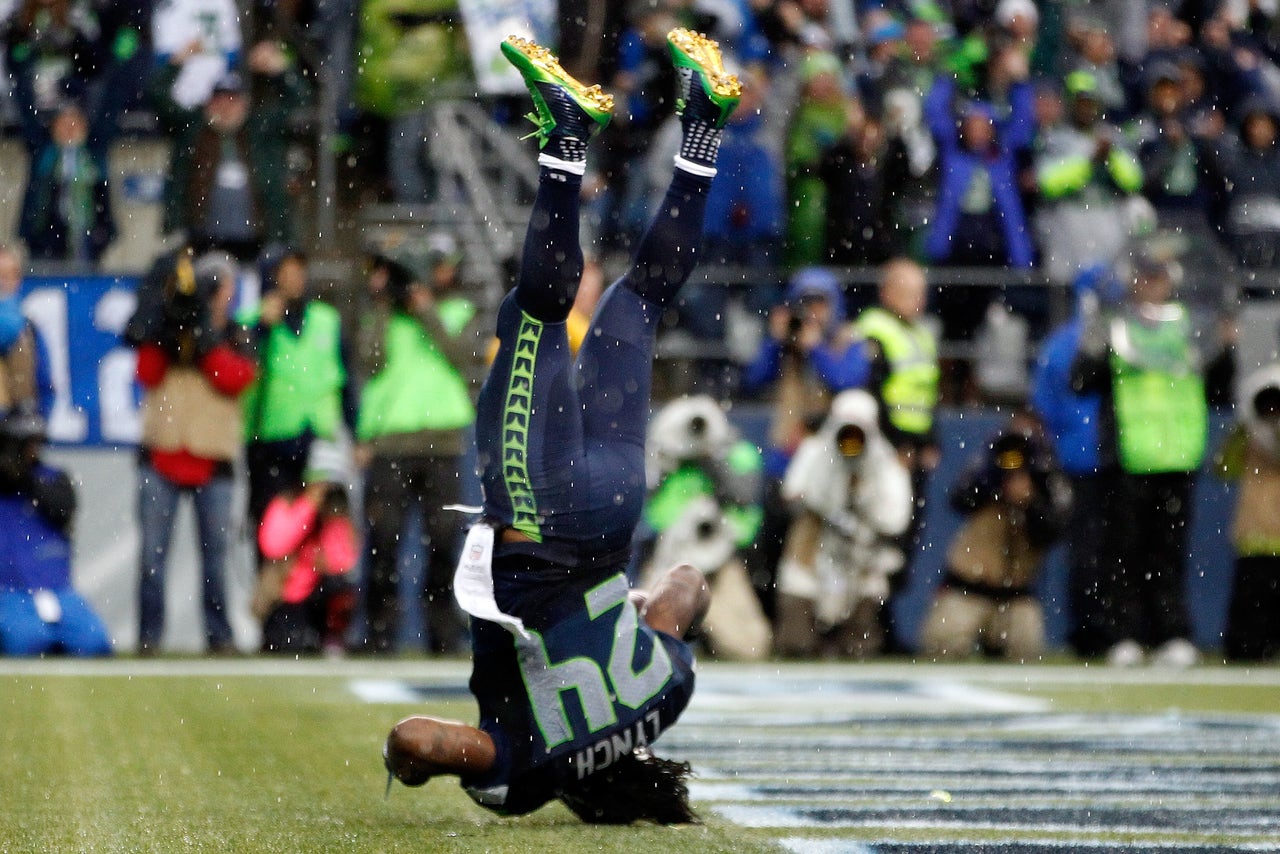 (Otto Greule Jr/Getty Images)
It's not always about the numbers, of course. Bartolo Colon just passed Pedro Martinez on the all-time pitching wins list. Sandy Koufax is 204th all-time in that category, behind John Lackey (and so many others it's not worth listing). This then brings up the eternal debate about whether a short career can be a Hall of Fame career.
The answer is yes, of course, but only if that short career was so great that Hall inclusion is never up for debate. People want to include Jim Brown on the "short career" list (he played nine seasons, the same as Lynch) but he had Hall numbers regardless (even while playing just 14 games a season). He held the rushing yardage and touchdown records for more than two decades after his retirement. He was an eight-time first-team All-Pro. He led the league in rushing eight times. He was the best football player in the game for just about all of his nine seasons.  Not even the staunchest Lynch supporter could suggest anyone thought of Marshawn that way, even for a fraction of a season. (He had one first-team All-Pro selection.)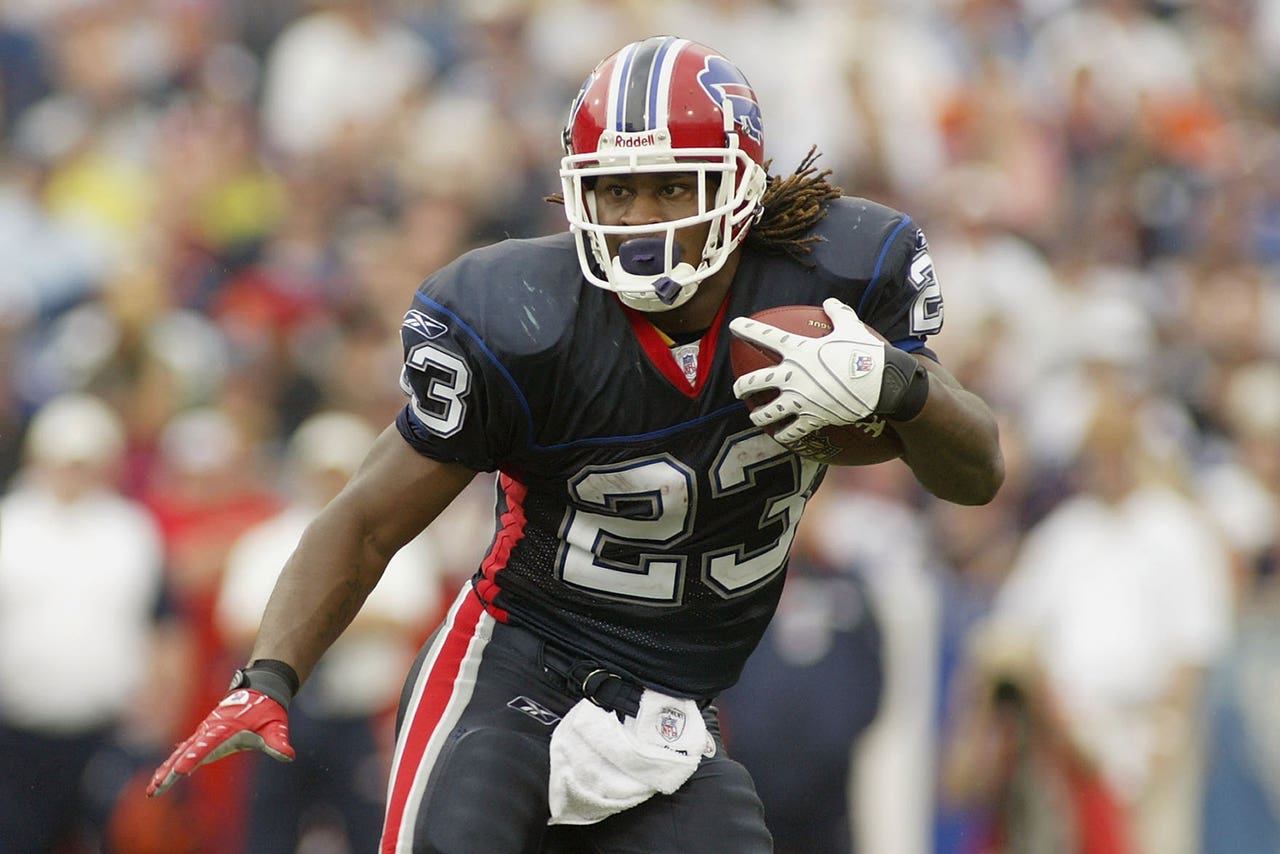 (Rick Stewart/Getty Images)
But Lynch's "short" career doesn't make him Terrell Davis either. TD played four full years, going for 1,100, 1,500, 1,750 and 2,000 yards from his rookie to his fourth season. He played eight playoff games and had a staggering 1,140 yards rushing in them, including in two Super Bowl victories. Then, in his last three seasons, injuries limited Davis to 16 starts in total. Both Lynch and Davis might have retired before hitting 30, but their paths don't bear comparisons.
So who then? There's no natural parallel, but if you strain your eyes you can sort of make a few and none are flattering to the former Bills and Seahawks running back. Lynch played nine years and had 2,000 fewer yards than Corey Dillon had in 10. He had 1,500 less rushing yards than Ricky Watters had in his decade-long career. But the most damning comparisons are Clinton Portis and Shaun Alexander, who both finished with more yards and more touchdowns in fewer games than Lynch. Both were great running backs of their time but no one is mounting Hall bids on their behalf. A lone Super Bowl, on a team that'll best be remembered for its defense, isn't enough to vault Lynch anywhere past them.
This shouldn't be viewed as a criticism of Marshawn Lynch's career - not by a long shot. Marshawn Lynch was a great NFL running back. He just wasn't one of the greatest in history. What's wrong with that?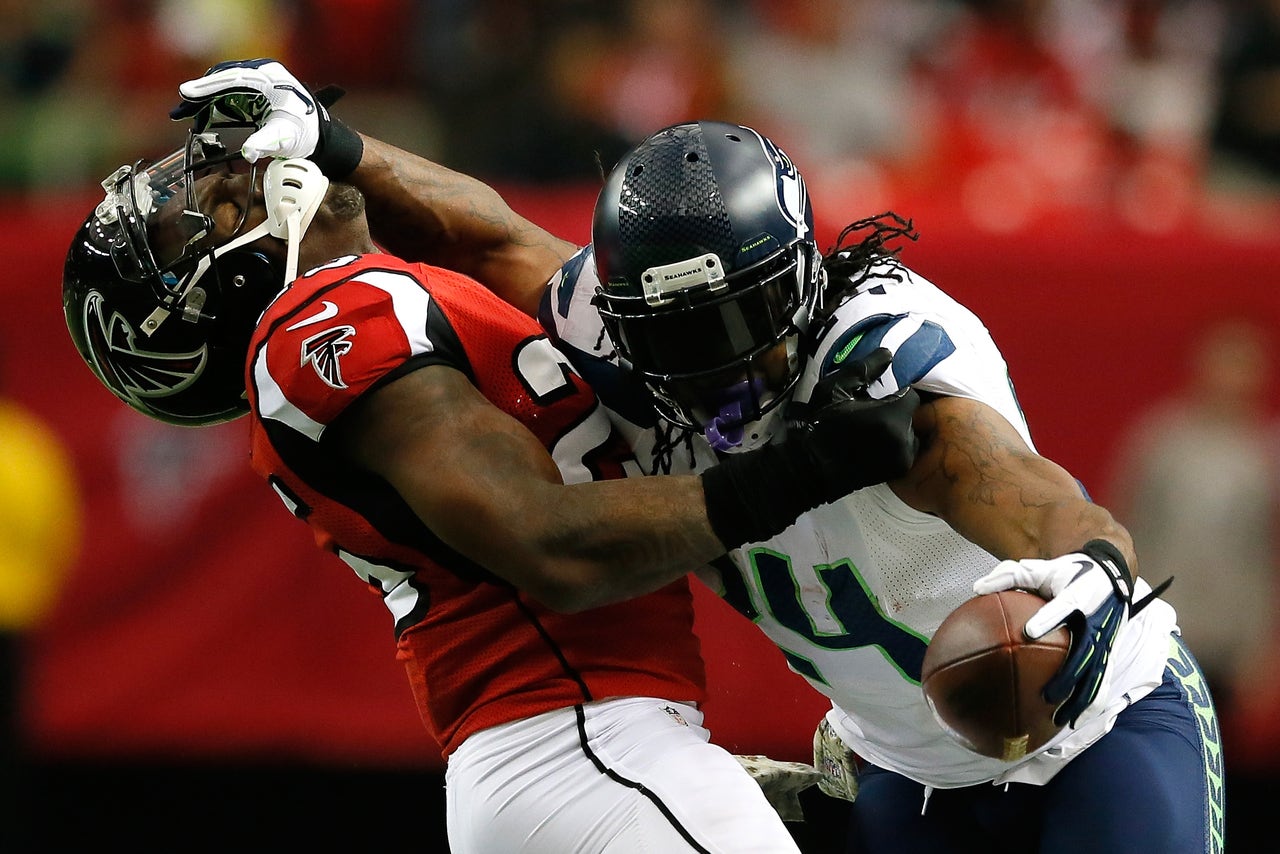 (Kevin C. Cox/Getty Images)
---
---