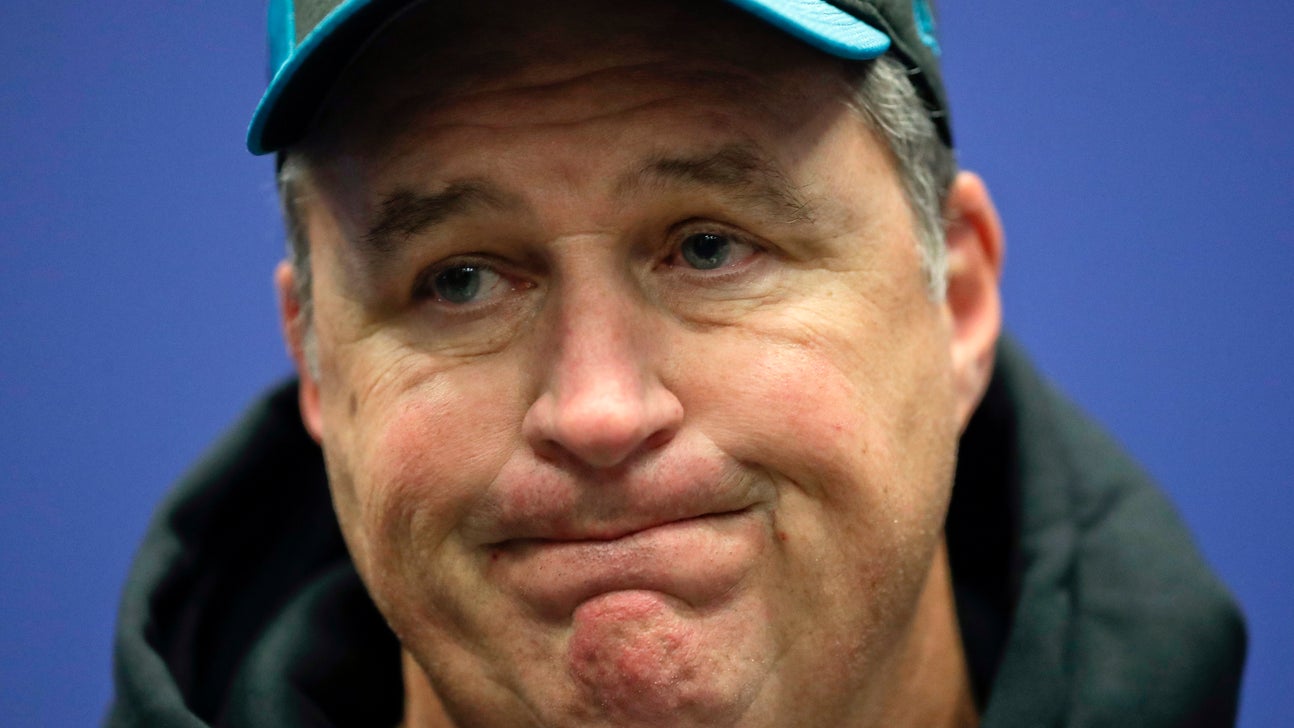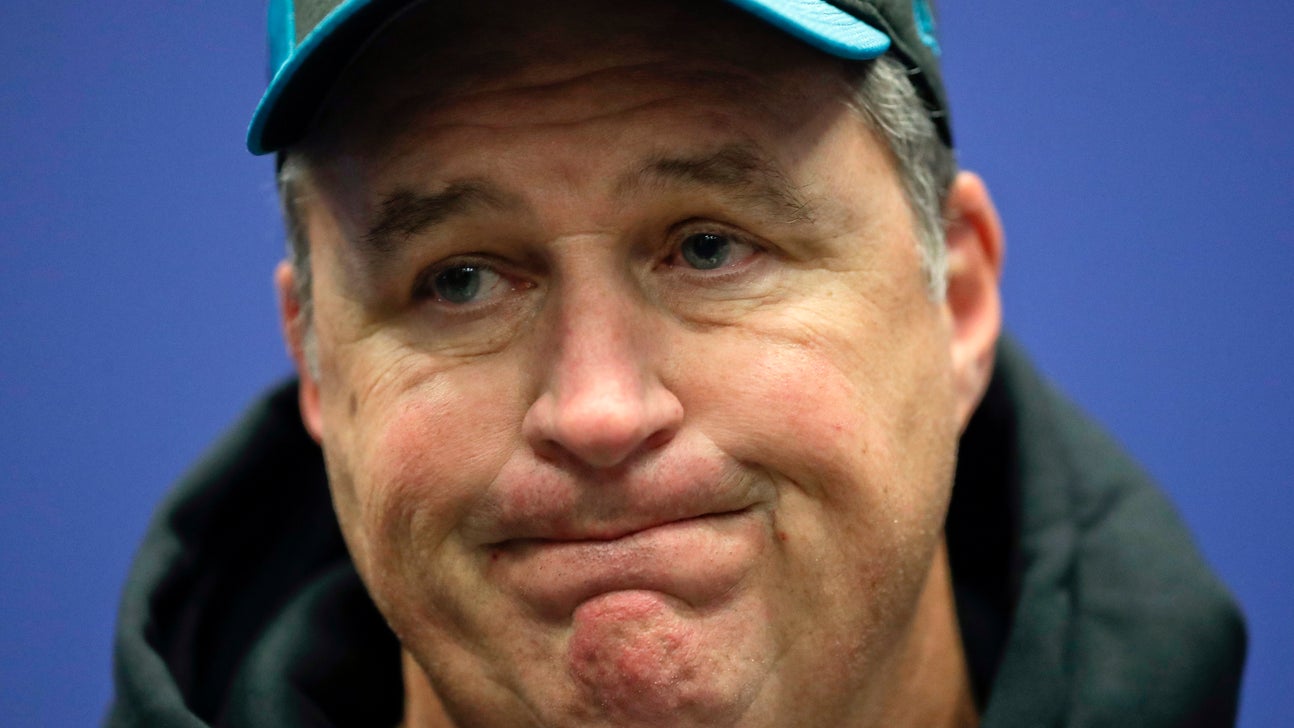 Marrone takes blame for woeful Jags, shields obvious errors
Updated
Mar. 4, 2020 1:20 p.m. ET
JACKSONVILLE, Fla. (AP) — Jacksonville Jaguars coach Doug Marrone is shouldering the blame for the team's four-game losing streak, saying he "hasn't done a good enough job for whatever reason to get everyone's mind in the right place."
Marrone insists he's not trying to be a "martyr, a shield or anything like that."
Truth is he's protecting everyone: top executive Tom Coughlin, general manager Dave Caldwell, inconsistent quarterback Blake Bortles , unavailable running back Leonard Fournette and dozens more underperforming players on an underachieving team.
The Jaguars (3-5) have been one of the NFL's biggest busts in 2018, especially last month when they went 0-for-October and looked nothing like the team that advanced to the AFC championship game nine months earlier.
"There is a story out there about this team. It is an ugly story," said Marrone, who is counting on his team to regroup during its Week 9 bye.
"But the story hasn't ended. We can still control how this story reads. When we get away, we have to think long and hard about it. We have to come back and we have to figure out what the story is going to be on the 2018 team."
Injuries are a big reason for the slide, especially with Fournette — the team's offensive centerpiece — missing six games because of a strained right hamstring. But Coughlin, Caldwell and Bortles deserve criticism.
Coughlin designed an old-school team to play in a pass-happy league, one in which running the ball is barely important and hiding a mediocre quarterback is next to impossible. The ground-and-pound Jags want to control the clock, limit Bortles' throws and play stout defense. It can work, but it usually needs everything to go right.
Turnovers, dropped passes, defensive lapses, the Jaguars have seen those too often and aren't built to handle much adversity or overcome double-digit deficits.
It doesn't help that Jacksonville is getting so little from its rookie class and its free-agent crop.
Coughlin and Caldwell were so confident they had a playoff team in place that they used the draft to prepare for 2019, adding several down-the-road replacements for veteran starters. First-round pick and defensive lineman Taven Bryan has nine tackles in eight games. Second-round receiver DJ Chark has 12 catches for 159 yards to go along with a fumble and several costly drops. Third-round safety Ronnie Harrison has been the best of the bunch while playing mostly in certain defensive packages.
Right tackle Will Richardson (fourth) is on injured reserve. Quarterback Tanner Lee (fifth) remains on the practice squad. Linebacker Leon Jacobs (sixth) has barely played outside special teams. And punter Logan Cooke (seventh) has failed repeatedly to flip the field when needed.
Free agents Andrew Norwell, Donte Moncrief, D.J. Hayden, Austin Seferian-Jenkins and Marqise Lee have been equally disappointing.
Norwell, a 2017 All-Pro guard from Carolina, was expected to bolster the offensive line and help give the Jaguars one of the best running attacks in the league. Instead, he looks unworthy of his five-year, $66.5 million contract.
Moncrief, who signed a one-year deal worth $9.6 million, was supposed to offset the loss of physical receiver Allen Robinson. He has 29 catches for 379 yards and two scores.
Hayden (toe) has missed six consecutive games, and Seferian-Jenkins (core muscle) and Lee (knee) are on injured reserve.
"Playing football is easy," defensive tackle Malik Jackson said. "Staying healthy is the hard part."
A legitimate franchise quarterback might be able to make up for all of Jacksonville's deficiencies. But Coughlin and Caldwell decided to give Bortles a three-year, $54 million contract in February, betting that the fifth-year starter would continue developing and adding to a growing list of turnover-free games.
Neither has happened, and the Jaguars are seemingly stuck with Bortles because of his $21 million contract in 2019. He has 10 touchdown passes, eight interceptions and three lost fumbles to go along with 18 sacks.
Throw in a training camp fight, two weeklong suspensions, a locker room scuffle last month, four players getting detained in London because of an unsettled nightclub tab, Jalen Ramsey's mouth and the ultra-confident defense failing to maintain its 2017 form, and the Jaguars have been more of a farce than a force in the AFC.
"The most important thing as a team is we've got to keep our belief strong," defensive end Calais Campbell said. "No matter what the outside noise says or does, we just got to keep our belief strong. Five losses in this league this early sucks, but five losses throughout the season, that's not bad at all; that's a heck of a year.
"We've got a lot of ball left to play. We made it real hard on ourselves, but I truly believe the guys that we have here are built to be able to do something special, even considering our current circumstance."
Marrone hopes to get Fournette, Hayden and cornerback A.J. Bouye (calf) back after the bye week. He also wouldn't rule out staff and lineup changes.
Already saddled with two division losses at home, the Jaguars have little room for error after the break if they're able to write a feel-good ending to their "ugly story."
"When no one picks you to win and everyone thinks you are going to stink, it's, 'Let's go out there and prove everybody wrong and play with a chip on our shoulder and go,'" Marrone said. "Then all of a sudden, when everybody is on the bandwagon, it's the opposite. 'Let's prove everybody right.' Either way, you are trying to prove right or wrong what is going on.
"We just haven't lived up to the expectations to this day."
---
---