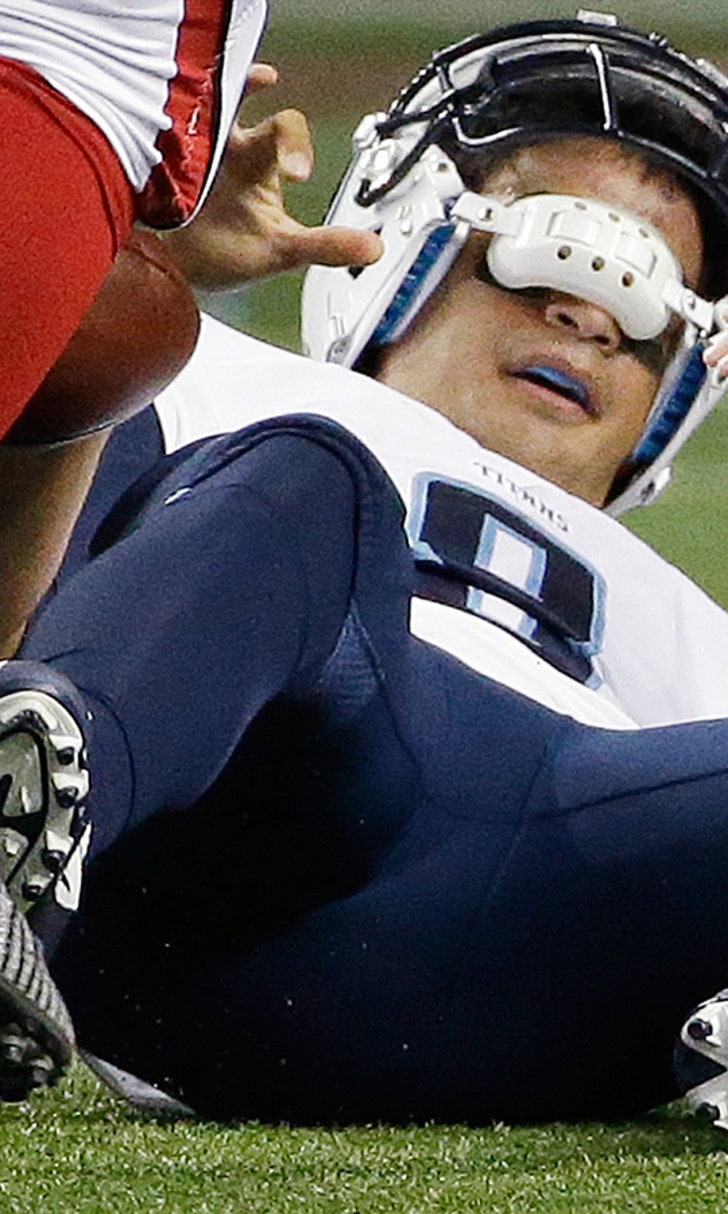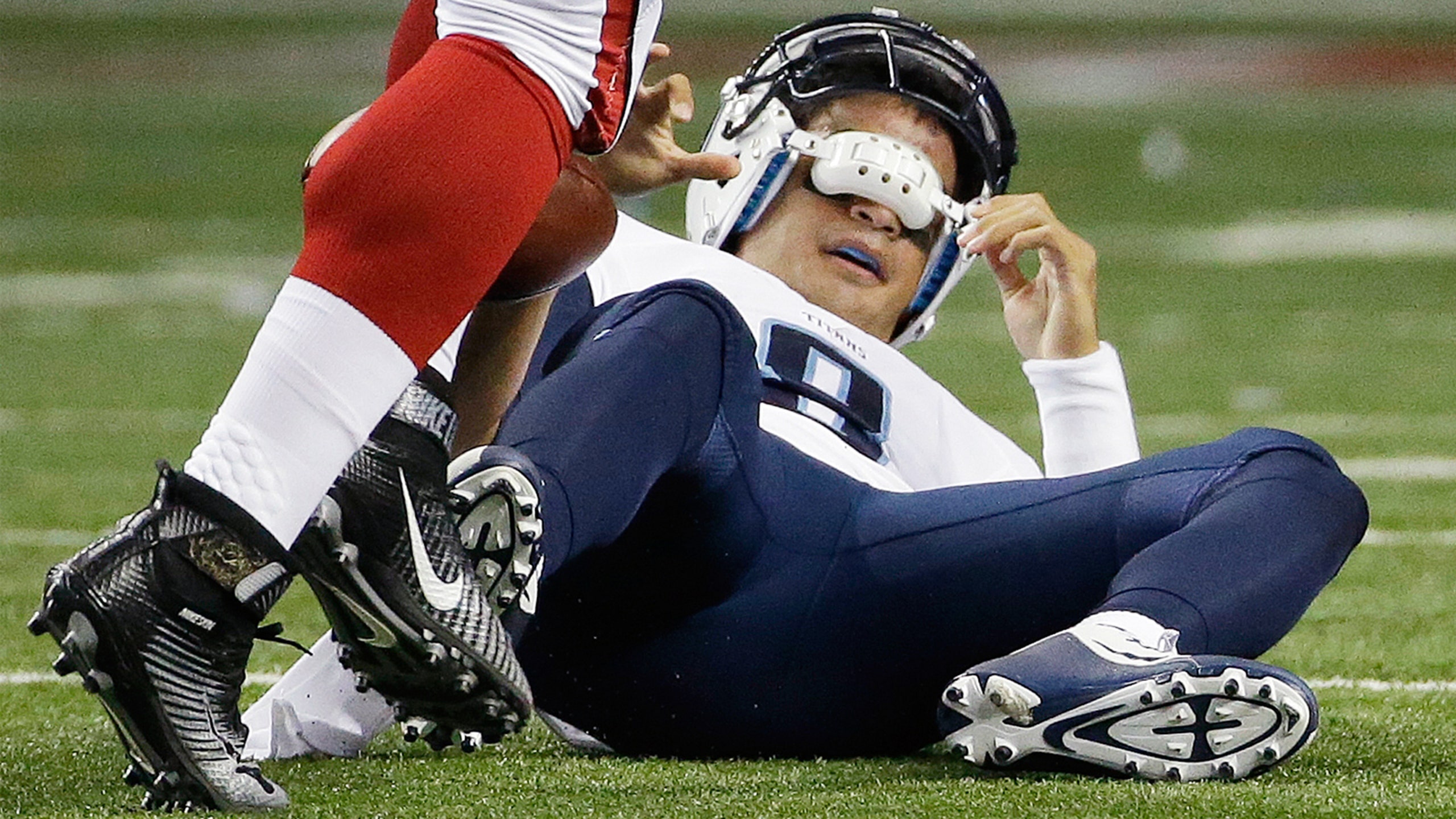 Mariota survives hot-take-filled NFL preseason debut
BY Sid Saraf • August 14, 2015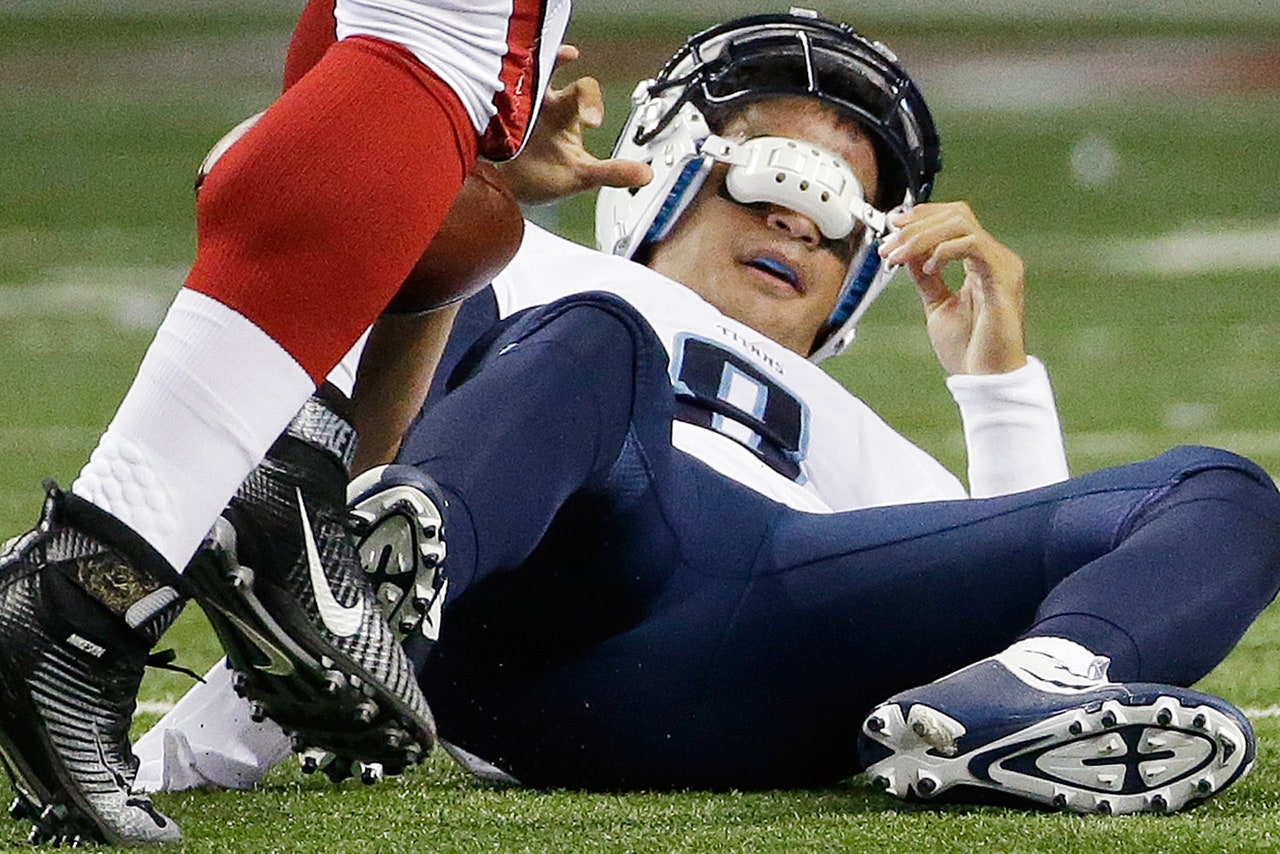 Who says there can't be drama in the preseason?
While the NFL usually spends August trying to keep players healthy and giving some on-the-bubble players some valuable game action, Friday's slate was different.
Why? Because it was the world's first chance to see the No. 2 pick in the 2015 NFL Draft, Tennessee Titans QB Marcus Mariota, under center in a game, against the Atlanta Falcons. Would we see the birth of the next superstar signal-caller? Should we start ordering the bronze for his bust in the Pro Football Hall of Fame?
People were on the edges of their seats, but fate intervened as the Falcons got the ball first. While Mariota stood on the sidelines waiting, the Falcons made mincemeat of a Titans secondary under new defensive coordinator Dick LeBeau. It's clear that LeBeau's new team doesn't have a lot in common with his old one, the Pittsburgh Steelers.
With Matt Ryan completing all six of his throws, the Falcons marched 91 yards and scored on a 13-yard strike from Ryan to Julio Jones. Social media stood up and took notice:
Welp. Would Mariota bring the Titans back? After handing off to Bishop Sankey on the Titans' first play from scrimmage, Mariota took the snap on second down and found Harry Douglas for a 12-yard gain!
Second pass attempt? A 4-yard completion to Anthony Fasano! Here we go!!
What would he do next? On first down from his own 46-yard line, Mariota dropped back, danced in the pocket and was sacked by Tyson Jackson for an 11-yard loss. Uh-oh:
No problem, he still had third down to make things right. But ... this happened: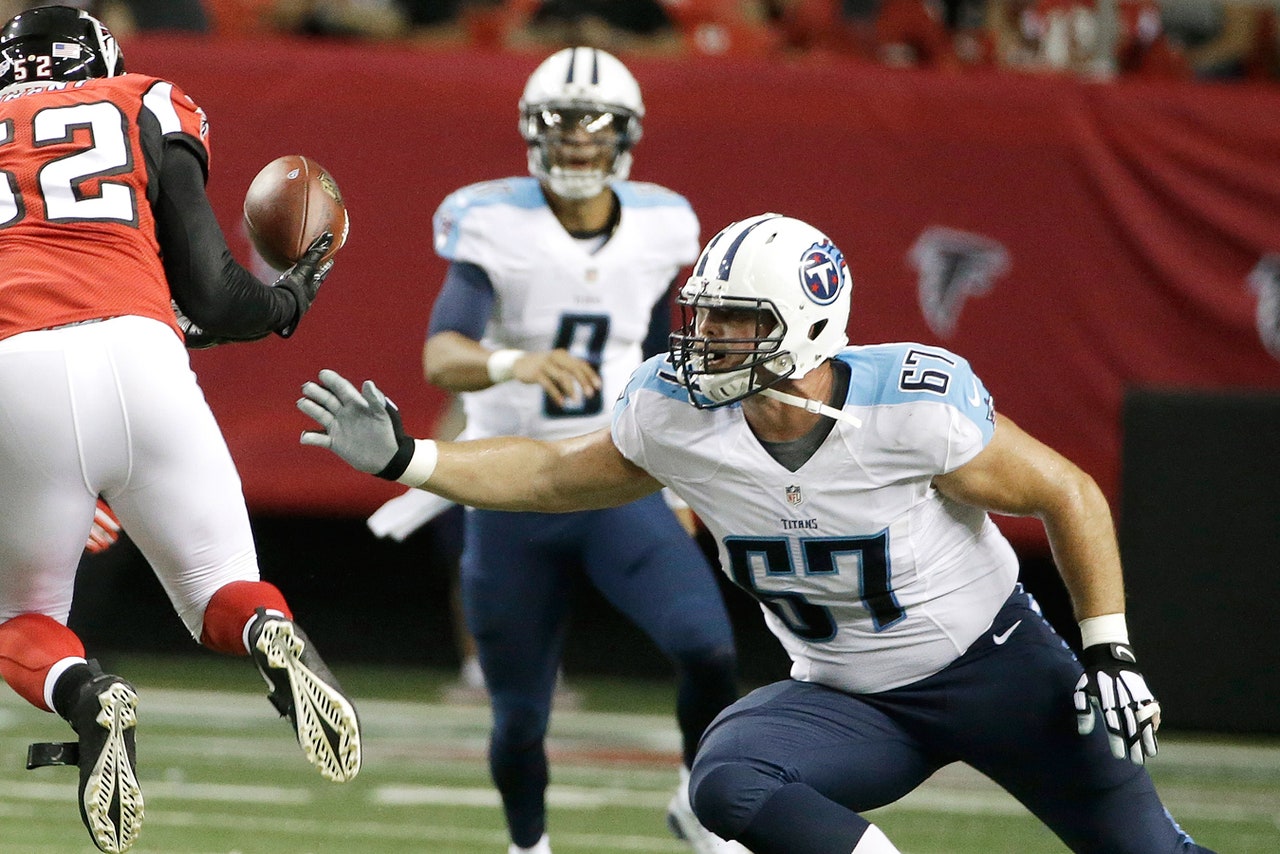 That's a failed screen pass that went right into the hands of Justin Durant for an interception. Oh, boy ...
This one just seemed mean:
After the Falcons turned the interception into three points with a field goal, Mariota trotted back out there. He handed the ball to Sankey twice, but on third-and-6 from his own 20-yard line ....
Heavens, no! The ball slipped out his hand as his arm came forward. Paul Worrilow recovered the fumble and rumbled 14 yards for the touchdown. The score? 17-0 Falcons.
Would that be it? Would Mariota tumble to the same career fate that stung such highly drafted quarterbacks like Akili Smith and Joey Harrington?
Not on your life. Mariota recovered. And when the Titans got the ball back, he ran the offense like a steely-eyed assassin. He completed all five of his passes — including a nifty Oregon-style wheel route to running back Antonio Andrews — on a drive that ended with a touchdown run by Dexter McCluster.
So, what did the peanut gallery have to say now?
Thank God they came around. Mariota's final stats: 7 for 8 for 94 yards, one interception and a passer rating of 76.0 All things considered, you have to consider the night a success. The rookie quarterback took nine snaps from under center — something he rarely did in college — and was able to keep his composure after some early mistakes.
It's all a learning process. What people need to remember is that there will be bumps in the road along the way, but not to lose faith so fast and jump to conclusions. Will Mariota make it in the NFL? It's way too early to tell. Give the man a little leeway. But here's one thing the Titans should consider: Improve the offensive line before you get your quarterback hurt.
OK, Jameis Winston, it's your turn on Saturday. Let's see what you got.
WARM WELCOME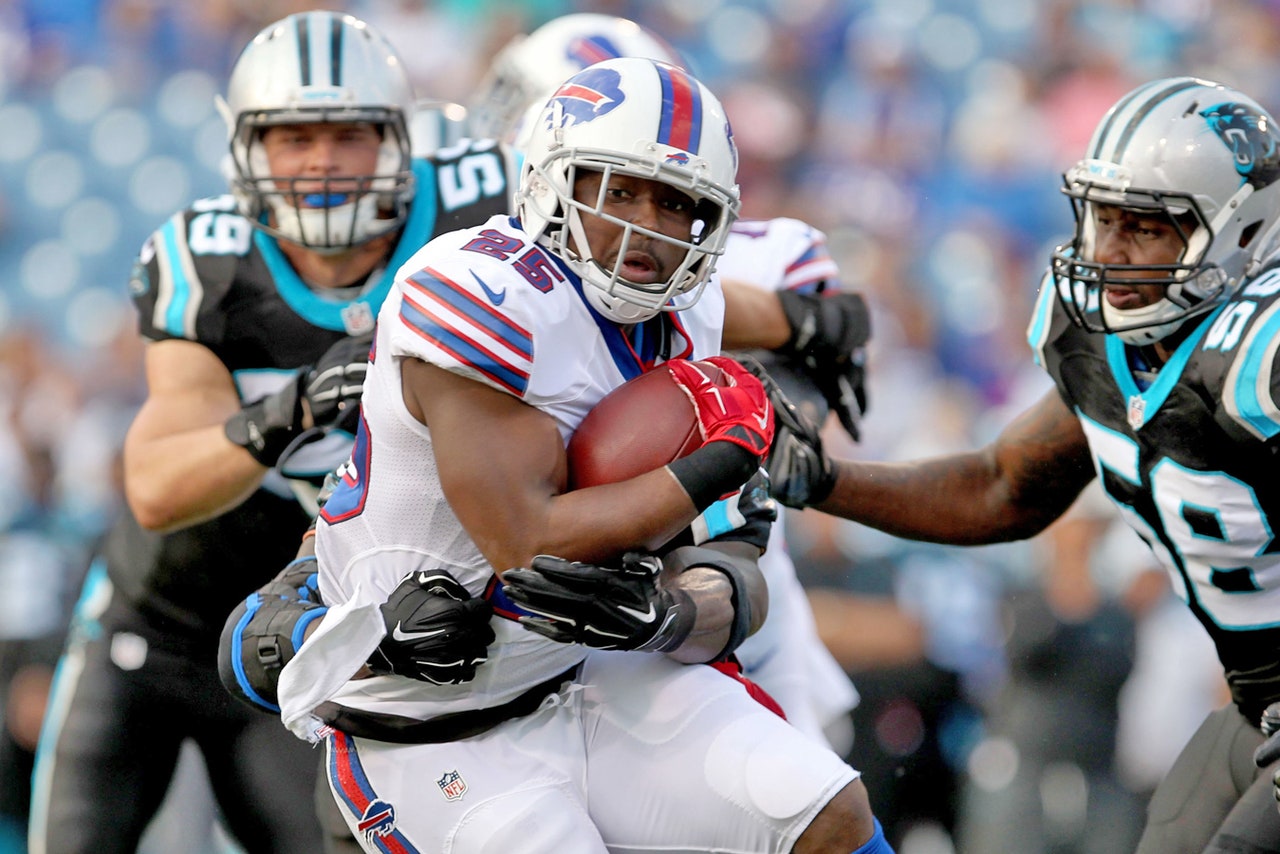 It's still weird to see LeSean McCoy wearing a Buffalo Bills uniform, but it seems as though he's going to fit in just fine.
He received cheers from the crowd on his first carry of the game against the Carolina Panthers on Friday night — a 2-yard gain. He got some decent work in as he finished with six carries for 16 yards. He also caught one pass for 8 yards.
There's much more to come.
SHORT DEBUT
The Jacksonvile Jaguars spent a lot of money to bring in tight end Julius Thomas this offseason.
They'll have to wait to see if they'll get much bang for their buck, because Thomas left Friday's game against the Pittsburgh Steelers with a fractured left hand. The man who signed a five-year, $46 million contract got hurt when he was tackled by William Gay on a first-quarter play.
PREP WORK
Have you ever been at an NFL game and seen some yahoo in the stands run on the field? Sure, laughs are had by all as we watch security chase the perpetrator around and eventually take him (it's always a him) into custody.
But did you know that some NFL teams practice for this situation? Jim Wyatt of Titans Online took some priceless photos before the Titans-Falcons game kicked off:
Did they get their man? You bet they did.
Always be prepared.
TYLER THE CREATOR
A lot of people in the Pacific Northwest were excited when the Seattle Seahawks used a third-rounder on Tyler Lockett. On Friday against the Denver Broncos, the speedster out of Kansas State made the team braintrust look smart.
Check out what he did.
---
---