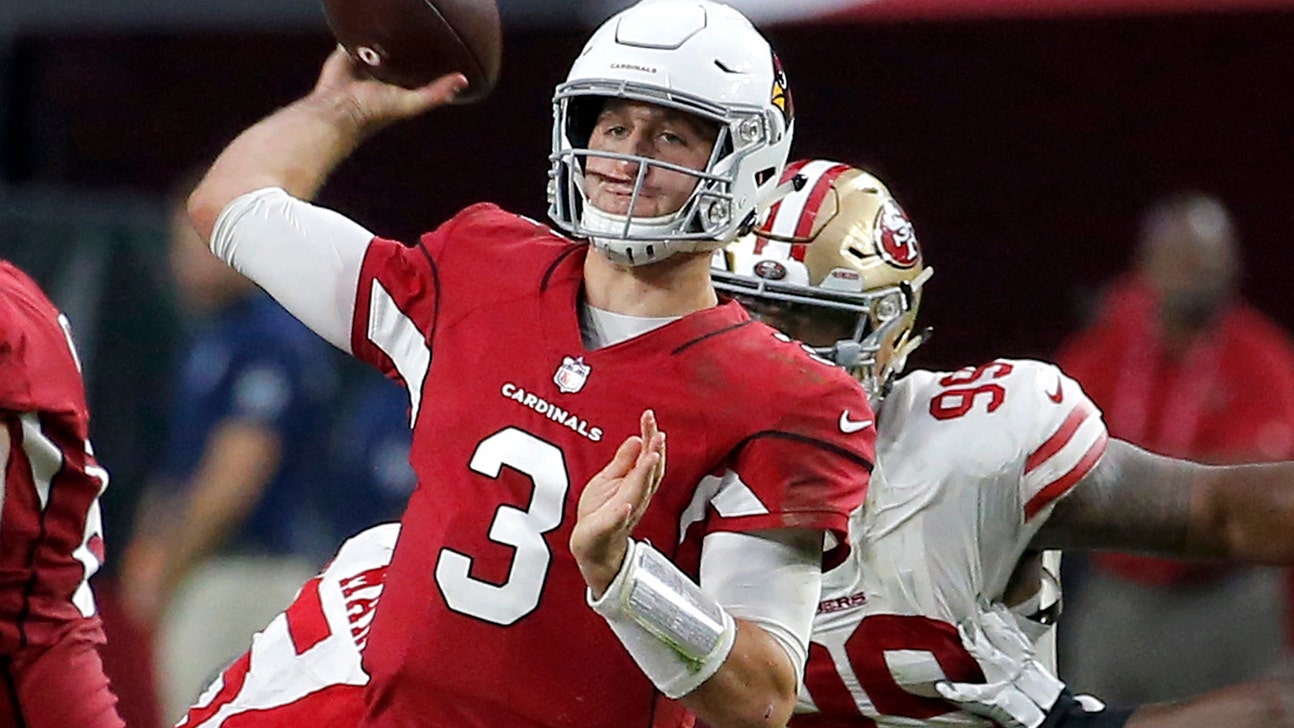 Mahomes, Rosen to face off when Chiefs welcome Cardinals
Updated
Mar. 4, 2020 4:06 p.m. ET
KANSAS CITY, Mo. (AP) — The Patrick Mahomes Reunion Tour rolls on Sunday when the young, record-setting quarterback leads the high-flying Kansas City Chiefs against the Arizona Cardinals at Arrowhead Stadium.
Last week, Mahomes shredded the Cleveland Browns while outplaying their rookie quarterback, Baker Mayfield. The two met when Mahomes was being recruited to Texas Tech and Mayfield helped to serve as his host, and their relationship continued even when Mayfield transferred to Oklahoma.
This week, Mahomes gets to reminiscence about his time working at Peyton Manning's football camp with his old roommate, Josh Rosen — now the quarterback on whom the Cardinals are pinning their future.
"I've met him a couple times, been out to California and met him," Mahomes said. "He throws a beautiful ball. It's always a really tight spiral. I know he'll have a lot of success."
It's going to be tough to top the success Mahomes is having.
The Chiefs' first-year starter is setting benchmarks just about every time he steps on the field, and the next one might be consecutive 300-yard passing games. Mahomes has eight straight to match Andrew Luck from the 2014 season, and he's shown no signs of slowing down.
"I thought he was pretty good," Rosen said, reflecting on those days working camp together. "We weren't really throwing, we were mostly just coaching the kids. So we didn't get to really throw too much, but I liked him as a dude. We got along really well."
Rosen hasn't seen a whole lot of Mahomes with the Chiefs (8-1) this week, either, because he's spent all his time focusing on the defense. But Cardinals coach Steve Wilks has seen enough to know that stopping him may be impossible, and slowing him down is nearly as difficult.
That goes for the entirety of the Kansas City offense.
"One thing we talked about all week is really trying to limit those big plays, understanding exactly who they're trying to target," Wilks said. "This is a very explosive offense. Going against Andy Reid for several years in different places, going all the way back to the Eagles, this is part of his M.O. So, we've got to try to limit the big plays as much as possible."
The Cardinals (2-6) have struggled much of the season, particularly on offense. But they're coming off an uplifting, fourth-quarter comeback victory over San Francisco that was capped by Rosen's touchdown strike to Christian Kirk in the final minute.
"You can let point spreads and all these things — 'trap game' — and all these terms that pop up and things that happen come into it," Reid said of perhaps the biggest challenge facing the Chiefs this week. "But if you can honestly focus on the process and discipline yourself to do that, that normally takes care of things. ... You're not going to let distractions get in the way."
As the Chiefs and Cardinals prepare to meet Sunday, here are some interesting notes:
GETTING HEALTHIER
Chiefs safety Daniel Sorensen is expected to play after returning from injured reserve, where he'd been since breaking his leg in training camp. The Chiefs also could have top pass rusher Justin Houston back from a hamstring injury that has sidelined him the past four games.
ROSEN AND REID
Rosen's father, noted physician Dr. Charles Rosen, graduated from the University of Pennsylvania, and the youngster was an avid fan of Reid and the Philadelphia Eagles growing up.
"I used to have an Eagles shirt when I was a kid that said, 'Our coach will eat yours.' I was a huge Andy Reid fan," Rosen said. "Him and Mike Vick and the DeSean Jackson days were very fun to watch.
FITZGERALD'S NUMBERS
Cardinals wide receiver Larry Fitzgerald has been climbing into the upper reaches of the NFL's career receiving marks, and he is closing in on a couple very high rungs.
Fitzgerald has 15,902 yards receiving, and he needs 33 more to pass Terrell Owens for second place behind Jerry Rice on the career list. Fitzgerald also needs 58 catches to pass former Chiefs tight end Tony Gonzalez for second behind Rice in career receptions.
Fitzgerald had eight catches for 102 yards and a TD in last week's 18-15 win over San Francisco.
PERFECTION, ALMOST
Reid was asked this week how often his creative plays are executed properly — when all 11 guys do exactly what they are supposed to do. And his answer was quite candid.
"I'd probably give you 85 percent of the time," Reid said. "Now, they can get beat and that would bring it down a little bit, but mostly guys will attempt to do the right thing. It amazes me how they can digest all this and in a split-second know — there's 200 plays on that sheet, and you have to figure it out like that, and these guys do it."
MAKE WAY, LEN
Mahomes already has thrown 29 touchdown passes, which means he needs just two more to pass Len Dawson's franchise record. The Hall of Famer set one of the Chiefs' longest-standing records in 1964, an era in which passing generally took a back seat to running the ball.
"It would be awesome," Mahomes said, "because Len had a lot of success in the NFL and was kind of ahead of his time, throwing all those touchdowns. It would be awesome to pass that."
---
---