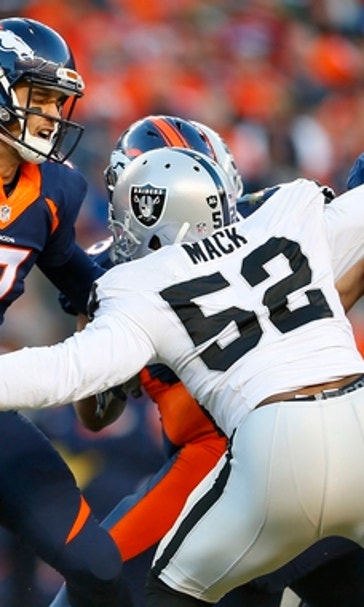 Mack looks to follow up All Pro season with even bigger year
BY foxsports • September 8, 2016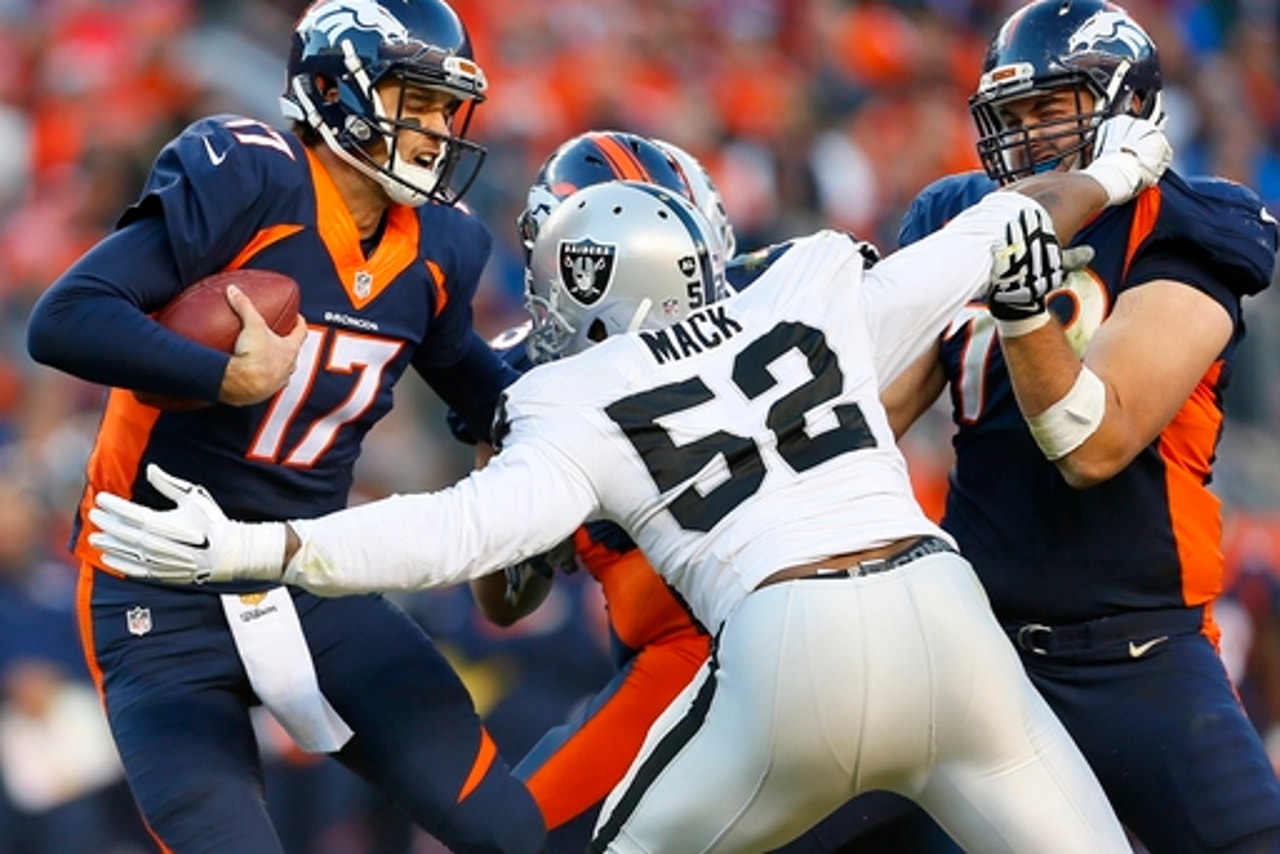 ALAMEDA, Calif. (AP) Khalil Mack followed a solid rookie season with a historic second campaign.
Now he sees even more room for growth after recording 15 sacks and becoming the first player to be named a first-team All Pro at two positions in 2015 when he emerged as one of the league's top defensive players.
''I'm a guy that, I come in just like my rookie year, I don't know everything,'' Mack said. ''I'm coming in, listening to the coaches just like the rookies, just like all of the other veteran players are, and we're working to get better. Last year is gone, but it was historic in certain ways, but 7-9 is not good enough. You want to lead and use your abilities to win games. That's really what the focus is always going to be for me.''
For as well as Mack played a year ago, the Raiders still were unable to post a winning record or make the playoffs for a 13th straight season. But his presence, along with other 25-and-under stars like quarterback Derek Carr and receiver Amari Cooper, have made the Raiders an intriguing team to watch this season.
Now they get a chance to back that talk up starting with Sunday's season opener in New Orleans against Drew Brees and the Saints.
''I believe it's the mindset,'' Mack said. ''We have the talent. I feel like the work we put in is going to give us the confidence when the season hits to go out and win games consistently. That's what we're looking forward to doing.''
Mack came out of Buffalo as the fifth overall draft pick in 2015 and made an immediate impact as a stout run defender who applied consistent pressure on the quarterback.
The only thing lacking as a rookie were sacks, as he had just four.
That all changed a year ago when his more refined pass-rushing moves helped lead to 15 sacks - second-most in franchise history - including a team-record five in one game at Denver in December.
''He's disruptive,'' Brees said. ''Every team has to plan for him, and yet he still kind of finds ways to be around the quarterback, be around the ball.''
Mack's performance helped him get named first-team All Pro as both a linebacker and a defensive end in a sign of his versatility as well as talent. He now gets mentioned alongside stars like J.J. Watt, Von Miller and Aaron Donald when talk turns to the top defender in the league.
While he might not be able to match last year's sack total, he should have more opportunities this year after Oakland added another talented edge rusher in former linebacker Bruce Irvin and upgraded the secondary with the signing of cornerback Sean Smith.
With quarterbacks likely needing more time to find open receivers against the Raiders' improved secondary and Irvin's presence making it harder to focus solely on Mack, offenses are going to have a harder time containing him.
''I feel like it's going to be one of those things where you're going to have to even it up and play man up, one-on-one,'' Mack said. ''One-on-one across the board or either chip on both sides because he's a special player. You really didn't get to see too much of what he can do in Seattle. So just having him going full mode over here is going to benefit us as a defense in a tremendous way.''
Irvin has a different idea on how teams should approach the Raiders, saying they should use three or four blockers on Mack. That was a big reason why he signed with the Raiders, knowing Mack's presence would help his production.
''The biggest thing about him, when a guy has had as much success as he's had in the first two years of his career, some guys seem to not take advice or seem to not work hard, but he comes to work every day,'' Irvin said. ''He takes advice from me. I take advice from him. I've said it before and I'll continue to say it, I really think this was meant to be, to be teamed up with him. We're going to continue to push each other each and every day and we're going to really make it happen this year.''
---
Online:
AP NFL website: www.pro32.ap.org and www.twitter.com/AP-NFL
---
---