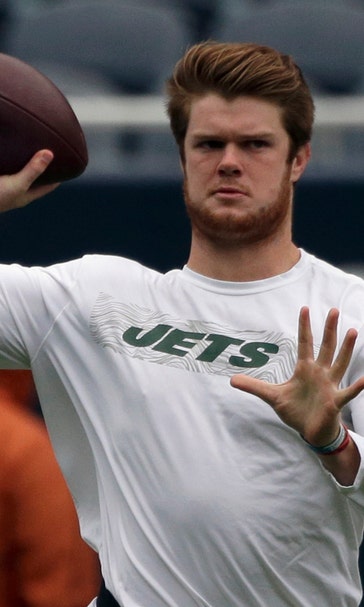 Maccagnan: Jets can use free agency as 'springboard' in 2019
November 1, 2018
FLORHAM PARK, N.J. (AP) — Mike Maccagnan is living in the present — with an eye on the New York Jets' future.
The fourth-year general manager is far from pleased or satisfied with the team's third straight 3-5 start. He also insists there's plenty of time left before this season can be accurately judged.
Playoffs or not, Maccagnan knows this: He and the rest of the franchise believe they've got their quarterback in Sam Darnold and the Jets will have plenty of money — about $100 million — to build around him during what the GM says will be a "very active" offseason for the team.
"We have a lot of things in place that with a successful offseason," Maccagnan said Thursday, "we can actually put ourselves in a position — with cap space and cash in free agency, along with our draft picks — in our mind to really springboard this thing forward."
Maccagnan's future with the Jets isn't a stone-cold lock beyond this season, and neither is that of coach Todd Bowles. New York has a game Sunday at Miami and home against Buffalo next Sunday before taking its bye-week break.
The Jets might have a good sense of where this season is headed at that point. An eighth straight year without a playoff appearance won't sit well with fans, and maybe not with owner Christopher Johnson, either.
"Where Sam Darnold is today is not where he's going to be a year from now or two years from now," Maccagnan said. "The goal is the playoffs. If you don't make the playoffs, are we moving the team in that direction?"
Progress is the key, and that's the goal over New York's final eight games of the regular season. Not that the Jets have chalked up this season to developing Darnold, and wins be damned.
"I don't know if you go in with the mindset of, 'Hey, we're just going to write this one off,'" Maccagnan said. "We're like everybody else: We want to win football games."
The Jets haven't done that consistently enough over the past three years under Maccagnan and Bowles. Part of the issue has been the lack of success in the draft during that span — with only 13 of 22 picks taken from 2015-17 still on the roster — despite Maccagnan saying he feels "pretty good" about his selections.
But this season is different in the sense that New York has Darnold, the No. 3 overall pick who has started from Week 1 and been the anointed face of the franchise since his name was called by NFL Commissioner Roger Goodell at the draft in April.
It has been an up-and-down season for Darnold, whose 10 interceptions are tied for the most in the league. There are spurts of brilliance, though, and a mental approach that has been highly praised by coaches, teammates, opponents and media, along with his natural instincts.
"When you look at him from kind of his approach to the game, his work ethic," Maccagnan said, "it's something we knew coming in, but obviously watching him kind of handle that situation, handle the locker room, how he approaches it, his passion to be good and his competitiveness, that's been a really big positive for him."
So far, that has been one of the few things Jets fans have been able to feel good about this season.
Maccagnan understands the record isn't ideal. Neither are the tough losses. Patience, for now, is being preached.
"It's not enjoyable to go out and lose games every week," Maccagnan said. "I think anybody who has gone through that, or is currently going through that, it's not a great experience. That's not what we get paid to do. But I do think that you're going to have to go through that maturation process at some point in time with the quarterback."
Still, Maccagnan said the Jets' focus is trying to win as many games as they can in the second half of the season.
"There's things that we're going to go through this season that will help us going forward," Maccagnan said. "The idea is that, in the end, our goal is to go out there and compete consistently for the playoffs."
That's the delicate balance of a GM in Maccagnan's position: trying to marry the short-term goals with the long-term view for the franchise.
"Where we are right now, we're not at the end result yet," Maccagnan said. "But we're in the process where we feel really good about some of the pieces we have and we're going through a maturation process."
NOTES: CB Trumaine Johnson (quadriceps) was limited at practice after sitting out team drills the past three weeks. It's still unclear if he'll be able to play at Miami. ... WRs Quincy Enunwa (ankle) and Robby Anderson (ankle), TE Neal Sterling (concussion), NT Steve McLendon (ankle) and LBs Frankie Luvu (neck) and Kevin Pierre-Louis (foot) all didn't practice. ... WR-KR Andre Roberts tweaked his back and was limited. ... LT Kelvin Beachum (knee/ankle) was also limited. ... S Marcus Maye (thumb), C Spencer Long (knee/finger) and LB Jordan Jenkins (ankle) were all full participants after being limited Wednesday.
---
---