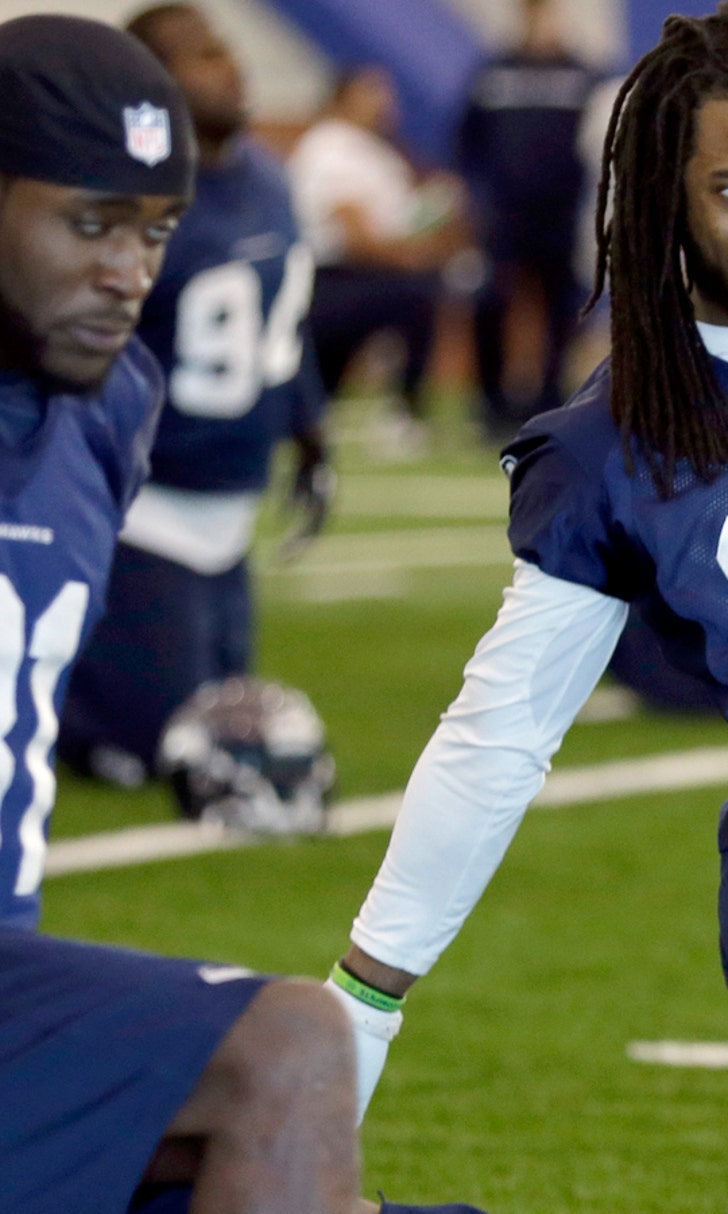 Lynch returns, D rules in Seahawks' final 'Turnover Thursday' pratice
BY foxsports • January 31, 2014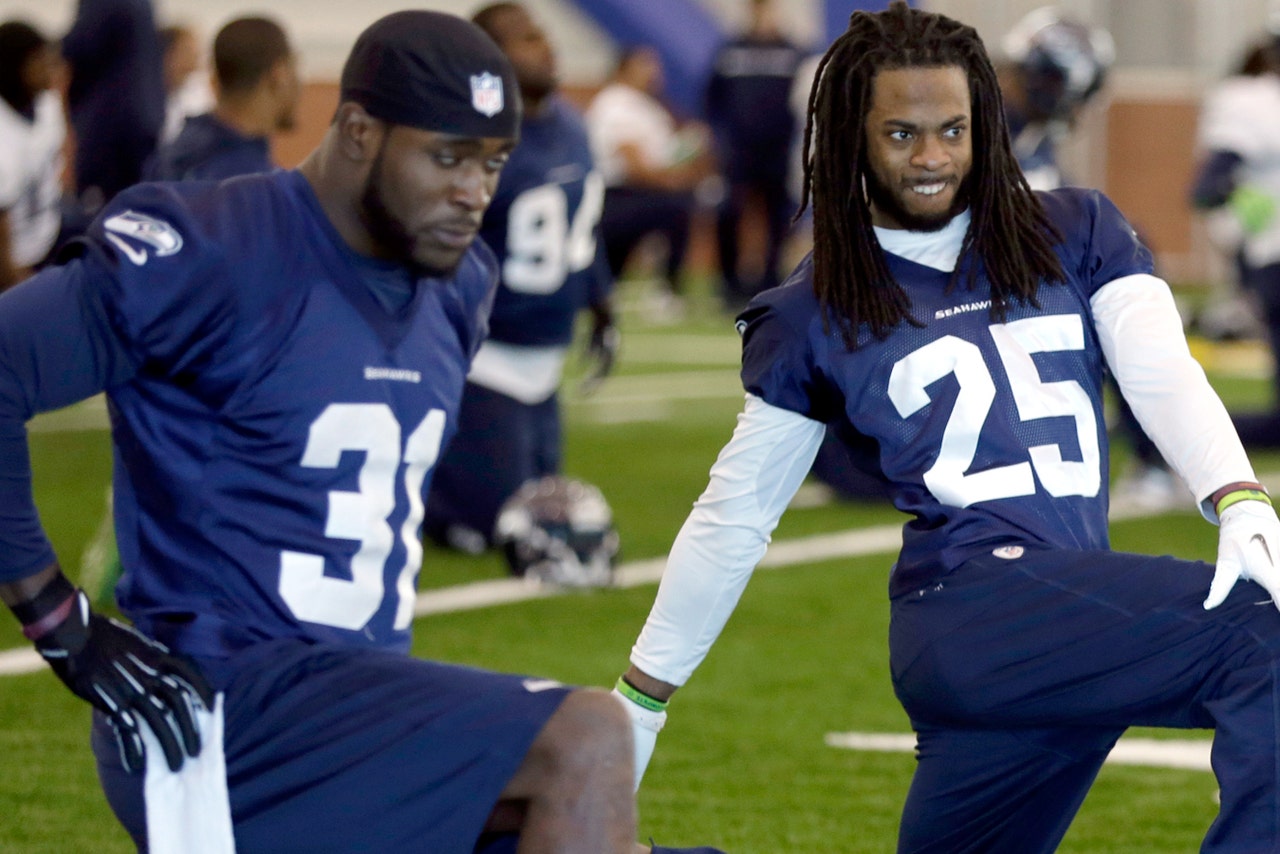 Marshawn Lynch returned to being a full participant in practice on Thursday as the Seattle Seahawks had their second workout of Super Bowl week.
Lynch was given Wednesday off as has been his typical regimen for most of the season. He was a full participant on Thursday as the Seahawks were as healthy as they have been all season just a few days before facing Denver.
Percy Harvin, Doug Baldwin and Brandon Mebane were all full participants as well.
Seattle took the field around 4:30 p.m. and went for 90 minutes at the New York Giants' indoor practice facility. The Seahawks again opened the doors of the building to let cold air in and try and simulate the expected temperatures on Sunday night at MetLife Stadium.
"Everybody is fine. No issues at all," Seattle coach Pete Carroll said. "It's fantastic to have everybody going, knowing that everybody is healthy. Of course they're excited about that, too. We're very fortunate in that sense."
While it was "Turnover Thursday" in the Seahawks practice plans it was also a significant day to work on third downs, Carroll said. The only turnover of the day came from defensive back DeShawn Shead during a 7-on-7 drill.
"Today, we're finishing up the game plan," Carroll said. "Our third-down stuff today was a big deal. But the whole day is really dedicated to the ball; it's a turnover day for us. So we're working on that all day long."
Seattle bused over from its Jersey City hotel to the practice facility shortly after 11:30 a.m. The team had meetings, a walkthrough and lunch before taking the practice field.
"The guys are really excited about the game," Carroll said. "They're practicing with great focus and attention to the details. And so we go to Friday and try to put together a really good day on Friday, finish really sharp, and head into the weekend. We're ready to go."
Turnover Thursday
They're all part of the playbook on "Turnover Thursday" for the Seattle Seahawks.
Richard Sherman and the defense do anything they can to knock the ball out of the hands of their counterparts on offense. Russell Wilson and the offense do all they can to keep it away.
"It's intense," Sherman said Thursday. "We go really hard at practice."
It's an approach that has worked well for Carroll's team this season, and one the Seahawks plan to continue in the Super Bowl against the Denver Broncos on Sunday.
Seattle's stingy defense led the NFL with 39 takeaways, a fact the Broncos are well aware of.
"Our guys are going to have to be ready for that," Denver offensive coordinator Adam Gase said. "They know that we're in for that physical type of battle. The hardest thing is when you do get that hit, you've got do everything you can to hold onto that ball and try to convert that play."
The Seahawks were tops in the league with 28 interceptions and just 231 points allowed. They also gave up the fewest yards per game with 273.6, and had the best pass defense with 172 yards a game.
"It does work," defensive end Red Bryant said of the Thursday practices. "It's a reflection of our record. Coach Carroll from Day 1, his philosophy is all about the ball.
"He stresses to the offense to protect, and he stresses to the defense to take the ball. On defense in particular, we understand that every time that we take a snap, we've got an opportunity to affect the game by taking the ball, and we really believe in that.
"That's part of the biggest reason we we're able to win 15 games this year."
As far as most players could recall, the defense has won all but one of the "Turnover Thursday" sessions this season.
It was more of the same in the team's final Thursday practice: Cornerback DeShawn Shead had an interception in 7-on-7 drills for the lone turnover.
"The defense won," Carroll said. "They got their turnover today."
The competition is over as soon as the offense turns the ball over — just once. So, a wayward throw by Wilson or backup Tarvaris Jackson, a mishandled handoff or a ball knocked out of the hands of a running back or receiver and the defense wins.
"That's it, it's a wrap," backup running back Robert Turbin said. "It's like scout team offense going up against the starting D. You know what I'm saying? It was like, 'Eww.' It's kind of hard to keep the ball away from them."
Defensive end Cliff Avril senses that the offense isn't a big fan of "Turnover Thursday" because of the defense's intensity every week.
"The guys we have on our team, they pride themselves on getting turnovers," Avril said. "So it's us kind of imposing our will in a sense."
Wilson actually enjoys the practices on Thursdays to an extent, but refers to them in a different way.
"I call it 'No-Turnover Thursdays,'" Wilson said with a laugh. "The defense, they're trying to find ways to get the football. They'll do anything to try to poke the football out and, obviously, intercept the ball. It's been a fun year, doing it. It's an intense practice. Wednesdays and Thursdays truly feel like a game to us."
Wednesdays around Seahawks camp are "Competition Wednesdays," game-like sessions in which the team runs a live scrimmage that includes a play clock and simulates pressure-packed scenarios for both sides of the ball.
Each period of practice is scored, with each play going in favor of the offense or defense. So, whichever side wins the bulk of those periods comes out on top for the day.
"Yeah, we usually win those," Turbin said with a grin. "We won every Wednesday this year except one, maybe two."
Seattle's offense ranked first in the NFL with a plus-20 turnover differential, with 10 lost fumbles and nine interceptions thrown by Wilson — one fewer than Denver's Peyton Manning.
"To think about that and how hard we play all the time," Wilson said, "it makes a difference come game time."
So, if the Seahawks have names for the practices on Wednesdays and Thursdays, what about Fridays?
"It's called 'No-Repeat Fridays,'" Avril said. "That means you have to be on your P's and Q's. You can't repeat plays. Guys have to be on point as far as the mental part of the game, because, at that point (in the week), it's more mental than physical."
And, what do the Seahawks call Sundays?
"'Game Day' or 'Win Day,'" Avril said, laughing. "We try to win the game. I don't know. It's just 'Game Day,' I guess."
---
---