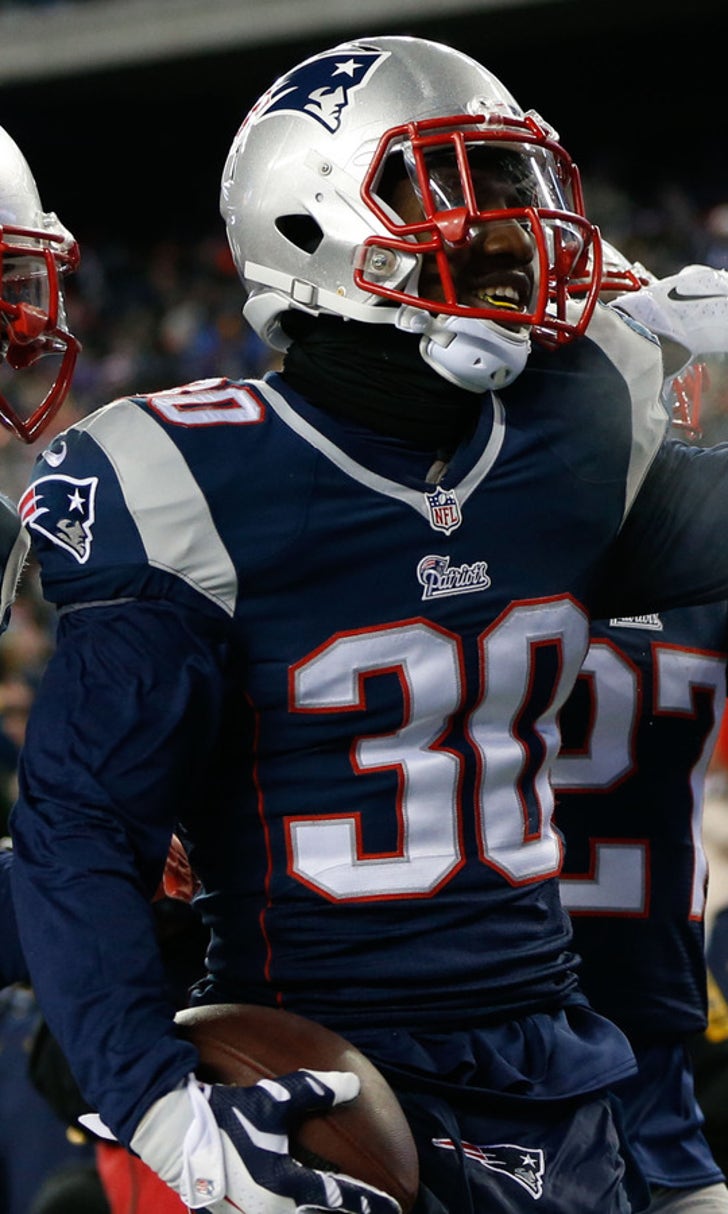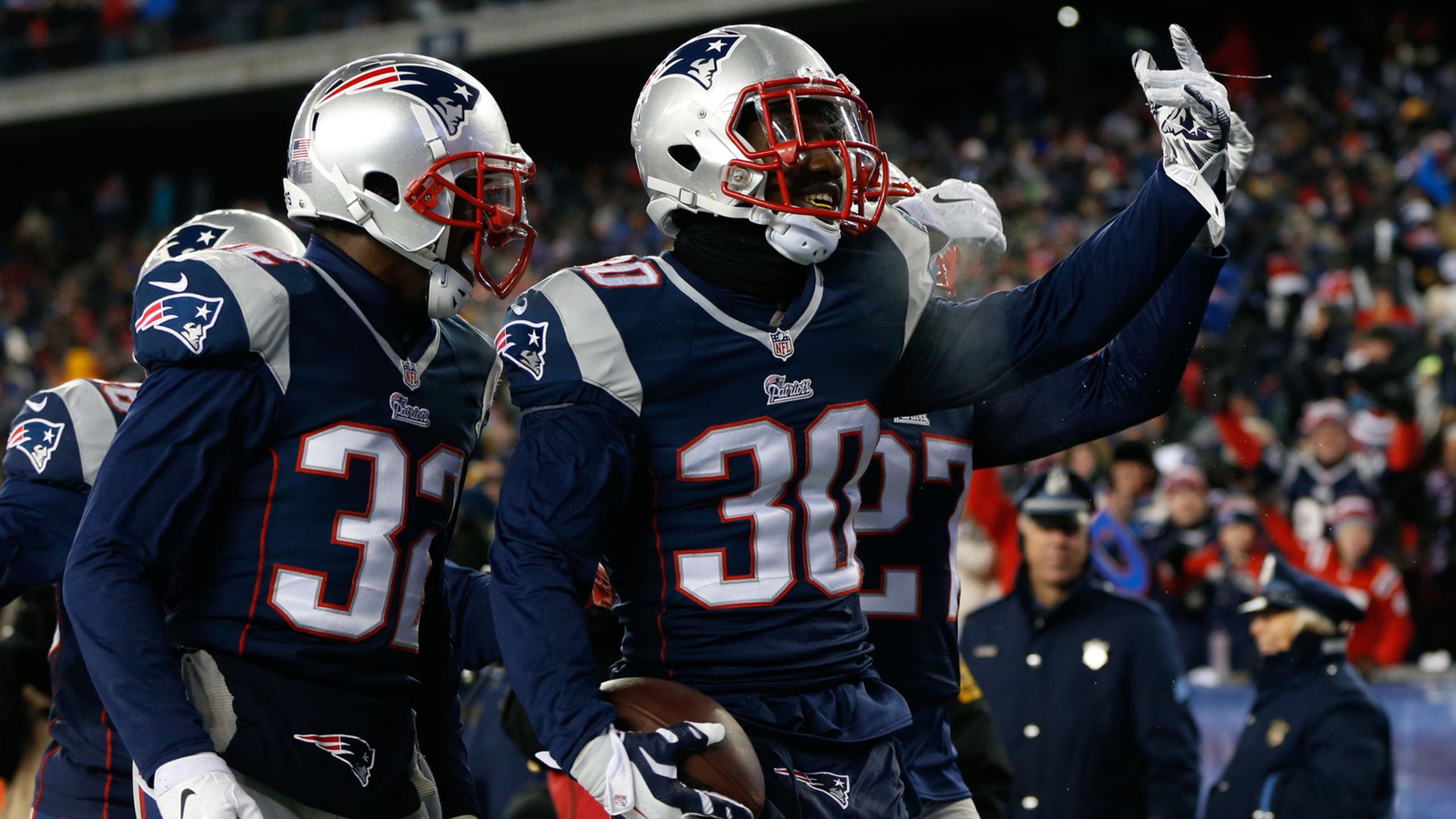 Logan Ryan, Duron Harmon are like family, not just teammates
BY foxsports • January 14, 2016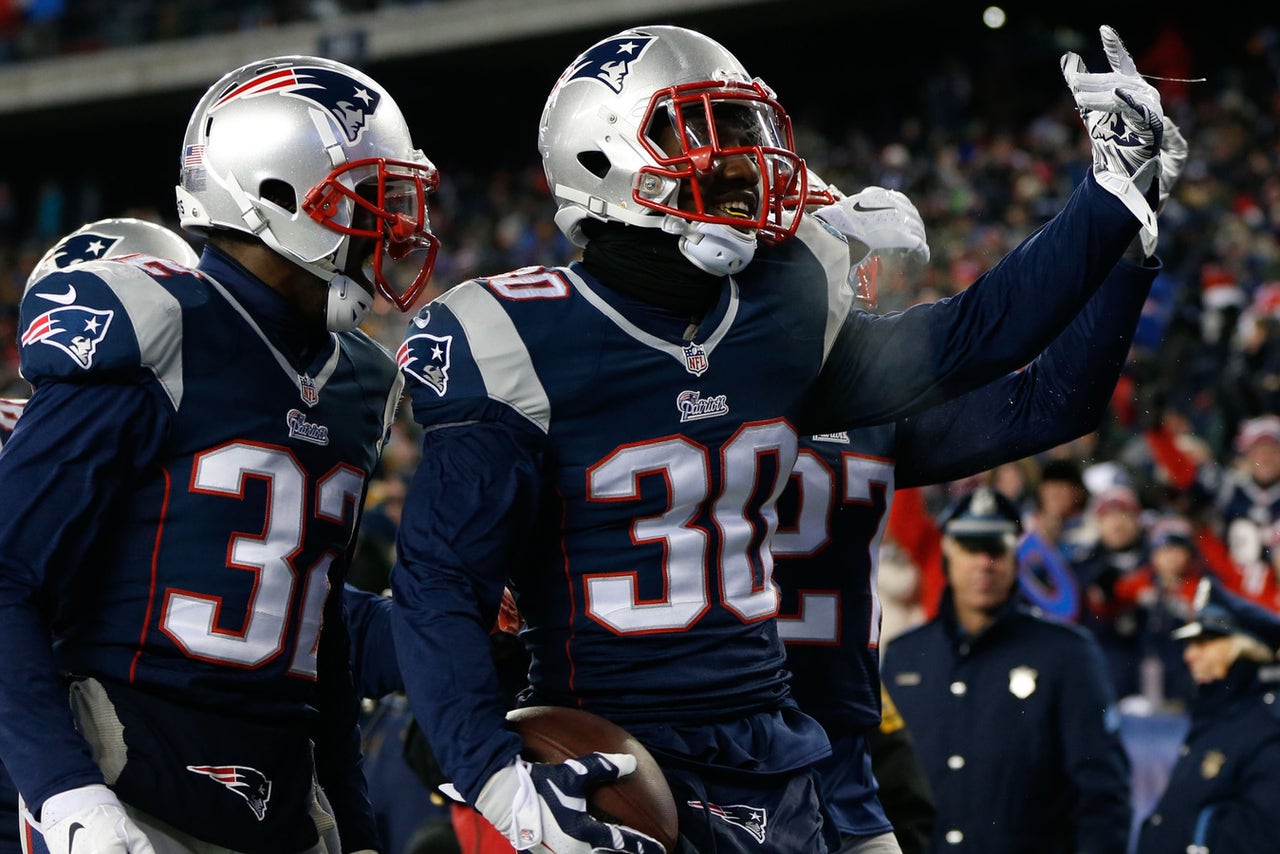 By Doug Kyed
FOXBORO, Mass. — Thank Duron Harmon for Logan Ryan's breakout season as a New England Patriots starting cornerback. Equally credit Ryan for helping Harmon emerge as a playmaker at free safety.
Ryan and Harmon have built chemistry for seven long years, growing from kids on a recruiting trip at Rutgers to fathers, Super Bowl champions and key contributors in one of the NFL's upcoming secondaries. They warm up together before every practice, share holidays, have playdates with their young children and have pushed each other to become better football players since Day 1.
Don't they ever get sick of each other?
"Not yet. Not yet," Ryan said smiling. "So far, so good. Who knows. In another week, who knows?"
The two defensive backs, then young commits in the same class at Rutgers, bonded quickly over football in 2009.
"When I saw Log — because we all committed around the same time — they just introduced us, and they were like, 'This is the guy you're going to be working with, the corner,'" Harmon said. "Us introducing and talking, we immediately started talking football, what our plans were, what we wanted to do there, what we wanted to accomplish and things like that.
"Right off the bat, I was like, 'OK, this is somebody that I'm gonna grow close with, because seems like me and him are on the same plan, we're focused, we want to get better at football, and I feel like that's what's happening, and that's what's going to continue to happen."
Ryan had a more specific first recollection of Harmon.
"I knew Duron was a good guy when he brought his girlfriend on the recruiting — we all had a visit to Rutgers together, and he was the only one to bring his girlfriend," Ryan said. "So, I was like, 'That's a good guy right there. That's a guy I can get along with.' That's his fiancee to this day."
A PLAN OF ATTACK
Harmon was an immediate contributor as a freshman, while Ryan, a higher recruit, redshirted (and starred as the scout-team quarterback). They first shared the field in 2010 but broke out in 2011, when they started all 13 games in the Rutgers secondary. Harmon was named first-team Big East, while Ryan earned second-team honors.
"My senior year, our last year together, I remember going into summer, and me and him were talking, and he was like, 'It's going to be my last year,'" Harmon said. "He, of course, had an extra year of eligibility, and him being the person he is, we sat there, and we thought about why we wanted to go to the NFL, and we made a plan of what we were going to do to make ourselves better. He pushed me, and we pushed each other. We worked out twice a day all that summer, just trying to push each other to make each other great. That's just the type of relationship and friendship we have."
Harmon and Ryan helped Rutgers win a Big East title in 2012 as both were named first-team All-Big East. Despite Harmon's more decorated career with the Scarlet Knights, Ryan was considered the better NFL prospect.
Ryan was projected to be taken in the third round of the 2013 NFL Draft, while Harmon was the 413th ranked prospect by The Sports Xchange.
Ryan was selected No. 83 overall in the third round by the Patriots, and Harmon was drafted eight picks later.
"I think my family and me were more excited to see him get drafted to the Patriots, because I think we were in shock a little bit when I got drafted," Ryan said. "It hadn't really hit us yet. Then we saw Duron's name, and I think we just lost it that we would be playing together. It was definitely a double celebration or roar in my house when he was drafted so soon after me."
Head coach Bill Belichick said last month the Patriots didn't draft Ryan and Harmon back to back because they were college teammates, but it certainly has worked out.
"Obviously those guys have a great relationship and a prior one and that's a little bit unusual in the NFL," Belichick said. "You don't see that a lot where guys that come out the same year end up with the same team. I don't know what the odds on that are but probably not great, particularly when they play the same position, being both defensive backs.
"But yeah they work hard together, they're around each other, but they have good relationships with everybody, too. It's not like they form a clique or anything. That's definitely not the case. They've done a good job of working in with everybody, but of course they go back further than other guys do in similar situations. It's all positive. They both are good."
Most questioned the Patriots' decision to pick Harmon because of how he was viewed by draft analysts. ESPN, famously, didn't prepare any clips of Harmon's college career because they didn't expect him to be selected,which upset his mother, Dawn.
STEPPING UP
Belichick looks pretty smart now for seeing something in Harmon, who played 55 percent of the team's defensive snaps this season as the Patriots' primary nickel defensive back. Harmon and Ryan both were forced to grow up fast after the Patriots' secondary underwent an upheaval this offseason.
Gone were Darrelle Revis, Brandon Browner and Kyle Arrington, and up had to step Malcolm Butler, Ryan and Harmon.
In a throwback to 2012, Harmon and Ryan, along with other Patriots defensive backs, traveled to Arizona and worked on their craft at Shutdown U this offseason.
"That's another time where you get to, he's always trying to help me, I'm always trying to help him," Harmon said. "Times like that, it just helps us in general. We're always trying to push each other."
Harmon had become highly regarded after solid rookie and sophomore seasons in New England, while many wondered if Ryan could handle the responsibilities of a starting role. He responded by starting the final 14 games of the 2015 season, allowing a 69.1 passer rating against — the equivalent of Nick Foles, who was benched by the St. Louis Rams after 11 starts.
"We work extremely hard at our crafts," Harmon said. "We're never satisfied, and we're always looking to get better. We're always doing the little extra things, because neither of us are the best athlete, we're not the strongest or the fastest, but our outlook on the game and our preparation toward being better football players really makes us the players that we are."
Durability also is key for Ryan, who's never missed an NFL game, and Harmon, who was inactive Week 1 of his rookie year and never again. They'll both be free agents after the 2016 season, and Harmon is crossing his fingers they'll continue to be teammates for years to come.
"I hope it never stops, man," Harmon said. "We've had some good years together, we continue to push each other, we continue to grow. I hope we can continue to keep playing together."
That's equally important to their growing families. Once 17-year-old high school recruits, Harmon and Ryan now both are fathers to newborns — Harmon and his fiancee also have a 4-year-old son. Their significant others are close, and so are their parents.
"It's great. Any time his family comes up here, my family, they're sitting together, they're laughing," Harmon said. "It's just like a big family. I love his parents, he loves my parents. Any time we see each other or each other's parents, it's always conversations and big group hugs and stuff like that. It definitely goes a long way with just me and him, our relationship, there's trust off and on the field."
Ryan and Harmon are growing stars in the Patriots' secondary, and as long as they stay together, it's a certainty they'll continue to work to improve.
More from NESN.com:
---
---