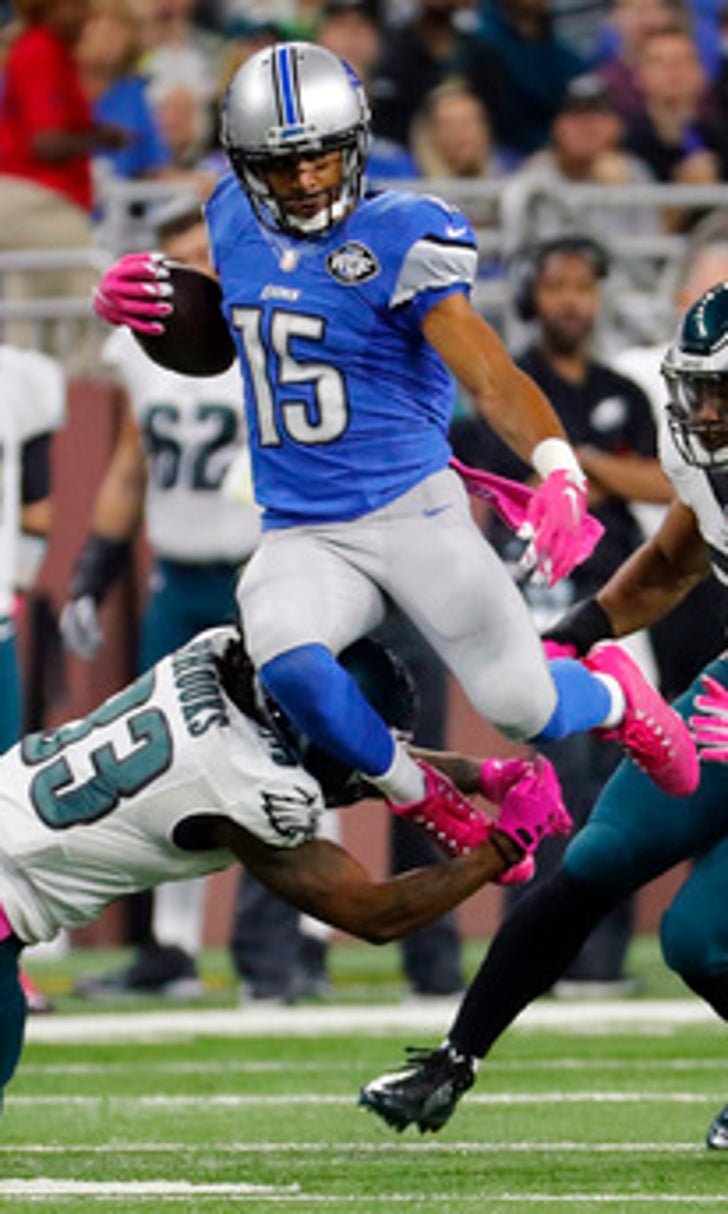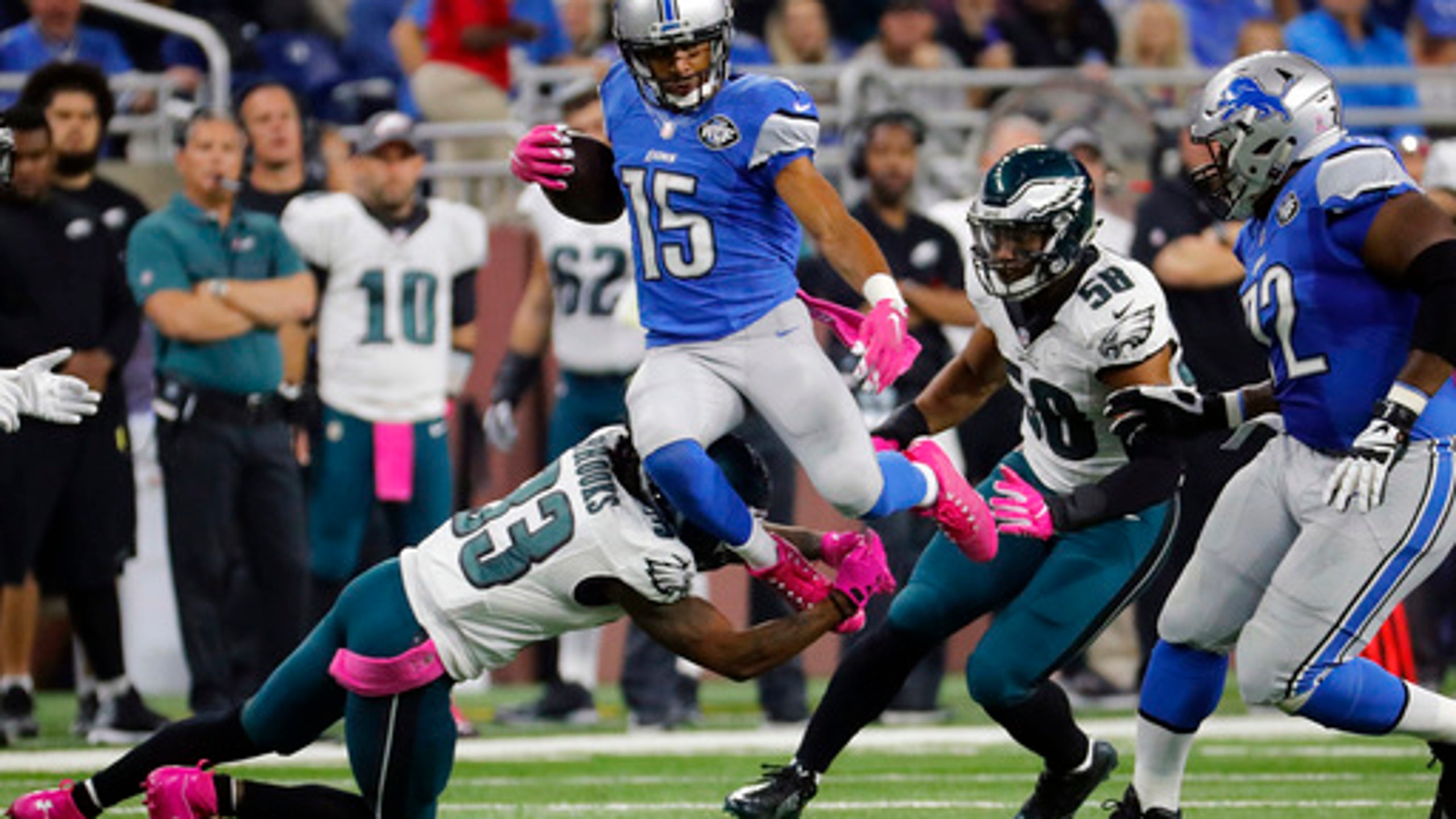 Lions showed creativity juggling players in win over Eagles
BY foxsports • October 10, 2016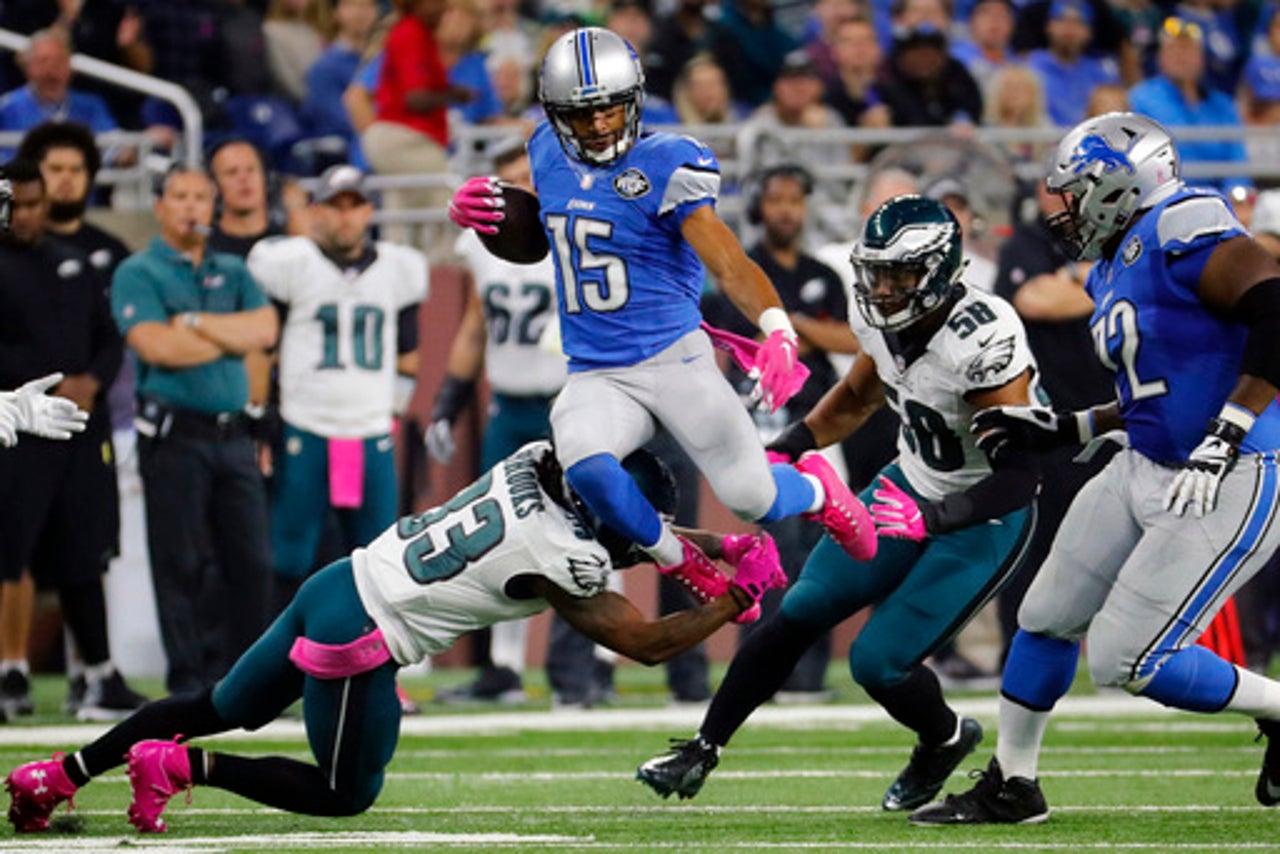 ALLEN PARK, Mich. (AP) Over and over, the officials announced that Detroit's Corey Robinson was reporting as an eligible receiver - a sign of just how banged up the Lions are in certain areas.
Robinson is an offensive tackle and wears No. 70, but with their tight end corps thin because of injuries, the Lions used him there during their win over Philadelphia last weekend.
''He's been asking for a few routes here and there,'' coach Jim Caldwell joked.
With Robinson filling his unusual role and Golden Tate lining up in the backfield some, the Lions showed some creativity in their 24-23 win Sunday. Detroit is dealing with significant injuries at tight end, running back, linebacker and on the defensive line, but the victory over the Eagles helped the Lions regain their footing a bit after three straight losses.
''We were starting a new quarter of the season,'' Tate said. ''We like to break it up into four quarters, and it was the second quarter of the season. Obviously, the first quarter didn't go so well, so we just wanted to start off 1-0.''
Detroit (2-3) was without tight end Eric Ebron (ankle, knee), defensive end Ziggy Ansah (ankle) and linebacker DeAndre Levy (knee, quadriceps) on Sunday. Running back Ameer Abdullah (foot) has also been out.
Considering all that, the Lions looked surprisingly crisp in the first half, when they scored on all three of their possessions and led 21-10 after two quarters.
The 6-foot-7, 317-pound Robinson made his first career start and played 19 snaps. The Lions weren't about to throw the ball to him, but Robinson is certainly capable of providing extra blocking as a tight end, and Caldwell was pleased with the way he moved around.
''We typically don't put those guys in motion if we can help it, but I thought he did pretty well,'' Caldwell said Monday. ''He did show an aptitude to handle a little bit of a skill position in that regard, so he did pretty well. Didn't have to worry about him jumping offsides or anything of that nature.''
Tate hasn't had a great season so far at wide receiver, and the Lions moved him around as well Sunday. In addition to his three catches for 39 yards, he also had three carries for 6 yards.
The Lions were coming off a particularly unimpressive performance in a loss at Chicago , so beating the previously undefeated Eagles was an important step. Detroit lost seven of its first eight games last season, and there has been pressure to avoid repeating that kind of start this year.
The Lions host Los Angeles next weekend, the second of three consecutive home games. They'll face Washington the following weekend, so the hope in Detroit is that the victory over the Eagles can be the start of an extended stretch of better football.
''Every win is important. I think it's more so what you do after that that counts,'' Caldwell said. ''The work we've got to put in and all those kinds of things will make a tremendous difference in that regard, so we've got to go back to work and straighten out the problems we had. But it's better to build on that platform than a loss, obviously.''
NOTES: The Lions announced that beer ($3.50) and hot dogs ($2.50) will be sold at 1991 prices for Sunday's game. Detroit is honoring its 1991 team that reached the NFC championship game.
---
AP NFL website: www.pro32.ap.org and www.twitter.com/AP-NFL
---
---