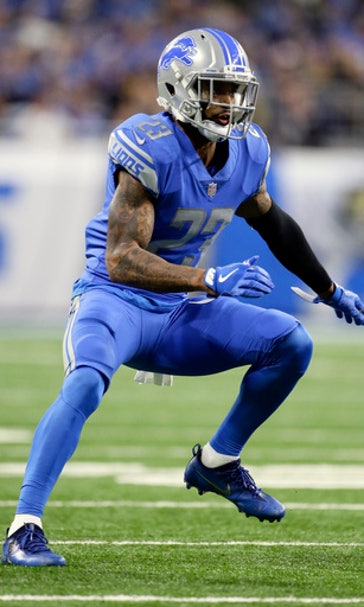 Lions, Packers look for offensive fixes at Lambeau
November 2, 2017

GREEN BAY, Wis. (AP) Minus a consistent running game, the Detroit Lions are having trouble scoring touchdowns in the red zone.
Without quarterback Aaron Rodgers, the Green Bay Packers are working on getting their passing attack back on track.
The NFC North rivals meet at Lambeau Field in a game Monday night that could be decided by which team first figures out how to fix its offense.
The loser faces an uphill climb trying to keep pace with division-leading Minnesota.
''I think it is just execution and (being) detail-oriented,'' quarterback Matthew Stafford said about improving in the red zone . ''I don't think there's any massive scheme overhaul ... We've just got to find a way to get it in.''
A 20-15 loss last week to the Steelers included three lackluster second-half possessions inside the 10 for the Lions (3-4). They failed to score on two of the drives and had to settle for a field goal on the third. Detroit fell to 28th in the NFL in red-zone offense, converting on just 45 percent of opportunities.
Another 400-yard passing game for Stafford won't mean much if the Lions' struggles inside the 20 continue. Detroit has eclipsed the 100-yard rushing mark as a team just once this year, a 24-10 win over the New York Giants in Week 2.
''I'm more interested in winning, more so than anything else. And how we go about it, it could vary,'' coach Jim Caldwell said.
In Green Bay (4-3), the passing game is the more pressing problem with Rodgers out with a collarbone injury. Third-year quarterback Brett Hundley is slated to make his second NFL start.
The first start, two weeks ago against New Orleans, started impressively enough thanks to the quarterback's scrambling ability and a career-high 131 yards rushing for rooking running back Aaron Jones.
But a once-potent passing game struggled down the stretch. Coach Mike McCarthy has said that he needs to get Hundley more comfortable dropping back in the pocket . The Packers must also do a better job of getting the ball into the hands of their playmaking receivers.
Wideouts Jordy Nelson, Randall Cobb and Davante Adams, along with tight end Martellus Bennett, combined for just seven catches, 57 yards and no touchdowns against the Saints.
''Now, why? There are things that Brett can improve on, and we're working on it,'' McCarthy said. ''But we're going to go out there and we're going to be a balanced offense ... and Brett's going to lead the charge on offense.''
Other things to watch in the matchup between the Lions and Packers:
ON THE LINE: A bye week gave McCarthy's banged-up squad some needed rest. Especially important for Hundley will be the potential reunion of the starting offensive line after left guard Lane Taylor missed the Saints game with an ankle injury. Standout tackles David Bakhtiari and Bryan Bulaga have also missed some time this year because of injuries.
''We're getting close to being fully healthy as a team,'' McCarthy said at midweek.
REVERSING COURSE: The Lions are slumping after starting the season with two wins. They've lost three straight and four of five dating to a 30-26 loss to Atlanta in Week 3 that ended with a 10-second runoff rule.
Stafford isn't panicking.
''You kind of win one in the division, it counts for two, right? ... So, you kind of control your destiny in that regard,'' the quarterback said.
SLAYING IT: Lions cornerback Darius Slay, who is second in the NFC with nine pass deflections, has played well of late. He helped contain Steelers star Antonio Brown to five catches and 70 yards. Watch the matchup against Green Bay's deep receiving corps with Nelson, Adams and Cobb all capable of big games.
DEFENSIVE QB: Green Bay's secondary could get a boost with the potential return of Morgan Burnett after the safety missed two games with a hamstring injury. The eight-year veteran usually calls the defensive signals and takes on an inside linebacker-type role in certain schemes, allowing the Packers to keep a solid run defender on the field against spread looks.
HEY ROOKIE: Jones has gone from a Week 1 inactive to the Packers' best option in the run game. A slasher who has shown ability to break out for big gains, Jones is second in the NFL behind Baltimore's Alex Collins in averaging 5.58 yards per carry.
''His natural run instincts obviously stand out but he's still working on the other aspects of our offense,'' McCarthy said. ''I think he's done a heck of a job.''
---
AP Sports Writer Larry Lage in Detroit contributed to this story.
---
For more NFL coverage: http://www.pro32.ap.org and http://www.twitter.com/AP-NFL
---
---