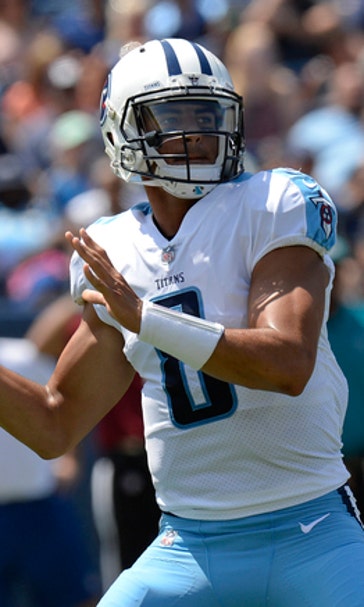 Kizer starting again, staying positive as Browns host Titans
October 19, 2017

CLEVELAND (AP) DeShone Kizer hasn't lost hope the Browns can turn their season around.
Heck, if St. Pius did it, so can Cleveland.
The rookie quarterback was once on a team that started 0-11, found its groove and won 11 straight games while making an improbable run all the way to the championship.
''In seventh grade playing for St. Pius,'' Kizer said, smiling. ''We had a not-so-good-baseball team. So I've been here and I've overcome some losses and a tough start. Obviously it was in CYO baseball, but at the time it was pretty cool.''
With Kizer starting again after a one-week benching, the not-so-good Browns (0-6) will again try to get their first victory on Sunday when they face the Tennessee Titans (3-3), who are coming off a comeback win on Monday night against Indianapolis.
Kizer is making his own comeback, returning to the starting lineup after spending last Sunday's game in Houston watching and learning from the sideline while Kevin Hogan took some lumps - and threw three interceptions - in a 33-17 loss to Houston.
Browns coach Hue Jackson felt Kizer needed to slow down, step aside for one game to observe and hopefully gain a new perspective. Kizer's nine interceptions in Cleveland's first five games and red-zone turnovers took away any chance the Browns had to win. Jackson, who benched the second-round pick at halftime the previous week against the New York Jets, put his 21-year-old QB into something akin to a timeout for grown-ups.
Kizer responded the way Jackson hoped as the Browns made their 20th quarterback switch in 43 games.
''If a guy can learn the lessons and he can regurgitate it back to me in conversation and in work, and me seeing those things change, then hopefully lessons learned,'' said Jackson, now 1-21 in two seasons with Cleveland. ''Everybody is different. Some people, it takes longer. Some people, it doesn't. DeShone, I didn't know how long it was going to take. I just knew he was going to play again.''
Kizer is grateful for the second chance, and wants to reward Jackson's faith. He said the one-week demotion rekindled his competitive fire and he came back to work this week determined not to surrender his starting job again.
''This is, in my opinion, the greatest job on Earth and also the most difficult job on Earth,'' Kizer said. ''But I'm enjoying it. There's no other place I'd rather be than right here going through the things that we're going through because I'm learning who I am personally, and I'm learning about everyone around me. And it's just going to make it that much sweeter when we do figure this thing out and I figure this thing out and become the quarterback I want to be.''
As for that middle-school baseball team he once pitched for, Kizer said the dream season for St. Pius lacked a fairy-tale ending in the title game.
''We got destroyed,'' he said. ''Absolutely destroyed.''
---
MYLES REWARD: Myles Garrett is making up for lost time. The top overall pick already has three sacks and hasn't even played two full games after being sidelined with a severely sprained ankle. The Browns increased his snaps from 19 in his debut to 33 last week.
Garrett faces a tough test in a matchup with Titans left tackle Taylor Lewan, a 2014 first-round pick and Pro Bowler last season.
''I still have some stuff that I haven't pulled out or used,'' Garrett said. ''Hopefully, I can throw a curveball at him and make some plays.''
MARIOTA MILESTONE: Titans QB Marcus Mariota returned after missing one week with a hamstring issue and passed for 306 yards and a touchdown Monday night. Mariota has thrown 49 TD passes in 32 career games. If he throws another Sunday, Mariota will be the second-fastest QB in franchise history to get 50 TDs. Hall of Famer George Blanda did it in 26 games for the Houston Oilers. For comparison's sake, Hall of Famer Warren Moon needed 50 games to reach the plateau.
KESSLER ON DECK: Cody Kessler didn't have to do anything to move up the depth chart. Inactive for Cleveland's first six games, Kessler, who started eight games as a rookie last season, will back up Kizer this week because Hogan has bruised ribs.
It's been a difficult season for Kessler, who came into training camp as the team's starter but has embraced a lesser role.
''Whether I am active, inactive, starting, third string, backing up or wherever I am, I am going to continue to support the guy that is in there and the rest of the team, and keep working,'' he said.
SMASHING TITANS
They call it ''exotic smash mouth,'' and the Titans come in with the NFL's sixth-best run game. They're never happier than when they can run Derrick Henry, the 2015 Heisman Trophy winner, to seal a victory in the fourth quarter. Henry is coming off his best game, rushing 19 times for 131 yards Monday night. The Titans have split the work nearly evenly between Henry and Pro Bowler DeMarco Murray.
---
AP Sports Writer Teresa Walker in Nashville contributed to this report.
---
For more NFL coverage: http://www.pro32.ap.org and http://www.twitter.com/AP-NFL
---
---