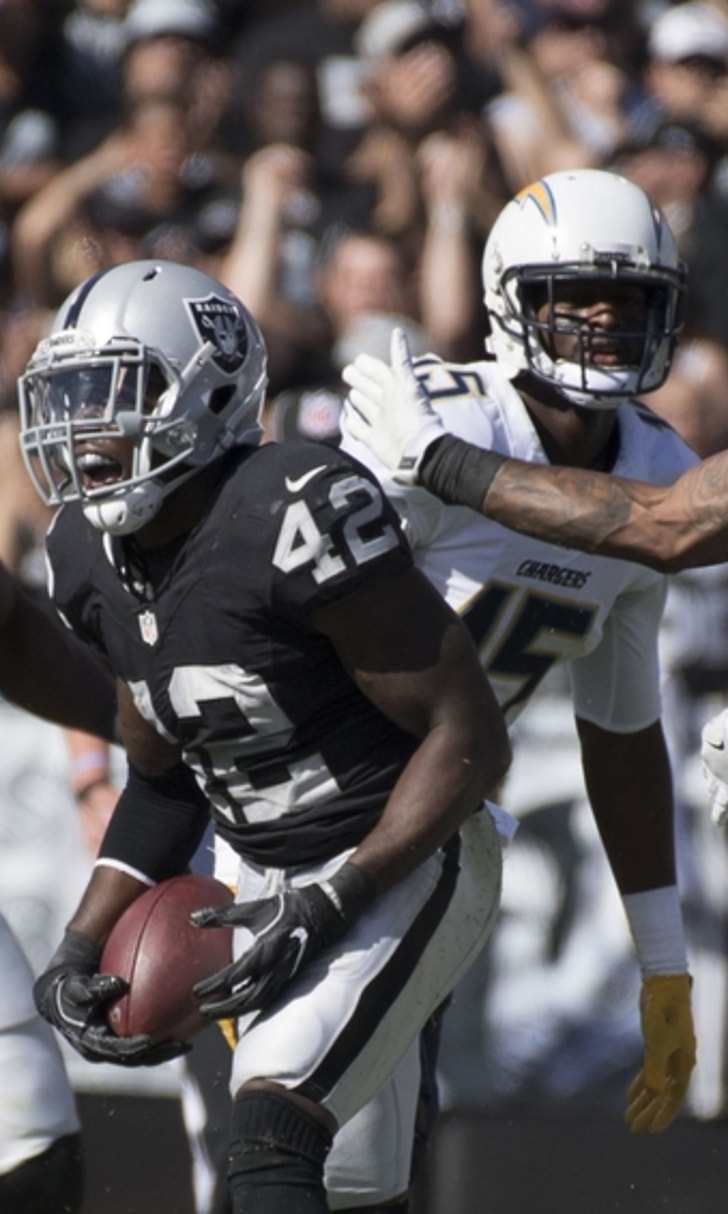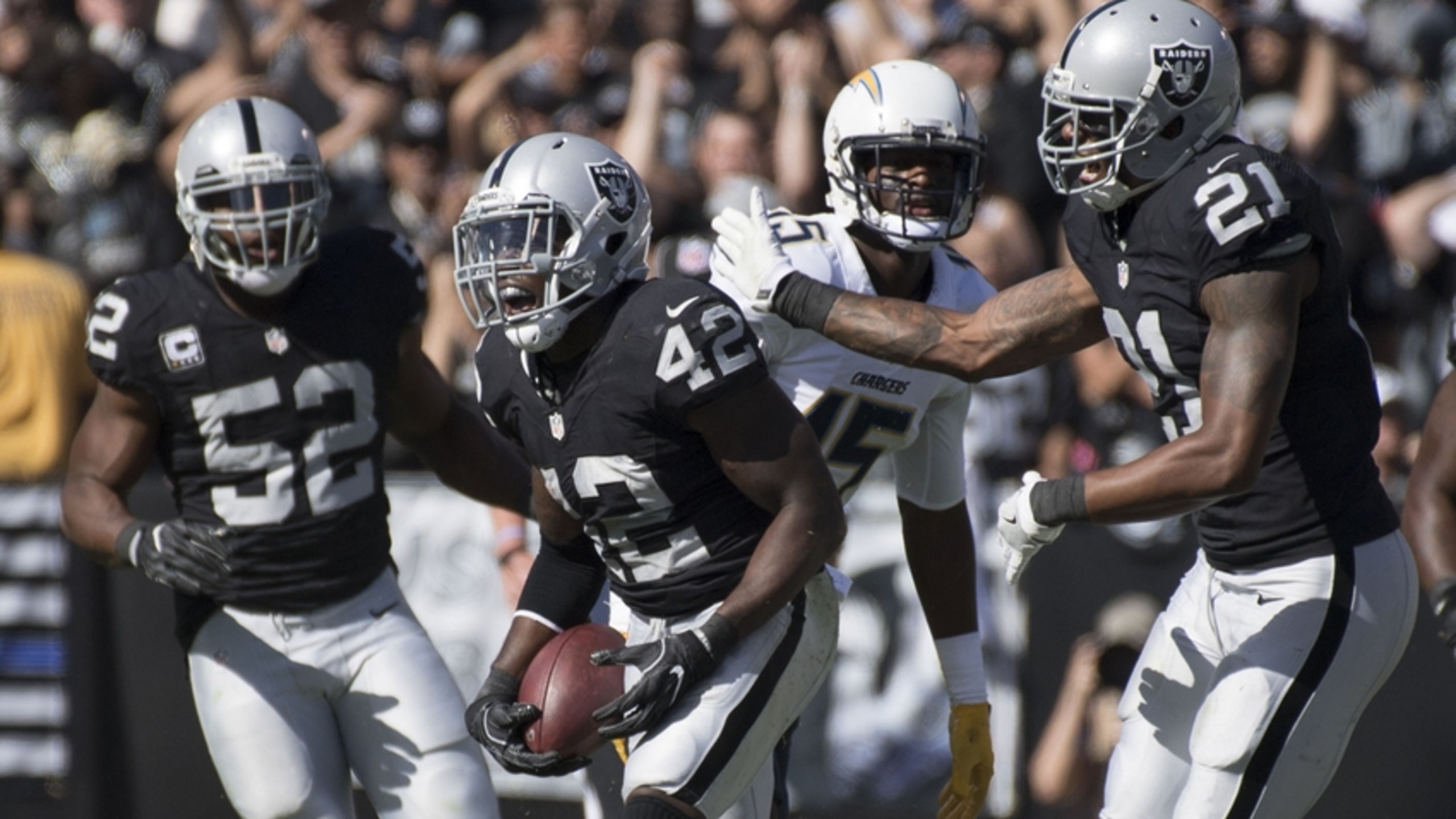 Keys to Victory: Oakland Raiders at San Diego Chargers
BY Fansided and Tyler Dickson/FanSided via Just Blog Baby • December 15, 2016
Keys to victory for the Oakland Raiders in their Week 15 matchup with the divisional rival San Diego Chargers.
Well, I don't know about you guys but I was depressed for the entire weekend after that loss to KC. Enough of that. This week the Oakland Raiders have their second game against San Diego, at our second home Qualcomm Stadium. Here are some keys to victory.
October 9, 2016; Oakland, CA, USA; Oakland Raiders strong safety Karl Joseph (42) celebrates after intercepting the football against the San Diego Chargers during the second quarter at Oakland Coliseum. Mandatory Credit: Kyle Terada-USA TODAY Sports
Focus on the game in front of them
On Thursday, Oakland didn't give themselves the space they needed to be a little more comfortable at the top of the division, which would have came with a win. Instead, they ended up being swept by the Chiefs. *sobs*
I'm not salty. Actually, yes. Yes I am. Anyway…
The Raiders can't rest at all. They are tied with Kansas City in wins but will lose on the tiebreaker, having lost to them twice this season. So simply put, Oakland has to win more games than KC the rest of the way in order to win the AFC West.
Denver losing is a big plus for the Raiders, but they still have teams nipping at their heels for the playoffs and need to focus on the three games left, but more importantly, they need to focus on the game in front of them this Sunday.
San Diego would like nothing more than to ruin their division rivals chances at a wonderful season and get some positivity heading into a new season. Oakland has to come into this game like all others. This game is a must win.
The last time these two teams met, the Raiders outpointed the Chargers in Oakland, but needed some late game heroics to do so. The Chargers will play them hard, and Oakland needs to put this away early.
Dec 30, 2012; San Diego, CA, USA; San Diego Chargers linebacker Melvin Ingram (54) during the game against the Oakland Raiders at Qualcomm Stadium. The Chargers defeated the Raiders 24-21. Mandatory Credit: Kirby Lee/USA TODAY Sports
Keep Bosa and Ingram in check
I know Joey Bosa well. He played on my favorite college football team for four years. He was a game-wrecker then and he is a game wrecker now.
Those are some compelling stats, but we also saw it first hand in Bosa's NFL debut, which came in the first game vs. the Raiders. He blew up run plays, put pressure on Carr, and was a nuisance to the Oakland offense all game. He will be for a long time. Bosa might not play this week because of a neck strain, but Oakland has to limit his impact if he does suit up.
His partner in crime is Melvin Ingram. He doesn't have gaudy numbers, however he and Bosa are still a formidable tandem. The Chargers line them up all over the defense to matchup against weaknesses on the opposing o-line. They can line Bosa up at the end and have Ingram coming off the same size at outside linebacker. They'll likely target Austin Howard and the right side of the line.
Pass rush affected us last week while we only gave up a sack, it felt like Carr and the offense was never comfortable. That can't happen this week.
Oct 9, 2016; Oakland, CA, USA; Oakland Raiders quarterback Derek Carr (4) reacts after throwing a touchdown pass against the San Diego Chargers in the third quarter at Oakland Coliseum. The Raiders defeated the Chargers 34-31. Mandatory Credit: Cary Edmondson-USA TODAY Sports
Re-ignite the Carr
It wasn't all Carr's fault last week — besides the run game, the whole offense was flat.
In saying that, Carr just didn't look like himself. He didn't have that smile going onto the field with the ball in the 4th quarter. Wide receivers were dropping balls but he was missing throws he'd usually hit and just didn't look like the same QB we have seen this year.
Is it his finger? Did the cold affect him? A mixture of Both? Or Does KC just have his number?
I don't know, but what I do know is that Oakland needs Carr to get going again if they want any shot at playoff football, and to make a run in the playoffs.
Carr is the focus of this team it showed that if he has a bad night the Raiders have a bad night. I could put him down as a key each week and it'd be fair. We need him to play well.
Osemele will be back, which of course helps. Amari needs to be given the ball more. Crabtree has had a few slumps this past month and Roberts just can't find consistency. These things are not helping Carr at all. I know that too but the body language did not impress me vs. KC and I hope it's better this week.
Dec 24, 2015; Oakland, CA, USA; Oakland Raiders nose tackle Denico Autry (96) sacks San Diego Chargers quarterback Philip Rivers (17) for a safety during the third quarter at O.co Coliseum. The Oakland Raiders defeated the San Diego Chargers 23-20. Mandatory Credit: Kelley L Cox-USA TODAY Sports
Turnover points – Cry me a Rivers
What annoyed me the most last Thursday is that the Raiders had three turnovers and then proceeded to get nothing from them. That's bad football.
Good teams make other teams pay for their mistakes; hell, that's what KC has done to us this year. They have made Oakland pay for its turnovers, penalties and lack of communication on defense.
Our offense is good, we've seen it all year. They have carved up good teams and defenses like a knife through butter but when it comes to crunch time vs the chiefs with the momentum given to them by the defense they can't score? YUCK.
That has to change and FAST. In the playoffs teams are good and they do exactly what KC does play disciplined hard nosed football and capitalize and other teams mistakes. Oakland has to do this too.
They'll have a chance this week vs. Phillip Rivers who has thrown 17 interceptions this year and 6 in the last three weeks.
If Oakland can force him into forcing his throws they can get some turnovers. Nothing is more deflating than a pick six but a score after a turnover is close enough.
Oakland has to make Rivers cry on Sunday. A win secures a playoff spot we haven't had since 2002.
#JustWinBaby
More from Just Blog Baby
This article originally appeared on
---
---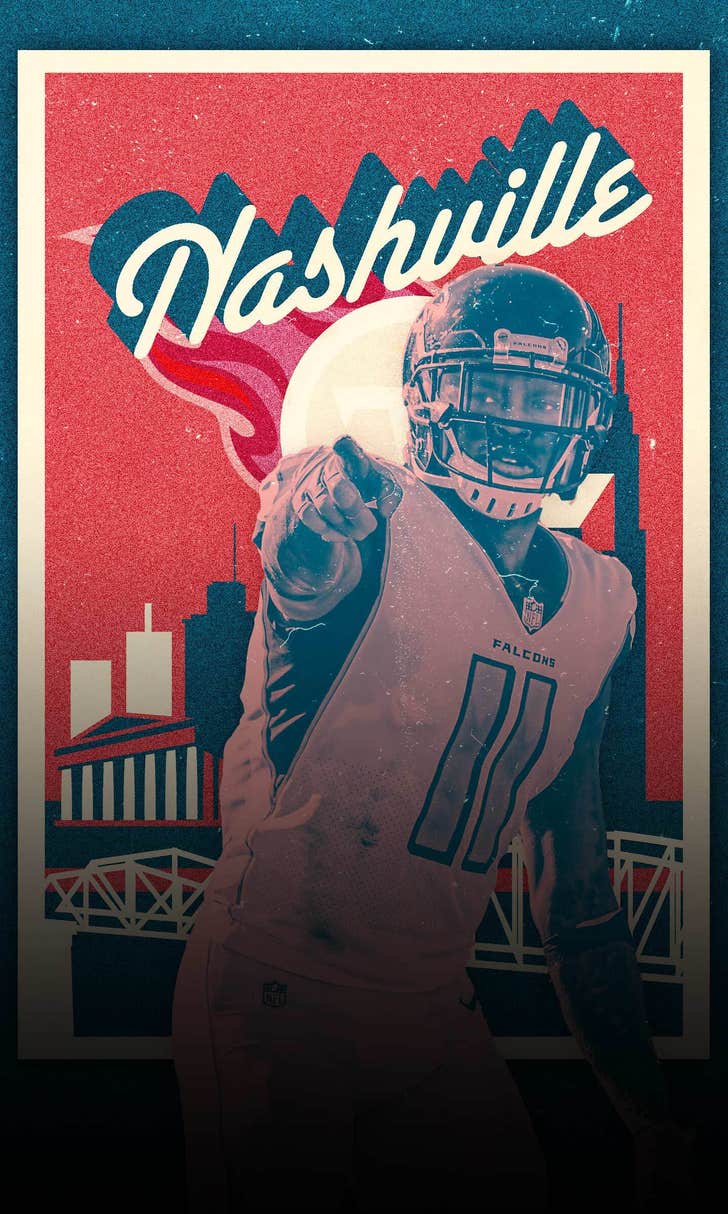 On The Go
On The Go
A Julio Jones trade could happen as early as next week, and Titans players are recruiting the superstar on social media.