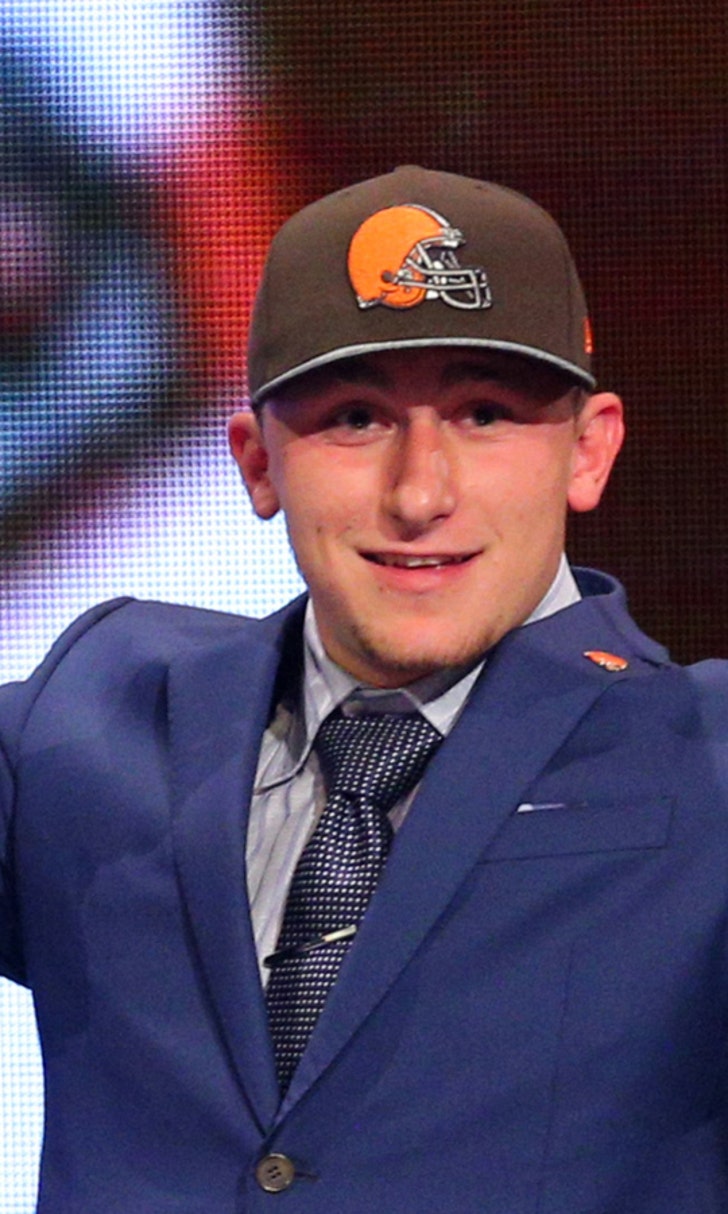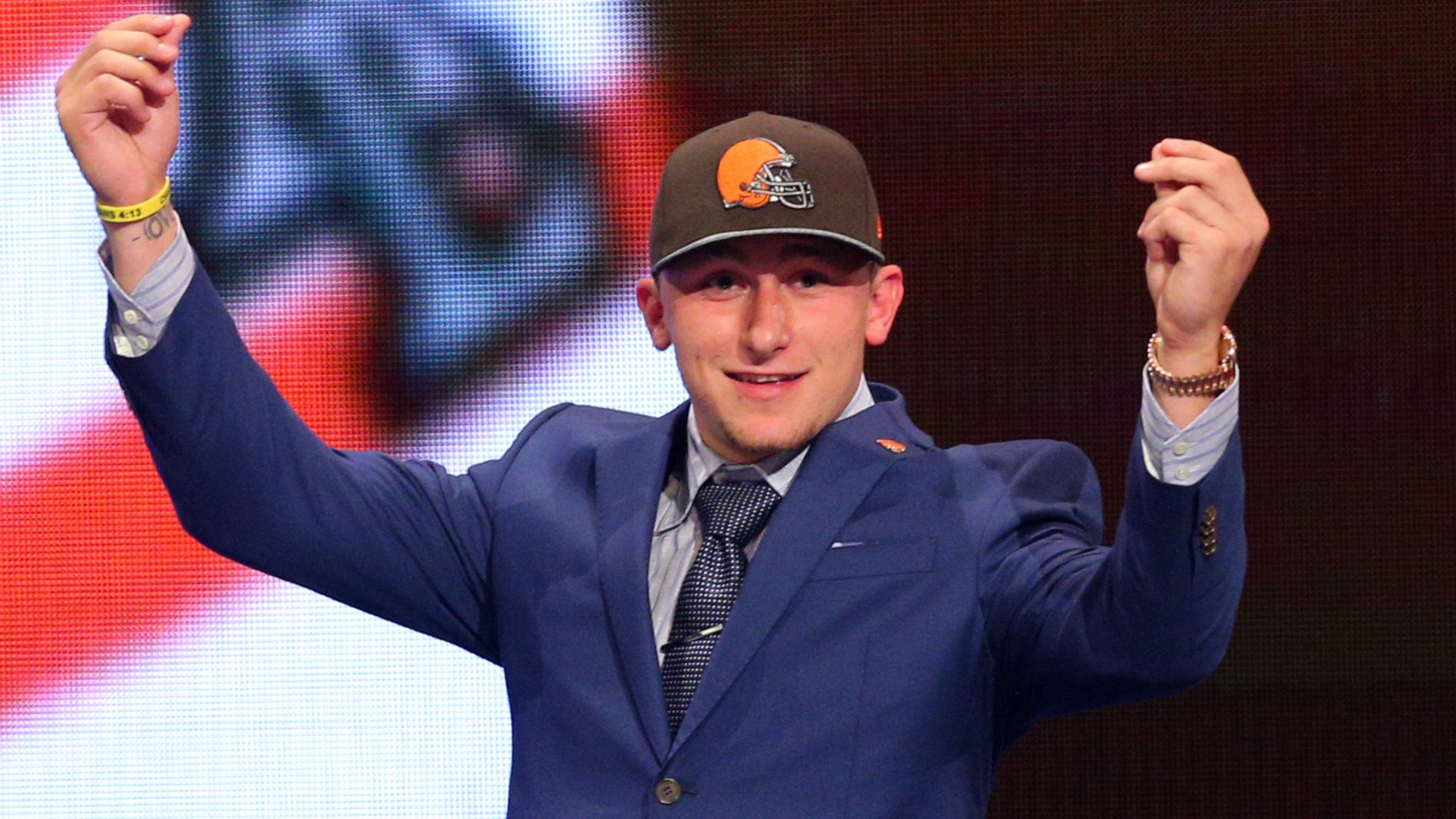 Johnny be good (bad, and sad) — how Manziel owned the NFL Draft
BY foxsports • May 9, 2014
Thirty-two players were selected in the first round of the NFL Draft on Thursday, but the spotlight shined brightest on one player — quarterback Johnny Manziel.
Sure, the argument could be made Johnny Football entered New York's Radio City Music Hall sharing top billing with Jadeveon Clowney. But once the South Carolina defensive end went first overall to Texas, the focus was clearly on Manziel. And the countdown began:
No. 3 to Jacksonville? Nope, the Jags instead dropped the night's first stunner, taking Central Florida QB Blake Bortles.
No. 4 to Cleveland? Apparently, the Browns' weren't impressed — they traded the pick to Buffalo.
Oakland at No.5? They went defense with Khalil Mack.
The Bucs passed on Manziel at No. 7, as did the Browns again (after another trade, Cleveland ultimately picked CB Justin Gilbert at No. 8). The Vikings needed a QB, but also went defense at 9.
And once we got out of the top 10, the countdown became the waiting game.
And boy, did we wait.
And wait.
And wait.
Then finally — another trade and we were back to where we practically started. The Browns made their third trade of the evening, and were sitting at 22 with the man many pegged to pick in the first place still on the board.
Manziel, one of college football's most entertaining and polarizing players, was selected with the No. 22 overall pick by the Browns, who after passing on Manziel multiple times, now have hopes they finally landed their franchise quarterback.
While Jerry Jones and his Cowboys were rumored to be targeting Manziel, they ultimately passed on the QB when the 16th pick came up, instead selecting tackle Zack Martin out of Notre Dame. While Jones said afterward that drafting Manziel wasn't given much thought, FOX Sports Southwest's Matt Mosley writes that when it came time to pull the trigger on Johnny Football, Jones lost his nerve, and whiffed.
Jones also reiterated his seemingly undying faith in 34-year-old QB Tony Romo, explaining that the Cowboys didn't pursue Manziel because, of course, "there's no way any quarterback comes in here and beats out Tony Romo."
Since the Cowboys took a pass on Manziel, what was it that had the Browns so convinced of his bright future?
Newly hired Browns coach Mike Pettine said Manziel had the "it" factor he was looking for in a quarterback at the NFL Combine.
"When I evaluated all the quarterbacks it was the 'it' factor, personality and I thought his was at an extreme level, to the point where it really created 'Johnny Football.' The fact that he is all of those things to an amazing degree, competitive, passionate. He just finds a way."
While Pettine said the "it" factor led Cleveland to pursue Manziel, Browns owner Jimmy Haslam reportedly said another form of divine intervention inspired him to target the 2012 Heisman winner -- none other than a homeless man.
"Here in Cleveland, everywhere I go, people know me," Haslam said in the report. "And I was out to dinner recently. And a homeless person was out on the street, looked up at me and said, 'Draft Manziel.' Just like that."
However, Browns fans don't seem to be worried about a repeat of history, as many celebrated Manziel's selection like the team had just won the Super Bowl, hurrying to tweet their excitement.
UNLUCKY NUMBER?
Johnny Manziel is the third quarterback in recent years to be selected No. 22 overall by the Browns ... and the other two haven't worked out so well.
| | | | |
| --- | --- | --- | --- |
| Stat | Brady Quinn | Brandon Weeden | Johnny Manziel |
| Year drafted | 2007 | 2012 | 2014 |
| College | Notre Dame | Oklahoma State | Texas A&M |
| Pick by Browns | 1st round, No. 22 | 1st round, No. 22 | 1st round, No. 22 |
| Previous Browns picks | No. 3 (Joe Thomas) | No. 3 (Trent Richardson) | No. 8 (Justin Gilbert) |
| NFL record | 4-16 | 5-15 | TBD |
---
---