National Football League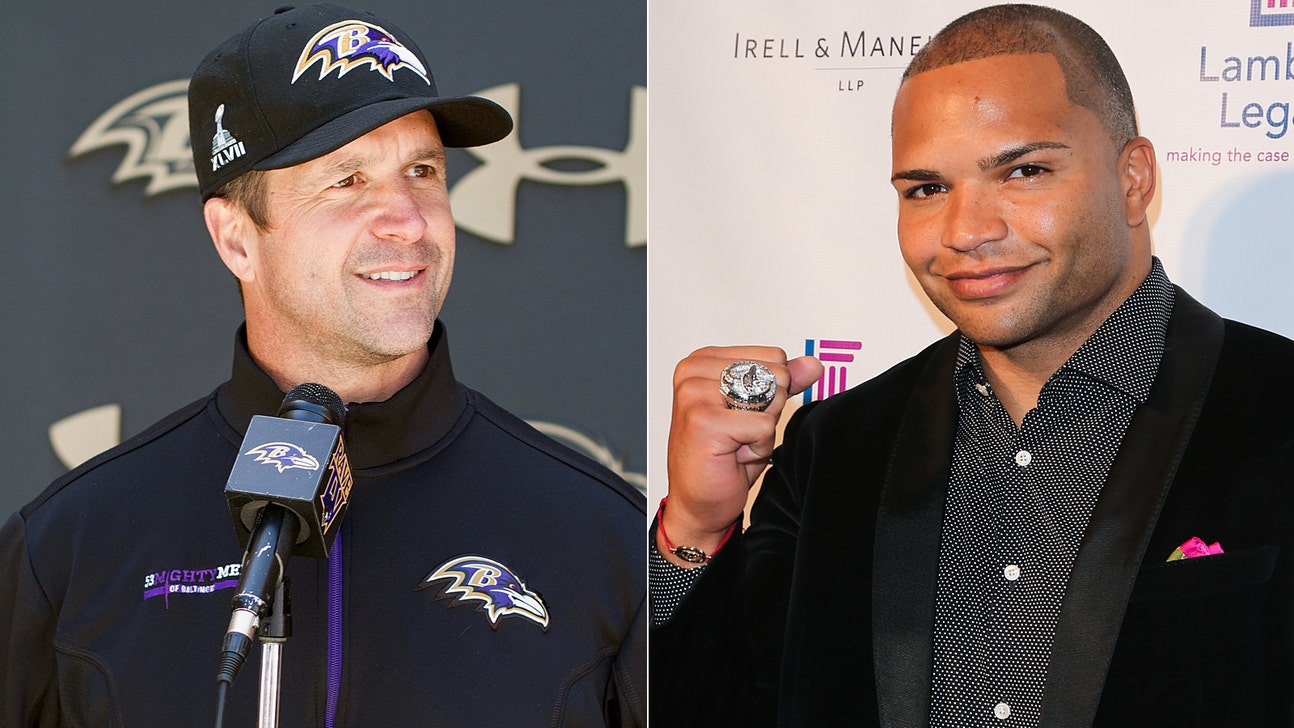 National Football League
John Harbaugh shares keys to Ravens' late-season success
Published
Dec. 11, 2013 10:55 a.m. ET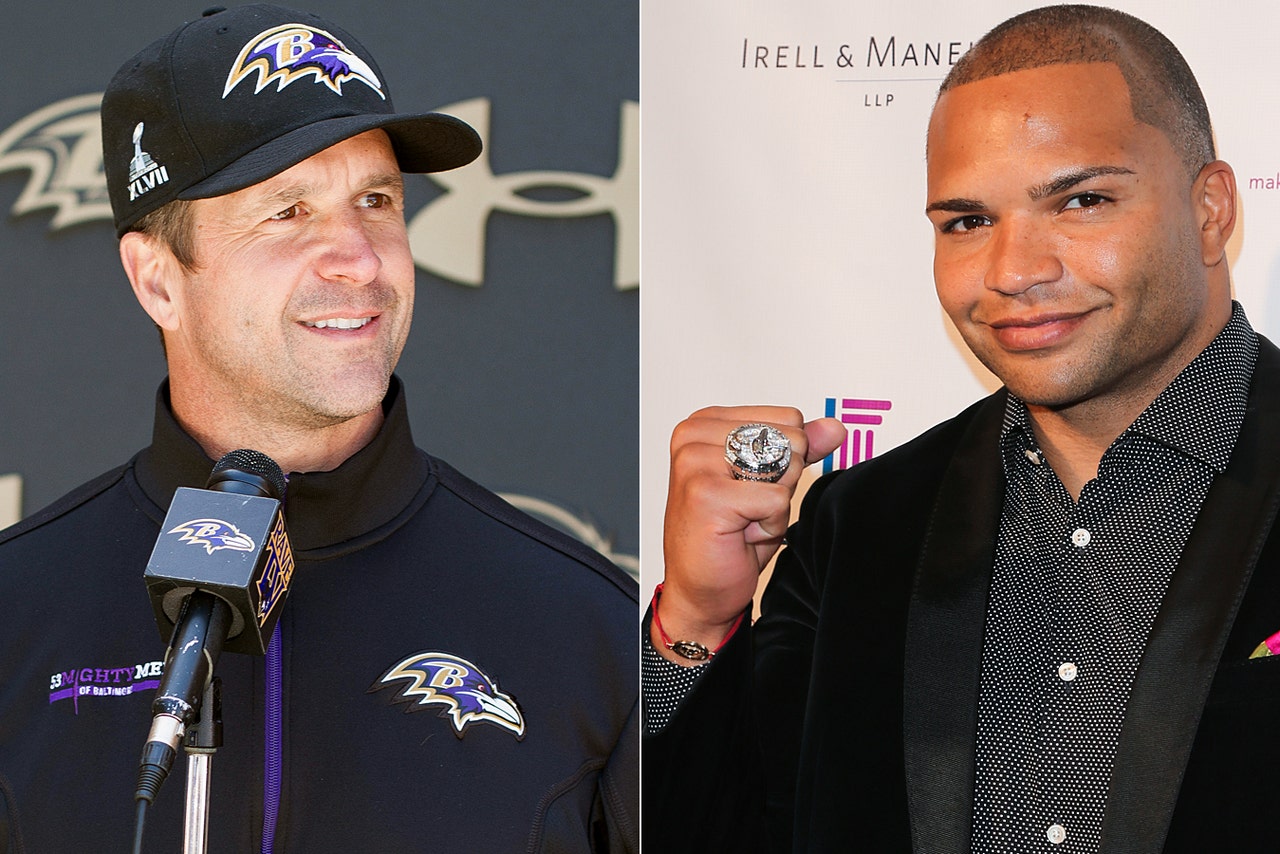 The roles have changed as Brendon Ayanbadejo, now a member of the media with FOXSports.com interviews his former coach, John Harbaugh, who led the linebacker and Baltimore Ravens to a win in the Super Bowl.
BA: It's been a while. Since, I think, the White House and the ring ceremony.
JH: Well,yeah, it has been but it seems like time flies. In other ways, it seems like just yesterday. In other ways, it seems like a lifetime ago.
BA: What do they say the days are long, but the years are short. I think maybe I got that one from you.
JH: I think maybe you did. I recall that one.
BA: I was so bummed out I couldn't see the Vikings-Ravens game. I caught the last few minutes, though. And if I wasn't mistaken, I thought I saw a teardrop come down from your eye after that one.
JH: No, you were mistaken. You were definitely mistaken. There's no crying in football, you know that.
BA: Maybe a piece of snow got on your face or something.
JH: Definitely no tears. There's emotions but there's definitely no tears.
BA: That brings up a good question. When you first came into the league, maybe we start with Philly and how things are going now in Baltimore with having psychologists and psychiatrists around the facility and whatnot. How has the league changed, talking about emotions and tears and football? How has football changed from 15 years ago, or five years ago to today?
JH: Along those lines, I really don't think it has. I think it has always been so demanding and the gamut of emotions and the challenges you face and all that. And the fact that you do it with a bunch of guys that you spend a lot of time with and you care about.  I really think that has been around forever. The more cameras probably that you put into the mix, the more people get to see that and experience that.
BA: You beat Pagano in the past, you beat Rex, you beat Coach Reid in the past. You have a great record against coaches that you worked with in the past. Are you doing some intel and taking some notes on some of these coaches that you worked with?
JH: Luck, pure luck. Just good players making plays. You know that. We've lost some, too. I did beat my brother, though. You remember that one, probably.
BA: On Thanksgiving 2011 and February 3. I know the exact dates we played against your bigger, younger bro.
JH:   I like that. It is a good way to say it.
BA: I know so well the Ravens play such good football in December. What is the trick? And it can't be Bob Ragucki giving us one leg workout at the end of the year instead of two. That guy could squeeze a cup of orange juice out of an orange peel. Why do your football teams perform so well in the fourth quarter of the season?
JH: I don't know exactly, specifically but I think it is all-encompassing. The fact that we work hard. That's the bottom line. When you sustain a high level of work, make it a habit every single day. Go in there and start stacking those days. That adds up. We always say you are either getting better or you are getting worse, you never remain the same. You gotta work, you have to go 100 percent to get one percent better every single day. If you can do that, you can improve. While you are doing that, there are probably people that are out there that aren't quite doing the same thing. Hopefully, that creates an advantage for you.
BA: This is a weird conversation. We are usually talking about family or how to make the team better. It is kind of different for me to be wearing a different hat. But I am still enjoying it.
Going on to your first year, taking on such a huge role and all the new things. Is it tougher being the new guy or tougher having expectations that John Harbaugh will go possibly to the AFC Championship Game every year, or the playoffs? Earlier in the season the Ravens were scratching and clawing to get to .500 and now the team is 7-6 and controlling its own destiny. Does it become overwhelming at times because people expect excellence every game?
JH: That's a good question, BA. To me, it's probably tougher being the new guy when you are first coming in trying to establish yourself, your relationships, and get to know people and lay a foundation and all those kind of things. It's no less challenging now. It's just a different set of challenges. This is the one you work for. These are the challenges that you hope if you set high expectation then you have done a good job and have been successful. I can't really complain about this circumstance because this is the one you fight for and want to accomplish. You want to get to this point.
BA: This reminds me of how Coach Reid was forced out of Philly. He was so damn good. They expected so much every year. You become a victim of your own success.
JH:  It'€™s a tough, demanding league, one year to the next, one week to the next, one day to the next. Things can change so quickly and get so much attention. It's like life times 10. Everything moves so much faster because the events in your life just come one week after the next. Every Sunday there is a new event, a new challenge and you have got to perform and you are really only judged by the last one.
BA: This is sort of a different question, you say to your players that nothing good happens after midnight. Based off of coach Dungy's teachings. You should be home. There is nothing really out there for you in the wee hours of the night and if NFL players get into trouble this is typically when it happens. On the flip side, Coach Dungy says there is no place for politics and religion in the locker room. With regards to players like myself or Matt Birk and you being a faithful man and a man of God, you are open about it and you talk to your players about politics and religion. Why were you so comfortable in letting your teams be such free-thinkers and free-willed while one of the great coaches like Coach Dungy was worried about that being divisive in the locker room?
JH: That's a deep question. I was always brought up the same way as Coach Dungy. You keep the talk about the politics, the religion, the money, and the women out of the locker room. What I came to find out after a couple years is that the talk is there anyway. You can't keep it out of the locker room, particularly the politics and the religion. These are the higher level conversations. They are so much of what makes us who we are. And I just felt like if we made it okay to talk about that stuff, put it out there and enable disagreements but make the point that it's not important exactly what we think it's important that we feel strongly about something and that we aren't afraid to express ourselves and be who we are. It's just important to be our best self and I say that all the time. Be your best self. I felt that you and Matt Birk epitomized that better than anything I could say. Or any event that took place.  You guys were at opposite ends of a controversial subject that hits everybody pretty hard in their personal life. Everybody has pretty strong beliefs about those kind of things. You modeled the way to do it. You guys were still great friends and you saw things in different ways. To me if we could still have those kind of conversations and still be teammates and friends and brothers, certainly we could have the football-related conversations and stay close and unified. To me the uncommon unity that is what makes a team potentially great and that's what we tried to accomplish.
BA: That is what we did accomplish. Well said and well done. I did always appreciate being able to express myself and always be myself in the Ravens organization and I always appreciate that. You had a big part to do with that.
BA: Let's get back to ball.  I appreciated when you would run down the field on kickoffs, or show offensive linemen how to do pass sets or DBs how to backpedal with proper technique. Are you still doing those things? And how much longer will you continue to do them?
JH: I have been running down on kickoffs because we have been struggling for a few weeks so I was chasing those guys down the field. I do think the pace picked up a little bit. You do understand the utter humiliation of being beaten down the field by the head coach . No player could live that down. It's good motivation
BA: You have three tough games left. Everyone is against a team in first place in their division, the Lions, Pats, Bengals. I know you don't like to look ahead, the last game you could steal the division title from the Bengals. You have to be excited about these next three weeks ahead.
JH: That's our goal. That is what we are hoping to accomplish, to put ourselves in position to make that game meaningful in that way. It's a tough challenge, it's tough for us to get it done but I know one thing when we come out the other end we will have earned it. We will be well-deserving of whatever playoff spot that we earn. We have our work cut out for us. As we always say, we are just the men for the job.
---
---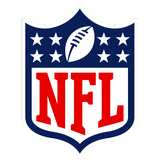 Get more from National Football League
Follow your favorites to get information about games, news and more
---