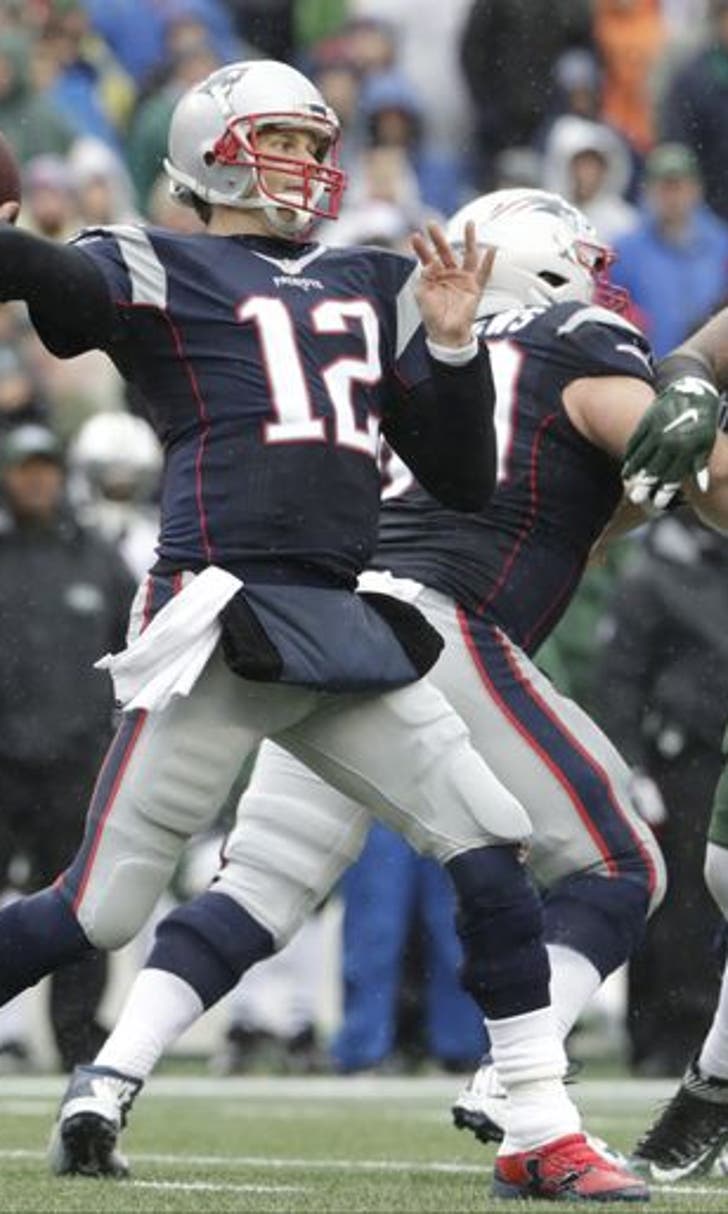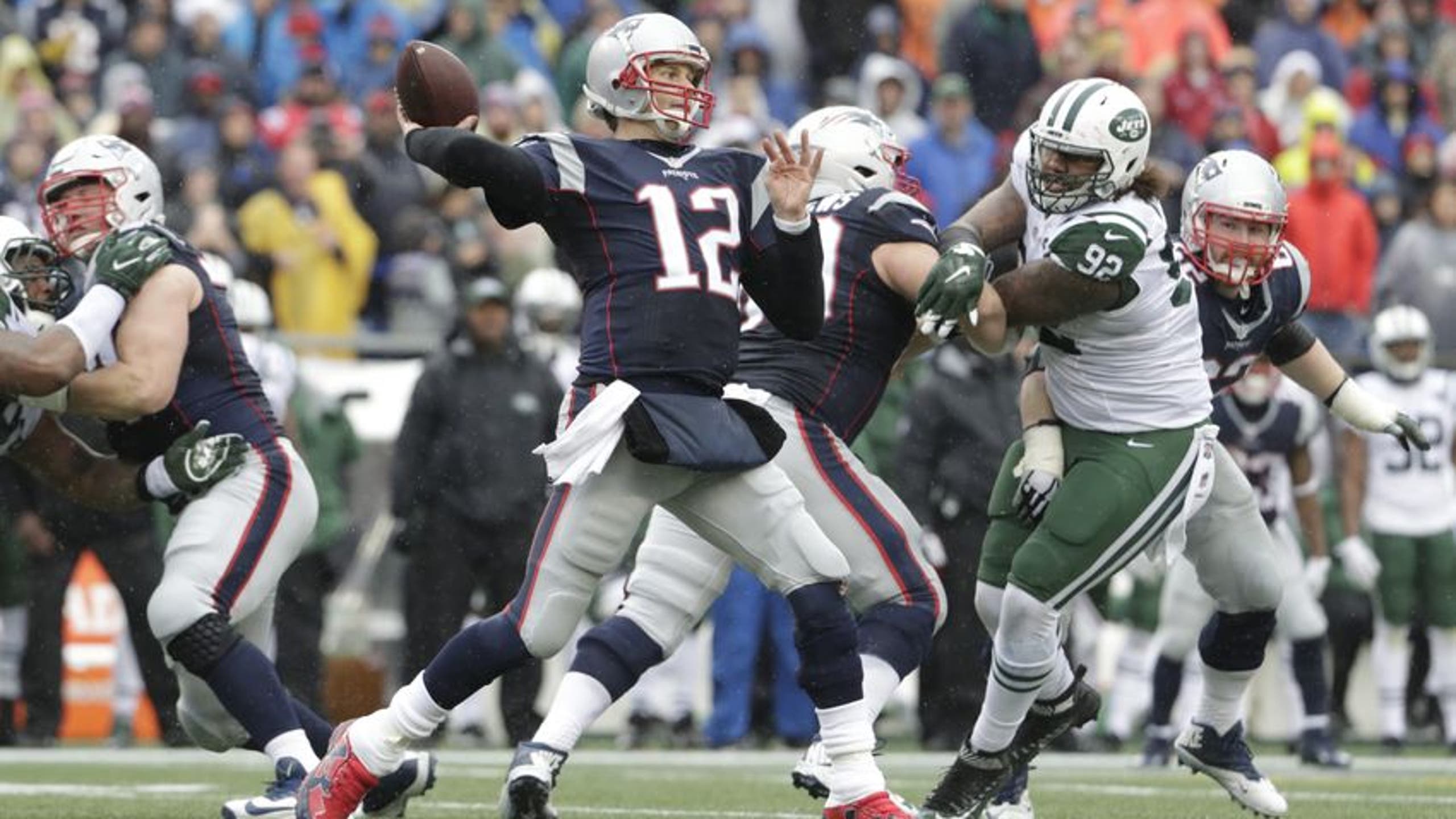 Jets vs Patriots: Top 5 takeaways from Week 16 matchup
BY Fansided and Jason Rodriguez/FanSided via The Jet Press • December 28, 2016
Dec 24, 2016; Foxborough, MA, USA; New England Patriots quarterback Tom Brady (12) throws the ball against the New York Jets in the second quarter at Gillette Stadium. Mandatory Credit: David Butler II-USA TODAY Sports
No Christmas miracle happened as the New York Jets got washed out by the New England Patriots in Week 16. This Jets vs Patriots matchup was total annihilation by New England.
The Week 16 Jets vs Patriots matchup showed Gang Green play with no heart and no desire as they lost to New England 41-3. Once again, like they did in previous games, the Jets started off slow and were outplayed on both sides of the ball.
The Jets offense once again couldn't move the football when they needed to and didn't come away with points. The offense struggled and it caused the defense to play more than they should.
With the loss, the Jets fall to 4-11, and head home for the last game of the season against the Buffalo Bills. If they want to show some pride they will go out there and actually try to win the final game.
The Jets will need to play for pride and respect because they are the laughing stock of the NFL. They will need to defeat their divisional rival to have something bright about their season.
Let's take a deeper look and breakdown the top five takeaways from this Week 16 matchup.
Dec 24, 2016; Foxborough, MA, USA; New England Patriots running back LeGarrette Blount (29) runs the ball against the New York Jets in the second half at Gillette Stadium. The Patriots defeated the Jets 41-3. Mandatory Credit: David Butler II-USA TODAY Sports
5. Jets defense once again a no-show
The Jets were ramped up to face Tom Brady and the New England offense but weren't aggressive enough which came back to haunt them. They continued to have a lot of dumb penalties that caused New England's offense to continue drives.
Also, they allowed Brady to throw three touchdowns and pass for 214 yards. He looked like an MVP candidate like how he has throughout his career.
They were over pursuing on every single play that allowed the passing game to be able to execute in the Patriots favor. Everyone needs to help one another out in order to be successful and do what they are supposed to. Sadly, the Jets defense looks like they don't even want to be out there competing.
The defense gave up a total of 325 yards of total offense to the Patriots. The secondary was beaten bad for 211 yards and the Jets defensive line did sub-par against the run. The dominant presence and over pursuing allowed the Patriots to open up the passing game beyond what was imaginable.
4. Offensive play calling once again a major problem
Offensive coordinator Chan Gailey really needs to be let go and needs to change things up because it continues to not work. He continues to call the same plays over and over. You wonder why he is continuing to be allowed to be the offensive coordinator with his abysmal play calling.
More from The Jet Press
Instead of trying to do what has been successful, Gailey should work on something different. He should try to execute some plays that the defense hasn't seen them do on tape.
They have called numerous plays that as a fan you continue to get frustrated and wonder what his mind is thinking. They also need to involve everyone and not just rely on the same people to do the workload.
Missing Eric Decker has hurt the Jets offense this season which has caused the passing game to struggle. The offense that has been used these past two seasons hasn't really worked and against the Patriots, it was laughable.
Dec 24, 2016; Foxborough, MA, USA; New York Jets quarterback Bryce Petty (9) looks to handoff the ball during the first half against the New England Patriots at Gillette Stadium. Mandatory Credit: Bob DeChiara-USA TODAY Sports
3. Bryce Petty struggles once again
Besides being severely injured from the Patriots defensive line, quarterback Bryce Petty looked lost out there. Petty continued to just focus on one or two targets way too much. Petty forced too many throws and unfortunately, suffered a shoulder injury that will sideline him for the rest of the season.
He once again threw an interception trying to do something with the play rather than just throwing it away. He needs to learn how to read the coverages as he approaches the line of scrimmage.
The jury is still out as he didn't do much of anything against the Patriots which doesn't bode well for his future of being a starter for the Jets. If he doesn't fix things he will find himself as a backup or even on the unemployment line when all is said and done.
Dec 24, 2016; Foxborough, MA, USA; New York Jets quarterback Bryce Petty (9) prepares for a snap against the New England Patriots in the first quarter at Gillette Stadium. Mandatory Credit: David Butler II-USA TODAY Sports
2. Jets offensive line falters once again
Once again the Jets offensive line didn't get any penetration to drive back the Patriots. They arent being smart in who needs to block and when a blitz is happening at any point.
The offensive line was not able to contain the Patriots defensive pressure which allowed them to cash in on the Jets mistakes. They also had too many penalties brought on themselves which hurt drives and again, has been a common theme all season long.
They weren't able to keep blitzes from coming at Petty which put him in a dangerous situation out there. They couldn't contain themselves from showing their frustration. They were inconsistent and simply didn't execute in the grand scheme of things.
Dec 24, 2016; Foxborough, MA, USA; New York Jets head coach Todd Bowles watches from the sideline against the New England Patriots in the second half at Gillette Stadium. The Patriots defeated the Jets 41-3. Mandatory Credit: David Butler II-USA TODAY Sports
1. Todd Bowles once again drops the ball
In his second season as head coach, Todd Bowles hasn't done anything to make Jets fans excited. He continues to show no emotion on the sidelines as he stands there with a stone face. Even in a meaningless game, he once again doesn't do much to rally the troops from the sidelines.
He needs to handle situations with the team that get out to the media and discipline the players for their actions. He needs to handle top players in what they do and he needs to be more of an emotional coach. The truth of the matter is, he's lost his locker room as nobody seemed to even want to play hard for him against their AFC East neighbors.
This team seems to not care at all to end the season on a positive note as it all comes down to Bowles. Owner Woody Johnson is starting to show no care for this team because of how much an embarrassment they are.  It has been a rough couple of years and player personnel has to be changed up.
Bowles is being out coached every single game which as a fan, you wonder if he is good enough to even be a head coach. He seems lost and confused about what to call because of him still being new to his position. Against the Patriots, it was evident from start to finish.
---
---