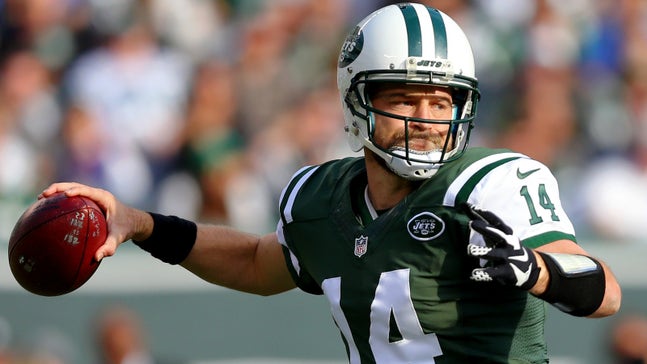 Jets say their focus is signing Ryan Fitzpatrick, not RG3
Published
Mar. 18, 2016 10:11 p.m. ET

Despite stalled negotiations and a visit from former Redskins quarterback Robert Griffin III, the New York Jets reiterated their desire to re-sign free agent Ryan Fitzpatrick as their starting signal caller.
"We feel we have a good situation here for Ryan, and he's a very good fit for us," Jets GM Mike Maccagnan told reporters on Friday. "Our goal is to get Ryan under contract." 
Negotiations between the two sides had hit a stalemate after the Jets reportedly offered Fitzpatrick around $7 million annually while the 33-year-old journeyman and his representatives, perhaps inspired by Brock Osweiler and Chase Daniel's respective contracts, felt he was worth more. 
The Jets then added another wrinkle to the equation when RG3 made a visit to the organization's facility last week. 
But on Friday, Maccagnan dismissed Griffin's visit as "more of a meet-and-greet."
"Robert Griffin was a player that we looked at, but our focus is to get something done with Ryan," Maccagnan stated.  
With the quarterback market at a standstill, there may not be another team willing to grant Fitzpatrick the offer he is looking for. 
"Eventually, hopefully, we find a middle ground at some point," Maccagnan said.
---
---