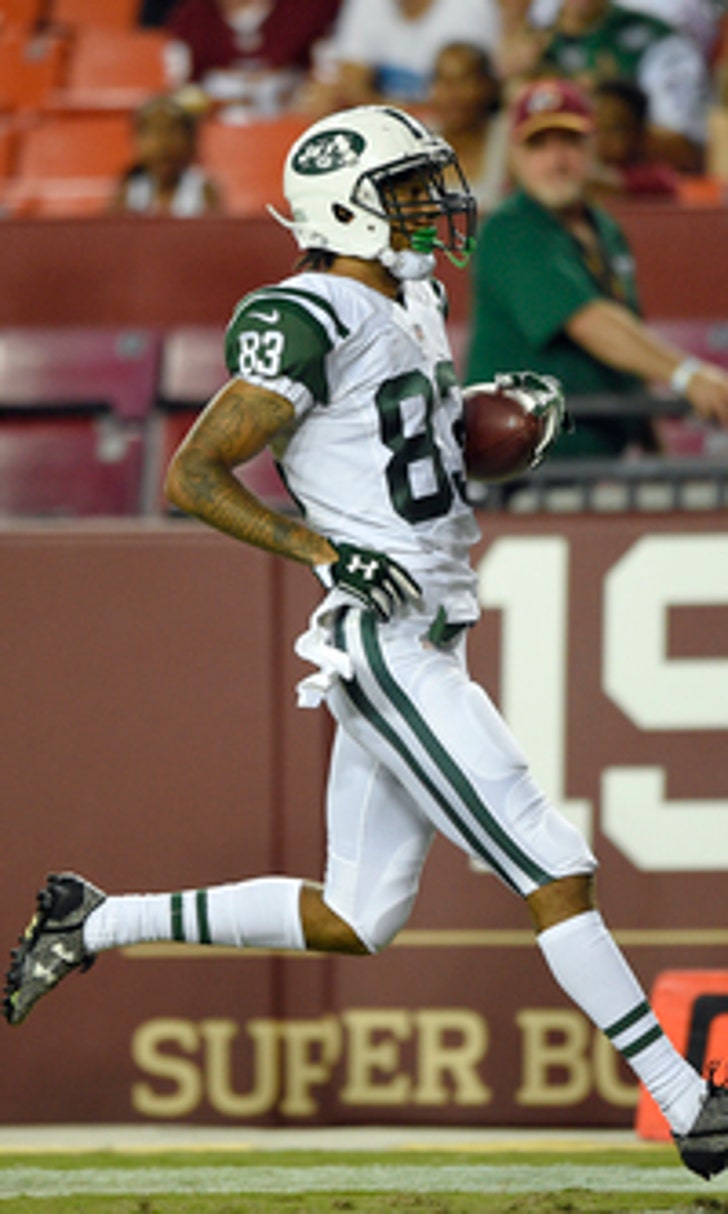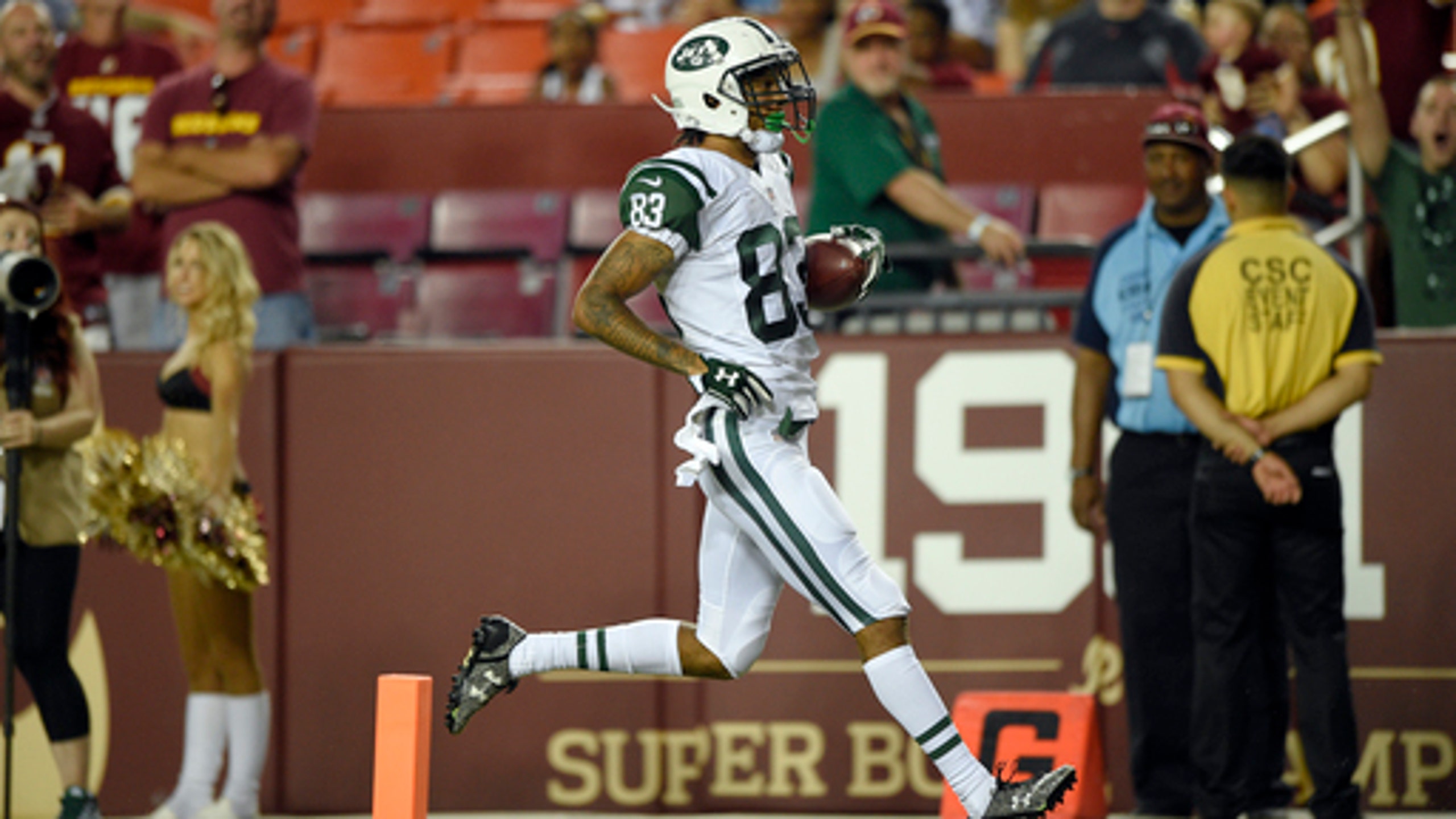 Jets' Robby Anderson making up for lost time with solid camp
BY foxsports • August 22, 2016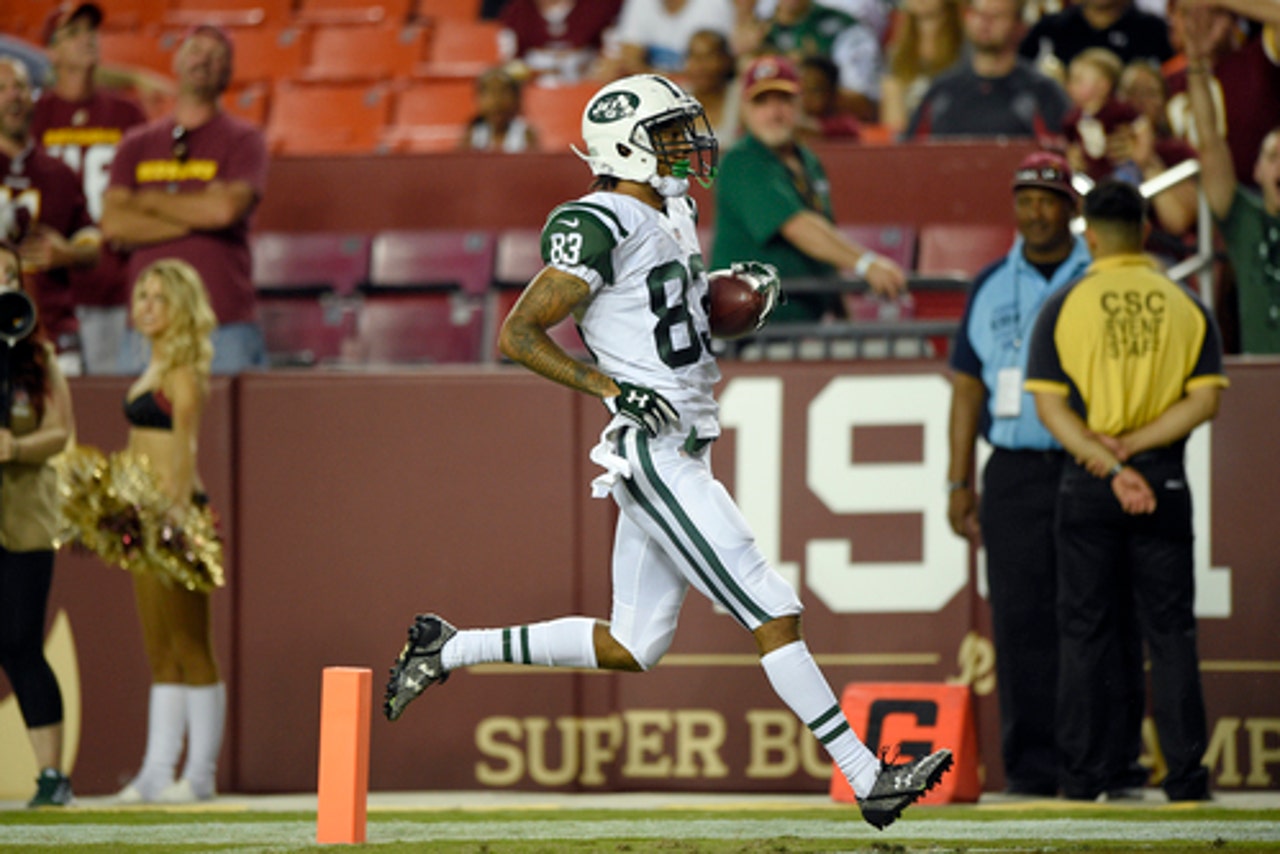 FLORHAM PARK, N.J. (AP) Robby Anderson remembers leaning over his birthday cake, closing his eyes and making a wish.
More than anything, the wide receiver just wanted to play football again. So, he blew out the candles on May 9, 2015, celebrated his 22nd birthday and hoped for good news.
''I knew football would never be over,'' said Anderson, who made a strong claim for a roster spot on the Jets with six catches for 131 yards and a touchdown in New York's 22-18 loss to Washington last Friday night.
''I never gave up on it.''
It wasn't easy, though.
After a standout season as a redshirt sophomore at Temple University with 44 catches for 791 yards and nine touchdowns, Anderson was ruled academically ineligible. He was forced to sit out a year and needed to get his grades up, but until then, football was out.
''It was just a lack of me applying myself,'' he said. ''I was young. I was immature. I wasn't really too into school at the time and I really made some mistakes. I paid for those mistakes.''
Born in Teaneck, New Jersey, and raised in Fort Lauderdale, Florida, Anderson has had NFL dreams for as far back as he can remember, and they seemed to be a possibility as he starred as a receiver and defensive back for Plantation High School in Florida.
After redshirting as a freshman at Temple, Anderson played in six games in 2012, mostly on special teams. He was working with the second-team defense as a cornerback in 2013, but quit in the spring. Anderson reconsidered his decision and asked Temple coach Matt Rhule if he could come back.
Rhule allowed Anderson to return - as a non-scholarship athlete and as a wide receiver. Anderson thrived, working his way to the starting offense by the fifth game. He went on to have a big year, but then got hit with the ruling that he was academically ineligible for the 2014 season and his football career was suddenly uncertain.
''Those thoughts went through my mind, but I have always believed in God and I knew that he delivers, no matter what,'' Anderson said. ''Sometimes it doesn't happen exactly when you want, but every lesson is a blessing. I knew that I had to be patient and I had to overcome it and go through some things and earn it back.''
Anderson took summer classes and earned his associate degree, applying himself in the classroom while waiting to hear about his athletic future. He did so well, he's just six classes away from getting his degree in criminal justice.
''I'm almost there,'' he said with a big smile.
Two days after Anderson made that birthday wish, Rhule called him to let him know that he would be eligible to play again for the football team.
''It was a relief,'' Anderson said, shaking his head. ''It was a blessing that I was able to go back and put myself in this position.''
He was a force for the Owls, finishing with 70 catches for 939 yards - both ranking second on the school's single-season list - and seven touchdown catches.
Anderson, selected to play in the East-West Shrine Game, went undrafted in April, but the Jets signed him as a free agent shortly after the draft was completed. The 6-foot-3, 190-pound receiver has been solid throughout the offseason and training camp, impressing with his speed and ability to get up in the air to snatch passes.
''He's just got soft hands, he brings everything in,'' quarterback Ryan Fitzpatrick said. ''He's got a good, little swagger to him that I hadn't really seen that you see in games come out a little bit. And he's raw. He just hasn't played a lot of receiver.''
Anderson is making up for lost time, though. He looked every bit a seasoned wide receiver when he outleaped a defender along the sideline, then scooted out of a would-be tackle for a 42-yard touchdown against the Redskins.
''He showed up and made some catches,'' said coach Todd Bowles, who also played at Temple. ''But again, it's everything that he has to do, whether he runs the right route, depth and everything else is what we have to look at.''
Trying to make the roster will be a tough task with three spots at the positon set with Brandon Marshall, Eric Decker and Quincy Enunwa. Veterans Kenbrell Thompkins, Jeremy Ross and Kyle Williams are competing with Anderson and fellow impressive rookies Jalin Marshall, Charone Peake and Chandler Worthy for three, maybe four spots.
After all the twists and turns to get to this point, though, Anderson is intent on sticking around.
''I just hope that throughout my NFL career, and hopefully I have a long NFL career, that people can look at my journey and just be inspired by it,'' he said.
''Sometimes you go through things, you make mistakes and things don't work out the way you want them to. If you have a dream, though, you just can't ever give up on it because you really can control your destiny if you work hard and do what it takes. You can't ever give up.
''You can really lose it all, but you can get it back.''
---
AP NFL website: www.pro32.ap.org and AP NFL Twitter feed: http://twitter.com/AP-NFL
---
---