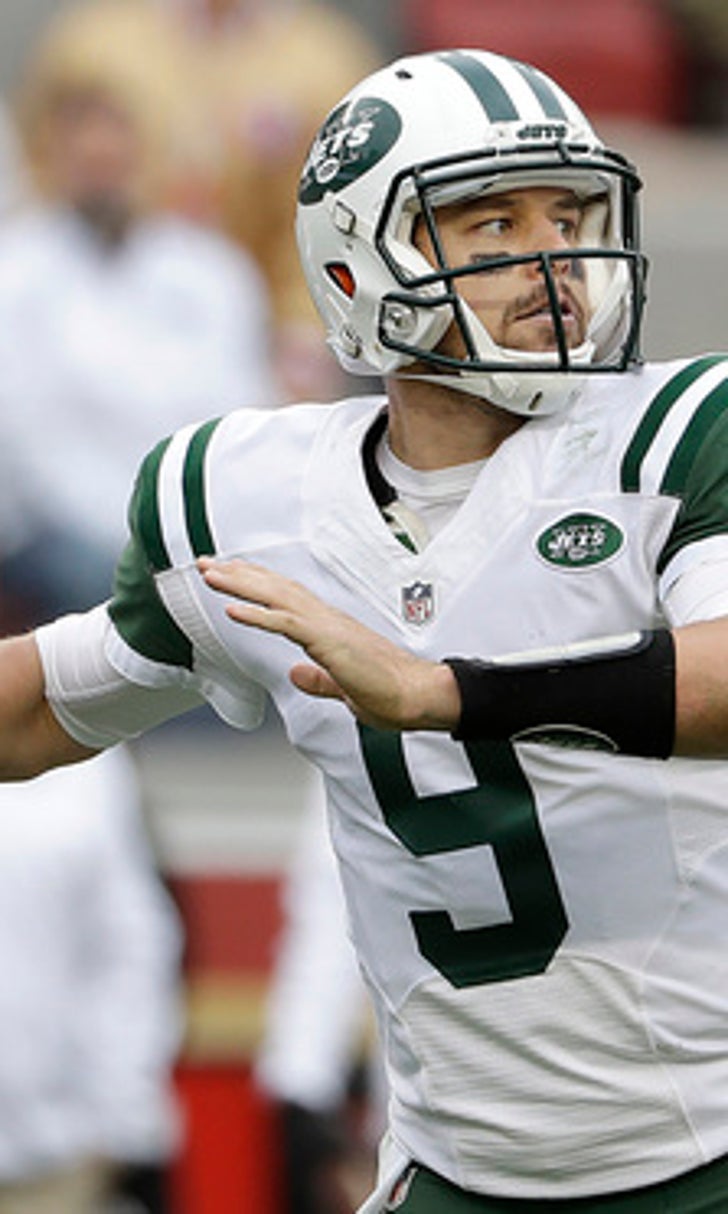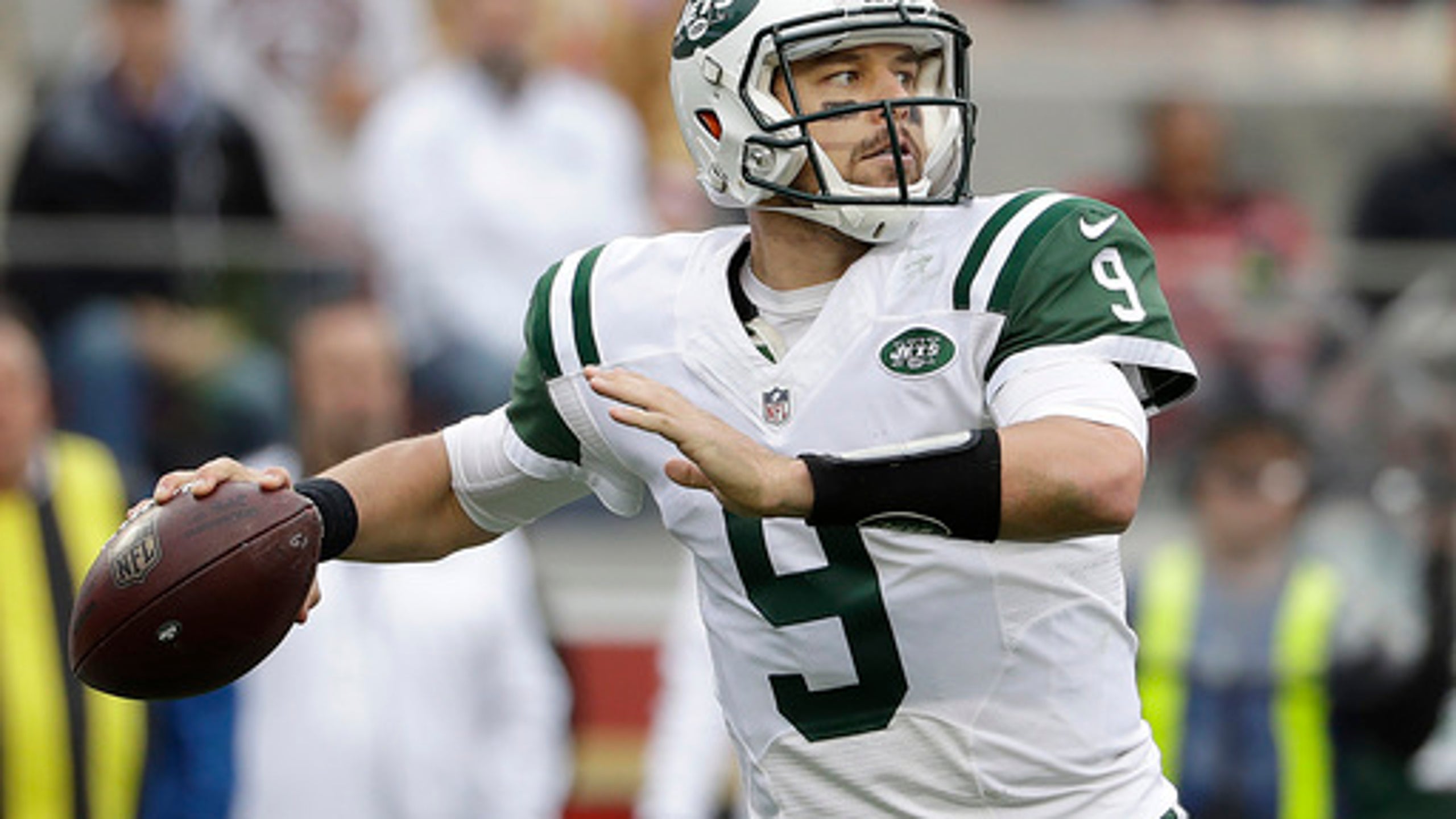 Jets' Petty looks for improvement, less nerves in next start
BY AP • December 14, 2016
FLORHAM PARK, N.J. (AP) Chan Gailey watched Bryce Petty scramble to his left and, with a defender in his face, launch a pass down the field across his body - and off his back foot.
The first reaction by the New York Jets offensive coordinator probably mirrored that of many fans.
''No! No! No!'' Gailey recalled with a smile Wednesday. ''Then, he had a great play, and you get your call sheet ready for the next one.''
In other words, whew.
Petty's gunslinger-like play was a key moment in overtime, connecting with Robby Anderson on a 26-yard pass that helped set up Bilal Powell's winning 19-yard touchdown run last Sunday in New York's 23-17 victory at San Francisco.
''We needed to make a play and Robby made a great play on that ball,'' Petty said. ''Really, it was an outstanding effort by him.''
Petty kept the play alive and took a chance - one the coaches might tell him he probably shouldn't in the future.
''They'll say that if it doesn't work,'' Petty said with a big grin. ''It's one of those things that if it works, great, that's how we drew it up. And if it doesn't, `All right, let's not do that anymore.'"
Petty had an uneven second NFL start, and first since being elevated to starter for the rest of the season. He was 23 of 35 for 257 yards, and had four rushes for 19 yards . Oh, and he also threw an interception on his first pass against the 49ers. Rather than be discouraged and rattled, Petty bounced back quickly.
''He did some good things,'' Gailey said. ''I thought he got more comfortable as the game went on. I hope he'll learn from that experience and hopefully he'll be better this week. That's what you hope young players do.''
Petty acknowledged he had some nervous moments going into the game, something that surprised him.
''I don't really know why,'' said Petty, a fourth-round draft pick out of Baylor last year. ''It's being able to work through those things. I like the jitters. There's a positive to that because I'm passionate about the game. I'm excited about that. Just have to be able to work through those.
''I think I was trying to confirm too much, seeing looks and wanting to make sure this is exactly what I saw instead of seeing it, trusting it and going.''
Coach Todd Bowles said Petty needs to improve on reading defenses, a common shortcoming for inexperienced quarterbacks. Bowles also wants him to ''loosen up a little bit early.''
Petty understands exactly where Bowles is coming from, and he agrees. He'll focus on having fun rather than trying to be perfect. He'll also exhale a bit before the game starts.
''There will be nerves,'' he said. ''I think it's that part of getting through it: `OK, I've done this. It's OK. We've got it.' Knowing what it can do and how it does hinder me and kind of use that knowledge to say, `OK, I can't let that happen,' and be able to pull from it in a positive way.''
It's all part of the education and development of a young quarterback in the NFL.
So is walking the fine line between being reckless and showing progress on the field.
''Do you take away a guy's natural feel for the game and the playmaking ability that a guy has?'' Gailey said. ''You don't want to take that away, the aggressiveness and the, `Hey, we're going to make a play here,' by making him too conservative, either.''
Petty idolized Brett Favre while growing up in Midlothian, Texas, and his playing style resembles the Hall of Famer a bit. Favre, of course, retired as the NFL's leader in TD passes as well as interceptions.
''I don't like to use the word `gamble,''' Petty said of his own approach. ''No, I think that's kind of something I've done since high school is when a play breaks down, I don't like giving up on plays.''
Instead of ''gamble,'' what would he prefer to call it?
''Making a play, I guess,'' he said, smiling.
Petty was sacked six times by the 49ers, and he pinned them on himself because he held onto the ball too long. Gailey thought it was more Petty needing to make cleaner reads.
''I'll probably be better this week in that situation, in those scenarios, and just trust what I see and play,'' Petty said.
Facing Miami on Saturday night, Petty will be up against one of the league's most aggressive defensive fronts, with Ndamukong Suh, Cameron Wake, Jordan Phillips, Andre Branch and Mario Williams - who have combined for 22 sacks - leading the way.
''They have a really, really good pass rush, definitely the best I've seen playing,'' Petty said. ''It's definitely an emphasis to get the ball out and just distribute because when we do that, positive things happen.''
---
For more NFL coverage: http://www.pro32.ap.org and http://www.twitter.com/AP-NFL
---
---