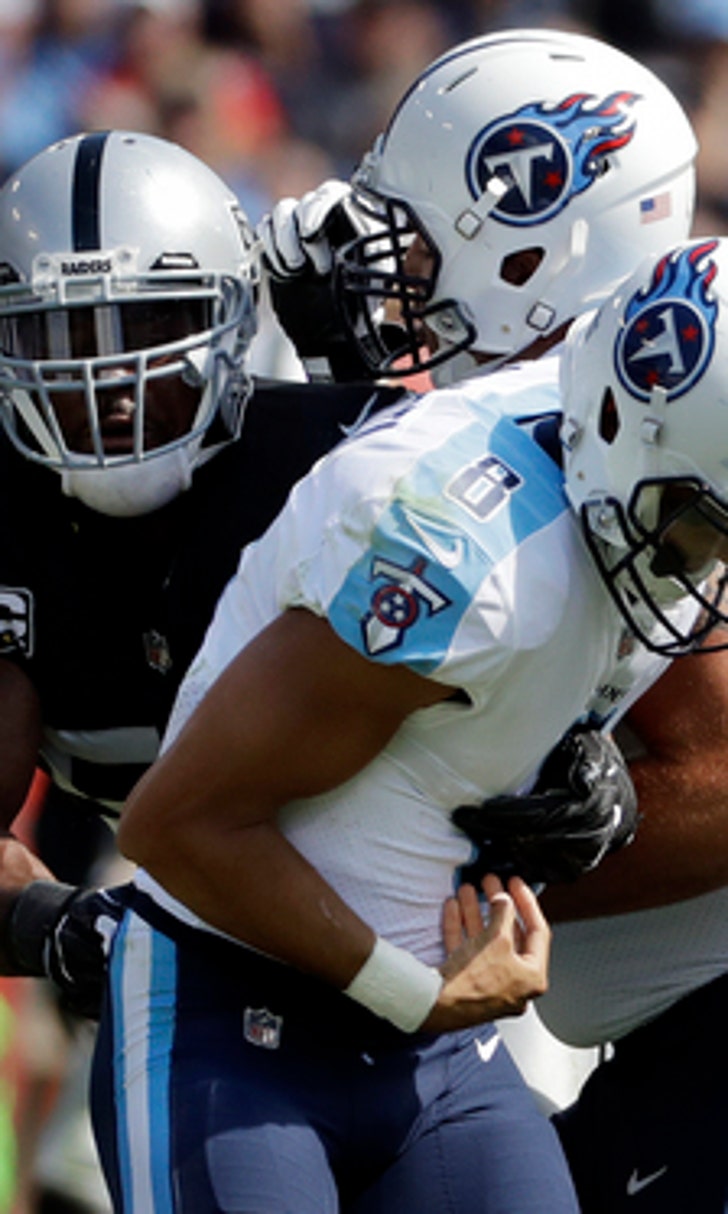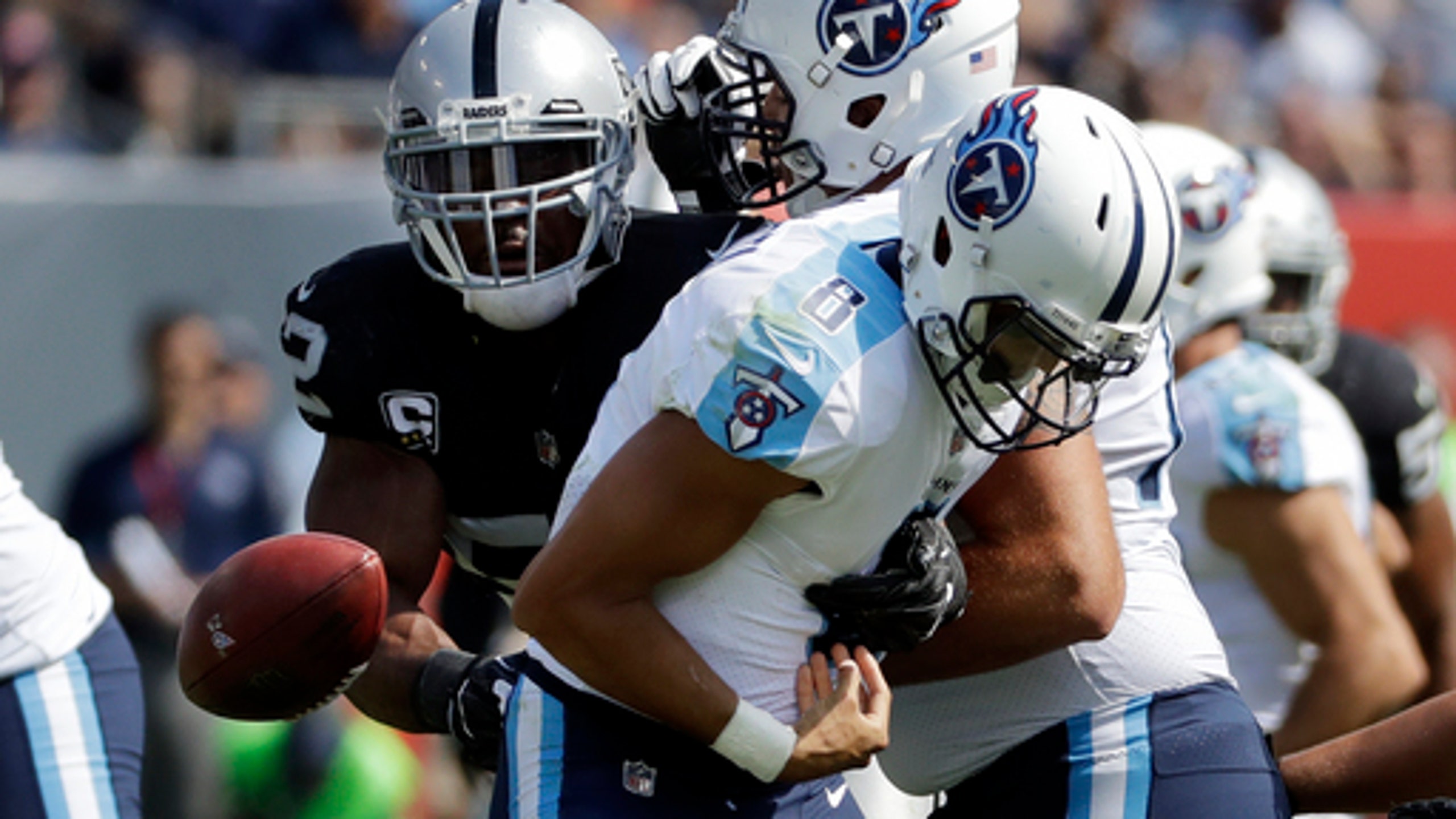 Jets' O-line faces challenge of trying to slow Raiders' Mack
BY AP • September 15, 2017
FLORHAM PARK, N.J. (AP) The film confirmed everything the New York Jets already knew about Khalil Mack.
Now, they've got to figure out how to stop Oakland's sack-happy pass rusher.
''There's a lot of challenges with him,'' Jets offensive coordinator John Morton acknowledged Thursday. ''He's probably one of the best (pass) rushers in football. We have a plan for him. Definitely, he can wreck a game, so we've got to make sure we account for him wherever he's at.''
Mack will line up mostly on the left side of the Raiders' defense, but sometimes on the right - and often end up in opponents' backfields.
''He's the ideal pass rusher,'' Jets right tackle Brandon Shell said. ''He's a good all-around player. He can rush the passer, stop the run. He's that guy you hear everything about. That's him.''
Shell will likely see lots of Mack on Sunday in Oakland, which should be quite the test for the young right tackle who's expected to make his fifth NFL start.
Even though Mack had no sacks last week against Tennessee, he knocked down a pass, had four quarterback pressures and had two tackles for losses.
The great-nephew of Pro Football Hall of Famer Art Shell was a fifth-round draft pick last year from the University of South Carolina. He started his rookie season as a game-day inactive for the first several weeks, but injuries and his own improvement got him into the starting lineup for the last three games.
Shell won the competition at right tackle this summer in training camp and had a mostly solid opener against the Bills, taking on the likes of Shaq Lawson and Kyle Williams.
This week, Shell will get an even better barometer of how much he has progressed - or how much better he needs to become.
''I like challenges and I don't back down from a challenge,'' Shell said. ''I just go out there and do my job as best I can. That's all I can do.''
Morton said Shell certainly won't be alone in trying to slow the defending AP Defensive Player of the Year, who constantly faced double- and triple-teams against the Titans.
''It's not just about the tackles,'' Morton said. ''It's about the running backs, it's about the tight ends, it's about the receivers. We've got to know wherever he's at. I think we've got a really good game plan set up for that.''
That's no easy task, as most NFL teams can attest since Mack came into the league in 2014 as the No. 5 overall pick out of the University at Buffalo. He has 30 sacks in 49 NFL games, already just one away from tying Lance Johnstone and Sean Jones for ninth-most in Raiders history.
Jets defensive lineman Leonard Williams knows a thing or two about getting to the quarterback. And, even he appreciates the total package Mack has become.
''I personally think he's probably the best defensive player in the league right now,'' Williams said. ''I obviously am a defensive player, so I don't like saying that. I want to compete with him and be the best guy myself. But watching him on film, he's a great player and (I'm) just looking forward to watching him.''
Mack also is regarded as one of the league's top run defenders, helping the Raiders shut down ground games on a weekly basis.
''He goes inside and outside, he runs stunts and everything else,'' Jets coach Todd Bowles said. ''He's a great player. There's nothing you can say about that. We just have to do our jobs and make sure we're aware of where he is and try to slow him down a little bit for us to make some plays.''
Otherwise, it could be a long day for Josh McCown and the Jets' offense.
New York gave up just one sack last week in the season-opening loss at Buffalo , but the Jets couldn't get the run game going. Matt Forte and Bilal Powell rushed for a combined 38 yards, and McCown was forced to throw 39 passes with the Jets trailing the entire game.
''It could've been better,'' center Wesley Johnson said of the O-line's play. ''The goal for the offensive line is to get the offense in rhythm. We've got to block our guys and make it possible so the other guys can make plays. It doesn't matter if we think we're blocking well or not. If the guys aren't getting any yards, we're not doing our job.
''We've got a lot to build on after last week.''
The Jets have three players starting this year that weren't in those spots at this time a year ago, including Johnson and Shell, and left tackle Kelvin Beachum, who was signed as a free agent in the offseason.
''We're always a work-in-progress,'' Johnson said. ''I know by Week 16, we'll be reading each other's minds better than we are communicating with each other now. But I like where we're at. We're not having any severe communication problems or anything like that.
''Right now, it's just us trying to put it all together and get a complete game out there and put the total package out there so we can keep replicating that as the season goes on.''
---
For more NFL coverage: http://www.pro32.ap.org and http://www.twitter.com/AP-NFL
---
---