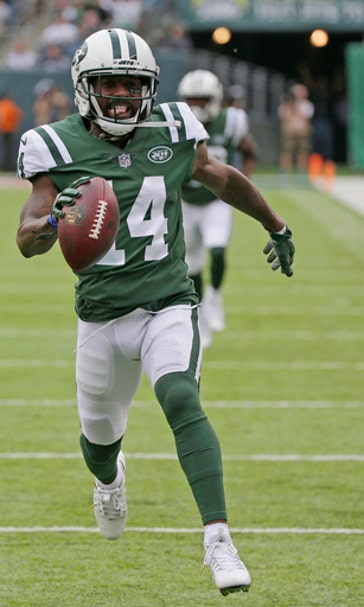 Jets' Kerley facing suspension, uncertain for Thursday night
October 31, 2017

FLORHAM PARK, N.J. (AP) Jeremy Kerley is focused on playing Thursday night - even though he's unsure if he'll be able to take the field.
The New York Jets wide receiver is facing a possible suspension, and his playing status for the game against the Buffalo Bills was uncertain.
Kerley would not confirm or deny reports Tuesday that he will be suspended by the NFL for a violation of league rules. The New York Daily News first reported that the veteran receiver will miss some time.
''Right now, my status is on Buffalo,'' Kerley said after practice Tuesday. ''Any questions about Buffalo, I'd love to answer that. Anything about the suspension, that's just a league matter right now.''
Neither the NFL nor the Jets would comment on the possible suspension. Coach Todd Bowles echoed Kerley by calling it ''a league matter.''
''He's practicing like (he'll be available), but we'll see,'' Bowles said. ''We have other guys taking reps in there. We're prepared either way.''
Kerley said he's ''ready to play'' against the Bills in prime time with the Jets trying to snap a three-game losing streak.
''My anticipation really is on the Buffalo game plan,'' he said. ''That's really what I'm worried about. They've got a good third-down defense and all that, so that's really my main focus right now.''
The New York Post first reported that Kerley will be suspended for violating the NFL's policy on performance enhancers. That typically carries up to a four-game suspension.
Kerley has had a rough few days. On Sunday, the normally sure-handed returner muffed a punt late in the game that led to a field goal for Atlanta in the Falcons' 25-20 win.
He was back returning punts during special teams drills early in practice, and insisted that his mistake wouldn't weigh on him.
''It was very easy,'' Kerley said of moving on from the mistake. ''It's part of the game. I'm a pro and I know how to handle myself. I ain't worried about one play, leading into the next play and leading into the next play. I shut that out just as easy as it happened.''
---
For more NFL coverage: http://www.pro32.ap.org and http://www.twitter.com/AP-NFL
---
---