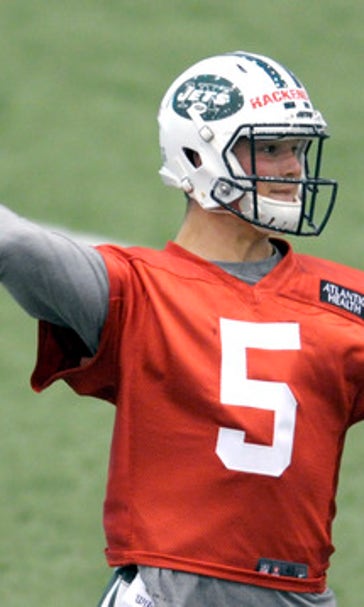 Jets' Hackenberg 'buried' criticism, excited for fresh start
May 6, 2016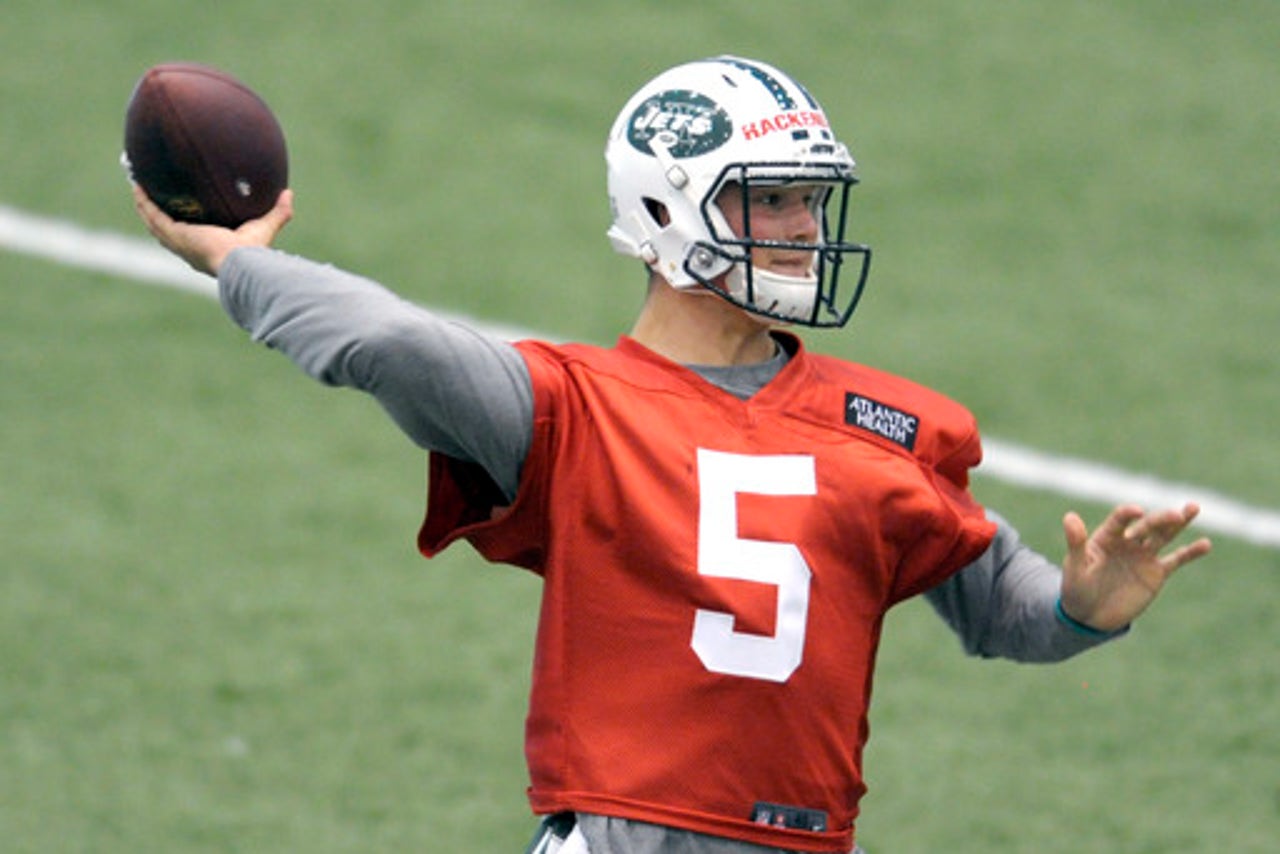 FLORHAM PARK, N.J. (AP) Christian Hackenberg is used to all the scrutiny, the varying opinions about his skills and what he can and can't do on a football field.
Forget all that.
The New York Jets' second-round draft pick is in the NFL now, and he just might be a future franchise quarterback. For now, though, Hackenberg is simply ready to move on from an up-and-down career at Penn State that made him one of the most polarizing players in the draft.
''I think you're defined by how you react to adversity and how you're able to get back up,'' Hackenberg said before his first rookie minicamp practice Friday. ''So, I think ultimately having to go through that at a young age and doing it through college is only going to help me in the long run. That's how I compartmentalize that. It's really been a stepping stone for me moving forward. I think it's only going to help.''
His path was a bit uncertain for a while, especially depending on who you asked.
As a standout in high school at Fork Union Military Academy in Virginia, ESPN ranked him as the best pro-style quarterback recruit. He turned down several schools, such as Alabama, Florida and Tennessee, to go to Penn State - and maintained his commitment despite the NCAA sanctions against the Nittany Lions in the wake of the Jerry Sandusky sex abuse scandal.
Hackenberg had a terrific freshman season, throwing for 20 touchdowns and 2,955 yards under then-coach Bill O'Brien. But he seemed to regress after O'Brien left to become coach of the Houston Texans. He threw 28 TD passes, but also had 21 interceptions over the next two years, and was sacked a whopping 104 times in three seasons.
He declared for the draft after his junior season and finished as the school's career leader in several passing categories, but was still criticized for flawed footwork and accuracy issues. Hackenberg went from being a possible No. 1 overall pick to a sixth- or seventh-rounder in some projections. The Jets, however, liked enough of what they saw to take him with their second pick in the draft.
''I'm here right now and I think that's really what I'm focused on,'' Hackenberg said of the criticisms. ''I've kind of buried that, so it's a great, fresh start, and I'm really excited about moving forward and doing what I need to do here.''
Hackenberg also insisted that all the doubters and naysayers don't add any added motivation.
''Not really,'' he said. ''I'm here now, so for me, I don't think any of those guys are harder on me than I am. I hold myself to a pretty high standard and know where I've got to get better.''
During his first practice in the pros, Hackenberg was, not surprisingly, up and down with some of his throws. A highlight came when he tossed a perfectly placed 35-yard pass into Titus Davis' hands.
''We knew he had a strong arm,'' coach Todd Bowles said, ''but right now, it's all about learning, understanding the system and getting the guys acclimated.''
Ryan Fitzpatrick remains unsigned, although the Jets maintain their focus is on re-signing the veteran quarterback. Geno Smith, a second-rounder in 2013 with lots of starting experience, is slotted to be the starter at the moment - at least until Fitzpatrick returns - while Bryce Petty, a fourth-rounder last year, will compete for a backup role.
That leaves Hackenberg with some time to ease into the NFL, and it gives the Jets' coaching staff an opportunity to strip back the flaws that hampered him the last few years. And to try to build him back into the quarterback who was so impressive a prospect a few years ago.
''It just goes back to being able to come in here and earn my stripes with the older guys and work and be able to focus on some things we all need to get better at, and see where my role is,'' Hackenberg said. ''Just being able to get comfortable here and feel great about the direction we're headed.''
In his freshman year under O'Brien, Hackenberg performed well in the pro-style offense. With the Jets, Chan Gailey also runs a version of that system, which should help the young quarterback acclimate quickly.
''There are some similarities,'' Hackenberg said. ''I'm sure as the progression continues with what we're doing and installing, I'll be able to draw some more comparisons, but it has definitely helped.''
After all the uncertainty over his future, Hackenberg is back on a football field, now with the Jets - and maybe someday as their face of the franchise.
''That's been the coolest part, just being able to get settled in here and know that this is where I'm going to be and have a home,'' Hackenberg said. ''Now it's just time to get to work. I think that's all what we've been looking forward to, and me, especially, I've been looking forward to that throughout the entire process. So it's been awesome.''
---
AP NFL website: www.pro32.ap.org and AP NFL Twitter feed: http://twitter.com/AP-NFL
---
---