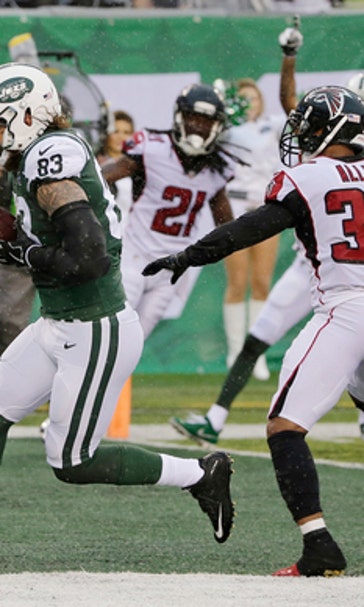 Jets drop third straight close one, losing lead to Falcons
October 29, 2017

EAST RUTHERFORD, N.J. (AP) The story is getting old fast with the New York Jets. Take the lead, carry it into the fourth quarter and lose the game.
It happened for the third straight time Sunday as the Jets dropped a 25-20 decision to the error-prone Atlanta Falcons in a game played in a heavy rain that led to fumbles, dropped passes and a lot of empty seats at MetLife Stadium.
Instead of the Patriots and Dolphins rallying, this time it was a Falcons team that was riding a three-game losing streak.
''Man, it's really tough. Just go look at the tape and see. Frustrating,'' said Jets quarterback Josh McCown, who was 26 of 33 for 257 yards and two touchdowns. ''You go out there and battle, battle the elements and move the football well at times and get in the end zone. (We have to) figure out what the heck we're doing in the second half that's not allowing us to play the same way. Got to fix that.''
The Jets (3-5) had their chances.
After taking a 7-0 lead on McCown's 20-yard pass to Eric Tomlinson on their opening series, they recovered a botched snap by Matt Ryan at the Falcons 34. Three plays netted 6 yards, and a 46-yard field goal attempt by Chandler Catanzaro was wide right. It was one of two misses by the placekicker, and each time Ryan led Atlanta to a touchdown, with the second coming on a go-ahead 8-yard pass to Mohamed Sanu with 12:22 to play.
The Falcons never trailed again, outscoring New York 12-3 in the second half.
''There's no excuse,'' Catanzaro said. ''My teammates are counting on me to put it through the two yellow pipes, and I didn't do that today.''
Not only did Catanzaro cost his team six points, returner Jeremy Kerley muffed a punt at his own 15 with 6:42 to play. It allowed Atlanta to extend its lead to the final five-point margin.
''We played hard, for the most part. It's disappointing not to win,'' Jets coach Todd Bowles said. ''It's disappointing we didn't close it out. Too many mistakes in the fourth quarter. Can't happen. Can't put the ball on the ground. Can't have timely mistakes. Everybody has to play their brand of ball. Hard enough, not good enough.''
But it has been an old story. New York blew an early 14-0 lead against New England here two weeks ago and then squandered a 28-14 fourth-quarter lead in a 31-28 loss to the Dolphins in Miami.
Linebacker Demario Davis said the circumstances have been different every game.
''I don't think you can look at it and say it's that simple, that it is the same thing over and over and over,'' he said. ''We just have to find a way to make those big plays, whether it's defense, whether it's offense, whether it's special teams, or whatever the case, we have to find a way to make those plays down the stretch.''
Running back Matt Forte went in another direction, saying offensive coordinator John Morton got away from the game plan by not sticking with the running game more with the rain falling so hard.
''I'm surprised by that,'' Forte said after the Jets rushed 22 times for 43 yards. ''We knew the weather was going to be like this and then it continued to rain the entire game and I think we ran the ball (22 times) and it should have been one person getting 20 carries or something like that.''
However, that is part of learning for the Jets. They were 5-11 last season and many felt were one of the NFL's worst teams coming into the season.
''It's been tough,'' said receiver Robby Anderson, who had six catches for career-best 104 yards and a touchdown. ''We've been right there. We're just not finishing it out, so it's been tough, honestly. It's just growing pains, so we're going to get over this hump.''
---
For more NFL coverage: http://www.pro32.ap.org and http://www.twitter.com/AP-NFL
---
---