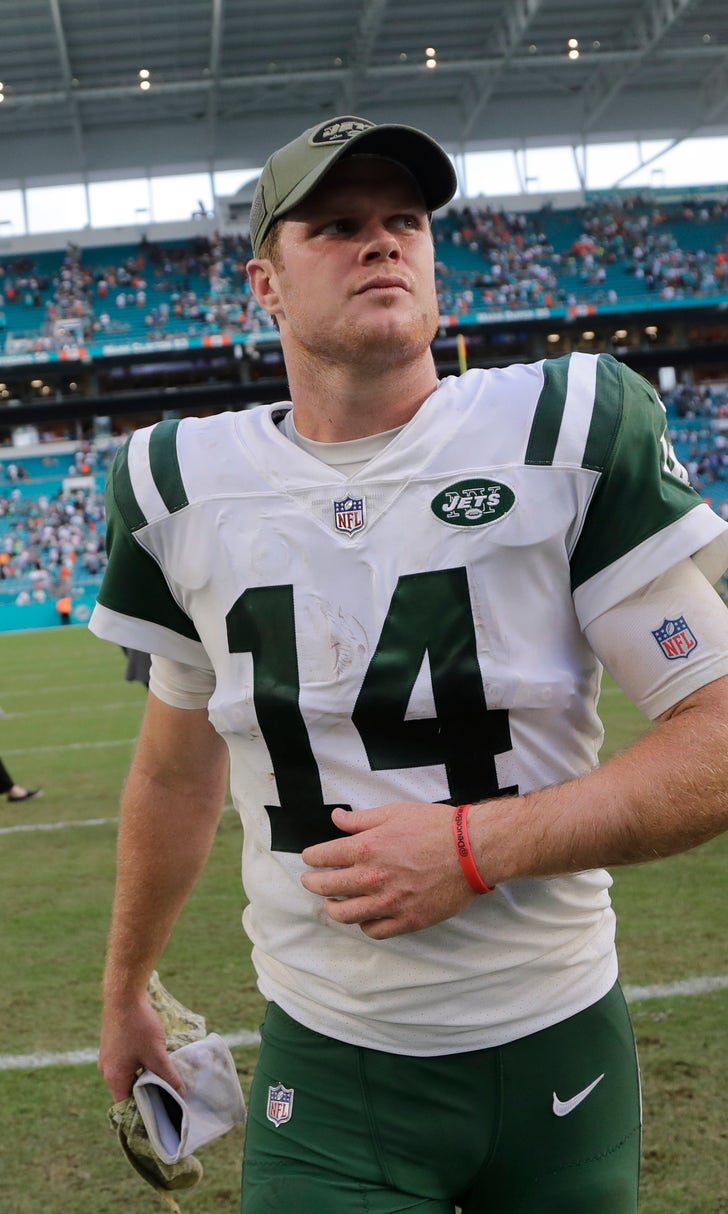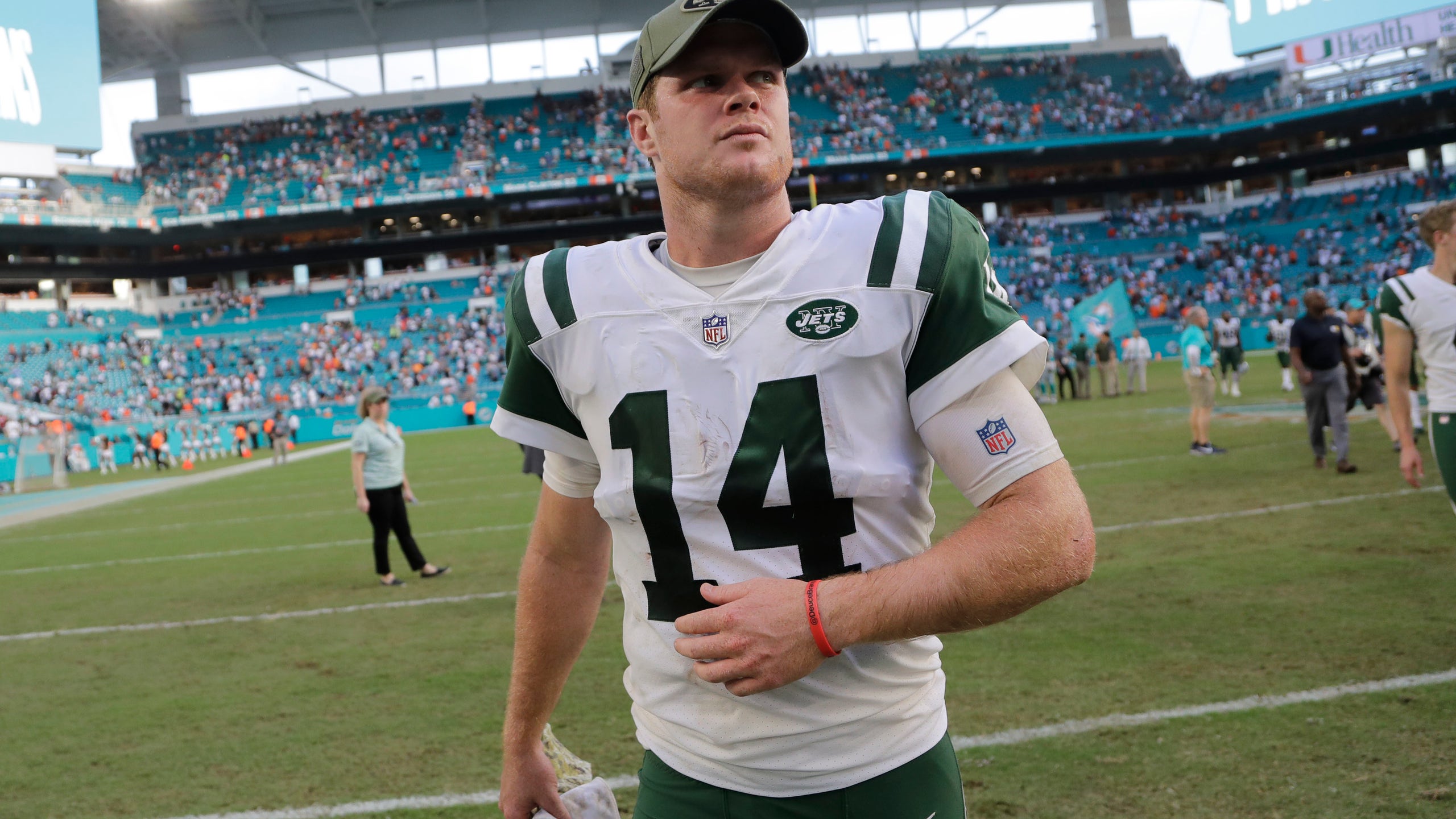 Jets' Darnold doubtful vs. Bills, unlikely to back up McCown
November 9, 2018
FLORHAM PARK, N.J. (AP) — Take a seat, Sam. You're sitting this one out.
New York Jets quarterback Sam Darnold was listed as doubtful Friday for the team's game against Buffalo on Sunday, making it highly unlikely he will serve as Josh McCown's backup.
While coach Todd Bowles left open the possibility Darnold could still dress for the game, the rookie did not practice all week after straining his right foot last Sunday in the Jets' 13-6 loss at Miami. He wore a boot on his foot and watched from the side during practice.
Davis Webb is likely to be signed from the practice squad to the active roster to provide insurance for the 39-year-old McCown, who will make his first start of the season.
"How he feels, how we think he compares as to having Davis as the backup," Bowles said of what will go into the decision on Darnold. "We'll think about a lot of stuff."
The Jets (3-6) will have a bye-week break after they play the Bills, with their next game on Nov. 25 against New England. That would give Darnold three weeks to heal — although Bowles said the timing didn't factor in the team sitting him for McCown.
"He's just not healthy right now," Bowles said of Darnold.
Bowles said on Thursday that Darnold will move back into the starting role once he's healthy, regardless of how McCown is playing.
McCown was the starter last season and had a career year before missing the final three games with a broken left hand. He played limited snaps in the preseason, but Bowles isn't concerned about potential rust.
"He looks like a spring chicken right now," the coach said. "He hasn't played in a while, so he's very camp fresh right now. He should be fine."
Darnold leads the NFL with 14 interceptions and his play took a bad turn during New York's three-game losing streak. He has two touchdown passes and seven INTs in that span while working with a supporting cast that has been hit hard by injuries and inconsistency.
McCown will likely be without one of his key receivers, with Robby Anderson doubtful to play after not practicing all week with an ankle injury.
Anderson has been dealing with it the past few weeks, but played last Sunday against Miami after sitting out against Chicago.
"It just didn't get any better," Bowles said. "He didn't suffer anything (more). It kind of just didn't get any better."
It appeared wide receiver Quincy Enunwa would also be uncertain to play after missing the first two days of practice, also with an ankle injury. But, he was a full participant Friday and is expected to start.
This will be the first regular-season game in which Enunwa, who leads the Jets with 25 catches, will play with McCown. Enunwa sat out all last season with a neck injury and was limited this summer while recovering from that before injuring a thumb.
"I didn't really play in camp because I was hurt, so I didn't really get much (time) with Sam," Enunwa said. "But I still ended up having a good rapport with him to start the season off. So, I'm going to go at it the same way. I'm just going to be where I need to be at, be in the right spot and be where he needs me to be so it's easy for him so we automatically kind of have that connection."
There's a good chance McCown will be taking his snaps from backup center Jonotthan Harrison because Spencer Long was listed as doubtful with knee and finger injuries that held him out of practice all week.
For several weeks, Long has been dealing with the injury to the middle finger on his right hand, which has affected his shotgun snaps. He had at least six wayward snaps against the Dolphins before being pulled.
Harrison started for Long two weeks ago at Chicago, and Bowles said he's "very comfortable" with him at center.
"We know he's very fast, he's athletic, extremely smart and he does a good job," Bowles said. "He can play multiple positions as well, so it won't be strange having him in there."
Tight end Neal Sterling will miss his second straight game with a concussion, while nose tackle Steve McLendon is questionable with an ankle injury.
Top cornerback Trumaine Johnson is set to return after missing five games with an injured right quadriceps. He fully practiced on Thursday and Friday.
---
---