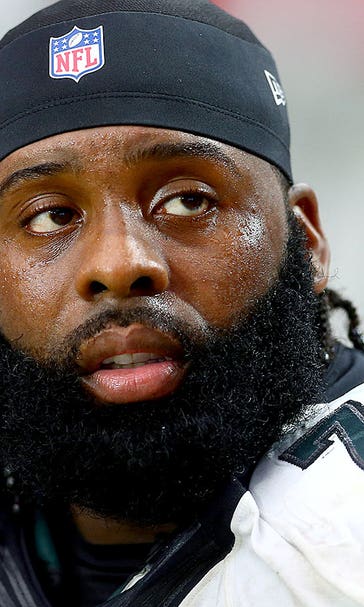 Jason Peters expected to be on Eagles roster in 2016, according to source
BY foxsports • February 1, 2016
When Lane Johnson signed his five-year, $35.5 million guaranteed ($63 million max value) contract, it raised a question in Philadelphia: What role do the Eagles see Johnson filling?
With that large of a contract, Johnson appears to be expected to play as a left tackle. But, there's one problem: Jason Peters is still signed to the team through 2018.
Peters, at 34, isn't as strong as he used to be. But according to ESPN NFL insider Adam Caplan, who spoke on 97.5 FM The Fanatic on Friday, said that he believes the Eagles will stick by Peters' side.
Via NJ.com:
"My understanding has been for the last couple of weeks that he's going to be back,'' ESPN NFL insider Adam Caplan said Friday during his radio show on 97.5 FM The Fanatic in Philadelphia. "Here's the deal with Jason Peters. He's not the same player he once was. That's just a fact. But it's not like he's bad, it's just that he was beat up last season. And there's some people that question whether he was going to try to play though injury in a few games, that certainly was out there.

"But he is signed through 2018 and he does have a very high cap number at $9.3 million, but it would be fine had he been the player that he once was. But he's not. Lane Johnson, my understanding is that he has some language in his contract where he gets bonus money if he plays left tackle. He will be the left-tackle later in his career, it's just a matter of when Jason Peters will retire."
More than likely, the Eagles will want to ease Johnson into that left tackle role. But when Peters has been out with an injury, Johnson is the one that replaces him as the left tackle.
If the Eagles were to wait until June 1 to cut Peters, they will save $8,737,500 in cap space, but gain $1 million in dead money, according to Over The Cap. But the time may not be right to part with Peters, as Johnson just isn't ready yet.
Tommy Chalk writes about the NFL and NHL for FOX Sports. You can follow him on Twitter @Tommy_Chalk
---
---