Cam Newton
Cam Newton
Jared Allen on Cam Newton celebration: 'This isn't Footloose'
Published
Nov. 18, 2015 2:07 p.m. ET

Carolina Panthers quarterback Cam Newton has received some criticism for a prolonged touchdown celebration, but teammate Jared Allen offered a reminder about the legality of the situation.
According to ESPN's David Newton, the defensive end said the NFL isn't like the classic movie "Footloose" in which a city banned dancing.
This non-issue has become a story because a mother of a 9-year-old girl wrote an op-ed to the Charlotte Observer that criticized Newton for his antics throughout Sunday's matchup with the Tennessee Titans.
More specifically, she -- along with Titans linebacker Avery Williamson -- was upset with Newton's terrific celebration. The dance lasted approximately seven seconds, which is apparently too long.
Williamson approached Newton, who had a perfect response: more dancing!
Fans have often criticized the NFL for becoming the "No Fun League," and deservedly so. Planned touchdown celebrations are rarely a part of the game.
And yet, there's still backlash for Newton's celebration. This is exactly what we've wanted to see. Should the NFL institute a five-second rule for celebrations? Do you really want more penalties?
Football is a game meant to entertain. Dancing is entertainment.
Now, if you don't want to see an opponent dancing, either a) be a better defender, NFL players or b) be a fair-weather fan and only support a team that doesn't give up points.
Cam is simply cutting loose -- footloose, to be exact. He's kicking off his Sunday shoes after scoring touchdowns and racking up wins. The Panthers are 9-0, and Newton is dancing his way into the hearts of people who like fun.
More from Sportsnaut:
---
---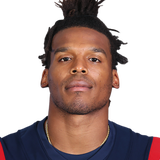 Get more from Cam Newton
Follow your favorites to get information about games, news and more
---