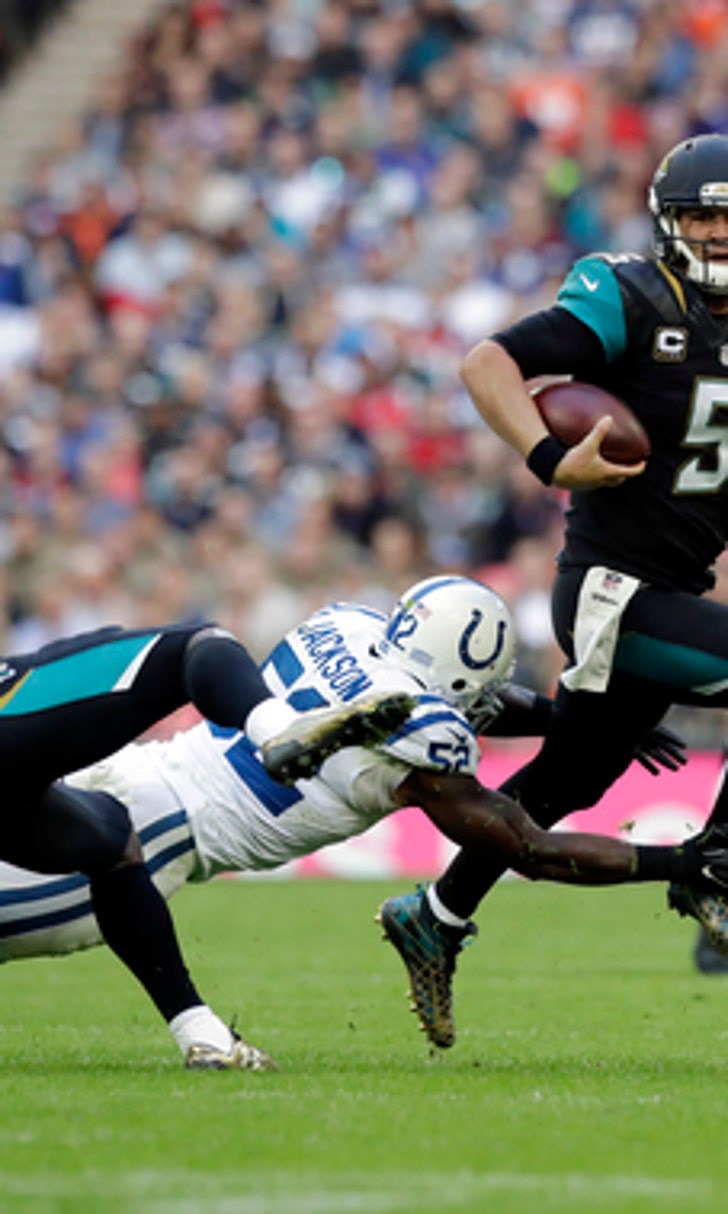 Jaguars survive late Colts rally, win 30-27 in London
BY foxsports • October 2, 2016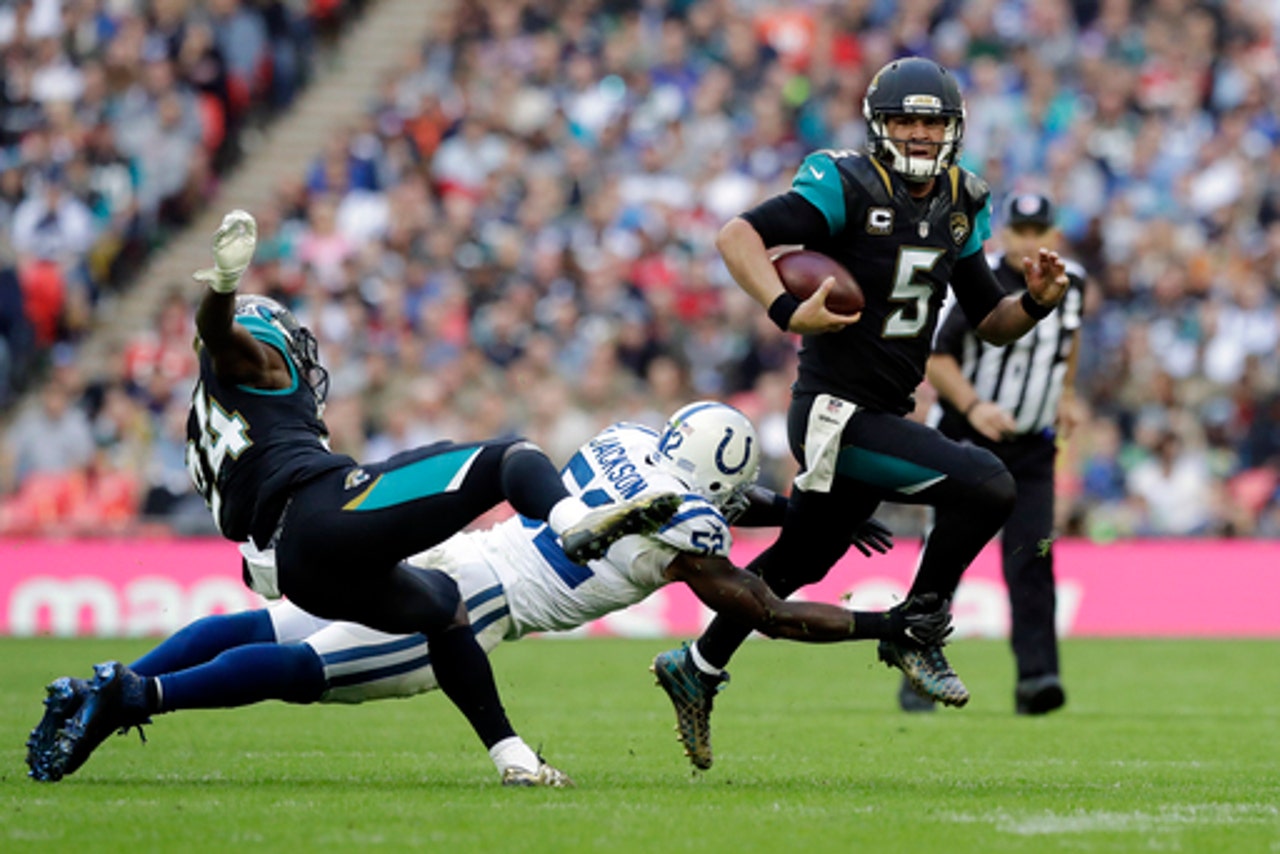 LONDON (AP) Blake Bortles threw for two touchdowns and ran for another as Jacksonville held off a furious Indianapolis Colts rally to win 30-27 in London for the Jaguars' first win of the season.
Sunday's victory at a raucous Wembley Stadium elevated Jacksonville into a tie with Indianapolis at 1-3 in the AFC South.
Andrew Luck led the Colts on three fourth-quarter touchdown drives to rattle the Jaguars' nerves. But his fourth-and-1 pass at the Jacksonville 49 with 1:36 remaining fell from the hands of tight end Dwayne Allen to preserve the victory for under-fire Jaguars coach Gus Bradley.
The Jaguars got a semblance of a running game going for the first time this season. T.J. Yeldon carried 13 times for 68 yards and Bortles added seven scrambles for 36 yards, including a 1-yard run that put Jacksonville ahead 14-6 midway through the second quarter.
The Colts repeatedly self-destructed on offense with dropped balls and another costly Luck interception that led to Jacksonville's opening touchdown. The Colts proved just as reckless on defense as pass interference and unnecessary roughness penalties extended three Jacksonville scoring drives.
The Jaguars led 23-6 after three quarters before the Colts mounted a tenacious comeback.
Their first touchdown drive of the final period was aided by an end zone pass interference on safety Jonathan Cyprien. Frank Gore (16 carries for 68 yards) punched the ball through on the next play to complete a nine-play, 75-yard drive barely seconds into the final period.
After a Jacksonville punt, Luck led a 12-play, 78-yard touchdown drive capped by his rollout scoring toss to T.Y. Hilton alone in the right corner of the end zone.
But Bortles found Allen Hurns on a short out route. Hurns made reserve cornerback Rashaan Melvin miss, then cut inside and through the defense for a 42-yard touchdown that seemingly put the Jaguars safely ahead 30-20 with 5:31 left.
But Luck pulled the Colts back to 30-27 barely two minutes later. A defensive miscue by Jaguars rookie Jalen Ramsey left Phillip Dorsett streaking alone to haul in a 64-yard touchdown throw.
FOREIGN POWER: Frank Gore added to his somewhat strange status as the NFL's greatest rusher outside the United States. Sunday marked his fourth time in regular-season action on foreign soil dating back to his rookie year of 2005 in Mexico City. Gore also had strong 2010 and 2013 performances as a 49er in London's Wembley. Adding Sunday's productive numbers leaves Gore with 66 non-American carries for 264 yards and four touchdowns.
BIG CROWD: Wembley Stadium announced a sold-out attendance of 83,764, divided fairly equally between Jaguars and Colts supporters.
WHAT'S NEXT: The Jaguars enjoy a bye week before traveling to Chicago to face the Bears. The Colts, unusually for teams making the London trip, chose not to schedule their bye after the game and will face the Bears at home Oct. 9.
---
AP NFL website: www.pro32.ap.org and AP NFL Twitter feed: http://twitter.com/AP-NFL
---
---