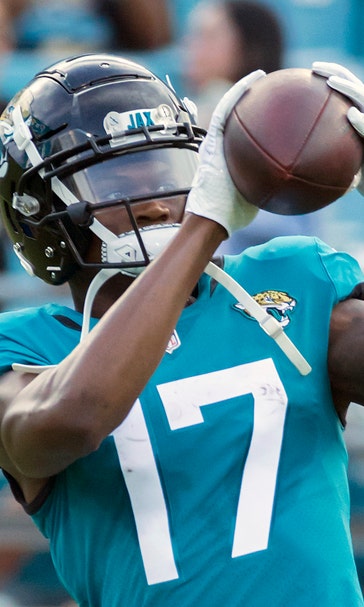 Jaguars rookie receiver Chark says 'learning curve is over'
September 26, 2018
JACKSONVILLE, Fla. (AP) — DJ Chark's biggest contribution in three games with the Jacksonville Jaguars is a fumble recovery.
The rookie receiver, a second-round draft pick from LSU, coughed up the football after his lone reception in Week 2 and had a huge drop in a home loss to Tennessee last week.
It's far from the start Chark expected, especially after showing so much promise and potential in the preseason.
"When you hit the NFL doing so well, you expect it to just keep carrying on and you can lose sight that it's still the NFL," Chark said Wednesday. "I think that's what really happened for me. It was coming easy to me, the feeling of the game, and then, boom, the regular season starts and everything changes a little bit."
Chark hopes to get another chance to prove his worth when the Jaguars (2-1) host the New York Jets (1-2) on Sunday.
Coach Doug Marrone said the plan is to "go right back to him" against the Jets, believing the best way to help Chark get over his mistakes is to put him in position to make positive plays.
"It has always been my philosophy (that) if someone dropped a football, we were trying to go to him the next play," Marrone said. "Really trying to do that, and then during the week asking that player to do all the extra to make sure that in his mind he is doing the proper work to get himself over it. I think it is a combination of those two things."
The Jaguars drafted the 6-foot-4 Chark with the hope that he would develop into a big-time playmaker alongside Marqise Lee, Keelan Cole and Dede Westbrook. With Lee out for the season, Chark went from a guy expected to sit back and learn to someone thrust into a reserve role — and on the field in key situations.
He's failed to make much of an impact so far, aside from recovering Westbrook's fumble in the first series against New England. The Jaguars scored five plays later.
He's done little since. His fumble at the end of a 13-yard reception in the third quarter against the Patriots proved to be meaningless in the 31-20 victory. But it briefly gave New England a glimmer of hope in a 24-3 game. Tom Brady hooked up with Chris Hogan for a touchdown on the ensuing drive to make it 24-10, but the Jaguars later answered to seal the win.
Chark wasn't as fortunate against the Titans.
He dropped a perfectly thrown pass on a second-and-10 play in the second quarter. Instead of a first down in the red zone, the Jaguars ended up kicking a field goal and tying the game at 3.
Chark was clearly disappointed, sitting at his locker after the game with his head down.
"The learning curve is over with at this point," Chark said. "It's time to play. You can get down on yourself, which at times I did. But at the end of the day, I just had to take some time to reflect.
"I know the type of player that I am. The game isn't hard. I just can't overthink it. I have to do what I do best, make plays, feel comfortable and when I get out there on game day and do what I do in practice."
Chark caught 66 passes for 1,351 yards and six touchdowns in three seasons at LSU. He was the co-MVP at the Senior Bowl and a receiver the Jaguars fell in love with because of his size and speed.
He stood out during organized team activities and in training camp, occasionally beating a talented secondary for touchdowns.
The Jaguars are confident that will happen in games, maybe even this week.
"I know he's upset and that speaks to his character and the kind of guy and football player that he is and how good he wants to be and how good he can be," quarterback Blake Bortles said. "I've got all the confidence in the world in him and I'm not going to shy away from throwing him the ball because he dropped one."
---
---