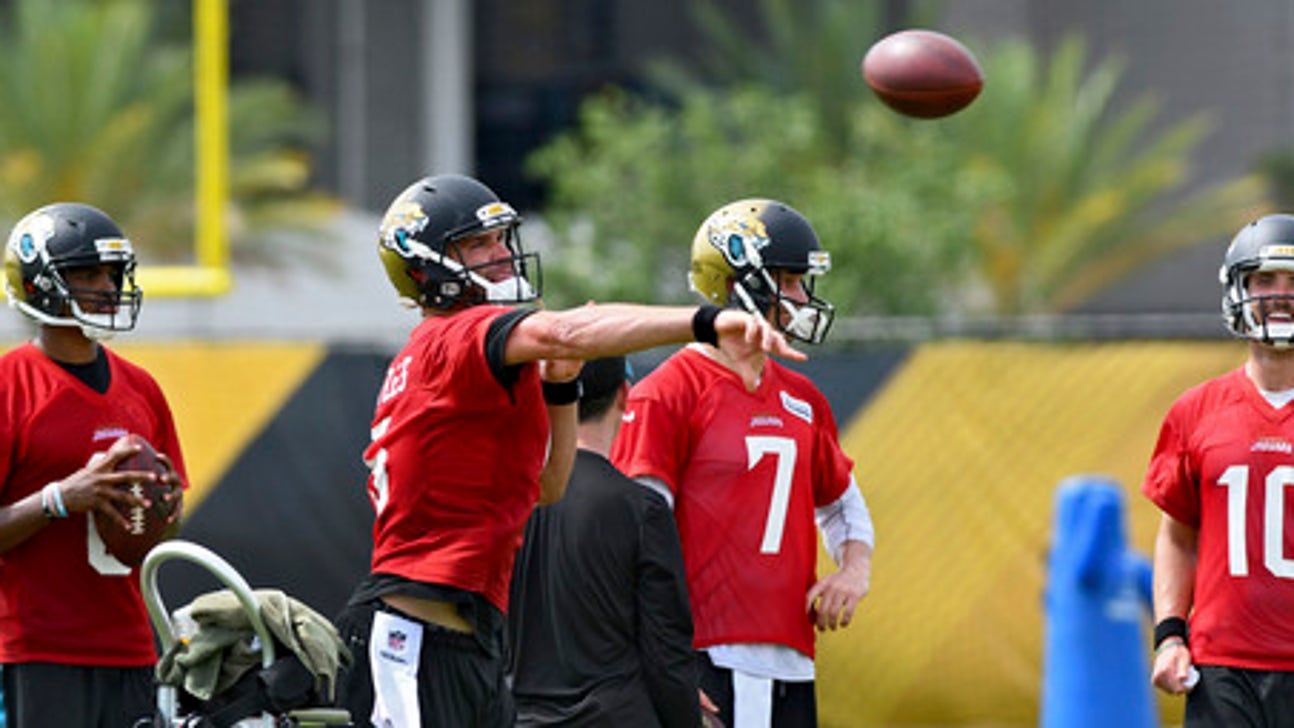 Jaguars QB Bortles returning to California for more work
Updated
Mar. 5, 2020 12:54 a.m. ET

JACKSONVILLE, Fla. (AP) Jacksonville Jaguars quarterback Blake Bortles is headed back to California for more offseason work.
Bortles plans to spend a month at 3DQB in Los Angeles to continue honing his mechanics before what likely will be the most important season of his NFL career.
''It just feels as though guys are sick and tired of being below average and not be successful when we feel as though we have the ability to be a good team and we haven't been,'' Bortles said Wednesday, after the second practice of a mandatory, three-day minicamp. ''It's time to make a change. It's not going to happen overnight. You've got to go do something about it.''
Bortles made several trips to the quarterback school run by former Major League pitcher Tom House during the 2015 offseason. Bortles responded with his best year, throwing for 4,428 yards and 35 touchdowns. He stayed in Jacksonville most of last offseason and finished with a disappointing 23 touchdowns and 16 interceptions. Offensive coordinator Greg Olson was fired in October, and coach Gus Bradley was let go late in the season.
Bortles has shouldered much of the blame for the team's offensive woes and seems more committed to becoming more consistent and helping the Jaguars, who have a league-low 18 wins over the last five years, be more competitive. So he doesn't plan on taking much time off even while teammates are traveling in the coming weeks.
''I think my goal is for us and this team and this organization to be extremely successful and we haven't for three years since I've been here,'' Bortles said. ''Even after that happens, I don't think anything will change. It's what I do. This is our job. This is my job and my passion, so I'm going to do and exhaust every resource I have and able and try and make this work and get it rolling.''
Bortles is entering a make-or-break season. The Jaguars picked up the fifth-year option in his rookie contract, but it's only guaranteed for injury, so he needs to play significantly better to be on the roster in 2018. If not, the Jaguars surely will start over at the all-important QB position.
And for Bortles, improving begins with being as sound as possible with his throwing motion and footwork. He spent parts of February, March and April working on his mechanics.
''Obviously still got a lot of work to do, still a lot of things needed to be improved,'' he said. ''But I think from a standpoint on have the mechanics that I came in held up? Yeah, I think that's held up.''
Now, he plans to head west for very specific work.
''I'll go out there with some more descriptive things: `Here's what I felt like I struggled with footwork-wise and throwing this route. Here's what I'd like to get better at. Here's something that was new, I'd like to just rep it.' I think it'll definitely be a little more kind of dialed in. ...
''I'll be throwing out there the whole time and trying to ... tune up everything, get all that ready to go and be able to show up here at the end of July in the best shape possible and ready to go.''
---
For more NFL coverage: http://www.pro32.ap.org and http://www.twitter.com/AP-NFL
---
---