In it together: Dolphins intent on putting last season's tumult in past
BY Alex Marvez • August 16, 2014
DAVIE, Fla. --
Joe Philbin is still head coach.
Mike Wallace is still the top receiving threat.
They're just not the same people they once were.
In an effort to make some sort of arcane disciplinary statement, the Philbin of old wouldn't have allowed his Miami Dolphins players to wear hats during the club's walk-through. Nor would Philbin have allowed music to blare over the speakers during practice as in this year's training camp. And he definitely wouldn't have danced – "Something no one wanted to see," deadpanned quarterback Ryan Tannehill – during a moment of levity in a recent team meeting.
The Wallace of last season wouldn't be trying to become, in his own words, "the last guy to leave the practice field every day." He wouldn't be as comfortable in his personal life or in the locker room after having left his comfort zone with the Pittsburgh Steelers to join the Dolphins. He also wouldn't be as in sync with Tannehill, which was a disconnect that became one of the major disappointments during Miami's tumultuous 2013 season.
There is plenty new about the 2014 Dolphins. This includes the general manager (Dennis Hickey), offensive coordinator (Bill Lazor) and an offensive line overhauled after surrendering an NFL-high 58 sacks.
But it's the positive differences in Philbin and Wallace that could help push the Dolphins into the playoffs for the first time since 2008.
After a combined 15-17 record the past two seasons, Philbin may very well be on the proverbial hot seat. But if he's feeling the heat, Philbin isn't showing it.
Just the opposite, actually. A demeanor that can sometimes come across as chilly as the frigid water dumped on Philbin by Dolphins players earlier this week as part of the ALS Ice Bucket Challenge has warmed considerably.
"I think you see a more relaxed coach Philbin than I've ever seen before – a guy who is willing to listen to the players, listen to suggestions and put them into action," Tannehill said. "Last year and the year before, some suggestions got shot down pretty quickly. Now, he's hearing us out."
The thaw was needed. The 2013 bullying brouhaha involving offensive linemen Richie Incognito and Jonathan Martin reflected poorly upon Philbin as a head coach without a good feel for his locker room pulse.
Philbin and Dolphins players remain insistent the scandal didn't truly reflect the team's character and what was actually taking place behind closed doors. That assertion is buoyed by the fact Miami didn't fold amid the ensuing media maelstrom. The Dolphins controlled their own playoff destiny at 8-6 until losing the final two games, which was more the result of a sputtering offense than internal chaos.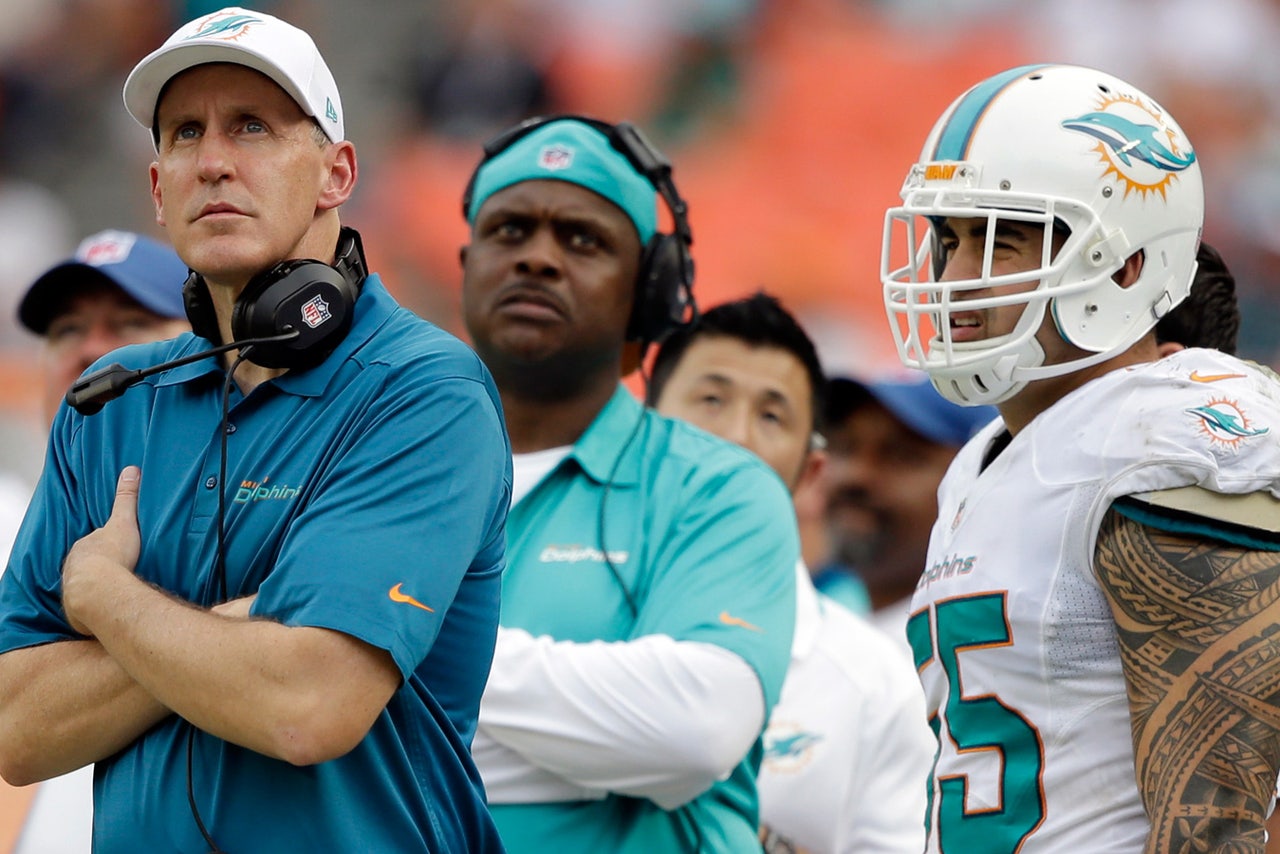 Last season was filled with turmoil for coach Joe Philbin and the Dolphins.

"We knew there was perception and reality," Philbin said. "We attempted in this building to keep it real and stay focused on the job we had."
Even so, there's no denying that the Incognito/Martin situation has made a deep impact on the 2014 Dolphins and the way Philbin connects with his roster.
Large signs hang throughout Dolphins headquarters that read "Respect and Communicate." T-shirts representing a motivational theme for this season feature a list of slogans contributed solely by the players. Among them: "If I see something – I will say something – I commit to call it as it is," and, "I will develop undying trust with the man to my left and my right."
Besides forging a better connection with team leaders, Philbin personally conducted the training camp bed checks to further foster player relationships.
"Team chemistry has taken a step up," Tannehill said. "Communication not only amongst players but from players to the coaching staff … I think there can sometimes be a gap. They're upstairs all day putting together the game plan. The players are downstairs getting ready in their own way. Sometimes, you're not on the same page.
"Since everything last year, in the offseason we discussed this and brought this to the table and kind of made it clear. Coach Philbin laid out his thoughts and the leaders of the team gave their point of view. It really helped us get on the same page and open up that communication line."
The next step for the Dolphins: Getting Tannehill and Wallace to do the same.
The two never clicked the way ex-general manager Jeff Ireland envisioned when signing Wallace to a monster five-year, $60 million free-agent contract that included $30 million guaranteed. The disconnect was especially evident on the deep routes that were supposed to hurt opposing defenses with Tannehill too frequently wide or short with his throws.
The problems, though, ran deeper than that. Wallace admits making the transition to South Florida after spending the first four years of his NFL career in Pittsburgh was far tougher than he envisioned.
He struggled adjusting to the heat, coming from a cold-weather climate. He didn't expect being thrust into a leadership role on a much younger team that lacked the veteran savvy of the Steelers. Contributing to the discomfort, Wallace said he was friendly with only two Dolphins players before his arrival and "kind of felt like a rookie again coming in not knowing anybody." Wallace also said tendinitis in his knee affected him to the point that "one play my leg would feel good and one play it doesn't."
The unease carried over to the gridiron. The West Coast-style offensive scheme and playing with Tannehill were both radically different than what Wallace had experienced in Pittsburgh with Ben Roethlisberger at the helm.
"I went from a freestyling quarterback to a guy who was getting coached on timing every single play," Wallace said. "Not that Ben couldn't play with timing, but everybody knows how Big Ben plays. He's a feel type of quarterback. He goes out and feels the game. He breaks five or six tackles and then you're wide open.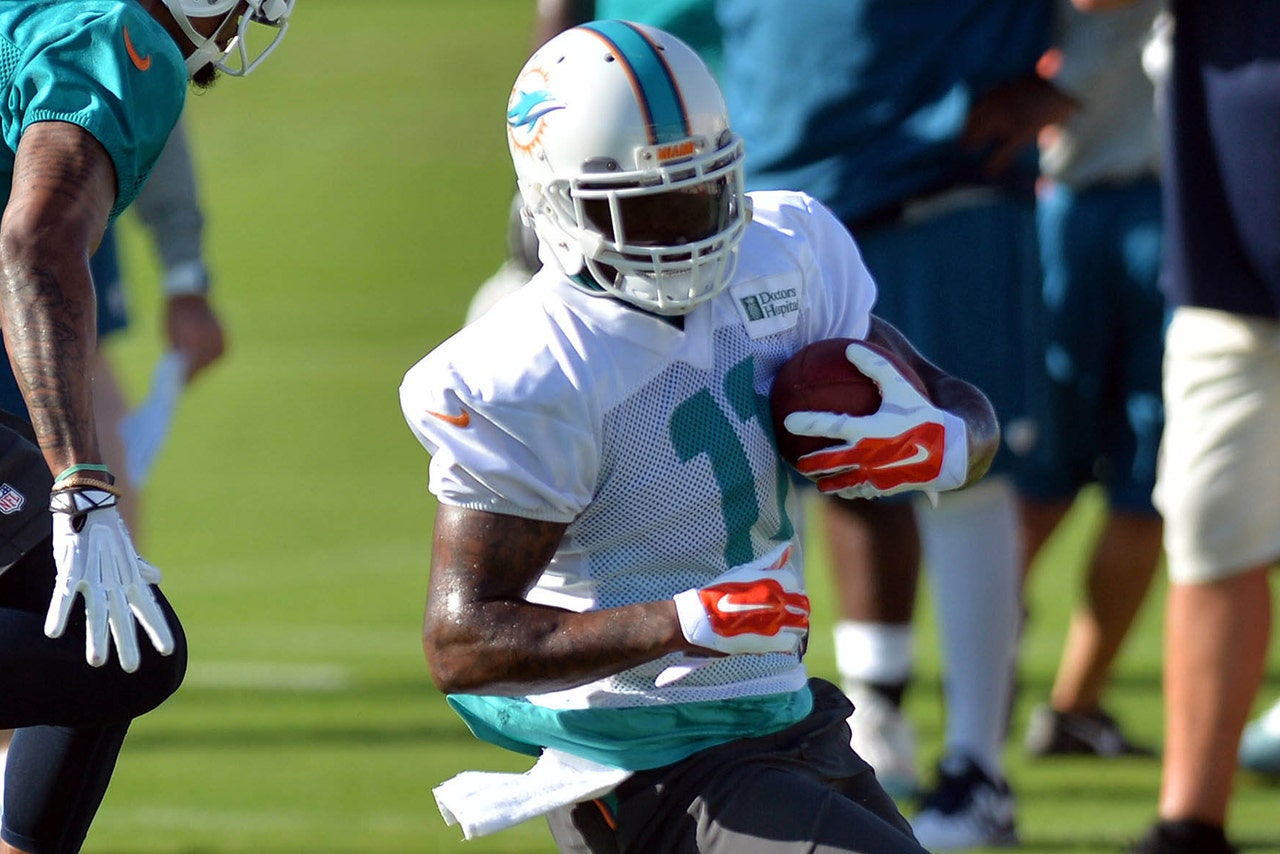 Mike Wallace expects that a change in the offense this season will help he and quarterback Ryan Tannehill get on the same page.

"You come here and things are different. You've got to be precise in your route running."
The end result was a solid season – 73 catches for 930 yards and five touchdowns – but a disappointing one considering what the Dolphins and Wallace himself had expected. That has helped fuel Wallace to rebound in 2014.
"The comfort level he has with the entire program is miles ahead of where he was a year ago at training camp," Philbin said. "Maybe we underestimated just the sheer adjustment of a player moving from one program to another. I think he's more comfortable in the locker room and with the coaching staff and feels better about his relationships with the quarterbacks."
Philbin added that "the biggest sign of encouragement I think is that we see him after practice working on the JUGS machine on his own catching passes, talking to the quarterbacks, talking to the other receivers." Tannehill described Wallace as a "completely different guy out on the practice field" than last season.
"I see him on the backside of plays where he's not No. 1 or No. 2 in the progression, but I see on tape that he's working backside," Tannehill said. "He's running all his routes hard. He's trying to be crisp at the top of his breaks.
"That gives me a lot of confidence knowing that even when he's not in the core of the progression he's working at his craft, working to be the best receiver he can be so when he is in the core of the progression he's definitely going to be right."
Wallace acknowledged that sharper route-running should generate better results with Tannehill, who on his end must learn to make quicker decisions in the pocket entering his third NFL season.
"If he's expecting you to be in one spot you need to be there so he can trust that you're going to be there," said Wallace, who hopes to make his preseason debut Saturday night against Tampa Bay after being slowed by a sore hamstring earlier in camp.
"That's how you build trust -- making plays when he calls on you."
Wallace, who had perfect attendance in offseason workouts, also is excited about the change in Miami's offensive system under Lazor, the former Philadelphia quarterbacks coach who has brought with him some of the concepts learned under Eagles head coach Chip Kelly. The Dolphins plan to capitalize on Tannehill's athleticism with more rollouts and read-option looks along with a faster pace of play-calling than under former coordinator Mike Sherman, who was fired at the end of last season.
Like in Philadelphia, Tannehill said Lazor's scheme will "stretch the field laterally as well as vertically in the passing game. Make them defend from sideline to sideline, which I think when you do a good job zone-blocking up front, puts a lot of pressure on the defense."
Wallace thinks he can do the same.
"I love it just being able to move around," he said. "Maybe 90, 95 percent of the time last season I was on the right-hand side. I ran a lot of go's, a lot of posts, a couple different routes. In this offense, I run every single thing on the route tree."
And from a team standpoint, Wallace believes the Incognito/Martin fallout is over and done with as the Dolphins prepare to kick off their regular season Sept. 7 against visiting New England.
"You can't live in the past," he said. "You'll get stuck there."
That's what Wallace and Philbin are both trying to avoid.
All Dolphins interviews were conducted by Alex Marvez and co-host Bill Polian on SiriusXM NFL Radio
---
---