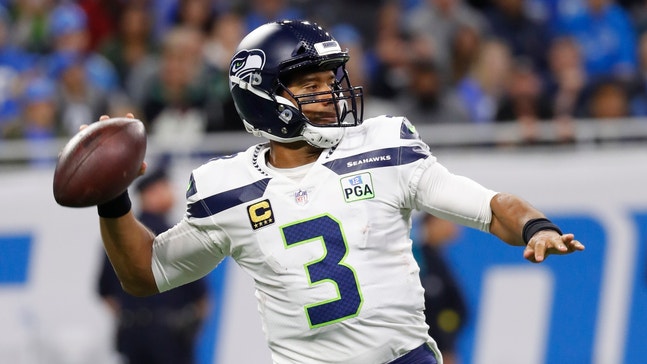 Important West Coast clash as Chargers travel to Seahawks
Updated
Mar. 4, 2020 1:05 p.m. ET
SEATTLE (AP) — Games in the second week of the preseason are mostly meaningless and usually a forgettable exercise for veterans.
Seattle linebacker Bobby Wagner hasn't forgotten what happened this past August when the Seahawks were facing the Los Angeles Chargers.
It was late in the first quarter when Chargers quarterback Philip Rivers decided to take a timeout because he didn't like the play against Seattle's defensive alignment. But the part that Wagner remembers: Rivers knew the exact name of Seattle's defensive call.
"He called timeout and was like, 'Dang, they're running strong something,' and I'm like we just changed the name yesterday, how'd you do that?" Wagner recalled. "Maybe he just luckily chose that, I don't know. It was kind of funny, I'm like how did he know the name? The quarterbacks know the play, they never know the name of the play."
Knowing the play didn't really matter back in August, but it will Sunday when the surging Chargers face the equally improving Seahawks. Los Angeles (5-2) has won four straight and is coming off a bye week following its 20-19 win over Tennessee in London. The Seahawks (4-3) have won four of five — including a victory in London — and the game against the Chargers starts a stretch with six of the final nine games at home for Seattle.
And Rivers is the introduction to a challenging month of elite quarterbacks the Seahawks will face and challenge Seattle's overhauled defense that has climbed its way back to being among the best in the NFL halfway through the season. After Rivers, the Seahawks will face Jared Goff, Aaron Rodgers and Cam Newton in consecutive weeks.
"The biggest difference is you used to go in — and this is not by any means slighting the roster, the defensive lineup now — but you used to go into that game, and you could just say, who is on Seattle's defense, and you could write out every one right because they had been together for so long, back-to-back Super Bowls, won the Super Bowl against Denver," Rivers said. "Now there's just been so much change on that defense, but there's still the same scheme, and there's plenty of names that you can recognize. So it's a good group."
The Chargers should get running back Melvin Gordon back after he missed the win in London with a hamstring injury. Gordon has combined with fellow running back Austin Ekeler to have 1,283 yards from scrimmage and the pair is averaging 6.65 yards per touch.
Seattle's running backs are providing and equally important contribution to the Seahawks recent success. Chris Carson has become Seattle's primary runner and posted his third 100-yard game in last week's win over Detroit. Beginning with Week 3, only the Los Angeles Rams have more carries or yards rushing than the Seahawks — and Los Angeles has played one more game.
"I think they know what's working. That's kind of their formula," Chargers coach Anthony Lynn said. "They have been averaging about 30 rush attempts a game and it's working."
Here's what else to watch as the former AFC West foes meet for the 51st time overall:
200 STRAIGHT FOR RIVERS
Rivers will make his 200th consecutive regular-season start. He'll be the fourth quarterback and the eighth player since the merger to reach that milestone. The 15-year veteran is off to one of the best starts of his career. He's second in the league with a 117.8 passer rating and tied for third in touchdowns with 17.
"Obviously, you want to be able to out there and help. It's not just be out there. You want to play at a high level, and that's been up and down over 199, but being out there means something," Rivers said.
THE OTHER QB
While much of the focus has been on the quarterbacks Seattle is about to face, the Seahawks' own QB is playing pretty well.
Russell Wilson posted the first perfect passer rating in Seahawks history last week against Detroit when he completed 14 of 17 passes for 248 yards and three touchdowns. With the focus on the run game, Wilson's task passing has become efficiency and taking advantage when opportunities are presented. In the past three games, Wilson has nine TD passes on just 61 pass attempts.
BIG PLAY WILLIAMS
With most opposing defenses continuing to double-team Keenan Allen, Chargers WR Tyrell Williams has emerged as a big-play threat. Six of his 10 receptions in the past three games have been for 26 yards or more and three have gone for touchdowns. According to Sportradar, four of those receptions have been on go routes with the other two being post routes.
HEAVY HEARTS
Sunday will be the first home game for the Seahawks since the death of owner Paul Allen, who died on Oct. 15. He was 65. Allen was responsible for purchasing the team and keeping the Seahawks in Seattle, along with the construction of CenturyLink Field.
Seattle's first coach, Jack Patera, also passed away earlier this week at age 85.
---
---