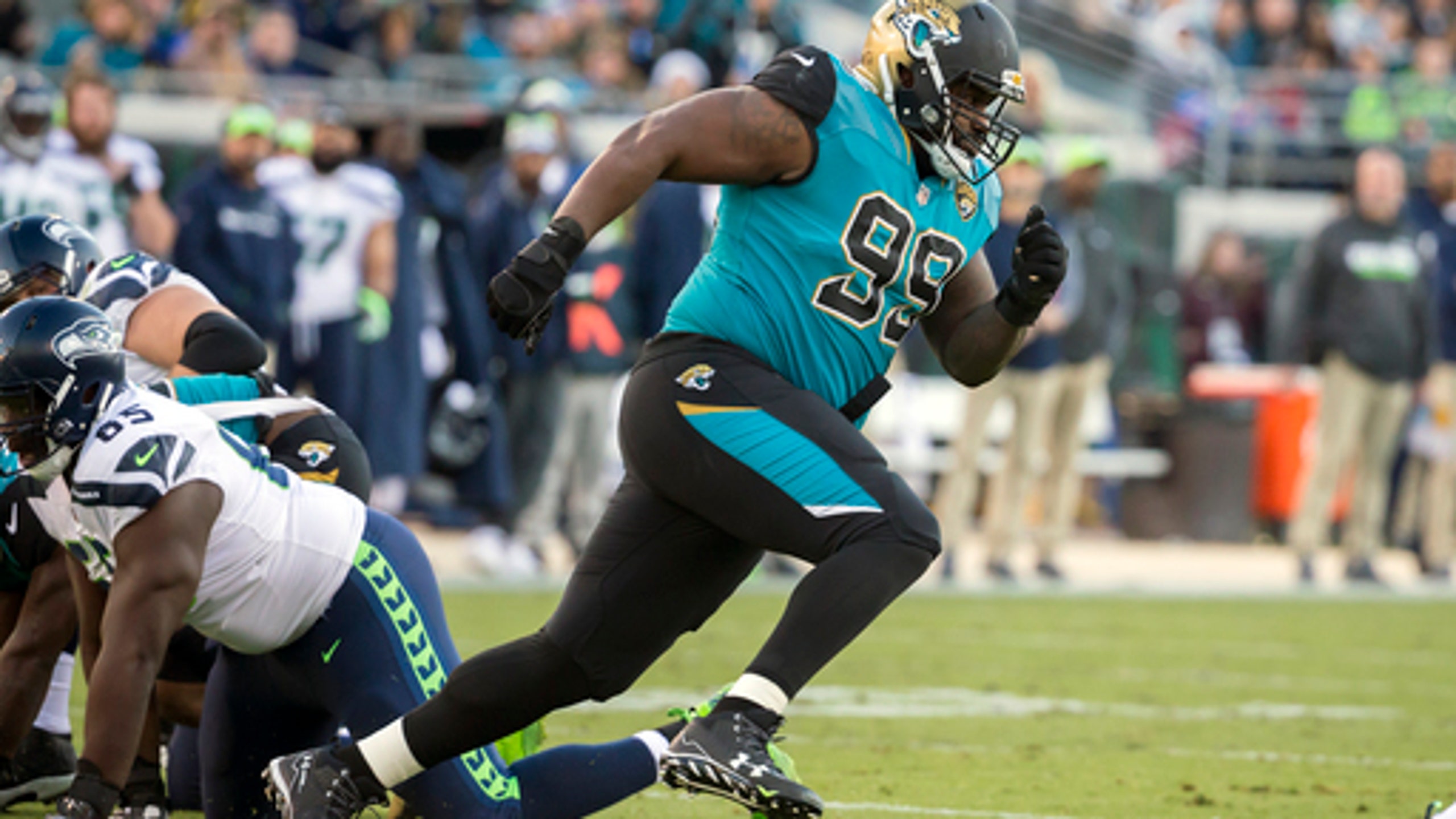 'If anybody's going to be hyped' for Jags-Bills it's Dareus
BY AP • January 3, 2018
JACKSONVILLE, Fla. (AP) Two-time Pro Bowl defensive tackle Marcell Dareus wants to let loose. He's dying to say how he really feels about getting dumped by the Buffalo Bills in October for a late-round draft pick.
It's clearly gnawing at the Jacksonville Jaguars lineman.
He's biting his lips. He's clinching his fists. He's swaying while he talks.
But he manages to stay on the high road - for now. His emotions surely will be more evident when Dareus and his new team, the Jaguars, host his former team , the Bills, in an AFC wild-card game Sunday.
''I'm just happy for the opportunity, man,'' Dareus said this week. ''It's just crazy. God is funny. Just don't question his work. Just do your job.''
The 340-pound Dareus is itching to unload, and that becomes clear when asked he's whether it surprised him to find out what the Bills got - a sixth-round pick that became a fifth when Jacksonville made the playoffs - in return for a former first-round draft pick with 300 tackles and 35 sacks.
''They had to make a move, and it's business,'' he said. ''But you can't act like it doesn't hurt. It's just ironic that we have to see these guys and it brings up old memories.''
Dareus was overwhelmed with phone calls and text messages after the Bills (9-7) landed the final playoff spot thanks to Cincinnati's stunning, come-from-behind victory at Baltimore on Sunday. He received 170 messages during a 45-minute flight from Nashville, Tennessee, to Jacksonville, that night and hundreds more in the days since.
Most congratulated him. Some wanted tickets.
All of them know what to expect: Dareus will have extra motivation against former teammates and coaches.
''He knows those guys better than anybody in this locker room, including coaches,'' Jaguars safety Tashaun Gipson said. ''It's good to have a guy like that, especially a dominant player like him and it's exciting that he's on my side of the ball.''
The Jaguars (10-6) have been through already. Defensive end Calais Campbell returned to Arizona and played against his former team in late November. A week earlier, Gipson did the same to Cleveland.
''The difference is he's playing against a playoff team and I was playing against a 0-16 team,'' Gipson said. ''I think the stakes are a little higher with him, the team that gave up on him essentially, let him come here, and he gets to face them. What an awesome opportunity.
''You can't dream of that kind of stuff. You get to play them here, at home, in the playoffs. I mean, if anybody's going to be hyped.''
Jaguars coach Doug Marrone expects Dareus to have a little extra juice, which could come with positive or negative results.
''I just told him to be smart,'' Marrone said.
Dareus has been a solid addition to an already stout defense .
Jacksonville improved from 31st to 21st against the run since his arrival. And with Dareus making his first start since the trade last week at Tennessee, he finished with four tackles and a sack as the Jaguars held Derrick Henry to 51 yards on 28 carries.
''When opportunity presents itself, my number gets called, I've got to answer the phone,'' Dareus said.
This is Dareus' first playoff game in seven seasons. He had hoped it would happen with Buffalo, the team that drafted him third overall in 2011 and then gave him a six-year, $96 million contract extension in September 2015.
Instead, it comes against the Bills.
''It'll be different,'' Buffalo center Eric Wood said. ''It's definitely a familiar face, a guy I've gone against probably more than anyone else in my career as far as a rep count goes, a guy I've texted with probably weekly since he left, but a really good ball player. I've definitely got to be on my game playing against him.''
Dareus called it ''comical almost'' that it worked out this way. He said all the right things, holding back his true thoughts and feelings.
Gipson was much more open and honest.
''We're going to all rally behind him,'' Gipson said. ''We all know how much this means.''
---
AP Sports Writer John Wawrow in Buffalo, New York, contributed to this story.
---
For more NFL coverage: http://www.pro32.ap.org and http://www.twitter.com/AP-NFL
---
---