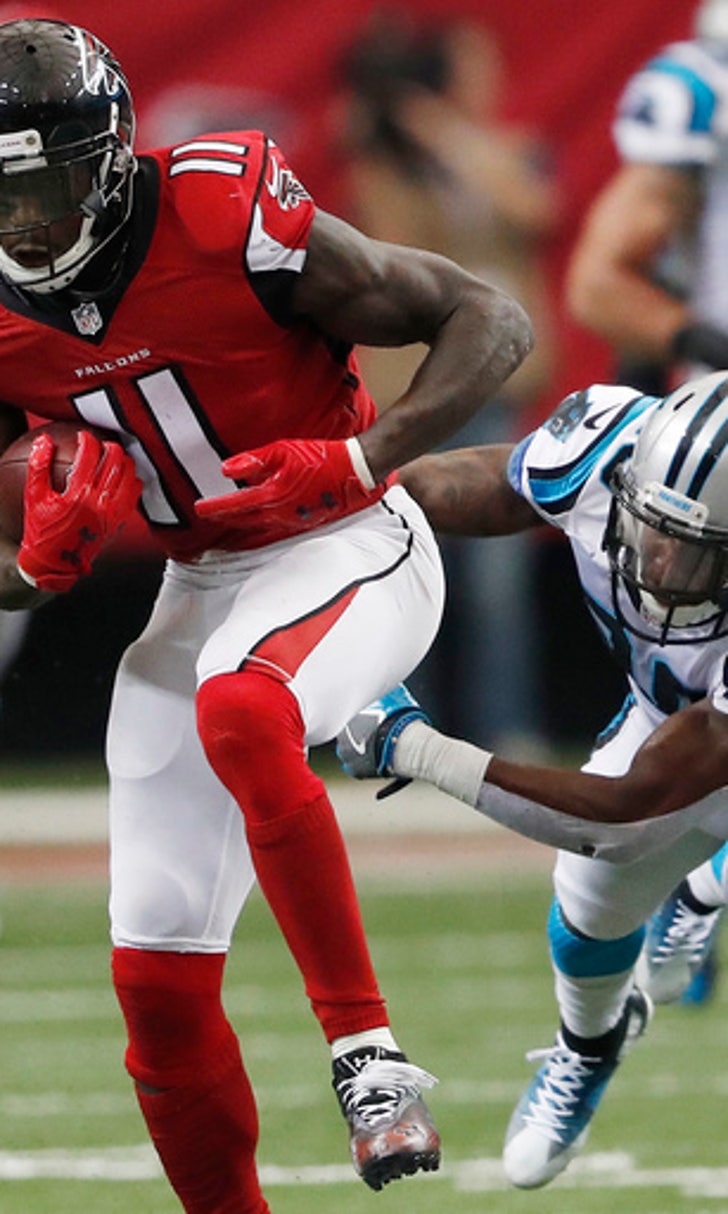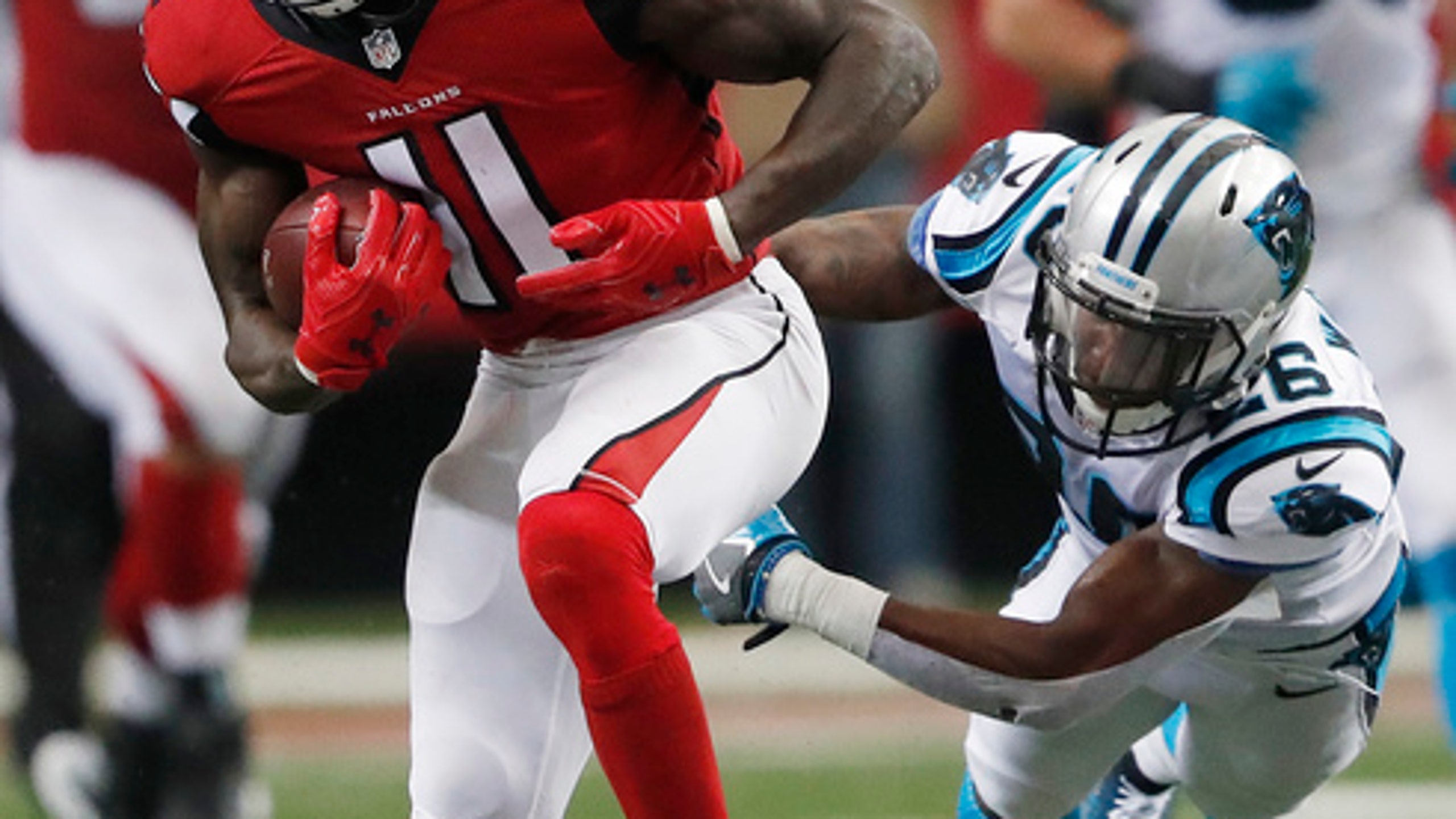 ICYMI in NFL's Week 4: Falcons' Jones makes it an even 300
BY foxsports • October 3, 2016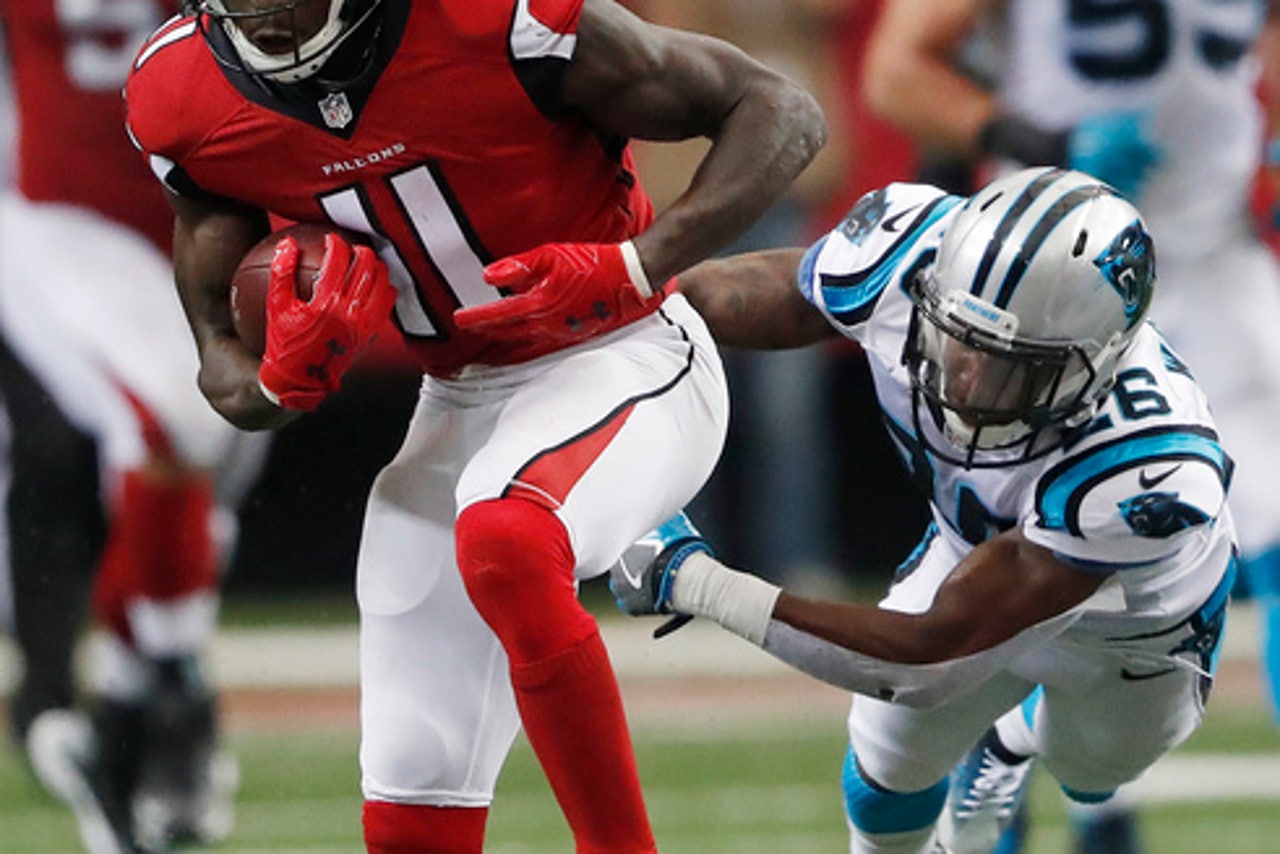 Message to all those other NFL defenses: Cover Julio Jones.
The Falcons receiver caught 12 passes for 300 yards - becoming the sixth player in NFL history to hit the 300-yard mark in receiving to lift Atlanta to a 48-33 victory over Carolina on Sunday.
Matt Ryan had 503 yards passing for Atlanta and the quarterback and receiver became the first teammates to reach 500 and 300 in the same game .
''We tried to cover him,'' said Panthers coach Ron Rivera. ''We thought we had a good plan coming in.''
That plan involved sticking rookie cornerback James Bradberry, among others, in single coverage on Jones for most of the game. Ryan and Jones saw it quickly, and capitalized all day.
Jones said he was surprised at the strategy, especially because the Panthers play the Falcons twice every year as members of the NFC South. Jones had 1,871 yards receiving last year - the second-biggest season total in league history.
''They put the young corner on me man to man ... and Matt made some great decisions today,'' Jones said.
In case you missed it, here are other notable topics after the NFL season's fourth Sunday:
PAGING MR. BRADY: For the first three weeks, the Patriots could do no wrong, even without Tom Brady, and then without his backup Jimmy Garoppolo. It all came crashing down against the Bills. Led by its third-string quarterback, rookie Jacoby Brissett, New England suffered its first home shutout since 1993 - a 16-0 loss. ''Nothing was good enough,'' Patriots coach Bill Belichick said. ''At any position, at any phase of the game. It just wasn't good enough.'' Maybe next week, it will get better. Brady's four-game Deflategate suspension ended at midnight, and he'll be eligible when the Patriots travel to Cleveland.
PAGING MR. LYNCH: On a day when the importance of the backup quarterback came into sharp focus, the Broncos found out they may have a good one. First-round draft pick Paxton Lynch entered Denver's game against Tampa Bay after starter Trevor Siemian got slammed to the turf and endured an injury to his left shoulder late in the first half. Lynch went 14 for 24 for 170 yards and his first career touchdown pass to help the Broncos pull away for a 27-7 victory. ''I remember him coming in the huddle and telling me, `I got to go at it, I want to throw a touchdown pass,''' said receiver Emmanuel Sanders, who caught the TD. ''That's the first of many.''
CONCUSSIONS: Quarterbacks Cam Newton and Carson Palmer each left their games in the fourth quarter with concussions. Newton, who endured multiple hits to the head in the season-opener against Denver but remained in that game, got hit by Falcons linebacker Deion Jones and exited. Palmer's head hit the turf on a sack by Aaron Donald of the Rams. The Cardinals lost 17-13.
GOING THE DISTANCE: The Jacksonville Jaguars headed across the Atlantic Ocean to get their first victory of the season. Playing in London - their home away from home - the Jaguars got out to a 17-6 lead and held on for a 30-27 victory over the Colts, whose three fourth-quarter touchdowns weren't enough. The Colts were a popular pick to make the Super Bowl this season. Instead, they're 1-3 and have given up the second-most points (125) in the league at the quarter mark. ''(We're) tired of almosts,'' said Colts quarterback Andrew Luck. ''We want to win. It's a winning culture and the Colts expect wins, and it doesn't just happen when you trot out onto the field.'''
OH, THE FINAL SCORE: For those of you who turned off the Sunday night game - and who could blame you? - the final score: Pittsburgh 43, Kansas City 14. The Steelers were ahead 22-0 after a quarter and things never got closer. Fantasy watch: Ben Roethlisberger had an even 300 yards and five TDs; Le'Veon Bell had 178 yards total offense but didn't score. Those who bailed did miss some entertaining Al Michaels reminisces about Vin Scully, Keith Jackson and Dick Enberg - among others - along with the pronouncement that Michaels does best: ''If you ever had a doubt, you know now, it is over,'' he said when the Steelers made it 43-7 in the fourth quarter to surpass the over-under total in Vegas of 48.
---
---