Nate Ebner
Nate Ebner
ICYMI in NFL's Week 13: Cam's MVP case; Seahawks are baaaack
Published
Dec. 7, 2015 10:52 a.m. ET

Cam Newton's case for being voted NFL MVP is getting stronger.
Leading the Carolina Panthers past the New Orleans Saints 41-38 for a 16th consecutive regular-season victory, Newton showed off all of his many skills. He threw for five touchdowns, including the go-ahead score with 65 seconds left. He completed 28 of 41 passes for 331 yards. He was his team's second-leading rusher, gaining 49 yards on 10 carries, including one that ended with such a jarring hit that the QB was taken to the locker room to be checked for a concussion.
And in the most obvious indication of how elite Newton has become, he kept bringing Carolina back Sunday - from a 14-0 deficit after the first quarter, and then twice when trailing in the fourth quarter.
''It goes back to his whole development as a quarterback in this league,'' Panthers coach Ron Rivera said. ''I am really proud of what he did and the confidence with which he played.''
Like Tom Brady, whose New England Patriots have lost two games in a row, Newton does not have much to work with in the way of receivers. His top target is tight end Greg Olsen, who did make a tremendous, rolling catch on fourth down during the final TD drive. But there's not much else there to take pressure off Newton.
So what if his passer rating entering Sunday was only 89.5, 20th-best among quarterbacks with at least 150 pass attempts? That is more of an indictment of the convoluted statistic than it is of Newton.
This might be the only stat anyone truly needs to know about Newton: 12-0.
That's Carolina's record, two games better than any other team, and while wins and losses are admittedly hardly the fairest way to judge a quarterback's worth, there can be no doubt about Newton's value this season.
In case you missed it, here are the other top topics after the NFL season's 13th Sunday:
THEY'RE BAAAAACK: Don't look now, but the Seattle Seahawks have won five of six games to get to 7-5 and appear capable of a serious push at a third consecutive Super Bowl trip. In a 38-7 victory over Minnesota, Russell Wilson went 21 of 27 for 274 yard with three passing TDs, and he ran for 51 yards and another score. Thomas Rawls continued his strong impersonation of Marshawn Lynch, topping 100 yards and getting into the end zone. And for all the recent whispering about the demise of the ''Legion of Boom,'' consider this: Minnesota's offense did not score and its 125 total yards are the fewest by an NFL team this season, according to STATS.
UNBELICHICKIAN: For a guy often called a genius, Bill Belichick sure made an odd call after his Patriots took a 14-0 lead against the Eagles. Instead of a regular kickoff, Stephen Gostkowski pitched the football to former rugby player Nate Ebner, whose pooch-kick drop-kick was recovered by the Eagles at their 41. It was nearly as poorly designed, timed and executed a trick play as the fake punt the Colts were mocked for against the Pats in Week 6. Eight plays later, Sam Bradford threw a TD pass, opening a 35-point run for Philadelphia that included a punt return, blocked punt and interception return that all went for touchdowns in a 35-28 loss for Belichick, Brady and Co.
COUGHLIN'S CHOICE: In the latest example of the New York Giants' apparent attempt to do everything in their power to give away the NFC East, coach Tom Coughlin went for it on fourth-and-2 from the 4 with a 10-point lead against the Jets with under 9 minutes left. Eli Manning threw a pick, and the Jets went on to win 23-20 in overtime when Giants kicker Josh Brown - 25 for 25 this season until that moment - missed a 48-yard field-goal try. It's not the first time Coughlin's clock or game management has been curious; it's the fifth time this season the Giants (5-7) lost a game they led in the fourth quarter.
STICK THE LANDING: If you haven't seen it already, you will soon - Antonio Brown's goalpost-straddling leap and backward tumble after a punt return for a touchdown that capped Pittsburgh's 45-10 victory over Indianapolis. ''I tried to stick the landing on the goalpost,'' Brown said, ''but it didn't work out.''
---
Follow Howard Fendrich on Twitter at http://twitter.com/HowardFendrich
---
AP NFL website: www.pro32.ap.org and AP NFL Twitter feed: http://twitter.com/AP-NFL
---
---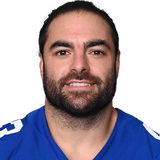 Get more from Nate Ebner
Follow your favorites to get information about games, news and more
---