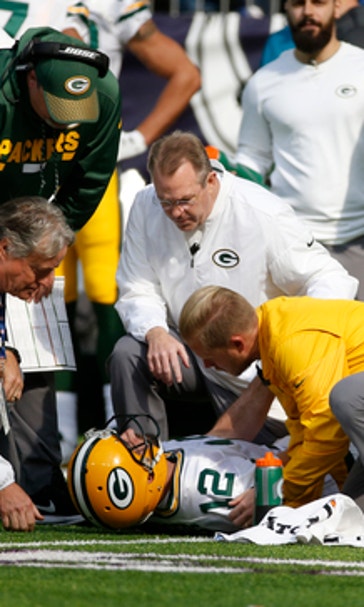 ICYMI in NFL Week 6: A-Rod's out; Kaep vs. NFL; what's a TD?
October 16, 2017

Aaron Rodgers might be done for the season with a broken collarbone .
Colin Kaepernick filed a grievance , saying NFL owners colluded to keep him out of the league because he knelt during the national anthem.
And a play that looked like a touchdown to everyone - EVERYONE - except the head of officiating was, somehow, not a TD. Not just that, but it was tantamount to a turnover, because of a rule many find nonsensical.
So here, then, is where we are with the NFL at this point: As surprising as some of the scores are, all of those game results - Giants beat Broncos 23-10 for first win! Chiefs defeated by Steelers 19-13 for first loss! - are the least interesting, least headline-worthy aspects of any given Sunday.
Instead, the buzz has largely been about all the injured superstars. Last week, it was Giants wideout Odell Beckham Jr., one of the most electrifying players on offense, and Texans pass rusher J.J. Watt, a three-time AP NFL Defensive Player of the Year.
Now it's Green Bay's Rodgers, owner of two league MVP honors and one Super Bowl MVP nod and unquestionably one of the two best QBs in the league, along with New England's Tom Brady. The Packers quarterback was hurt when he was slammed to the ground by Vikings linebacker Anthony Barr in the first quarter of Minnesota's 23-10 victory.
''We all understand the magnitude of what Aaron means to our football team,'' Packers coach Mike McCarthy said.
It leaves Green Bay with third-year player Brett Hundley, he of 11 career NFL completions before Sunday, as their starting quarterback. On his first snap against Minnesota, Hundley threw an interception. On his third, he was sacked.
So cue the unfounded speculation about what could come next.
Maybe the Packers will try to lure CBS analyst and former Dallas Cowboys QB Tony Romo out of retirement?
Or could they turn to Kaepernick, who hasn't been able to find a job this season and, unlike Romo, has played in a Super Bowl?
For the time being, though, focus on this: The NFL product becomes far less appealing when the players at the most-watched position keep getting hurt. One other example from Sunday was when Tampa Bay's Jameis Winston left after landing on his throwing shoulder during the Bucs' 38-33 loss to the Arizona Cardinals.
Andrew Luck, Ryan Tannehill, Marcus Mariota and David Carr are other starting QBs who have missed time because of injuries this season.
In case you missed it, here are the other top topics after the NFL season's sixth Sunday:
KAEPERNICK VS. NFL
Despite all of those openings at QB, and plenty of bad play at the position, Kaepernick remains unemployed. Mark Geragos, one of Kaepernick's attorneys, said in a statement posted on Twitter that the player is being punished for not standing during ''The Star-Spangled Banner.'' It was Kaepernick who began that activism during the preseason last year to protest racial inequality and mistreatment of blacks by police. ''It sure does seem like he's being blackballed,'' said San Francisco safety Eric Reid, a former teammate of Kaepernick's who knelt during the national anthem before the 49ers lost to the Redskins 26-24, their record fifth consecutive setback by three points or fewer. ''I think all the stats prove that he's an NFL-worthy quarterback.''
CURIOUS CALL
The Jets appeared to have a TD in what became a 24-17 loss to the Patriots when tight end Austin Seferian-Jenkins took a short pass and reached over the goal line as he was hit. But when the play was reviewed at NFL headquarters - as all scores are - the ruling was that Seferian-Jenkins briefly bobbled the football as he fell. He was holding it as he went down - but out of bounds, so the eventual call was that it was a touchback, giving the ball to New England. ''It was hard, at least from what we could see in the stadium, to tell how they would overturn it,'' Jets QB Josh McCown said.
---
Follow Howard Fendrich on Twitter at http://twitter.com/HowardFendrich
---
For more NFL coverage: http://www.pro32.ap.org and http://www.twitter.com/AP-NFL
---
---