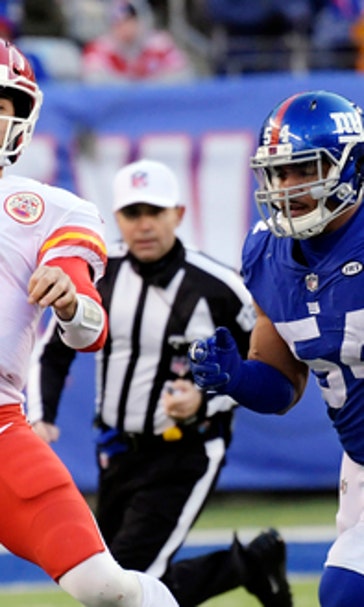 Highs to lows, Bills and Chiefs riding same rollercoaster
BY AP • November 24, 2017
KANSAS CITY, Mo. (AP) The rollercoaster seasons of the Buffalo Bills and Kansas City Chiefs seem to be running parallel to each other, from their hot starts to their stumbles to injuries and quarterback questions.
Their tracks happen to meet Sunday at Arrowhead Stadium.
The Bills got off to a surprising 5-2 start behind the steady, efficient play of Tyrod Taylor, who may not have lit up the scoreboard but at least didn't throw interceptions.
But Buffalo has dropped three straight, including a blowout loss to the Chargers last week when Nathan Peterman got the starting nod and proceeded to throw five picks before Taylor promptly relieved him.
Taylor will be back under center Sunday as the Bills (5-5) try to turn things around.
''I felt like it was the right decision,'' Bills coach Sean McDermott said of his flip-flop under center. ''I don't believe in making irrational snap decisions. I don't think that's right. But you make decisions and you go with it. And sometimes you learn.''
The Chiefs (6-4) are trying to learn some lessons of their own.
They ripped off five straight wins to start the season, and at one point Alex Smith had thrown 18 TD passes without a pick.
But they've lost four of their past five, including an embarrassing loss to the Giants last week, and Smith has thrown three picks since his most recent touchdown pass.
''You realize how quick things change,'' he said. ''A few weeks ago everyone was on the bandwagon with us. A few weeks later it's another story.''
Yet unlike the massive changes in Buffalo - it doesn't get much bigger than a quarterback change - the Chiefs believe they can get back on track with only minor changes.
''We're going to tweak what we need tweaked and we're going to keep working that system that we're doing,'' Chiefs coach Andy Reid said, ''and try to get better at it.''
Injuries have also played a big part in both teams' struggles, not to mention the struggles by their quarterbacks. The Bills watched recent acquisition Kelvin Benjamin go down with a knee injury against the Chargers, while fellow wide receiver Jordan Matthews recently broke his thumb.
The Chiefs are missing Chris Conley, who ruptured his Achilles tendon, while fellow wide receiver Albert Wilson could return this week after missing several games with a hamstring injury.
Those are just injuries on the offensive side of the ball, too.
As the Bills and the Chiefs try to get back on track, and their quarterbacks likewise, here are some of the key story lines for Sunday's game in Kansas City:
OVERBAKED TURNOVERS: A big reason for the Bills' fast start was 17 turnovers forced by the defense in the first seven games. Two of them were returned for touchdowns. But the same defense has managed one takeaway - a fumble recovery - in the past three games.
HEY BUDDY: McDermott got his start in the NFL as Reid's administrative assistant in Philadelphia, and rose to become defensive coordinator over more than a decade.
The two remain close friends to this day. ''When I first met Andy years ago, he was the first one that kind of established, `Hey, you can do this if you do things the right way,''' McDermott said. ''I learned a great deal from the man.''
DEFENSE IMPROVES: The Chiefs only allowed 12 points against the Giants, a big improvement for a team that had ranked 30th in the league in total defense. Part of the turnaround has been the improved play at linebacker, where newcomer Reggie Ragland is finally up to speed. ''We had no idea when he'd be ready,'' Chiefs defensive coordinator Bot Sutton said, ''but we knew he was a really good player.''
SPEAKING OF DEFENSE: The Bills have allowed at least 400 yards three times this season, one fewer than all of last season, and at least 140 yards rushing four times. That bodes well for the Chiefs, who failed to reach the end zone last week in New York.
PIVOTAL POINT: This is the fourth straight season the Bills have been 5-5 through their first 10 games, but each time they've nosedived down the stretch. Even when they finished 9-7 three years ago, it wasn't good enough to reach the playoffs. And that means Buffalo is still riding a 17-season playoff drought, the longest active streak in North America's four major professional sports.
''I'm not really focused on playoffs. I'm focused on trying to beat the Chiefs,'' McDermott said. ''Anything other than that, anything other than our focus being on the Chiefs right now would be a huge mistake. This is a good football team, Andy Reid's a heck of a coach. They've been challenged over the last couple of weeks like we've been challenged. You have to have your focus on the next opponent, and that's the Chiefs for us right now.''
---
For more NFL coverage: http://www.pro32.ap.org and http://www.twitter.com/AP-NFL
---
---