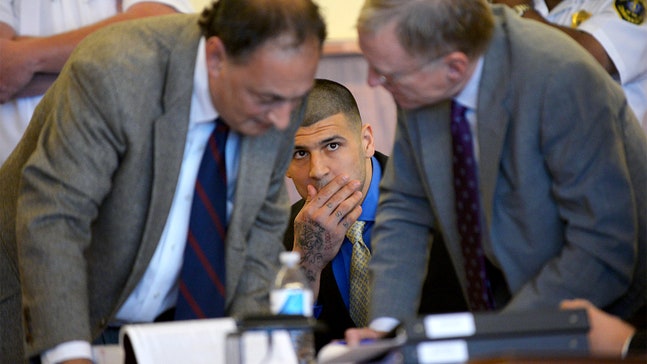 Hernandez's lawyers support moving back trial date
Published
Jul. 16, 2014 5:37 p.m. EDT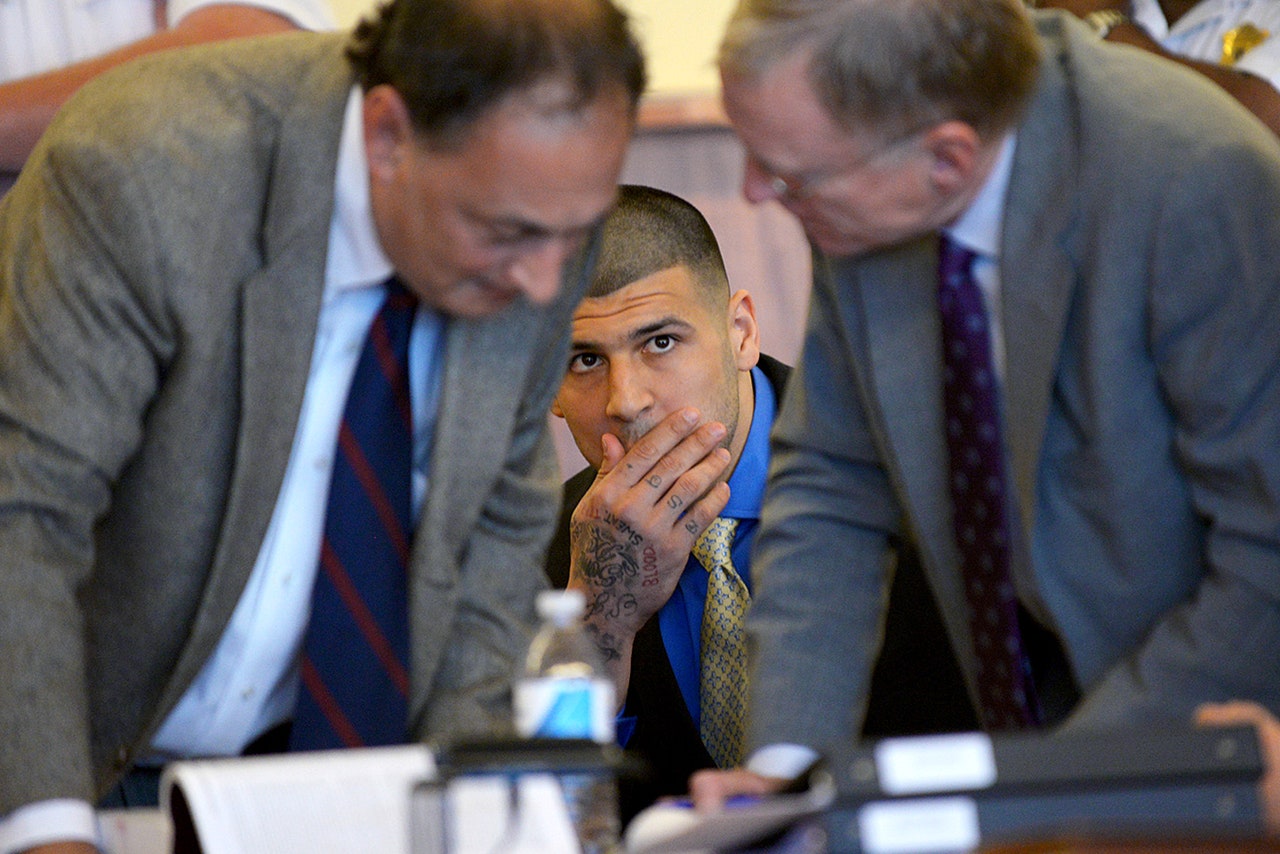 Attorneys for former New England Patriots tight end Aaron Hernandez on Wednesday filed papers supporting a three-month delay in the beginning of his first murder trial.
Hernandez is currently scheduled to go on trial Oct. 6 in the 2013 slaying of Odin Lloyd, but the judge in the case had earlier indicated that it might make more sense to move the case back to get past the holidays – and lawyers for the former player said they would not oppose the delay.
Judge E. Susan Garsh had earlier contemplated beginning the trial shortly after the first of the year but asked prosecutors and Hernandez's lawyers to file memos outlining their positions before she made a decision.
"Hernandez has a constitutional right to a speedy trial and, as previously stated, he wants his trial to proceed as soon as possible," attorneys Michael Fee, James Sultan and Charles Rankin wrote in the four-page filing. "His preferred trial date remains Oct. 6, 2014.
"However," the attorneys wrote, "a considerable amount of defense pretrial preparations remains to be done, and defense counsel cannot guarantee at this juncture that it will all be completed by that date."
Hernandez's attorneys proposed a beginning trial date of Jan. 5, 2015. The trial is expected to take at least a month – and perhaps two months.
Such a delay raises the specter that Hernandez, the former Pro Bowl tight end, would be on trial while the NFL is in the midst of the playoffs.
Hernandez, 24, faces a separate trial in Boston in the 2012 killings of Daniel de Abreu, 29, and Safiro Furtado, 28, and wounding of a third man. That case is currently scheduled to go to trial May 28, 2015, although that date is far from certain at this point.
As of Wednesday afternoon, the prosecutors' memo had not been filed in the clerk's office. However, First Assistant District Attorney William McCauley, who is heading up the state's case against Hernandez, indicated in an earlier court hearing that it would make sense to him to push the trial past the holidays.
Lloyd, a 27-year-old semi-pro football player who was dating the sister of Hernandez's fiancée, was gunned down in a secluded field in North Attleboro, Mass. The crime scene is about half a mile from Hernandez's mansion.
Prosecutors have alleged that Hernandez summoned two friends from his hometown of Bristol, Conn., to meet him in North Attleboro and that at the same time he was making arrangements to pick up Lloyd in Boston. According to court documents, investigators believe Hernandez and the other two men, Carlos Ortiz and Ernest Wallace Jr., drove to the Dorchester section of Boston, picked up Lloyd under the guise of going out on the town and then drove him back to North Attleboro.
There, Lloyd was shot and killed in a deserted section of an industrial park used to store construction materials, such as asphalt and gravel.
Ortiz and Wallace have both also been indicted on murder charges in Lloyd's killing.
Prosecutors have alleged that Hernandez "orchestrated" Lloyd's killing, but they have not revealed their theory of the crime – including their belief about who fired the fatal shots – and they don't have to until the case gets to trial.
While that investigation was under way, Hernandez became the focus of detectives trying to determine who killed de Abreu and Furtado a year earlier in Boston.
In that incident, prosecutors have alleged that Hernandez drove up next to a car carrying the two men, aimed a revolver out his driver's side window and opened fire. Both de Abreu and Furtado died at the scene.
A third man was injured and two others in the car escaped unharmed.
Prosecutors have asserted in court that de Abreu inadvertently bumped into Hernandez on a nightclub dance floor, spilling his drink, and that the former player was infuriated. He is alleged to have followed de Abreu and his friends as they left the club and then to have opened fire at a red light a few blocks away.
Hernandez has pleaded not guilty to all of the charges that have been filed against him, which include allegations of illegal weapons possession and assault.
---
---