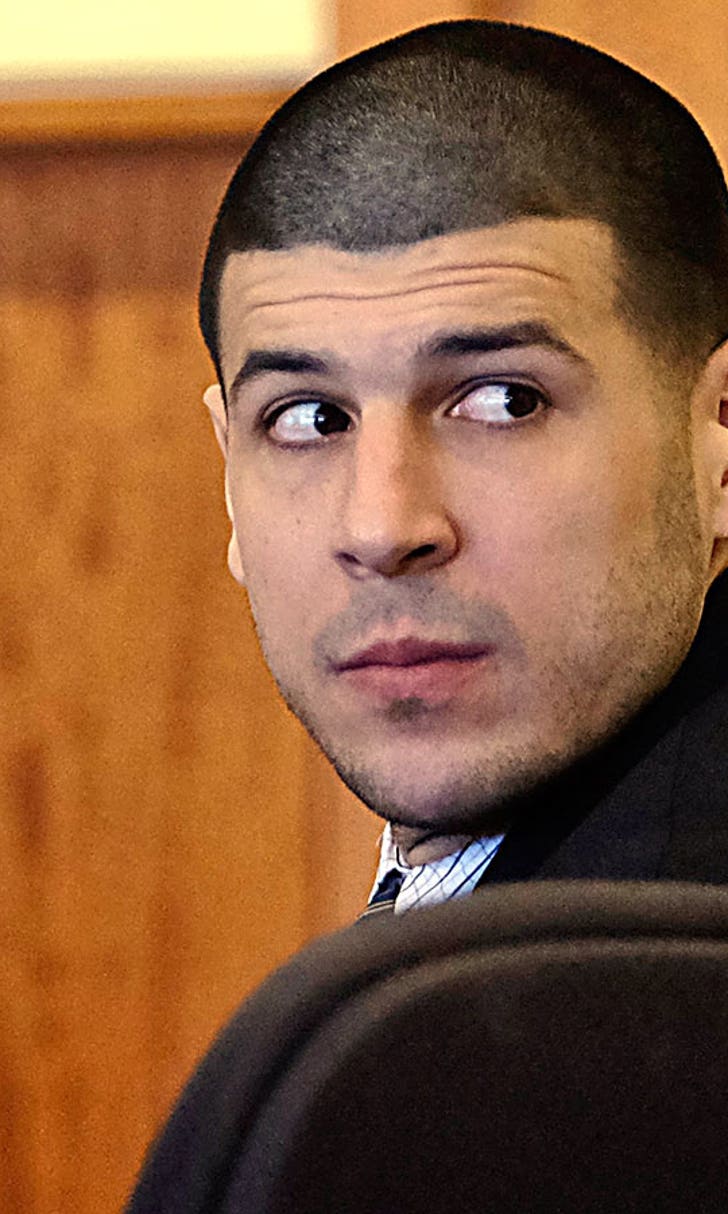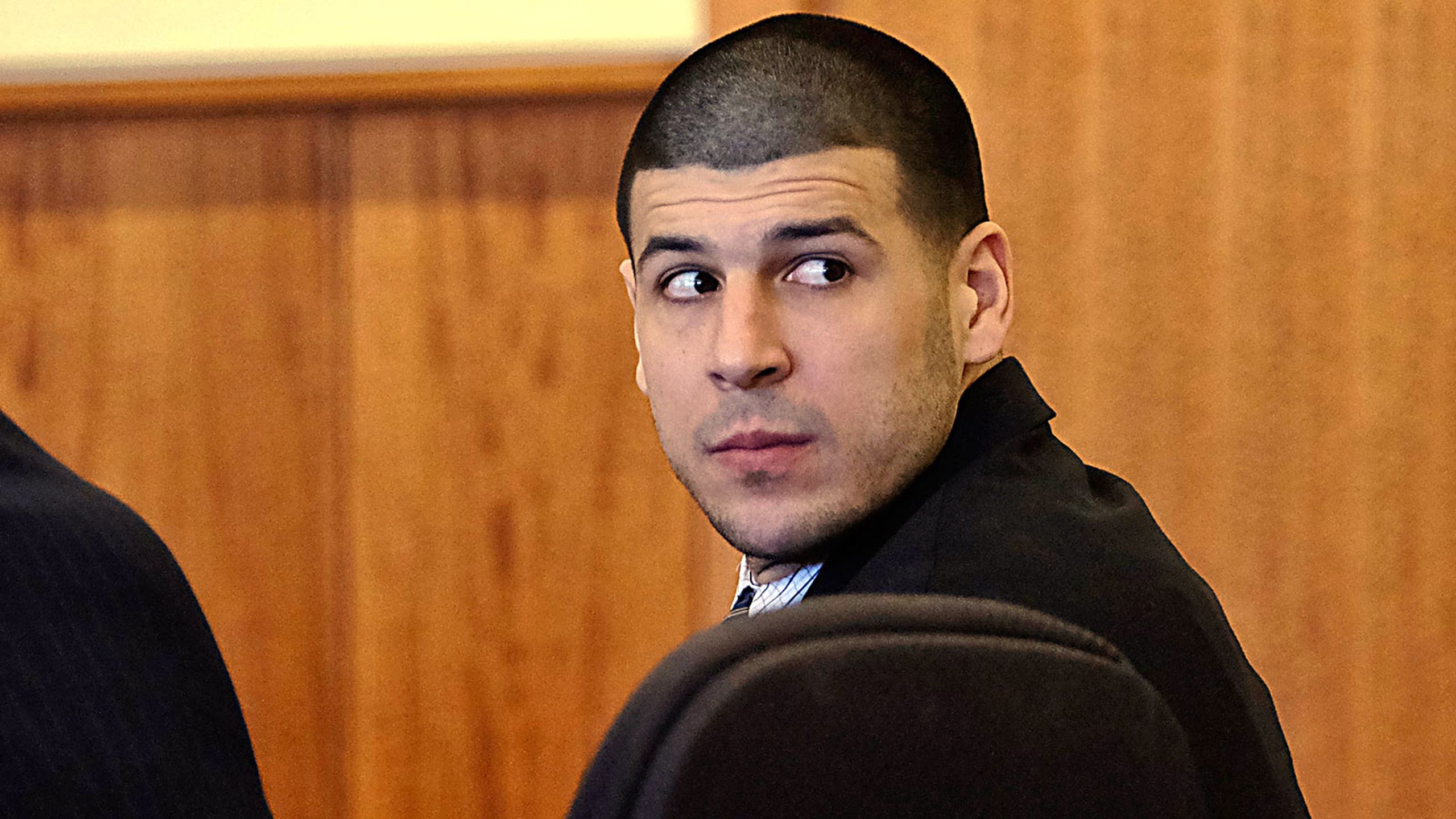 Hernandez attorneys win some battles, lose others, over evidence in murder trial
BY foxsports • December 12, 2014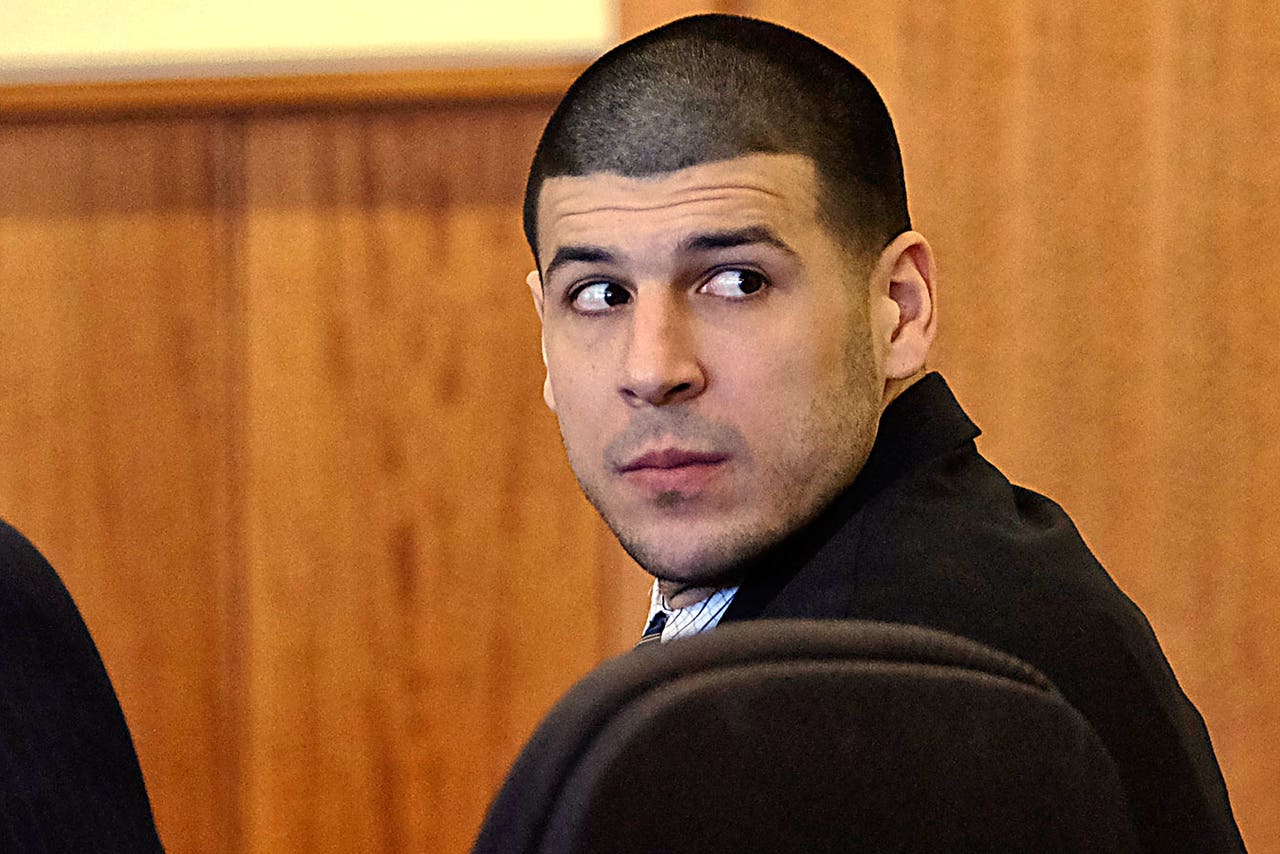 FALL RIVER, Mass. — Aaron Hernandez's attorneys on Friday won several battles over testimony in his upcoming murder trial — blocking prosecutors from introducing other shootings tied to the former football star, a photograph purported to show him with the same kind of gun as that used in the killing, and text messages sent by the victim in the last minutes of his life.
Prosecutors, in turn, prevailed on a number of motions seeking to introduce testimony about guns tied to Hernandez, including a pistol thought to have been present the morning Odin Lloyd was killed that was apparently tossed from a car along a road not far from the murder scene.
Hernandez faces murder and weapons charges in the June 17, 2013, killing of Lloyd, who was gunned down in a secluded field about a half-mile from the former New England Patriot's mansion in North Attleboro, Massachusetts.
Jury selection is scheduled to begin Jan. 9.
Hernandez also faces separate murder and assault charges in a July 16, 2012, shooting in South Boston that left two men dead and another wounded. That trial is currently scheduled to start May 28, but a judge has already agreed to push it back, although no new date has been set.
Friday, however, was devoted to setting the stage for Hernandez's trial in Lloyd's killing.
Prosecutors allege that Hernandez summoned two friends from his hometown of Bristol, Connecticut, to his Massachusetts home late the night of June 16, 2013, and simultaneously made plans to meet with Lloyd, who was dating the sister of the player's fiancée. Hernandez and his alleged accomplices then allegedly drove to Boston, picked up Lloyd early the next morning, and returned to North Attleboro.
There, according to court documents, Hernandez drove into a secluded field not far from his home. Lloyd was shot multiple times — a jogger found his body about 14 hours later.
The killing came after prosecutors alleged that Hernandez and Lloyd went out to a nightclub in Boston.
Although prosecutors have not said who they believe fired the fatal shots, they have asserted that Hernandez "orchestrated" the killing. The other two men, Carlos Ortiz and Ernest Wallace Jr., have also been indicted on murder charges but will be tried separately.
After rulings Friday by Judge E. Susan Garsh, the jurors who will consider whether Hernandez is guilty of Lloyd's murder won't learn about the Boston case. Nor will they learn about an incident in Florida in February 2013 in which longtime friend Alexander Bradley accused Hernandez of shooting him in the face after a dispute in a nightclub. Bradley refused to cooperate with authorities and no criminal charges were ever filed, but he later filed a civil lawsuit against Hernandez accusing him of the shooting and told that story to a grand jury investigating Lloyd's death.
In the Boston killings, prosecutors have alleged that Hernandez was enraged when a man bumped him on a nightclub dance floor, spilling his drink, and failed to apologize. Later, they alleged Hernandez followed the man and his friends as they drove away from the club, then pulled up next to their car at a stoplight and opened fire with a .38-caliber revolver, killing Daniel De Abreu, 29, and Safiro Furtado, 28, and wounding another man.
William McCauley, the lead prosecutor in the Lloyd case, sought to elicit testimony about those killings. He argued that Hernandez sent a text message to his fiancée, Shayanna Jenkins, that could be interpreted as an admission that he'd told Lloyd about the Boston killings. That message was allegedly sent by Hernandez to Jenkins on June 15, the morning after he and Lloyd had gone out to a club in South Boston several blocks from the scene of the 2012 murders.
In that message, Hernandez allegedly wrote that he "woke up bugging" and that he "somehow told him [Lloyd] about the spot."
McCauley said it was a reasonable inference that "the spot" was the intersection where the 2012 killings occurred.
James Sultan, one of Hernandez's lawyers argued against allowing the testimony, saying the prosecution's theory amounted to the idea that "on a Friday night, on the town with Mr. Lloyd" that Hernandez "took that occasion to show Lloyd where he'd killed two people a year earlier, and that he then decided now that I've shown him that now I must kill him."
"If the commonwealth thinks Aaron Hernandez murdered Odin Lloyd – prove it," Sultan said.
Judge Garsh sided with Hernandez's lawyers, saying the interpretation of the text message was not a "reasonable" inference, but speculation.
"Before the commonwealth can proceed on this theory it must have a theory that is grounded in fact, not speculation," Judge Garsh said.
As for the Bradley shooting, McCauley argued that it should be fair game to show a jury a pattern of similar conduct. He said that Bradley was a close friend, that they got into a dispute at a nightclub, and that he was sitting in the back seat of a car when he awakened to see a gun pointed at his face. Bradley was shot and dumped in an industrial area but survived.
"It's remarkably similar to the shooting of Odin Lloyd," McCauley said.
Sultan, however, suggested that was "ludicrous" and that it would be "dynamite" if it were allowed. He argued that similar acts are admissible only if the details are stunningly similar, such as the type of knots used to bind a victim.
Garsh agreed. And she also ruled the prosecution could not introduce a picture of Hernandez, first published by the celebrity gossip website TMZ.com, that showed Hernandez holding a handgun that has been identified as a Glock.
Although detectives have never found the murder weapon in the Lloyd case, they know he was killed with a .45-caliber Glock because of unique markings found on shell casings recovered both at the murder scene and from a rental car that prosecutors believe was used in the killing.
McCauley argued that metadata extracted from the photo showed it was taken July 3, 2009, in Gainesville, Florida., while Hernandez was a student at the University of Florida. He said it had been authenticated from that data – and that investigators had other evidence showing Hernandez wrote a rent check that same day at the location where the picture was taken.
An official with Glock who examined the photo said he believed it was a .45-caliber model made by the company.
Sultan attacked the photo as possibly doctored and said it was "stale" because it was so old.
"It looks like a big black Glock gun," he said. "That's basically all you can say about it."
Again, Judge Garsh sided with the defense, terming the photo "piling on" and ruling because the picture was so old it did not meet the standard for admission to show the defendant could have possessed a weapon like that used in the killing within a "reasonable time" before the crime.
Garsh also tossed out a series of text messages Lloyd sent to his sister – who saw him get into a car and leave with several other people early the morning of June 17 – in the last minutes of his life.
At 3:07 that morning, Lloyd sent his sister a message, "U saw who I'm with."
Four minutes later, he texted, "Hello," and at 3:19 a.m. his sister finally answered: "My phone was dead who was that?"
"Nfl," Lloyd answered at 3:22 a.m., according to court records.
Then, a minute later, he sent her a final text: "Just so u know."
Investigators believe he was gunned down minutes later.
McCauley argued that the text messages should be admissible.
"There was fear, concern, which I am going to suggest is clear from the text message," McCauley said.
But Judge Garsh, who at one point asked whether the message could be interpreted as "bragging," ruled that the text messages amounted to hearsay and threw them out.
The judge, in turn, sided with prosecutors on numerous pieces of firearms evidence:
• Prosecutors can elicit testimony that Hernandez had a gun with him the night he and Lloyd went out to a club in Boston two days before the killing.
• Prosecutors can introduce multiple images of Hernandez holding what they allege is the murder weapon that were captured by the player's home security system.
• Prosecutors can elicit testimony that Jenkins had seen a gun in the home she and Hernandez shared.
• Prosecutors can elicit testimony from a housekeeper who had seen two different guns in the home, from a witness who saw Hernandez put a gun in a box in the basement of his home, and from Bradley, who had seen Hernandez with a Glock in Florida.
• Prosecutors can elicit testimony that a .22-caliber pistol was found in the woods near Hernandez's home. That gun has been tied to a Florida man, Oscar Hernandez, who has been indicted on federal gun trafficking charges.
The judge did rule that prosecutors could not elicit testimony about a gun allegedly tossed aside by Wallace — one of Hernandez's co-defendants — after an incident outside a Providence, R.I., nightclub about a month before Lloyd's killing. They also cannot elicit testimony about a high-powered rifle, magazine and ammunition found in a car in Hernandez's home.
Those were the basis for three weapons charges filed against Hernandez. Garsh parsed out those charges from the murder case, so they will be dealt with separately.
And Judge Garsh set aside a decision on whether a witness can testify to having seen a .45-caliber pistol in a California apartment where Hernandez was staying.
Although the hearing was largely procedural, several new details emerged.
McCauley asserted for the first time that Hernandez had a relationship with Oscar Hernandez — to whom he is not related – and that he met with him in February 2013, deposited $15,000 into an account to allow the Florida man to buy guns for him, and that those guns then were transported to Hernandez's home.
McCauley also disclosed that Hernandez sent a text message to his cousin, Tanya Singleton, that said, "Obviously, don't say anything. I love you."
Singleton subsequently refused to testify before a grand jury and was jailed -- something Garsh ruled the jurors could be told about because Hernandez subsequently provided her with unspecified "financial assistance."
Singleton, who is battling cancer, was indicted on a contempt charge for refusing to testify — she pleaded guilty and was sentenced to a year of home confinement and two years of probation — and also faces a charge of conspiracy to commit accessory after the fact to murder for allegedly helping Wallace flee to Florida.
Hernandez's fiancée Jenkins has been charged with perjury after allegedly lying to a grand jury about her actions the day after Lloyd's death — investigators believe she secreted the murder weapon out of the couple's home and ditched it at an unknown location.
The murder charges against Ortiz and Wallace were filed under a legal theory known as "join venture."  
Under Massachusetts law, a person can be convicted of murder if he or she is involved in a killing — even if someone else actually fires the fatal shots.
---
---