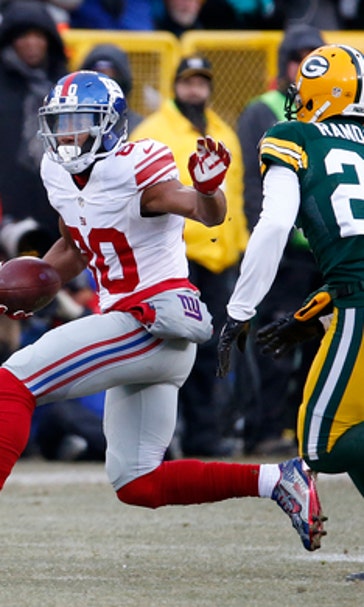 Giants release Victor Cruz after 7-year run, Super bowl ring
February 14, 2017

EAST RUTHERFORD, N.J. (AP) The New York Giants said goodbye to Victor Cruz after a seven-year storybook run during which he developed into one of the NFL's most feared receivers and a fan favorite, helping the franchise to a Super Bowl title before being slowed by injuries.
The Giants announced the parting Monday as they released the 30-year-old Cruz and starting running back Rashad Jennings in moves that will save the team roughly $10 million in salary cap space.
The moves came about a month after the players helped the Giants get back into the playoffs for the first time since playing in the Super Bowl in 2012.
''Victor is one of the great stories of the National Football League,'' general manager Jerry Reese said. ''It has been amazing to see him grow from an undrafted free agent to a Pro Bowl player and one of our go-to guys during the Super Bowl XLVI run. He will always be one of the great Giants.''
Cruz has 303 catches for 4,549 yards and 25 touchdowns in his career. His receptions and yardage totals are 10th in Giants history, and his 25 touchdowns are 17th.
An undrafted free agent out of Massachusetts, Cruz grew up roughly 10 miles from the Meadowlands. He solidified his spot on the roster in 2010 with three touchdown catches in a preseason game against a Jets team coached by Rex Ryan.
Cruz was also a leader on the team and up front with reporters.
''I did some great things there. There are so many experiences, times and moments that I shared in that building with that team in that jersey,'' Cruz said. ''Those can't be replaced or forgotten.''
A knee injury and a calf problem caused him to miss most of the 2014 season and all of the following season. He made a remarkable return this past season but was limited to 39 catches and one touchdown, which was the only time he got to celebrate with his salsa dance in the end zone.
He was generally the third option for Eli Manning behind Odell Beckham Jr. and rookie Sterling Shepard.
Jennings, who will turn 32 next month, joined the Giants as a free agent in 2014, after four seasons with the Jacksonville Jaguars and one with the Oakland Raiders. In three years, he played in 40 games and rushed for 2,095 yards and 10 touchdowns. He also had 94 receptions for 723 yards and two scores.
The Giants' leading rusher this past season with 593 yards, Jennings' career totals include 3,772 rushing yards and 25 scores.
''Rashad is a pro's pro, on and off the field,'' Reese said. ''He came to work every day and did everything we asked him to do, and always worked extra to get better at his craft.''
Jennings, who missed three games this past season with a thumb injury, reached the playoffs for the first time in his eight-year career. He became expendable - for now - with the development of rookie Paul Perkins.
''It's an honor to play here, playing for a team that has so much history, a team that falls under great leadership and high character,'' Jennings said. ''In the mecca of everything, the relationships I've built are priceless. The people, the fans, teammates, ownership, I've been blessed to play with the Giants and see that side of the NFL.''
Cruz and Jennings plan to continue their careers.
''I think there is still a lot of miles left on this body,'' Cruz said. ''I'll definitely be searching and looking for work as the time comes.''
Jennings echoed that sentiment.
''I know me and my skillset that I bring to the table,'' Jennings said. ''I have more football left in me.''
---
---