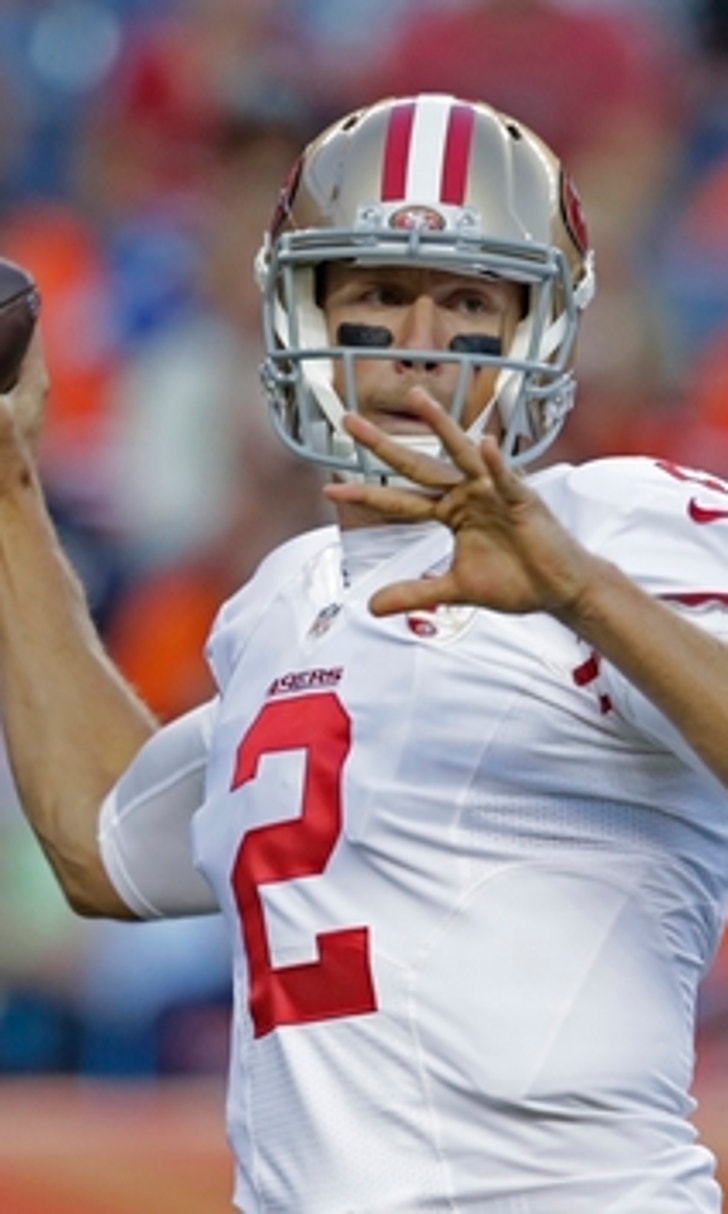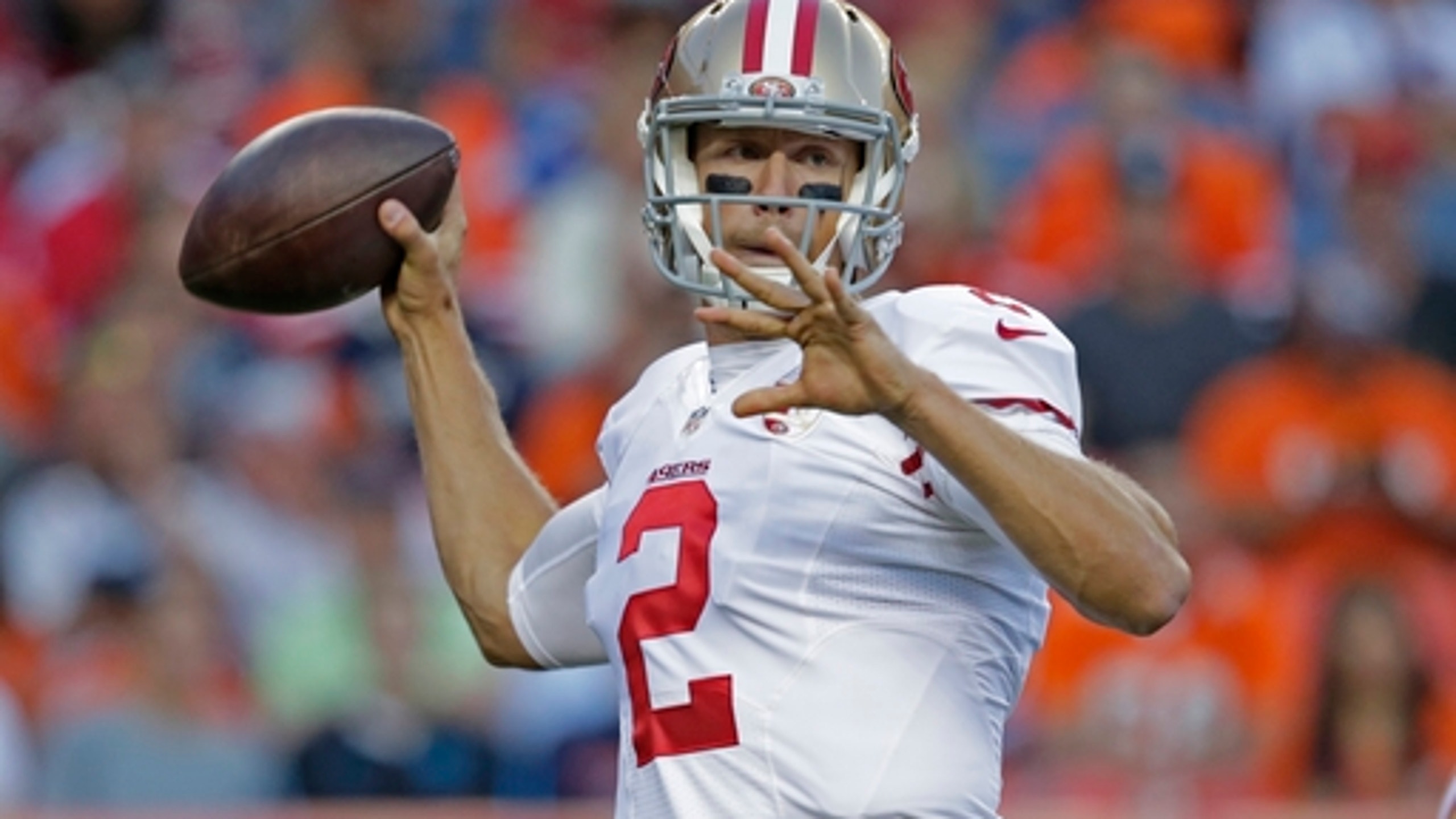 Gabbert prepares to start first season opener in 3 years
BY foxsports • September 8, 2016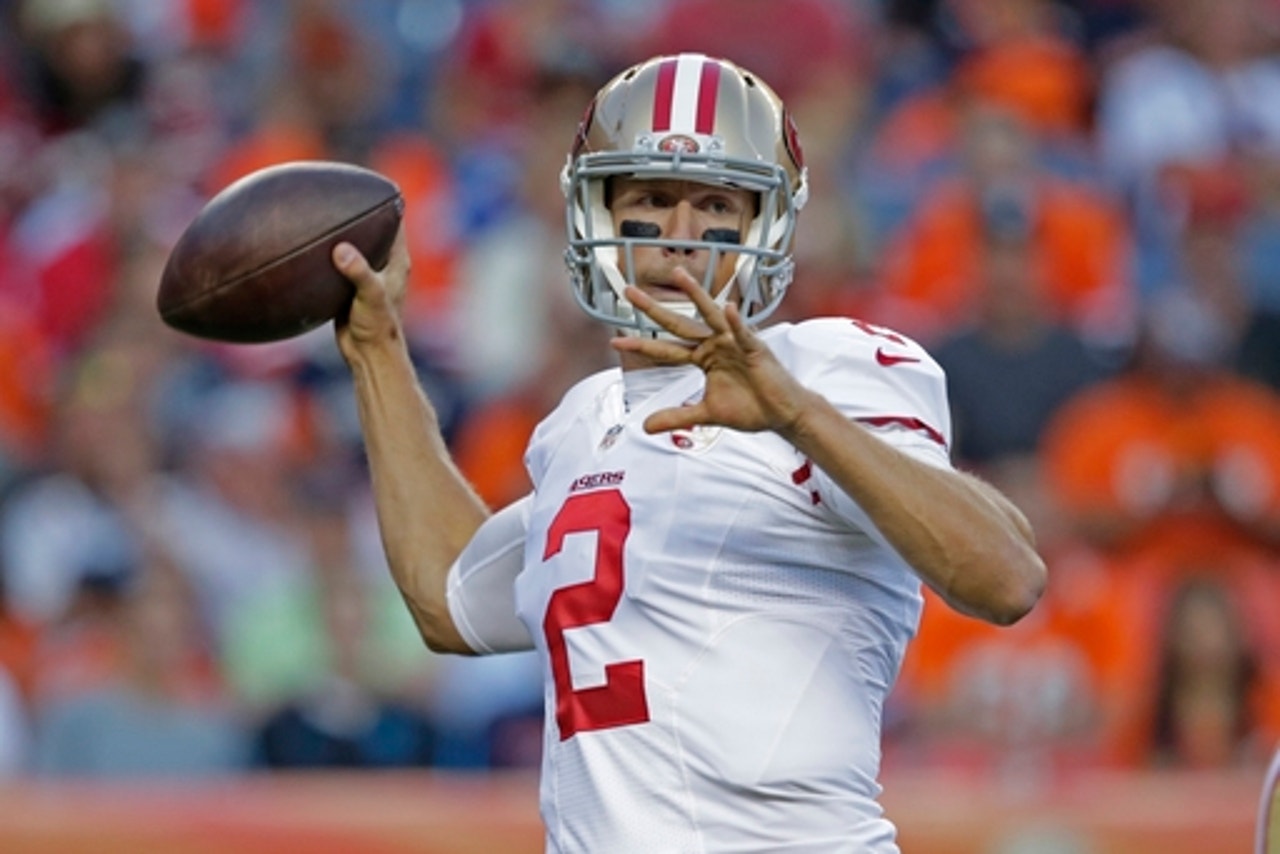 SANTA CLARA, Calif. (AP) From the day last season when the 49ers missed the playoffs for a second straight year, Blaine Gabbert vowed to remain San Francisco's starting quarterback and lead the team back to respectability.
A work ethic that caught the attention of coach Chip Kelly and his teammates has given him that chance.
''I just try to be the same guy every day and come and put my best foot forward,'' he said, ''apply myself, try to learn, eager to learn and just kind of that continued improvement from day one until now. I'm not going to change who I am throughout the year. I'm going to stick to my routine, stick to what I know and just keep trying to master this offense and win some football games.''
He carried himself as the No. 1 all offseason, through the coaching change to Kelly, until the moment he was formally named the starter last weekend ahead of Colin Kaepernick. The best thing about being the starter for Gabbert?
That's simple: ''You get to play in a lot of football games.''
On Monday night, the 26-year-old Gabbert will start a season opener for the first time since 2013 when he was with Jacksonville - a responsibility and honor that isn't lost on the former first-round draft pick given all of the ups and downs since then that he believes have further prepared him for the pressure of being an NFL quarterback.
''You look at Blaine from Day 1 put into the NFL, he's obviously been thrown into the fire a couple times in Jacksonville,'' center Daniel Kilgore said. ''He's a natural-born leader. His and my relationship, it's very good. I feel like Blaine's relationship with everybody on the team has been good.''
Gabbert took over the starting job last November from Kaepernick, started the last eight games in a 5-11 season and threw for 2,031 yards and 10 touchdowns.
''The one thing about Blaine and that you admire is there's a consistency to him in his approach. So, I think he approaches every day kind of similar, which is what you want out of all your players,'' Kelly said Thursday. ''He's got an outstanding work ethic. He obviously has the athleticism and the skill set to be a quarterback, but you continue to see him on a daily basis, how much film he studies, how much time he's in this building, how much work he does on his craft. So, it's a lot of fun to watch a guy that spends that much time trying to make himself better get the opportunity that he's earned on Monday night.''
Now, Gabbert will get his chance to lead the way from the opening kickoff of 2016 - and try to keep hold of the job as Kaepernick continues not only his much-publicized national anthem protest but also his return to full health.
Kaepernick, who underwent surgeries on his non-throwing shoulder, knee and thumb, was limited during the preseason by soreness in his throwing shoulder. The guy who led the 49ers to the Super Bowl and a three-point loss to Baltimore after the 2012 season still believes he can return to his dual-threat top form despite Gabbert taking the snaps under center from the get go.
''He studies hard. He works hard. That's ultimately Chip's decision,'' Kaepernick said of Gabbert. ''All I can do is focus on myself and make sure I'm getting better.''
Notes: While Kelly remained optimistic about DL Glenn Dorsey being ready to play Monday night, it's unclear whether that will actually be doable after Dorsey missed all four preseason games recovering from a torn anterior cruciate ligament in his right knee suffered last November. ''He's continuing to go through practice this week and we expect to have him on Monday,'' Kelly said. ''He could get hurt today in practice or have a setback. But, it seems like he's on track.''... Along with Dorsey, CB Chris Davis (hamstring) and CB Keith Reaser (ankle) did not practice Thursday.
---
AP NFL website: www.pro32.ap.org and www.twitter.com/AP-NFL
---
---