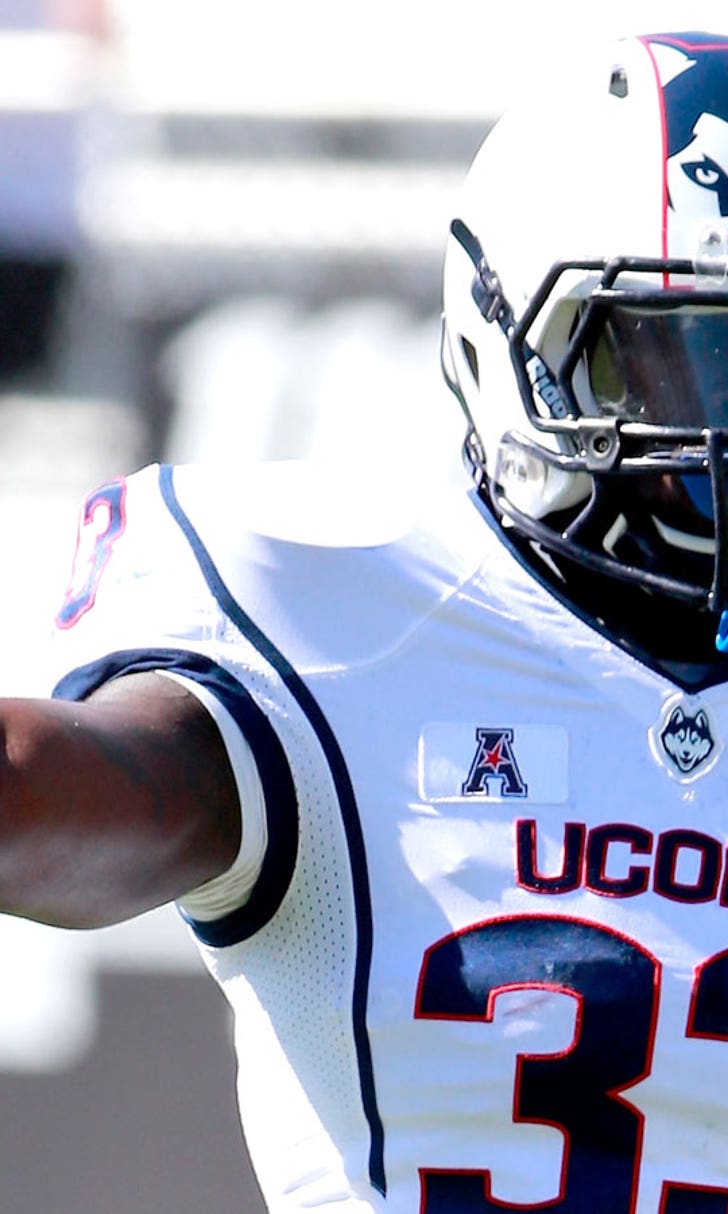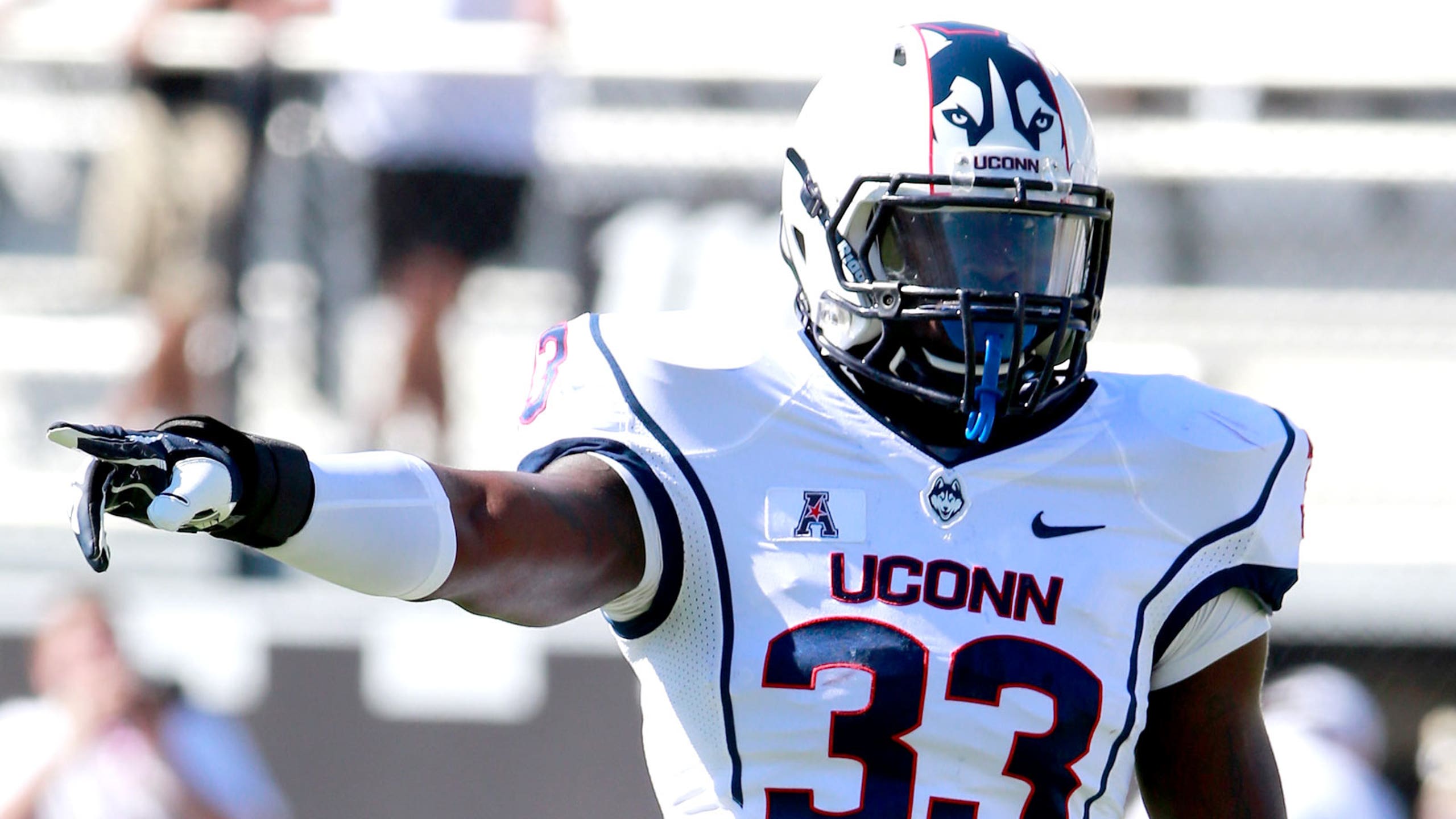 Former UConn LB Smallwood generating plenty of interest despite setback
BY Ross Jones • April 1, 2014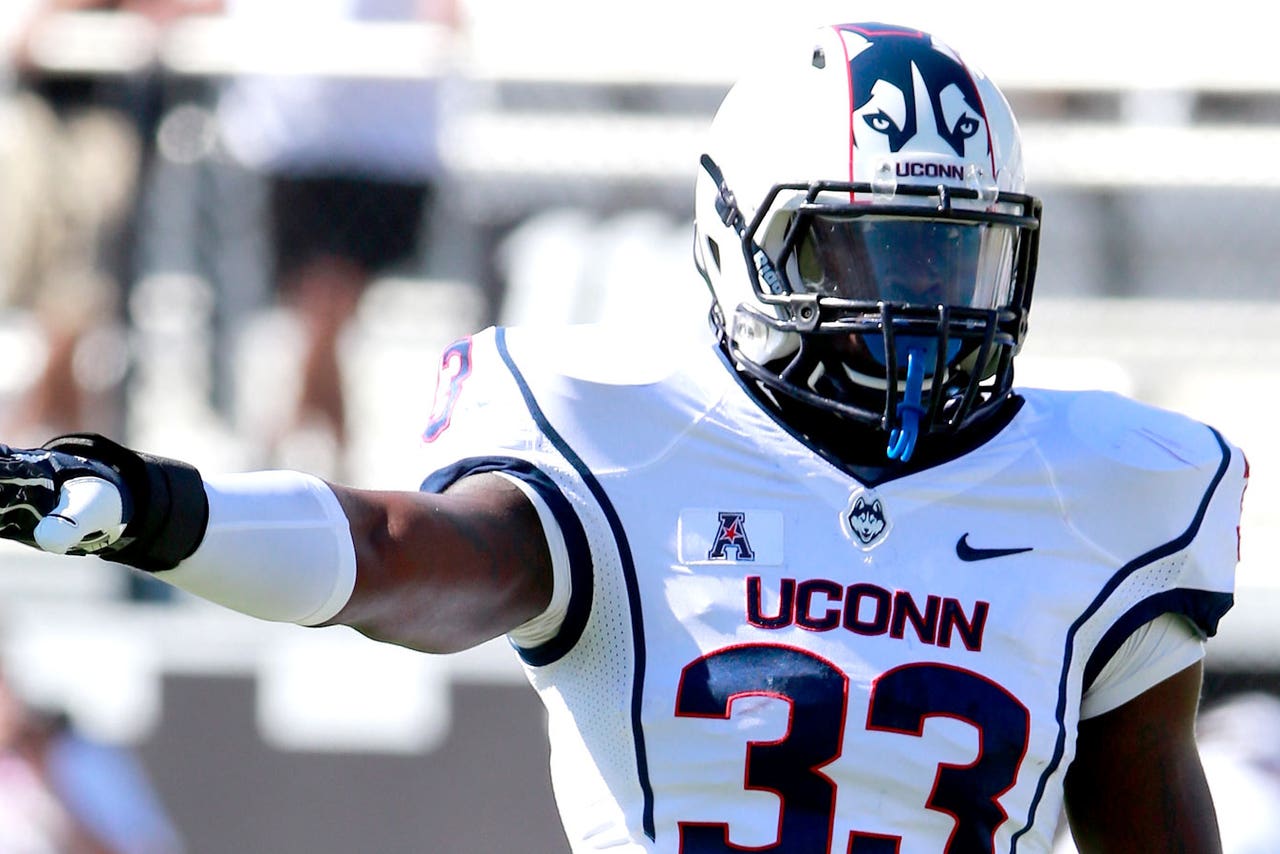 When former Connecticut linebacker Yawin Smallwood arrived in Indianapolis in February, he was filled with excitement, anticipation and eagerness. After spending weeks perfecting his technique on NFL-specific drills at XPE Sports in Boca Raton, Fla. for the league's annual Scouting Combine, he couldn't wait to be out in front of the bright lights to display the training he invested.
After hours of meetings and medicals, it was showtime.
The 6-foot-3, 247-pound linebacker, who is a light-footed, quick-twitch athlete, was ready to show off his straight-line speed.
The 40-yard dash, which is the premier event in Indy, measures a player's long speed. Smallwood, who expected to run in the 4.6-range, lined up and was off.
After an impressive 10-yard split of 1.67, Smallwood put it into high gear. A split-second later, he felt a surge of pain in his hamstring. He pulled up and clocked a 5.01 official time in the sprint.
"It was very frustrating for me," Smallwood told FOXSports.com in a telephone interview. "I worked very hard for that moment and when I got my opportunity things didn't go my way. I tweaked my hamstring and I wasn't able to compete in the 40 or positional drills. It was real frustrating, but I'm trying to stay positive about it. I have a lot of film and I think a lot of teams know that I'm not a 5-second 40 guy."
Fortunately, Smallwood was able to show off his lower-body explosion, notching a 36 ½ vertical jump, besting other notable linebackers.
That hamstring tweak won't affect his draft stock, though.
During his three-year career at Connecticut, Smallwood had plenty of production, racking up 8.5 sacks, 27.5 TFLs and 332 tackles. Despite playing for three different coordinators, Smallwood exceeded his expectations and learned how to play in a variety of defensive systems.
Since then, he has generated a wide range of interest from NFL personnel. He made the trip from Boca Raton back to Storrs, Conn. to meet with the Falcons this week. That's just one of the several teams, who have visits scheduled with the 22-year-old linebacker.
"A lot of teams say that I'm very athletic and that I'm always around the football," Smallwood said. "That's something I take pride in. I feel like a lot of teams like that."
It's not just the teams who are aware of his distinct athleticism. Smallwood has been working with respected trainer Tony Villani, who has grown familiar with the linebacker's immense potential.
"Yawin has tremendous body length and weight for an ILB type guy," Villani told FOXSports.com "He is not the stocky, short prototypical inside linebacker. His explosion and acceleration were evident at the NFL Combine as his 10-yard sprint and vertical jump were at the top of the best ILB and OLB's such as Khalil Mack and Anthony Barr."
Smallwood has been projected anywhere between the second and third rounds in May's draft. While other notable players at the linebacker position receive a ton of hype, Smallwood remains confident in his abilities.
"I definitely think I'm flying under the radar especially after posting my 40 time," Smallwood said. "I feel like a lot of people might be sleeping on me because of that but once I get going, they're going to know that speed is not an issue with me.
"I've seen the top guys and I feel like I am the top linebacker in this class."
---
---