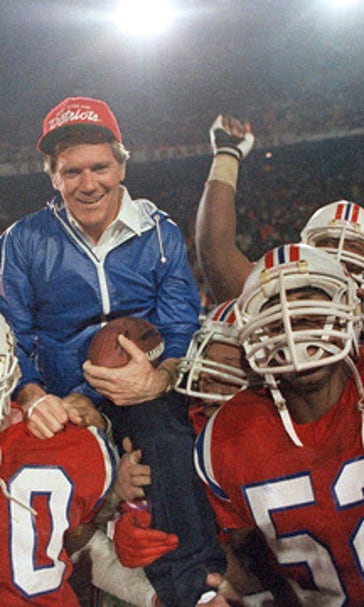 Football from 1958 NFL Championship game up for auction
BY foxsports • January 30, 2016
BALTIMORE (AP) The football that Johnny Unitas threw to Raymond Berry for a touchdown in the historic 1958 NFL Championship game is being sold at auction.
Known by many as ''The Greatest Game Ever Played,'' the duel between the Baltimore Colts and New York Giants was the first NFL title game to extend to sudden-death overtime. Berry caught 12 passes for 178 yards for the Colts in their 23-17 victory.
His 15-yard touchdown reception in the second quarter was followed by a conversion kick, and the ball was caught by a fan in the stands.
The football, which has since exchanged hands several times, will be made available by Maryland-based Huggins and Scott Auctions. Online bids will be accepted from Feb. 1-11.
Bill Huggins, the president of the auction house, estimates the value of the ball to be between $40,000 and $75,000.
The fan that caught the football held onto it for decades before mailing it to John Steadman - a reporter for The (Baltimore) Sun - to give to Berry.
Steadman forgot to make the delivery. Along with an apology for keeping the football for ''five or six years,'' Steadman finally handed it over in the mid-1980s, when Berry was coach of the New England Patriots.
Berry sold the football to sports memorabilia collector Jay Freedman in 2003.
''Game balls weren't that big to me. I never got into that,'' Berry said in an interview from his Tennessee home. ''The memory of the game itself is invaluable. It was our first world championship, and the thrill of winning in such a dramatic way was just an unbelievable experience.''
Freedman said he paid ''in the ballpark of $50,000.''
The football has the signature of then-NFL commissioner Bert Bell and a ''Thorp Sporting Goods'' logo. Also, in cursive lettering, is a stamp reading ''National Football League - Eastern Conference - Western Conference.''
Freedman, an avid Baltimore Colts fan, kept the football for nearly 13 years. Now he's prepared to figuratively pass it to someone else.
''I thoroughly enjoyed being a caretaker for the ball,'' he said. ''(But) I wanted to ensure that the ball would be in the right hands of a collector and not inadvertently sold off at a garage sale upon my demise for $2.50.''
He has the right to reject the final offer.
''If the right person doesn't want to pay the right price,'' Freedman said, ''then I'll find another way of finding somebody who appreciates it.''
Berry believes a football thrown from one Hall of Fame member to another in such a memorable game should fetch a considerable bid.
''Watching the growth of the National Football League over the years and the interest the 1958 game occupies in NFL history,'' Berry said, ''I can understand how that ball can draw such a high price.''
---
---