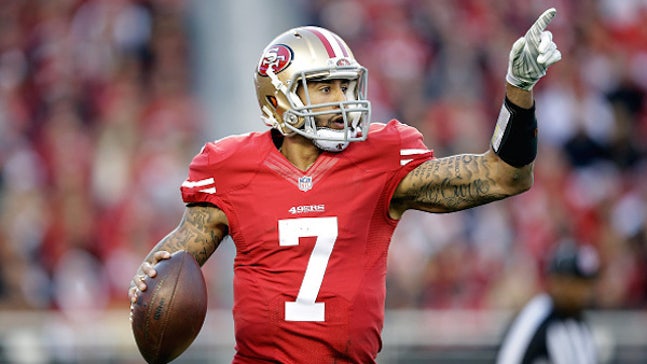 Five NFL QBs facing make-it or break-it seasons in 2015
Published
May. 6, 2015 12:35 p.m. ET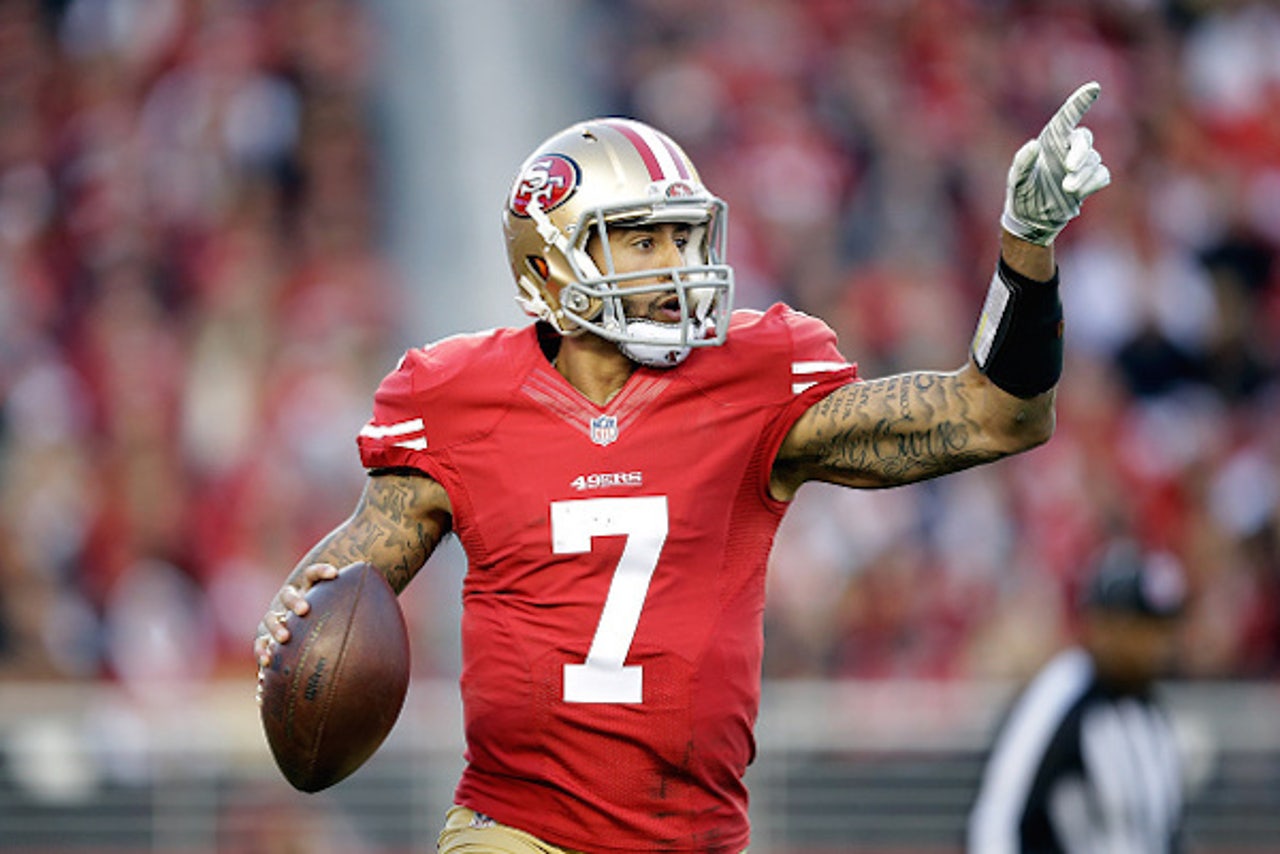 By Jesse Reed
The NFL is an unforgiving league. This statement is even more true for quarterbacks, who are expected to win, and win now. Those who fail to do so end up finding themselves looking for work while their old teams move on.
The upcoming 2015 NFL season features five quarterbacks facing make-it or break-it seasons.
These quarterbacks must take advantage of their opportunities this year, or their respective teams will surely start looking elsewhere for the answer. Because if they don't make significant strides in a positive direction, it'll be clear they aren't the answer.
Here's our list of quarterbacks facing make-it- or break-it seasons in 2015.
Colin Kaepernick, San Francisco 49ers
Entering his fifth NFL season, and fourth as the 49ers starting quarterback (well, three-and-a-half, to be exact), Kaepernick is attempting to make a strong comeback from last year's lackluster showing. The 49ers went 8-8, missing the playoffs for the first time in three years, and Kaepernick clearly regressed.
With the departure of Jim Harbaugh, the young signal-caller was free to improve his craft outside the organization. He went down to Arizona to the EXOS training facility, where he trained with quarterback coach Dennis Gile and spent time studying the game with Super-Bowl winning quarterback Kurt Warner.
His work appears to have paid off, at least on the surface. Here's a quick look at his new throwing motion, which focuses on keeping his base wide and his delivery quick.
If Kaepernick can carry this newfound skill into the season and perform well under pressure, then the 49ers have a legitimate shot at shocking the league with a playoff berth.
The 49ers have a well-stocked wide receiving corps, led by veterans Anquan Boldin and Torrey Smith. Youngsters Quinton Patton and Bruce Ellington will compete with Jerome Simpson for the No. 3 role, while Vernon Davis will attempt a comeback season of his own after a miserable 2014 campaign.
Given the level of talent at his disposal, there's no reason for Kaepernick NOT to succeed.
If he doesn't—if he takes another step back—then the 49ers will have no choice but to look for his replacement in the 2016 NFL Draft.
Andy Dalton, Cincinnati Bengals
The Bengals haven't won a playoff game since Dalton began quarterbacking for the franchise.
And those losses (four in the last four years) have had everything to do with Dalton playing horrible football. He's managed to complete just 55.7 percent of his passes, throwing one touchdown and a whopping six interceptions in those contests.
Never mind the Bengals signal-caller plays with one of the premier wide receivers in the league in A.J. Green.
Head coach Marvin Lewis defended Dalton after another heartbreaking finale to a successful regular season:
"We have no problem with Andy Dalton as our quarterback. We don't have time to waste time with another quarterback," as relayed by Paul Dehner Jr. of the Cincinnati Enquirer.

"The quarterback competition: Where has it worked? It doesn't get you wins."
Bill Walsh might disagree with this statement—I certainly do.
Dalton must improve his postseason play in order to keep his job. If he doesn't, and if Lewis continues to defend his abysmal post-season play, then both of them might be looking for new jobs after the 2015 season has concluded.
Jay Cutler, Chicago Bears
Cutler has been a mediocre quarterback for years now, despite the fact that he possesses more natural talent than 95 percent of the league's signal-callers. He's also been blessed to play with some of the top receivers in the NFL throughout his career.
The Bears jettisoned Brandon Marshall to the New York Jets this offseason, leaving many to wonder if the team had plans to draft a receiver this spring. Chicago did, in fact, have such a play in mind, selecting Kevin White with the No. 7 overall pick.
Alshon Jeffery emerged as an elite receiver the past couple of years, which is why the Bears felt comfortable letting Marshall go. Add White, who was considered by many draft gurus as the premier No. 1 receiver in the draft, and Chicago suddenly features two No. 1 pass-catchers.
Cutler officially has no more excuses.
The "Fales" Bloom refers to here is backup quarterback David Fales, a second-year guy out of San Jose State who fell into the sixth round a year ago. He's not likely to be viewed as the face of the Bears franchise.
Chances are, if Cutler fails to deliver, the Bears will be picking high again in the 2016 NFL Draft, when they'll almost certainly be looking at selecting a top quarterback.
Geno Smith, New York Jets
Speaking of loaded wide receiver corps, the Jets have one.
The aforementioned Marshall joins Eric Decker, formally of the Denver Broncos, and the Jets also brought on rookie Devin Smith, a speedster out of Ohio State.
With Marshall and Decker, Smith has two veterans capable of winning inside, out on the perimeter and deep down the field. Adding Smith gives the team an extra element of speed to stretch defenses vertically, and Smith certainly has the arm strength to keep defenses honest.
Like Cutler, Smith doesn't have any excuse not to succeed.
Entering his third year, Smith has shown promise at times as a viable starter and potential star. But for the most part, he's looked like a guy in over his head playing against NFL defenses, as his 25 touchdowns to 34 interceptions ratio shows.
He was brought into the organization under Rex Ryan's reign, and with a new head coach in Todd Boyles and new general manager Mike Maccagnan, he's going to have a short leash.
Veteran Ryan Fitzpatrick is a decent stop-gag, should Smith fail to deliver this year. The Jets may have already drafted Smith's eventual replacement this year in Bryce Petty, though the team has stated itdoesn't intend for him to start this year.
Smith must shine in 2015, or he'll surely be out of a job next season.
Sam Bradford, Philadelphia Eagles
There's never been any doubt about whether or not Bradford has the talent to succeed in the NFL.
Unfortunately, in his five seasons since entering the league in 2010, Bradford has had his season cut short in three of the five due to injuries.
At this point in his career, most of us are wondering if Bradford is the NFL's version of Glass Joe.
The guy just can't stay healthy.
He enters this upcoming season as the presumptive starter for Chip Kelly's up-tempo offense. It's really a perfect fit for Bradford, who ran a similar offense under Bob Stoops at Oklahoma. Bradford won the Heisman Trophy operating Stoops' system, and the Eagles are counting on him to have similar success.
If Bradford fails to stay healthy this season, or if he struggles to perform as well as the Eagles hope he will, then it's hard to imagine any team taking another chance on him as a starter in the seasons to come.
More from Sportsnaut:
---
---