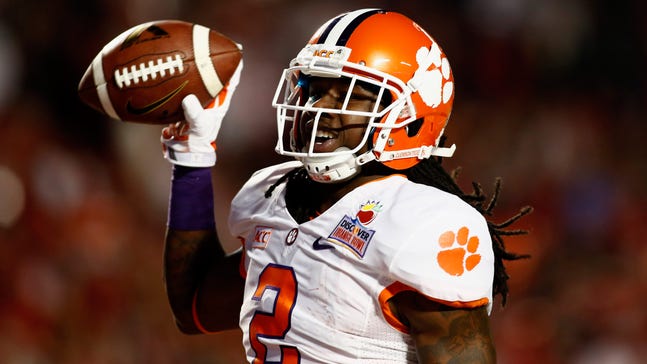 Fan Mock Draft Results: Let's recap all 32 first-round picks
Updated
Mar. 4, 2020 6:57 p.m. EST

Take a bow, NFL fans. We here at FOXSports.com gave you the chance to make the call on every first-round pick of the 2014 NFL Draft and day after day, you stepped up to the challenge. Sure, there are some picks we might disagree with, but the final call was yours and we respect that.
So, without further ado, let'€™s take a peek at the results of the 2014 FOXSports.com NFL Fan Mock Draft. Enjoy!
1.  Houston Texans: Jadeveon Clowney, DE, South Carolina --€" Well, Clowney is more or less the consensus No. 1 pick on everyone'€™s draft board and you fans didn'€™t think differently. While some people out there love Johnny Manziel, you weren'€™t buying him with the top spot.
2. St. Louis Rams: Sammy Watkins, WR, Clemson --  We warned you that the Rams really need to help out quarterback Sam Bradford with this second pick. It appears you listened as the star-in-the-making wideout was the clear choice over offensive tackle Greg Robinson at this spot.
3. Jacksonville Jaguars: Blake Bortles, QB, UCF --€" The first quarterback off the board and it'€™s NOT Johnny Manziel. You fans like big arms, big bodies and big expectations. Bortles is all three. He'€™s a '€œsafe'€ pick.
4. Cleveland Browns: Johnny Manziel, QB, Texas A&M --€" The Browns have seemingly made it clear that they won'€™t take Manziel if he falls to them with the fourth pick. But in fairness, we asked you dear fans to choose before that news came out. We still think he'€™d be a great fit.
5. Oakland Raiders: Khalil Mack, LB, Buffalo --€" The Silver and Black still have some holes to fill, despite signing a bunch of guys in the offseason. But the choice from you here was clear: Take the rising star from the small school who seems to be a surefire success.
6. Atlanta Falcons: Greg Robinson, OT, Auburn --€" Props to you Falcons people for not getting sucked in by the sexy options. You love Robinson'€™s upside and are willing to roll with the giant man with the excellent measurables. Trust us, QB Matt Ryan will thank all of you later.
7. Tampa Bay Buccaneers: Mike Evans, WR, Texas A&M -- Take a bow for filling a big need in Tampa. New head coach Lovie Smith inherited a team that was thin at wide receiver and now you'€™ve given him another outstanding option in the big man from A&M. Pair him with Vincent Jackson and watch the sparks fly.
8. Minnesota Vikings: Derek Carr, QB, Fresno State -- No dice on Teddy Bridgewater, eh? OK, fair enough -- it seems you'€™re more drawn to the second generation signal-caller with the rocket arm. That takes guts, especially with attractive options such as linebacker Anthony Barr and CJ Mosley still out there.
9. Buffalo Bills: Jake Matthews, OT, Texas A&M -- Just like Joel Klatt, you fans agree that three players from the Aggies will go in the top 10 picks. And you'€™ve given the Bills a good one, as Matthews can help plug up a porous Buffalo offensive line and hopefully keep quarterback EJ Manuel off his back in 2014 and for years to come.
10. Detroit Lions: Anthony Barr, LB, UCLA --€" We gave you some hints, saying the Lions need a right tackle or a safety. But hints are for sissies, right? Why not go with the best player available? That'€™s gotta be Barr at this spot. Kudos!
11. Tennessee Titans: Teddy Bridgewater, QB, Louisville -- You'€™ve made a statement to incumbent starting quarterback Jake Locker: Buddy, you'€™re on notice. Guess what? You now have what all experts say is the most polished quarterback in this draft behind you. What'€™s more, it might not be very long before Mr. Locker finds himself out of a gig. Hey, the NFL is a rough business.
12. New York Giants: Aaron Donald, DT, Pittsburgh -- The Giants had a busy offseason, with several notable defensive additions very free agency and the departure of a couple franchise mainstays (Justin Tuck, Hakeem Nicks). There were many directions you could go here, but you went for the big defensive tackle who can step right in and cause havoc up front.
13. St. Louis Rams: Taylor Lewan, OT, Michigan --€" Sam Bradford, it'€™s clear the fans have got your back! After hooking it up big time by taking receiver Sammy Watkins with the second pick, they found somebody to protect your injury-prone rear end in the freakishly athletic Michigan product. If Lewan can live up to his billing, maybe Bradford can make it through 2014 without a scratch.
14. Chicago Bears: Ha Ha Clinton-Dix, S, Alabama -- The Windy City is a little thin when it comes to the secondary and you Bears peeps found them a guy who can play a variety of positions in the secondary. Solid choice for a defense that'€™s trying to regrow its fangs.
15. Pittsburgh Steelers: Justin Gilbert, CB, Oklahoma State --€" If you think the Steel City, you think defense. The Steelers defense wasn'€™t exactly up to snuff last season and they'€™re looking to replace some aging pieces. Gilbert has size and more importantly, has blazing speed (4.37 seconds in the 40) that can pay dividends immediately. Good choice.
16. Dallas Cowboys: Dee Ford, DE, Auburn -- Big D hasn'€™t had a winning season since 2009 and the reason for that over the past couple years has been a pitiful defense that can'€™t stop anything. Run or pass. Well, in come you fans with a helping hand as you tapped the high-motor pass-rusher. This can be a guy who will stick around for a while.
17. Baltimore Ravens: Zack Martin, OT, Notre Dame -- Goodbye, Michael Oher -- hello, Mr. Martin! The Ravens'€™ deficiencies on the offensive line weren'€™t a secret in 2013 and everyone noticed. With the top three tackles off the board, Martin was the clear choice here. Let'€™s see if he can keep defenders out of Joe Flacco'€™s face.
18. New York Jets: Eric Ebron, TE, North Carolina -- This is such a Jets fan pick. We tried dropping hints that Gang Green was really thin at cornerback, but you weren'€™t having it. The choice was Ebron -- and honestly, the Jets could do much worse. The UNC product is the best at his position in this draft and can be a big and reliable target for Geno Smith, Michael Vick or whomever wins the starting quarterback job for 2014.
19. Miami Dolphins: Brandin Cooks, WR, Oregon State --€" The Dolphins have holes on the offensive line and could have even snagged one of the top corners in this draft in Darqueze Dennard at this spot. But no, you chose the too-good-to-pass up Badgers receiver. Can you imagine Cooks paired with Mike Wallace and Brian Hartline? You can and you did.
20. Arizona Cardinals: Cyrus Kouandjio, OT, Alabama -- You recognized that this team is doing pretty well on defense, so why not upgrade an inconsistent offensive line? Kouandjio does have some question marks when it comes to injuries, but his massive size (6-7, 322 pounds) is too tempting for you to pass up. Stick him at right tackle and forget about it for the next decade.
21. Green Bay Packers: CJ Mosley, LB, Alabama -- Make that back-to-back Crimson Tide players. There were some good options at this spot, but ultimately, you fans felt that Mosley was a slightly better choice than Louisville safety Calvin Pryor at this spot. We'€™ll allow that.
22. Philadelphia Eagles: Calvin Pryor, S, Louisville -- Packers Nation'€™s loss is Eagles Nation'€™s gain! Sure, Philadelphia did sign free-agent safeties Malcolm Jenkins and Chris Maragos this offseason, but how can you pass up Pryor at this spot? The hard-hitting safety isn'€™t afraid of anyone and really push the Eagles D from a weakness to a strength.
23. Kansas City Chiefs: Odell Beckham Jr., WR, LSU --€" Any Chiefs fan will tell you that their team'€™s passing game seemed a tad awkward at times. Better add some more weapons for quarterback Alex Smith. Beckham is a versatile star (duh, he won the Paul Hornung Award) and you feel he'€™ll be a great option opposite Dwayne Bowe on the outside. You could do much worse.
24. Cincinnati Bengals: Darqueze Dennard, CB, Michigan State -- You'€™re pretty satisfied with the Bengals offense at this time as they seemed to move the ball with relative ease last season. What can help Cincy finally get a playoff win in 2014? Maybe you'€™re right -- maybe it is the highly ranked stud cornerback out of Michigan State. He'€™s a steal with the 24th pick.
25. San Diego Chargers: Louis Nix, DT, Notre Dame -- The Chargers love running the 3-4 defense and you just gave them the perfect piece for that kind of attack. Nix is the nose tackle who is needed to anchor the defensive line as he'€™s a virtually unmovable object. Solid.
26. Cleveland Browns: Marqise Lee, WR, USC -- That'€™s two picks in the first round for Cleveland and you decided to spend both of them on offensive playmakers. Not that we'€™re arguing. You could do a lot worse than the star receiver out of Southern Cal. You can pair him with Josh Gordon on the outside and let Johnny Manziel develop a rapport with both. We like where your heads are at.
27. New Orleans Saints: Kyle Fuller, CB, Virginia Tech --€" We thought the Saints could use another weapon on offense. You thought differently. Maybe the Virginia Tech product is too good to pass up at this spot. Many people think he should have gone earlier in the first round. Either way, the Saints got a quality player here.
28. Carolina Panthers: Morgan Moses, OT, Virginia -- Both Virginia schools are represented in consecutive picks. We here at FOXSports.com lament the loss of playmakers that Cam Newton has had to endure this offseason. What'€™s worse, he'€™s coming off ankle surgery. What to do? You fans decided to forego a wide receiver and instead go with Moses, who could step right in at right tackle.
29. New England Patriots: Jace Amaro, TE, Texas Tech --€" Remember when the Patriots dominated the NFL with two outstanding tight ends? They still have one, but he'€™s rehabbing from yet another surgery. You fans are hungry for those double-threat days to return and hooked up Bill Belichick and Tom Brady with another big body who could be that second guy. We hope you'€™re right.
30. San Francisco 49ers: Jason Verrett, CB, TCU --€" It'€™s been a while since people could say the 49ers have a problem on defense, but here we are. With the unit thin at cornerback, you can'€™t do much better than Verrett, who might not have much as far as size, but he can compete with anyone.
31. Denver Broncos: Ryan Shazier, LB, Ohio State --€" John Elway allowed wide receiver Eric Decker to leave via free agency and he also has some holes to fill in the secondary. That'€™s all fine and good, but it appears the allure of the big Buckeyes linebacker was too much to pass up in this spot.
32. Seattle Seahawks: Xavier Su'€™a-Filo, G, UCLA -- The defending champs have locked up its defensive secondary with long-term deals this offseason, so maybe it'€™s time to start focusing on their offense. The offensive line was a problem at times in 2013 and adding the giant mauler from UCLA is a solid move at this point. Good value at this point.
---
---