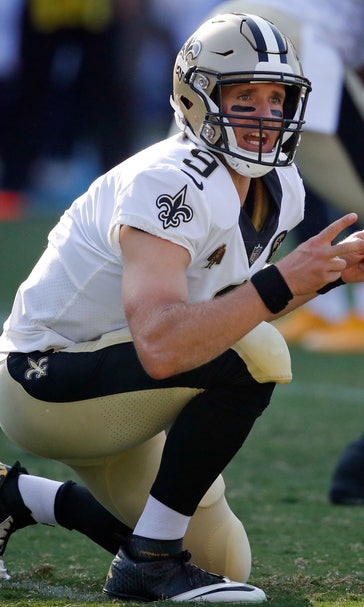 Falcons wary of defending Saints' 'maestro' Drew Brees
September 20, 2018
ATLANTA (AP) — The Atlanta Falcons may be a step ahead of the New Orleans Saints in the search for balance on offense.
That's not enough to make Falcons defensive coordinator Marquand Manuel rest easy. The Saints have Drew Brees, and the veteran quarterback's guile is enough to make any defensive coach lose sleep.
Brees and the Saints (1-1) will try to establish more offensive balance when they visit the Falcons (1-2) on Sunday in an early test of NFC South rivals attempting to build off Week 2 wins.
The Saints have relied heavily on the one-two punch of wide receiver Michael Thomas, whose 28 catches set an NFL record for the first two games of a season, and running back Alvin Kamara, who has 15 catches. New Orleans is last in the league with only 52.5 yards rushing per game.
"That's definitely something that we recognize and we always talk about balance," Brees said Wednesday. "We want balance."
Coach Sean Payton said he saw signs of an improved running attack in the second half of last week's 21-18 win over Cleveland .
"Certainly Alvin and Mike are guys we want to get the ball to, and yet we recognize the importance of having that balance," Payton said.
Brees, 39, has completed 81.3 percent of his passes (65 of 80) for 682 yards with five touchdowns and no interceptions.
"He's a maestro now," said Manuel, who defended against Brees as a defensive back with six teams before coaching against the quarterback. "He was a magician before when he was dinking and dunking and hitting guys. Now he's a maestro."
Matt Ryan and the Falcons found more balance in last week's 31-24 win over Carolina . Despite playing without running back Devonta Freeman, who could also miss Sunday's game with a sore right knee, the Falcons ran for 170 yards. Fill-in starter Tevin Coleman ran for 107 yards.
Here are some things to know from the Saints-Falcons game:
PASS PATTERN: Payton is confident Brees will spread the ball around more and said he wants to see third-round draft choice Tre'Quan Smith more involved. "We have to find ways to get him more touches," Payton said. "He is handling our installation. He knows what we are doing game-plan wise and I think he is ready to prove that."
APOLOGY: Falcons safety Damontae Kazee apologized this week after his ejection for last week's hit to the helmet of Panthers quarterback Cam Newton. Kazee was making only his second career start.
"I've got to learn to try to keep my head up when I tackle," Kazee said. "It's a new rule now and I've got to adjust to that."
Kazee said he must learn "when to take my shot and when not to take my shot. He was sliding and I tried to lean over to the left and hit him with my facemask. I apologize for the hit."
RECEPTIONS FOR ALL: Ryan completed passes to eight receivers last week instead of relying heavily on Julio Jones. In one possession late in the first half, he completed six straight passes to five receivers, none to Jones. "I feel like as a quarterback you're just trying to make the right decision, go to the right spot with the football and trust whoever is in that spot to make those plays," Ryan said Wednesday. "That's just how it shook out in that game."
NO RUNNING: The Saints' running game ranked fifth during their run to the NFC South title last season. They rank 31st this year with only 2.9 yards per rush. The absence of Mark Ingram, who has served half of his four-game suspension for use of a banned substance, gets some of the blame.
Payton has said there is no evidence of a "crisis." New Orleans has played from behind for much of its first two games, causing Payton to call more passing plays. Payton said a couple Kamara runs during fourth-quarter scoring drives last week showed potential for success on the ground.
INJURY WOES: The Falcons already have been hit hard by injuries , especially on defense where safety Keanu Neal and linebacker Deion Jones are on injured reserve. Coach Dan Quinn hopes Jones, who must miss at least eight games, can return this season. Defensive ends Takk McKinley and Derrick Shelby missed practice this week with groin injuries. Jones also missed time with a calf injury.
Also, left guard Andy Levitre was placed on IR with a triceps injury. Wes Schweitzer, who filled in for Levitre last week, is expected to start.
---
---