Atlanta Falcons
Atlanta Falcons
Falcons flying high again after rough start, face Browns
Updated
Mar. 4, 2020 3:09 p.m. ET
CLEVELAND (AP) — Quietly, steadily and with little fanfare, the Atlanta Falcons have gotten off the ground.
They're flying again — under the radar.
Despite numerous injuries at vital positions, the Falcons have shaken off a 1-4 start and carry a three-game winning streak into Sunday's matchup with the Browns (2-6-1). Cleveland has changed coaches, dropped four in a row and is trying not to let another season spiral completely out of control.
The Falcons (4-4) are coming off their best performance this season, a well-rounded 38-14 thrashing of the Washington Redskins that has pushed them back into contention in the wild-card race. Atlanta coach Dan Quinn said the key to the team's turnaround has been persistence.
"The main thing for us was the message to be real consistent, to stay the course," Quinn said this week. "Although we got knocked down, defensively especially from the communication standpoint, we had to work hard to increase on that. There might be some new voices leading the way. We just tried to stay consistent with the guys. Make sure that we knew what we were doing was right and we had to do what we did better."
Nobody's doing it better than Falcons quarterback Matt Ryan, who is playing like he did as the league's MVP in 2016. Ryan has thrown 19 touchdown passes, only three interceptions, and is completing 71 percent of his passes. The 33-year-old leads the NFL with 335.6 yards passing per game, and he recently went 213 attempts between interceptions.
Matty Ice is on fire.
"He really is playing well. He is executing very well," said Browns interim coach and defensive coordinator Gregg Williams. "You can see the comfort zone that he has with (Falcons offensive coordinator) Steve (Sarkisian) in Year 2. That usually is the way that it is in our league."
Last week, Ryan passed for 350 yards and four touchdowns, one to star receiver Julio Jones, who ended a 12-game scoreless drought and finished with seven catches for 121 yards.
Cleveland's defense will get another stiff test one week after dealing with Kansas City's high-flying aerial circus. Patrick Mahomes and the Chiefs scored 34 in three quarters before coasting through the final 15 minutes.
Williams knows Ryan's capabilities after facing him twice a season while he was defensive coordinator in New Orleans. Back then, Williams could take chances and blitz a young Ryan. Those tricks don't work as well on a savvy veteran.
"I look at it as an older quarterback — you start to get into the double-digit years, plus years and stuff — the influence of whoever is coordinating him and whoever is coaching him, he is having some say in some things and doing some really, really good things," Williams said. "He is very accurate. Our work is going to be cut out for us. You can't fool those kinds of guys that many times."
BROWNS DOWN
Cleveland's task of stopping Ryan, Jones and Co. got harder when starting linebacker Christian Kirksey and cornerback E.J. Gaines were lost to season-ending injuries.
The Browns should have rookie cornerback Denzel Ward and safety/corner Damarious Randall back from injuries. Randall may draw the assignment of covering Jones, who presents problems with his size and speed.
"Big, fast, strong. I mean, you name it," Randall said when asked to describe Jones. "He's pretty much what you want in your typical receiver nowadays. He's the guy that if you had to pick a receiver No. 1 in the league, I'm pretty sure probably all 32 teams would pick Julio Jones."
NEW RUNNING BACK TANDEM
With Devonta Freeman on injured reserve for at least six more weeks, Atlanta's distribution of carries has been unexpectedly balanced. Tevin Coleman is starting, but rookie Ito Smith's role is expanding. Proof came in last week's win when Coleman had 13 carries for 88 yards, and Smith added 10 for 60 yards and a touchdown.
"He's gotten better for us every week," Ryan said of Smith. "I've been really impressed with his growth from game to game. It's really cool to see that from young players, particularly rookies."
GO, BAKER, GO
The Browns want rookie quarterback Baker Mayfield to cut it loose.
Mayfield was tough on himself after some missed throws last week, but Williams' said his message to the No. 1 pick this week was to only look forward.
"We have his back. Now, let's go," Williams said. "You're a smart enough quarterback, instinctive enough quarterback. We understand that mistakes are going to be made. Don't be afraid of making mistakes. Just cut it loose and play, and make faster and faster decisions.
"That's the No. 1 thing that I've tried to convey to him."
PERFECT FIT
Newly signed defensive end Bruce Irvin is expected to make his Falcons debut. Quinn said Irvin will play as a pass-rush specialist in the nickel package.
Quinn was Seattle's defensive coordinator for two seasons when Irvin played for the Seahawks. That familiarity, along with Irvin's desire to return to his hometown, helped the Falcons reach a deal when Irvin said he was offered more money elsewhere.
"I know Bruce," Quinn said. "I've known him for a long time. He'll fit in really well with this group."
---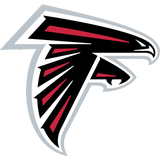 Get more from Atlanta Falcons
Follow your favorites to get information about games, news and more
---